Professional cycling broadcaster and former pro rider Paul Sherwen died on Sunday, Dec. 2, at the age of 62, according to NPR. Over his longtime career covering the sport for NBC and other networks, Sherwen left an indelible mark on the cycling world.
Sherwen competed in the Tour de France seven times, and won the British National Circuit Race Championship and British National Road Race Championship back-to-back in 1986-87. Following his career in cycling, Sherwen moved into the broadcast booth and became one of the most well-known analysts in the sport.
"We are saddened to offer our condolences to the friends and family of Paul Sherwen, who passed away this morning at his home in Uganda," NBC Sports said in a statement. "Paul was synonymous with the Tour de France in the U.S. and will be greatly missed by his legions of fans and the NBC Sports family, which was honored to be part of Paul's 40th Tour last July. Our thoughts are with Paul's wife, Katherine, their children and all of those in the cycling community who became Paul Sherwen fans over his many years calling the sport he loved."
For many years, Sherwen worked with co-broadcaster and reporter Phil Liggett, and called numerous major events, including over 25 Tour de France competitions, as well as multiple Olympic Games for NBC and NBC Sports. Sherwen also worked in British and Australian television, covering the biggest events in the cycling world.
Sherwen previously spoke with Men's Journal back in 2014 about his transition from cyclist to broadcaster, and how the sport had changed over the years.
"I was very lucky because I raced at the time when there wasn't too much cycling on English-speaking television," Sherwen said. "There was a journalist from Channel 4 television who needed an expert commentator so in my last two years of racing I actually commentated with Phil [Liggett] while riding the Tour."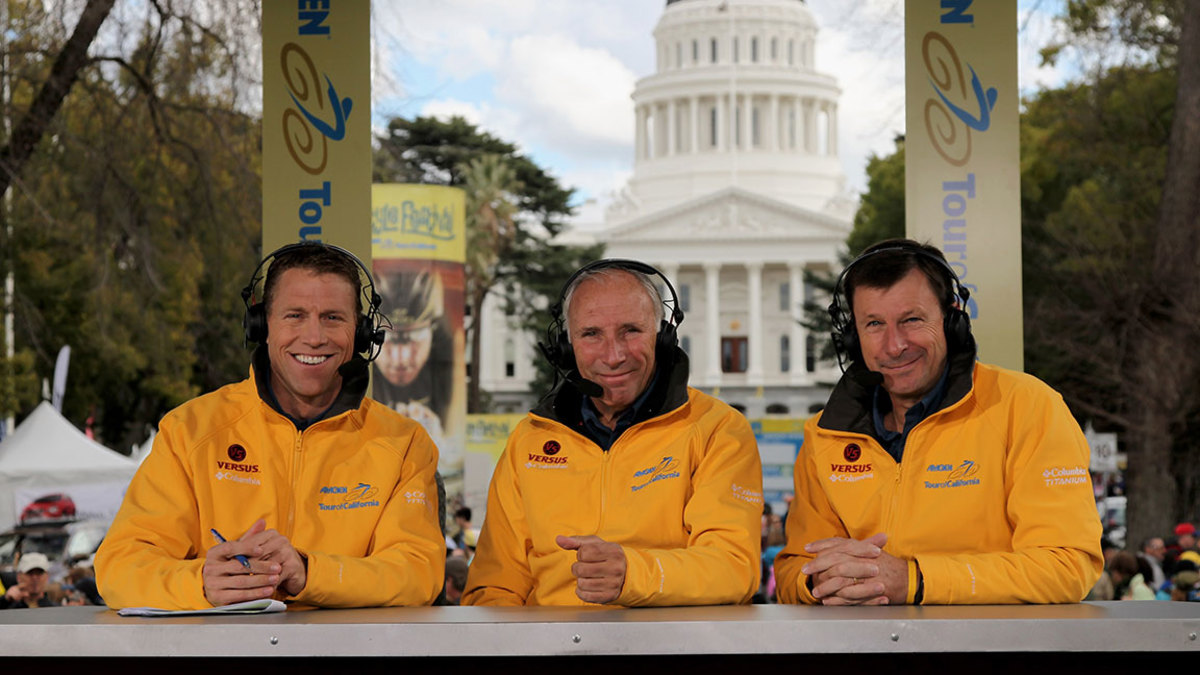 Sherwen was originally born in Lancashire, England, but was raised in Uganda since the age of 7, according to NPR.
Sherwen "helped create Paul's Peloton, which brought bicycles to Africa, and advocated for African wildlife as a chairman of the Ugandan Conservation Foundation and supporter of the Helping Rhinos initiative," per NBC Sports.
Sherwen's longtime broadcast partner Liggett took to social media to honor his friend:
I went to bed in Africa with a heavy heart last night feeling sadness like never before. My team mate for 33 years was no longer with me. Your hundreds of messages showed how well @PaulSherwen was loved. Let's think of Katherine and his children with love just now.

— Phil Liggett (@PhilLiggett) December 3, 2018
Here are some other reactions to Sherwen's death from many in the cycling and sports media world:
We were truly saddened by the news of the passing of @PaulSherwen. A former national champion and a great voice of our sport, our thoughts are with his family and friends at this time.

— British Cycling (@BritishCycling) December 2, 2018
Like many others my first experience of the Tour de France was @PaulSherwen's commentary. Incredibly sad to hear of his passing.

Pumzika kwa amani rafiki.

— Chris Froome (@chrisfroome) December 3, 2018
The soundtrack to our July and our sport has been silenced. Paul Sherwen died overnight at his home in Uganda. We are too gutted for words right now, but we tried somehttps://t.co/5x0jQZRBqY pic.twitter.com/fSjX0xdarm

— CyclingCentral (@CyclingCentral) December 2, 2018
Cycling commentator and former professional Paul Sherwen has died at age 62. I don't know specifics, other than he was in Uganda, where he lived and had stake in mining businesses. An extremely warm guy and a true gentleman from the first time I met him to the last time I saw him pic.twitter.com/P05yiang3H

— Neal Rogers (@nealrogers) December 2, 2018
Completely shocked and saddened to hear of Paul Sherwen's passing. Met Paul in 1992 when he worked as our press officer for Team Motorola. He was always a class act and a great friend. My deepest condolences go out to his family. RIP Climber.

— Lance Armstrong (@lancearmstrong) December 2, 2018
At their best, Paul Sherwen and Phil Liggett were as good a duo in sports broadcasting as any. They are forever the soundtrack of the Tour de France in the U.S.

RIP, Paul Sherwen.

— Richard Deitsch (@richarddeitsch) December 3, 2018
I am stunned and heartbroken to hear my good friend @PaulSherwen has died. He was absolute life of the party. My heart goes out to his family.

— Steve Porino (@sporino) December 2, 2018
For access to exclusive gear videos, celebrity interviews, and more, subscribe on YouTube!