When MLB scouts scour baseball fields in search of the next great pitching sensation, they look for someone with raw power, functional strength, and, of course, wicked-fast arm speed. Basically, they're looking for Michael Kopech.
The Texas-born pitcher has all the physical attributes scouts lose their minds over: a 6'4", 220-lb frame, a fastball that regularly surpasses 100 mph, and superhuman strength capable of deadlifting over 600 lbs.
"Training-wise, this kid is a monster in every way," says Bobby Stroupe, C.S.C.S., founder of APEC, a performance and training center in Texas. Stroupe has been working with Kopech and helping him train over the last two years. "Michael's gained 20 pounds of muscle since starting with us, and his deadlift has gone from 250 lbs to 650 lbs in that time."
That kind of natural talent and capability is why Kopech was one of the Chicago White Sox's prized acquisitions when they traded ace pitcher Chris Sale to the Boston Red Sox in December. And, even though the White Sox also acquired arguably the No. 1 prospect in baseball in the deal too, Cuban-born Yoan Moncada, it's Kopech who could end up being their biggest star. (UPDATE: Kopech is set to make his MLB debut with the Chicago White Sox on Tuesday, August 21, 2018.)
Why? That arm is a freaking cannon.
During the 2016 season, Kopech was recorded at 105mph on the radar gun in a minor league game. And in January, he was unofficially clocked throwing 110mph while working on max-velocity throws. Sure, he was throwing off flat ground—a pitcher's velocity is typically slower throwing off the mound—but speed is speed.
First day of max velocity throws for @MichaelKopech5 …. Is 110mph good? 🐐 #APECmlb pic.twitter.com/bJAIUIEIn2

— APEC (@teamAPEC) January 17, 2017
Actually, with model-looks and long, blonde hair, Kopech is reminiscent of another flamethrower, New York Mets pitcher Noah Syndergaard. Kopech has always had the physical tools to throw hard, but it's his training with Stroupe that's honed him into an athlete who can play in the big leagues.
"He had some mobility issues the first year when we started," Stroupe told Men's Journal. "But he continued to work, and went up 200 lbs in his squat in his first offseason, then took it 50-60 lbs further the next year. We want our pitchers to bilaterally press 2.25 times their body weight for their one-rep squat max—and he hit that goal. He finished the offseason doing triples with 485 lbs."
When Stroupe started working with Kopech, the team at APEC did a full-body analysis to see where the missing links were in his training, and how they could maximize his intrinsic strengths—namely his arm speed. Stroupe helped Kopech become more in sync with his body—to understand his own biomechanics, rather than solely plugging away at isolated movements and traditional strength training.
"One thing we focused on was adding size to his frame without limiting his mobility or taking away any of his arm speed," Stroupe said. "When you've got a guy that throws that hard, you've got to make up for it with stability and mass in other parts of the body."
During the offseason, Kopech worked Monday through Friday for about 2.5 hours. And, depending on the day, the workouts included power-focused circuits, medicine ball throws, plyometrics, dynamic warmups, strength training, stability work, energy system development, power development, and mobility training.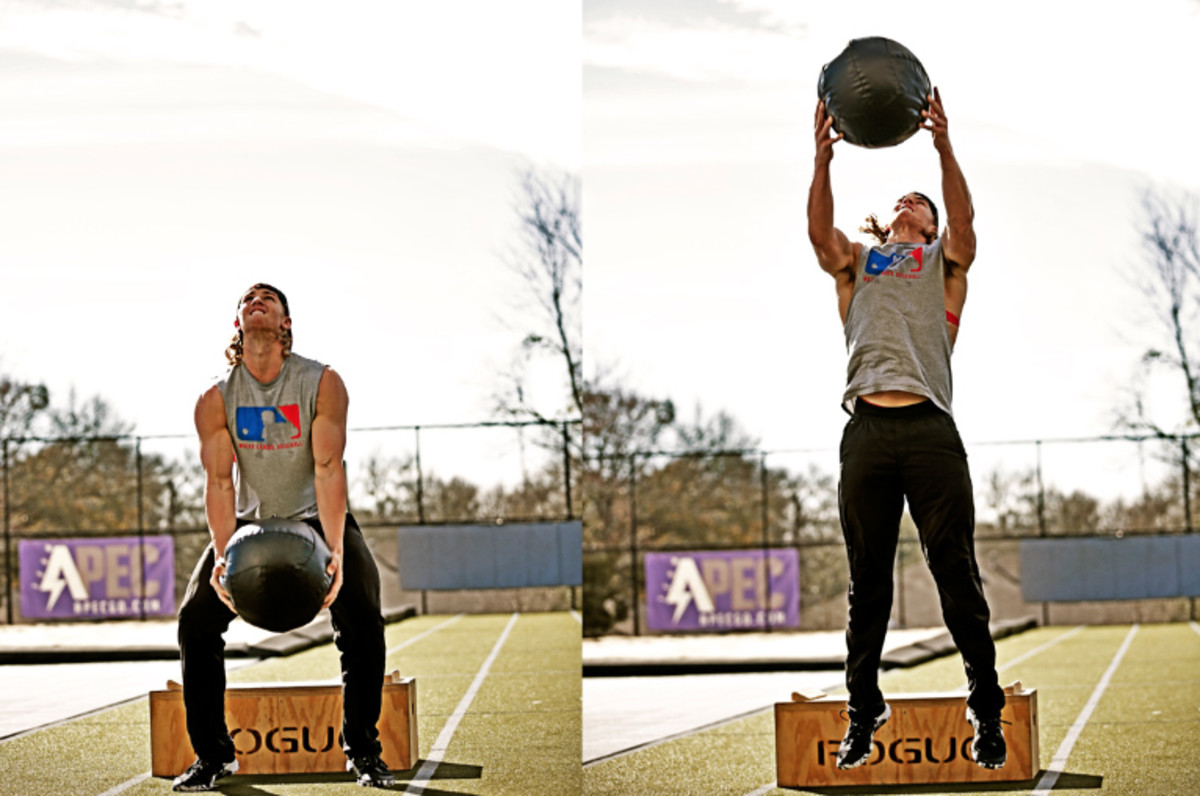 Photo courtesy of Bobby Stroupe / APEC
"We use a very precise medicine ball power development routine, making sure he can produce three-dimensional power," Stroupe said. "We do max-effort throws, gallup throws, crow hop throws, chest throws, overhead throws—a lot of power implementation with light and heavy balls to progress and making sure that strength we're developing transfers over into power his body can actually utilize."
This safeguards Kopech, too. "If you have a guy who throws that hard year-round, you're tearing him up." This program develops the same kind of vigorous power without putting mileage on his throwing arm.
Kopech gets the chance to show off his strength in other ways, too.
"Pullups are a big marker for us," Stroupe said. "We do pullups and he's gotten to the point where he can do 11 reps with 80 lbs of weighted resistance—on top of his 225-lb body."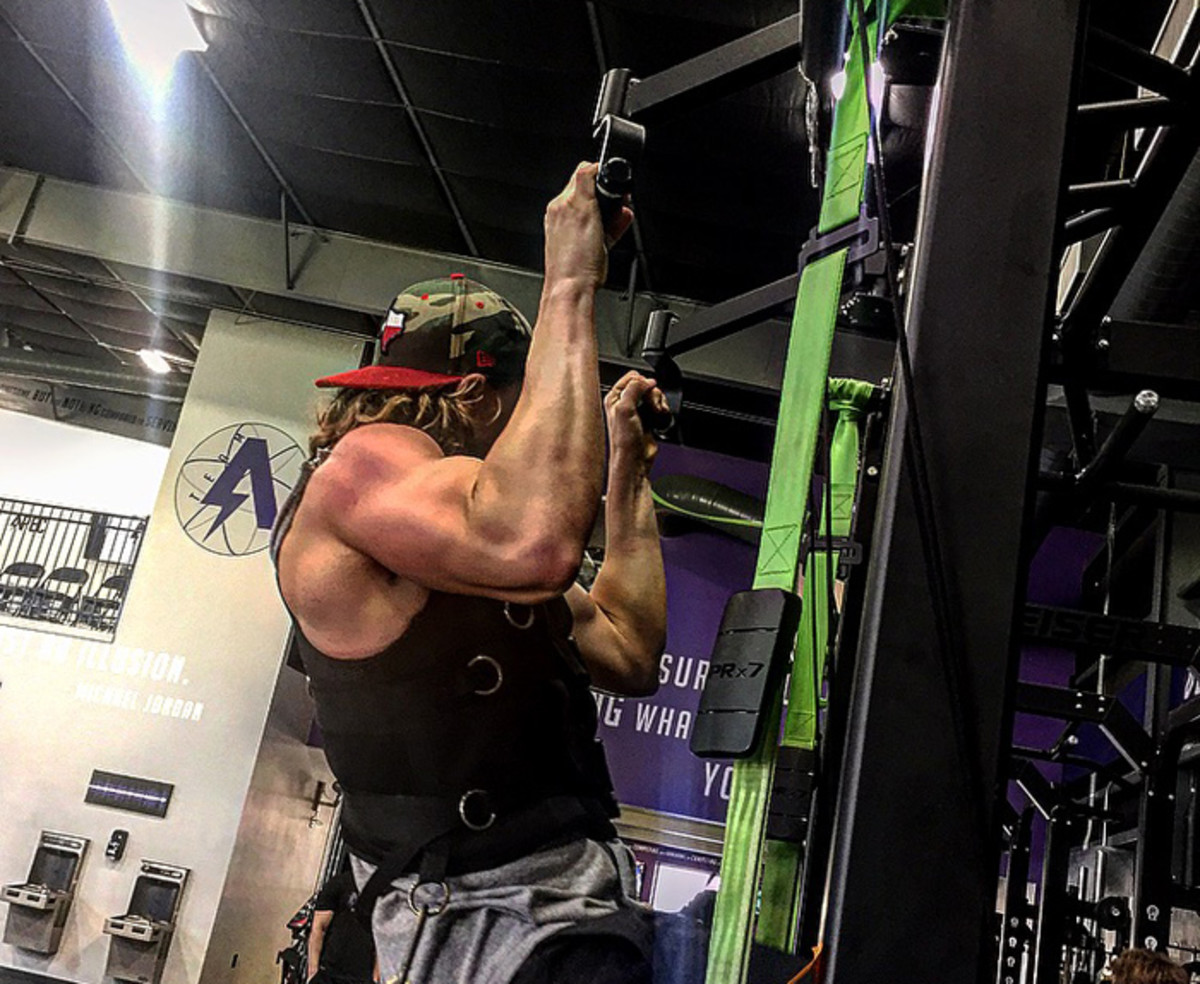 Photo courtesy of Bobby Stroupe / APEC
Obviously Kopech isn't afraid to put in the work. Stroupe can see his determination to unleash his untapped potential.
"When we started training, he used to drive two hours each way, every day, and he'd arrive early and always stays late," Stroupe said. "He deserves all the credit for the success he's having, because he's worked so hard for it. He's got the talent, the drive, the mindset, and the body—there aren't better conditions a trainer can have when working with an athlete."
Kopech will start the 2017 season in the minors, but if he keeps hitting 100 mph on the radar gun and crushing 600-lb deadlifts in the gym, it wouldn't be a surprise to see him in the majors sooner rather than later.
For access to exclusive gear videos, celebrity interviews, and more, subscribe on YouTube!