No matter where I go in the ring, Gennady Golovkin, the Kazakh-born world middleweight boxing champion, has a way of making it feel like a trap. Wherever I step, he's ready to counter with a lightning-quick step of his own—it's like he knows where I'm going before I do. Before long, the ropes are pressing into my back and I'm hiding behind my gloves. He's moved in closer, and I'm expecting his left hand to crush my ribs at any moment.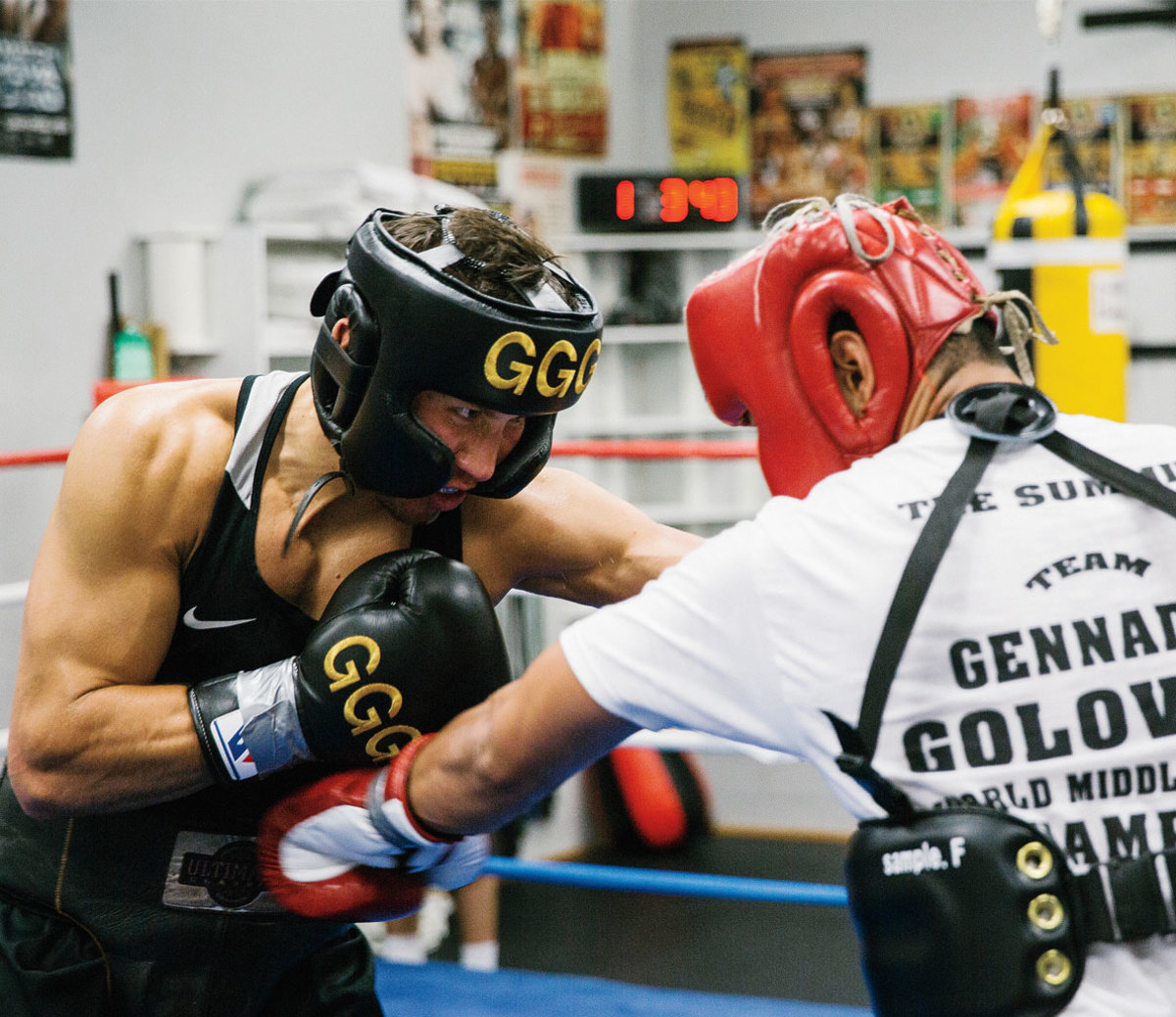 Yes, I'm actually in the ring with one of the world's most dangerous boxers, a coiled, 160-pound bruiser called "Triple G" (his middle name is Gennadyevich) who's amassed a 90% knockout rate in 30 pro matches. 
I've traveled to Golovkin's private gym high up in Big Bear Lake, CA, to get a glimpse of his training regimen as the champ, who fights exclusively on HBO, preps for the next big fight: his Oct. 18 bout against Marco Antonio Rubio. It's his first-ever fight in California, and a sign that his popularity in the U.S. is growing. I want to see up close how a guy his size could deliver such devastating punches.
So, after signing a few releases that put my safety in my own hands, I'm on my way to discovering what it's like to absorb one of his blows firsthand.
Golovkin's strength is largely a gift. His trainer, Abel Sanchez, realized that the very first day they worked together, when Golovkin struck his mitts and Sanchez could feel the force in his toes, he says. 
Video: In the Ring with Gennady Golovkin>>>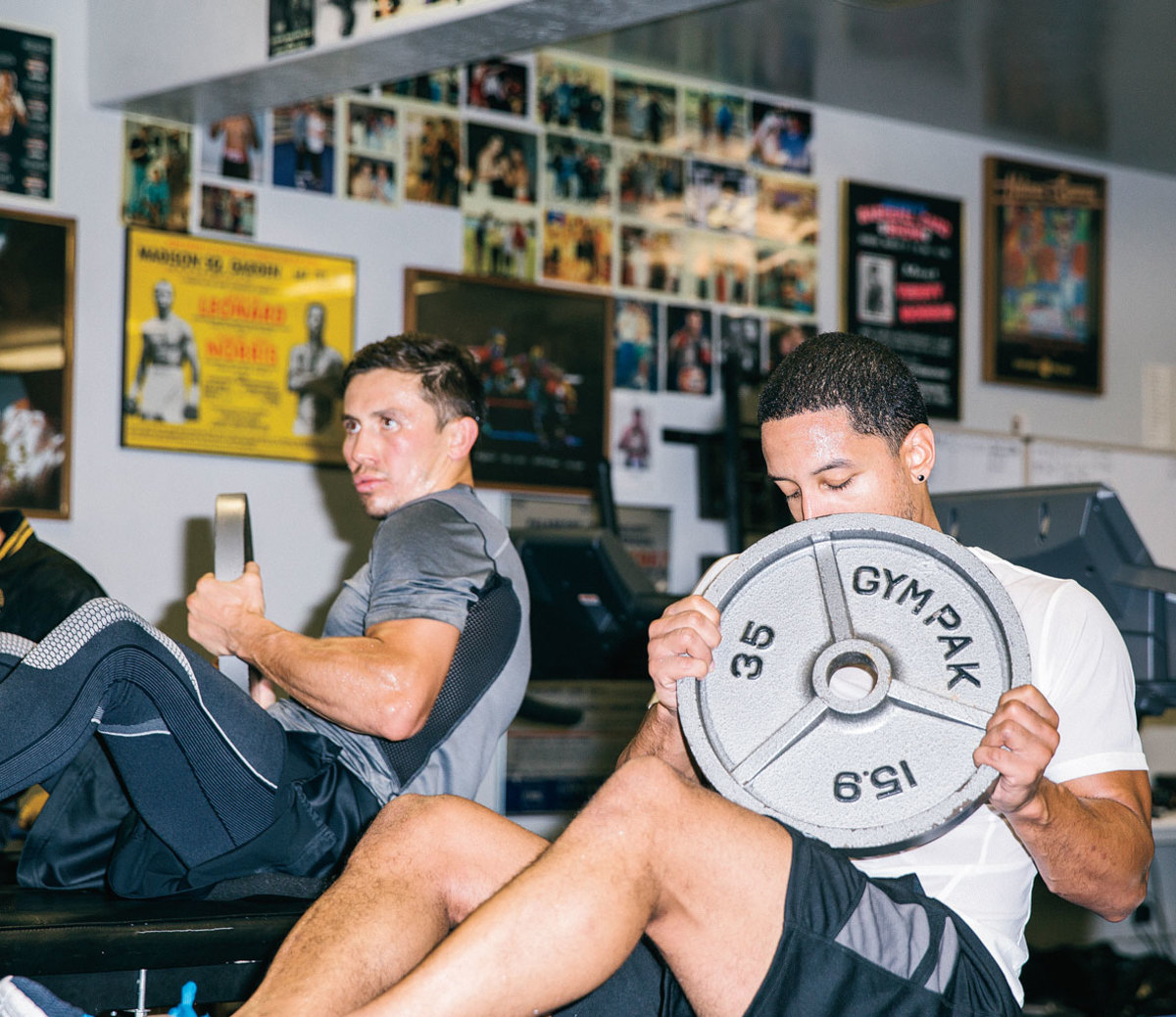 But I'm surprised to learn that Golovkin doesn't do much power training, or lift heavy weights, either. So how does he cause so much damage? 
"It's control and focus," Golovkin tells me, preaching the benefits of technique over raw strength. "Speed is second. Timing is very important, too. Then balance. Power is maybe last."
Golovkin's workouts include long runs on Mondays, Wednesdays, and Fridays; there's also a brutal ab-training circuit three times a day, and shadowboxing with hand weights that Sanchez made himself. In total, the trainer estimates, Golovkin will have completed 70,000 situps by the end of this eight-week camp. 
The other constant at Golovkin's camp is stretching—a lot of stretching. "It might sound silly, but think of your body as a stick of gum," says Sanchez. "If I ask you to stretch it, what's going to happen? It's going to break. But if I chew that gum for a couple minutes, then what happens? You can stretch it much farther. I'm not saying injuries never happen here, but they happen a lot less often."
WWE Power Couple Debuts Workout Series>>>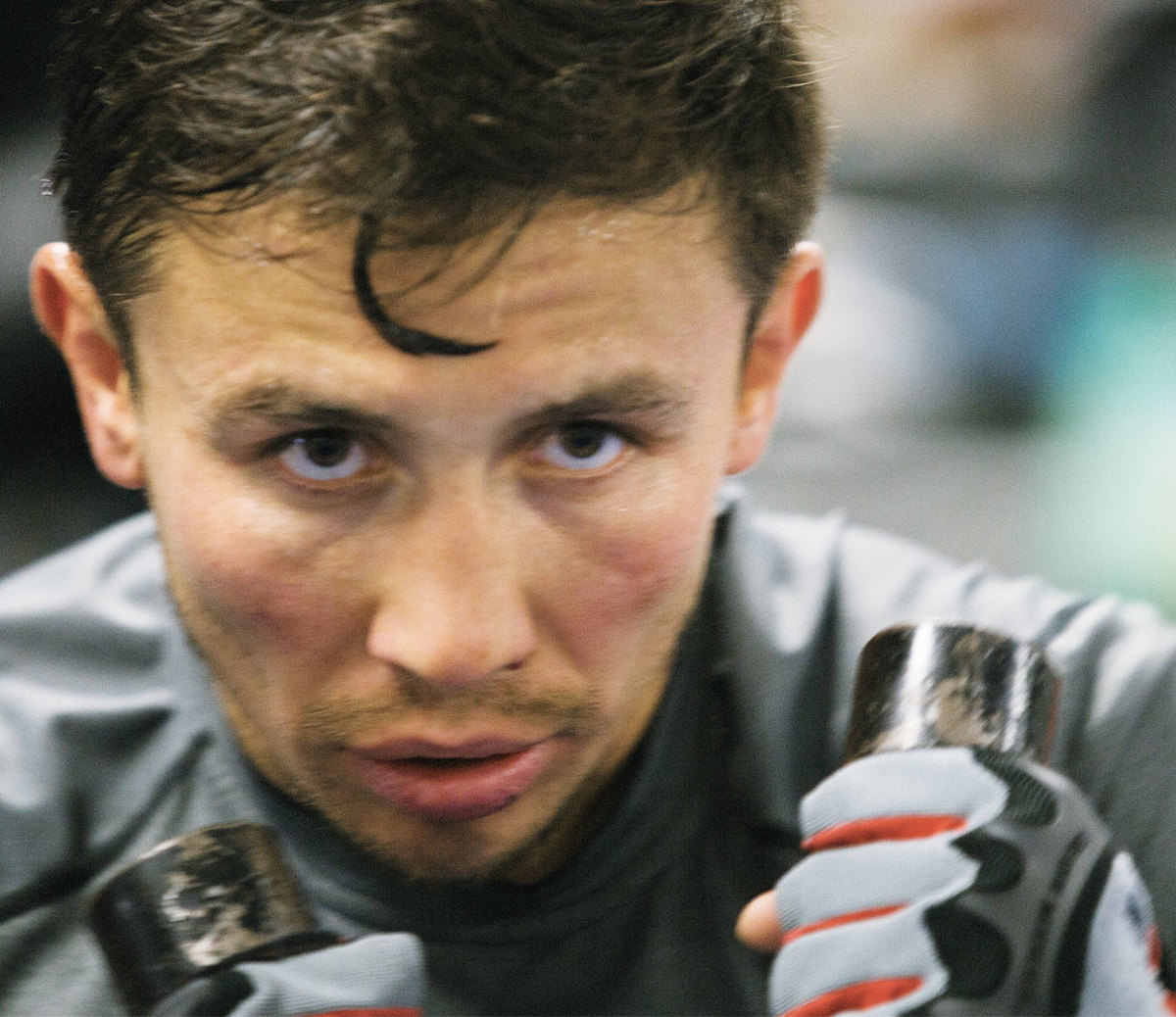 In the ring today, Golovkin appears not only loose but also eerily, sneakily quiet. You get the sense he's looking at you less as an opponent than as a puzzle to be solved—he coldly eyes you for weaknesses. Anyone who's watched his fights knows he's not a flashy haymaker-thrower. Rather, he relies on a quick jab and a flurry of short punches that leave no room to fight back. 
As Golovkin circles toward me, I bring up my cover. My only strategy for surviving is to keep my hands up, and I'm not even sure I can do that. In the few instances—OK, two instances—I actually land a clean punch on him, he nails me at the same time. Every time I move forward, he punishes me with a straight right hand to my chest or a stinging dig to my shoulder.
By the end I'm lying against the ropes, sucking wind—fighting a pro boxer at an altitude of 8,000 feet will do that to you—and trying to decide whether it'll be more painful to try and dance around the ring some more or just stand where I am and get pummeled through the ropes.
Mercifully, the bell rings. We're done, and hugging. But now Golovkin—who really did go easy on me, for the record—wants to show me how it would've felt if he'd really hit me. I wrap my arms around a heavy bag and he tilts slightly, then buries a left hook into it. 
Even with 12 inches of leather-wrapped foam between us, I feel the blow vibrate through my ribs—it's the same kind of vicious power, it turns out, that ended up crushing Marco Antonio Rubio a mere 1:19 into the second round of the October fight. 
Frankly, I was relieved to be watching the damage on TV.
See more of Gennady Golovkin coming up on HBO in early 2015.
The 22-Minute Holiday-Time Workout>>>
For access to exclusive gear videos, celebrity interviews, and more, subscribe on YouTube!