Michael "Mikey" February is running late. But really, who can blame him? It's an exceptionally bright, balmy day—even by Hawaii's standards—and the waves crashing at Pipeline are hovering somewhere between 10 to 20 feet. As a 2018 World Championship Tour surfer, there's nothing that could beckon him more.
But, as if on cue, February strides into the Vans Pipeline House, which sits strategically on the North Shore of Hawaii, moments later. He greets me with a wide, child-like grin on his face and a contagious bounce in his step, shakes my hand, and apologizes for his tardiness. We're here for the Vans Triple Crown of Surfing.
At 6'3'' you'd think he'd be an imposing figure, but February's the exact opposite. He exudes a warmth, humility, and politeness that encourages you to lean in a little closer to hear what the 25-year-old has to say.
This timidness is only part of his land persona, though. On the water, February fizzles with energy and a unique surfing style, which has made him all at once famous and a tough nut to crack. Nonetheless, there's no denying salt water runs through his blood.
February was born on May 17, 1993, in Durban, South Africa, just a year before apartheid ended.
"Mikey was a beautiful, happy child," his father, Isaac February tells Men's Journal via email. As a baby, he'd even wake up smiling. At just six months old, he got his first taste of water in the family pool. And once he was in, he was hard-pressed to get out.
"He would only eat if he was in the water," February adds. "And he would only sleep if we played Chris Rea's 'On the Beach.'"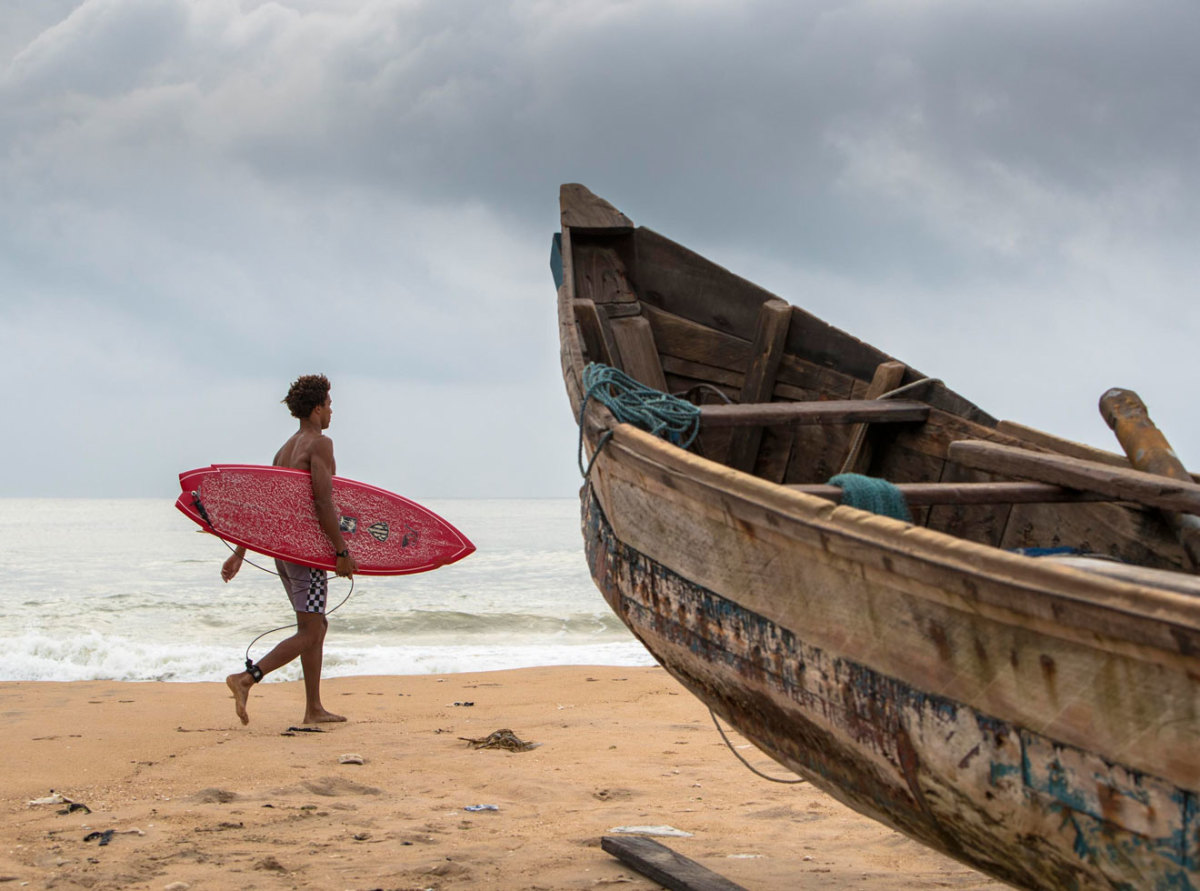 Though Mikey February has no memory of apartheid-era surfing, he understands the gravity of it all.
"My dad started surfing a few years before I was born," February explains. "When I was born, he was still really excited about it all."
At the time, only white South Africans were allowed access to certain beaches, which happened to harbor some of the greatest waves. A year after February's birth, beaches were desegregated. He was born at a good time to become a great surfer.
At six years old, February took on his first wave with his dad. In total, it took him four separate sessions before he stood up. Once he did, it was the only thing he ever thought about.
"I was surfing every weekend," February says, once again flashing a toothy grin.
He was so consumed by it, the entire family packed up and moved to the town of Kommetjie, a beachside utopia where the waves are consistently epic.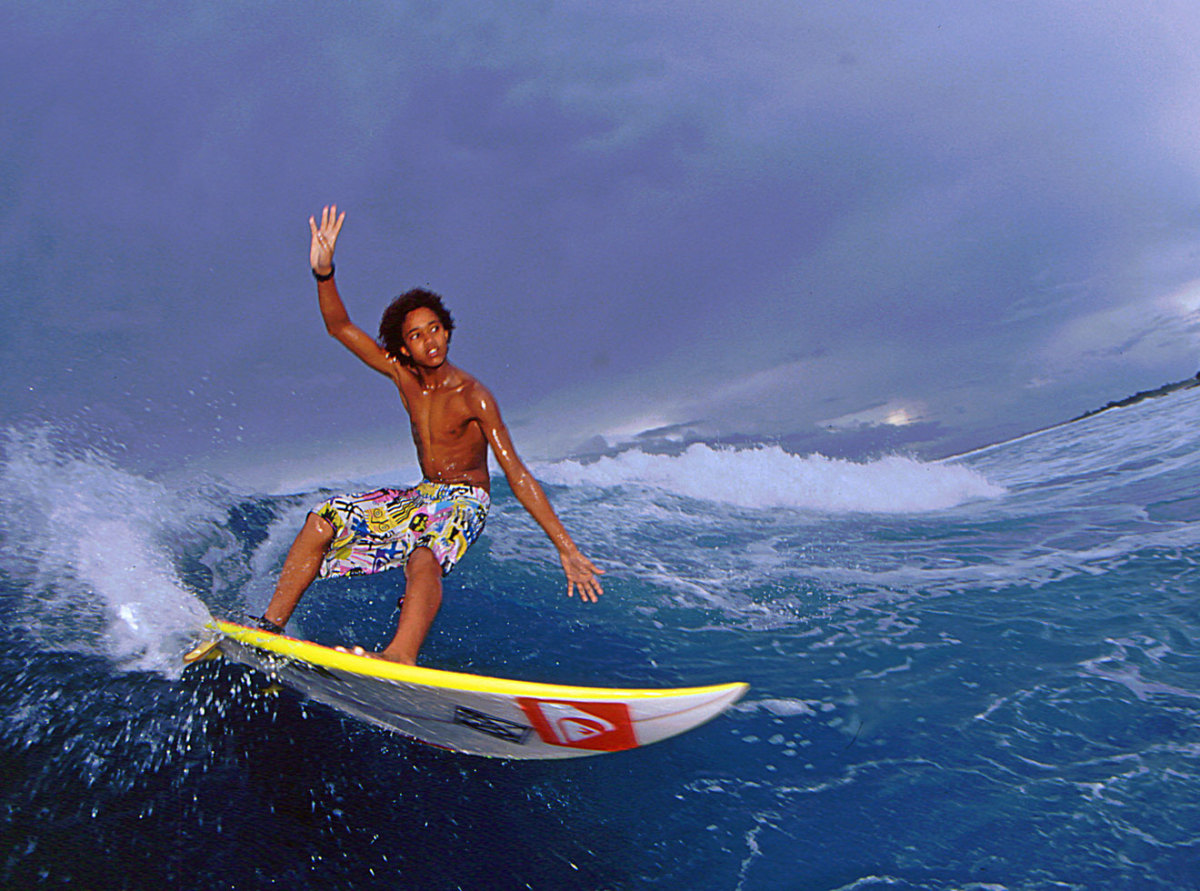 In the water, February is unlike any surfer you've ever seen. He's constantly heralded as the "most stylish" surfer in the industry—and with good reason. His legs tend to go knock-kneed when he stands up. His arms flail out more like he's dancing than surfing, and his long, lanky body contorts in ways that seem to defy physics. It's a style that both helps and hurts him.
On the one hand, it got February noticed by companies like Vans, who just signed him for a head-to-toe worldwide contract. On the other, it's a style that perplexes judges who don't quite know how to score him against more conventional surfers. In fact, February's point totals didn't officially qualify him for the 2018 World Tour. He lost out on a spot by three measly points.
"This time last year was a very hard time for me," February explains. "It was a mix of emotions of having a really good year and coming so close, but then it just not happening by the tiniest little margin."
But, several weeks after the competition, Mick Fanning announced he'd be retiring from the circuit, which opened the door for February to walk right in. In doing so, he became the first non-white South African surfer to make the tour. When he did, he chose jersey number 54, which also represents the number of countries in Africa.
"I was born in a generation that was free from all that stuff," February says when asked if he feels any weight to being the first black man on the tour. "There are Brazilians who are darker than me. But it's nice that kids of all backgrounds, shapes, and sizes can enjoy what I do. If you don't see anyone who looks like you, you may think, 'maybe it's not possible.'"
For February's father, it goes a little deeper.
"In a sport that's been traditionally dominated by white male South Africans, Mikey's become a pioneer and influencer for young black kids in South Africa and Africa as a whole," Isaac February says. "He's shown that the dream of being a successful, respected black surfer is possible."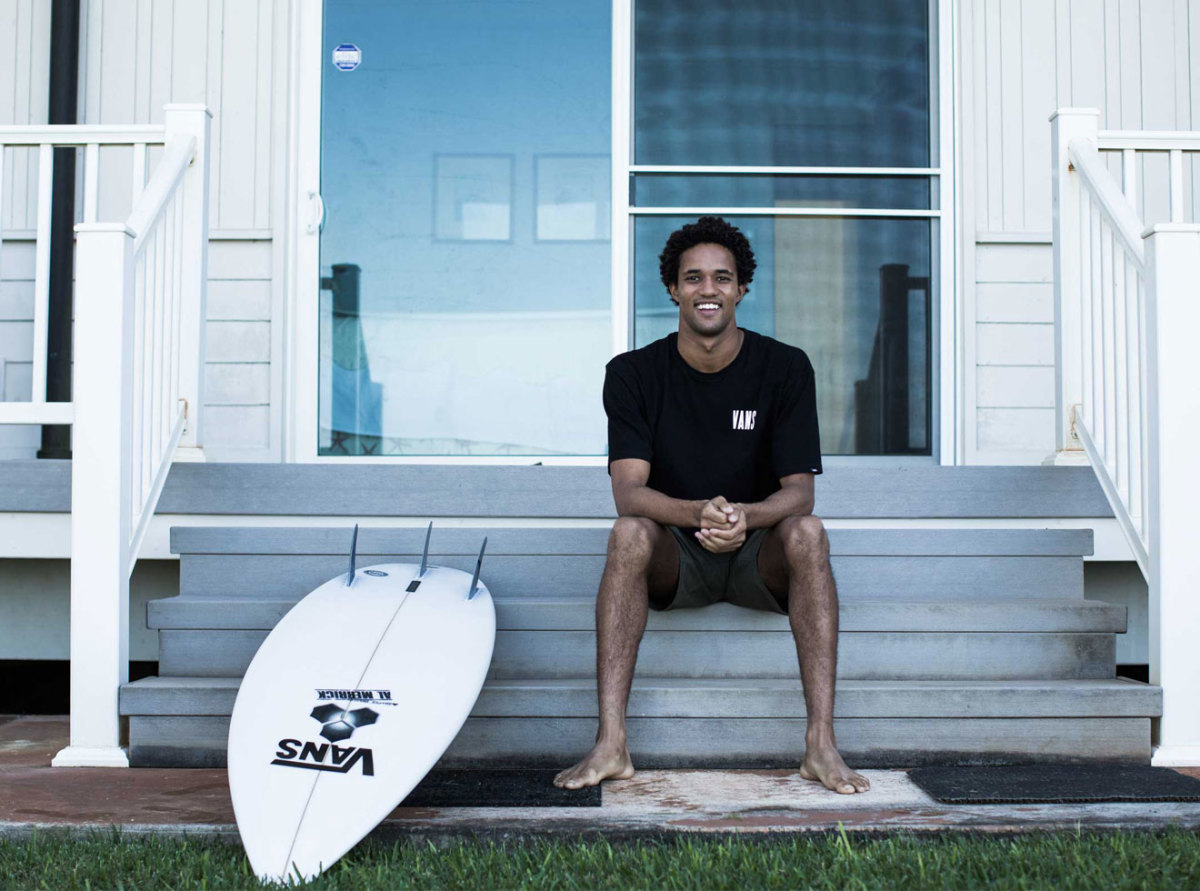 But that's not the only thing compelling about February's story. For one, he's no overnight success. He's been competing and pushing himself in surfing since he was a pre-teen. As others around him became overnight sensations, February kept working and working.
Underneath that reticent exterior lives a creative spirit unlike any other. It's a muscle he got to flex this year when he partnered with Vans on the documentary Can't Steal Our Vibe, which followed February and his friends as they gathered and donated 700 surfboards to the organization Waves for Change in his home country of South Africa.
And it's a space he'll likely be able to explore more since he'll have more time on his hands in 2019: February won't be tagging along for the next World Championship Tour. He didn't have the points to get there.
But it doesn't matter to him, Vans, his fans, or his family. As February poignantly noted about his career, "Personally, I do my best when I'm having fun."
The rest of us are just along for the ride of his life.
For access to exclusive gear videos, celebrity interviews, and more, subscribe on YouTube!