After seven years of missing out on the playoffs, the Chicago Bears returned to the postseason in 2018, giving fans hope for a Super Bowl run in the future. One of the biggest reasons for that was the play of quarterback Mitch Trubisky. The former North Carolina standout took a major step forward in his second year as starter, setting career highs across the board and making the Pro Bowl.
For Trubisky, part of that step forward had to do with his experience from his rookie season, as well as the training and workouts he did during the offseason. Trubisky likes to mix things up during his offseason training, doing a range of explosive workouts, core moves, agility work, and strength training. As one of the most athletic and agile players at his position in the league, Trubisky also puts a focus on training for speed and agility.
"We have big, explosive movements, like the power clean and squat," Trubisky told Men's Journal. "We do that weekly. We also do high-interval speed training, a lot of rotational and med ball stuff. Quarterbacks are always focused on having strong legs, running a lot, doing a lot of core and taking care of our arms. Having that elasticity and flexibility is important in order to be all-around explosive. And having some good genes from your parents always helps."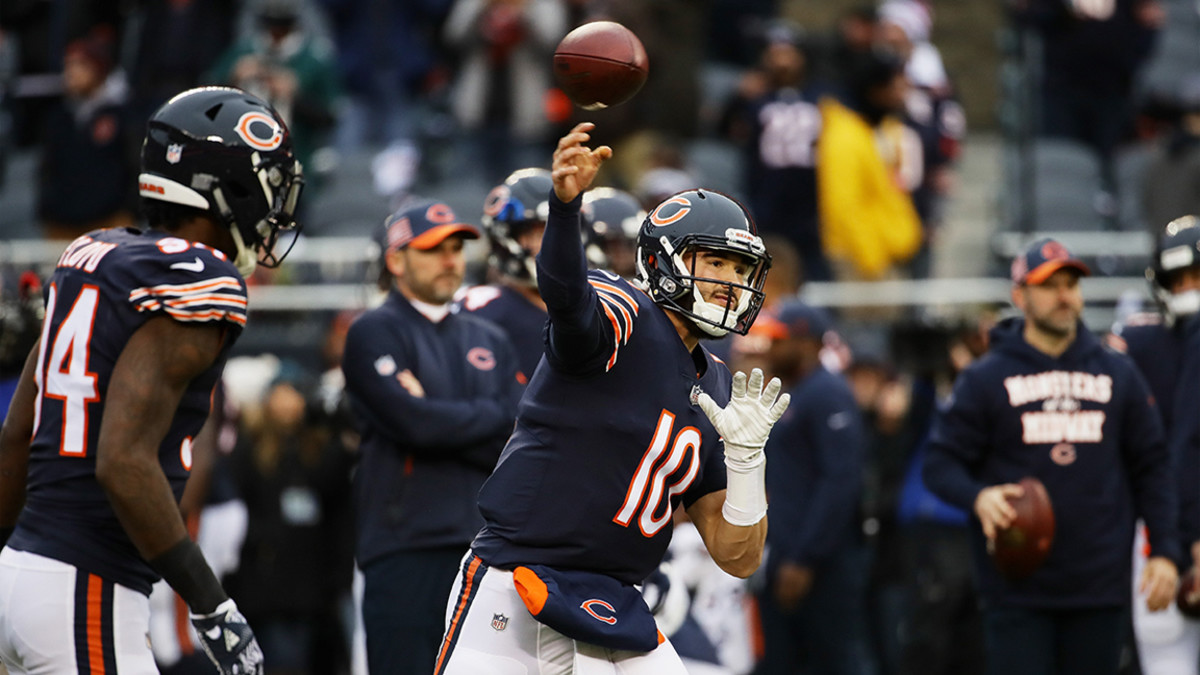 For as important as working out is to Trubisky's routine, his nutrition and diet also is a major focus and something he makes sure to stay on top of. Trubisky has been working with Gone Rogue and he's been using Gone Rogue Chips as part of his nutritional routine to make sure he's getting the protein he needs for his workouts and for his body to be in top form. Gone Rogue Chips are made from all-natural cuts of meat and have 17g of protein per bag, and flavors include chicken bacon, teriyaki chicken, buffalo style chicken, and BBQ flavored chicken, giving athletes a way to get the protein they need while snacking.
"Gone Rogue Chips have been perfect for me this off-season," Trubisky says. " I eat them before workouts or after workouts, just to get that extra protein in my diet. If you just have a craving for something salty and crunchy or you need something to snack on in between meals, it's the perfect thing to eat, and you don't feel guilty about it because it's healthy for you."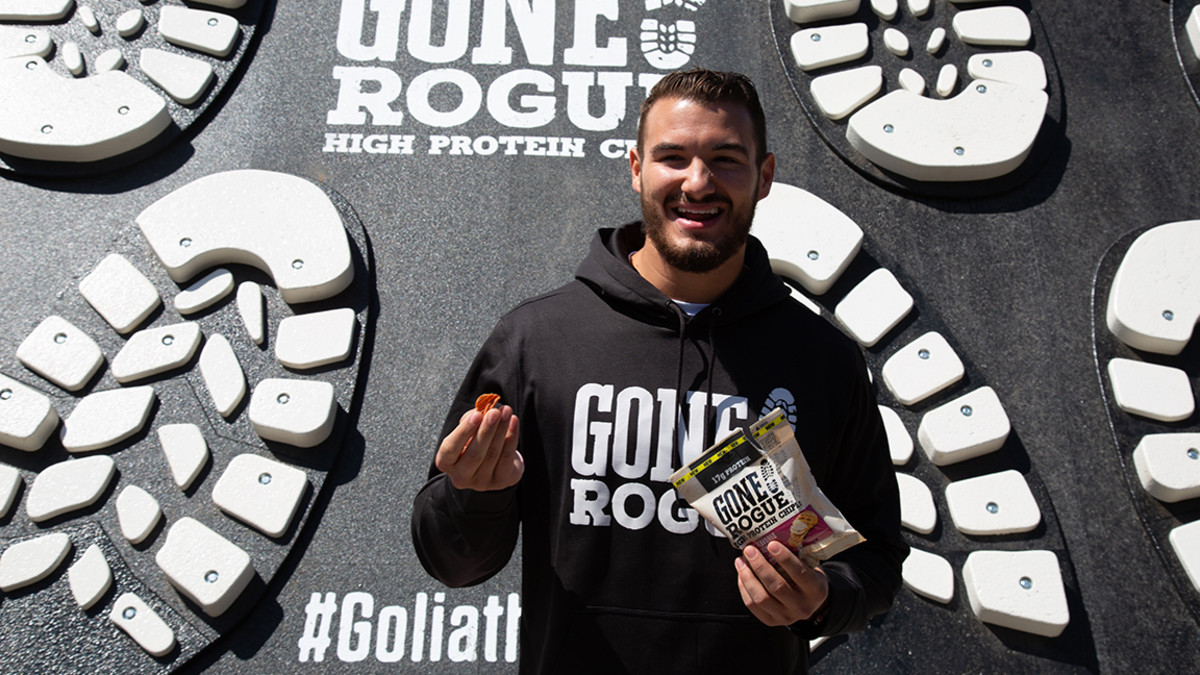 Trubisky was extremely excited to bring the Bears into the playoffs last season, but into the future, he's hoping for even more success.
"The season didn't end the way we wanted it to, but at the same time, we have to look back and appreciate how much we accomplished," Tubisky says. "We put in a lot of hard work, and to an extent, it did pay off. How it ended is just motivation for the future that we don't want it to end that way again, because we did put in so much hard work. We enjoyed how much work it was, we just want that feeling to go even further and longer, and we'll keep working hard to make sure we get more of that."
Trubisky spoke with us during the offseason about how he trains to be his best on the field, working with Gone Rogue, and his favorite types of workouts.
Men's Journal: What are some ways you follow your diet to stay in your best shape?
Mitch Trubisky: I communicate a lot with my nutritionist, just texting back and forth and asking her for ideas, because I'm not an expert in that field, but I have a resource who's someone that is. I talk to her about what I need to include, how often I should be eating, what I should be eating, what I need to cut out, and how to stay disciplined and stick to that. My diet has helped me a lot. That's something I learned a lot about coming from college. I gained a lot of weight in college because I needed to get bigger, but now it's about really refining that to make me as efficient of an athlete as possible, and diet and sleep has been a huge part of my recovery and everything.
So what's it been like working with Gone Rogue? Talk a little bit about the partnership and the product for us.
It's been awesome. They've been awesome people. I was telling people I'm excited to team up with people who are very passionate about what they do, and something that I do myself. I support this brand because I believe in it, I use it, I eat it. The Gone Rogue Chips are high in protein, with 17 grams of protein per bag. They have the texture and consistency of a chip, but the health benefits of beef jerky or something else high in protein. It's something I believe in, and it being a company with roots in Chicago means a lot to me as well. It was just a great opportunity to team up with them, and I'm very happy they asked me to be a part of it.
How important is it to get some extra protein in your diet?
It's very important, especially in the off-season. Throughout the season, I lose a little bit of weight, so in the off-season you've got to put a little back on. You want it to be good, healthy weight, and adding extra protein in your diet is always a great way to do that. My nutritionist always gets on me. I eat really good meals, but I need to have better snacks in between. Gone Rogue is one of those perfect snacks that I could add to my diet, so it's been a great addition.
Take us through a Mitch Trubisky workout session. What kind of stuff are you doing in the gym on a typical workout day?
One of the good things about us is we're always mixing it up. It depends if it's an upper body or lower body day, and then you have your main lifts. We don't bench as quarterbacks because we want to stay loose up top, but we do power cleans, squat, a lot of explosive movement stuff. We do a lot of hamstring movements. We mix in weights with the explosive movements, and then we do field work. We do so much med ball stuff, a lot of explosive movements with that. And they always mix it up and keep it different, which makes it fun for us. They make sure our workouts always pertain to our position, so we wouldn't ever do stuff that's going to inhibit us from throwing or get us stiff. There are a lot of fun workouts and we always mix it up. It's a good time. We use a lot of band work, too, for quarterbacks.
Do any of your workouts change in-season and off-season?
Off-season, you're trying to build up, and then in-season, you're really trying to maintain. You get as strong as you can throughout the off-season. You try to do that in-season too, but it's just hard with the schedule. I kind of built a training schedule throughout the year. You try to peak once you get toward the end of the season, so your body is in the best shape heading into it. Training, working out and eating has been a huge part of injury prevention. It means you're always able to play your A-game and have better practices, which in return leads to better games. It's been a lot of fun to learn about all of it, and you monitor and you've got to talk to the experts. Talk to your strength coach about how you can keep getting bigger, faster, stronger off-season, and then have that transition in-season.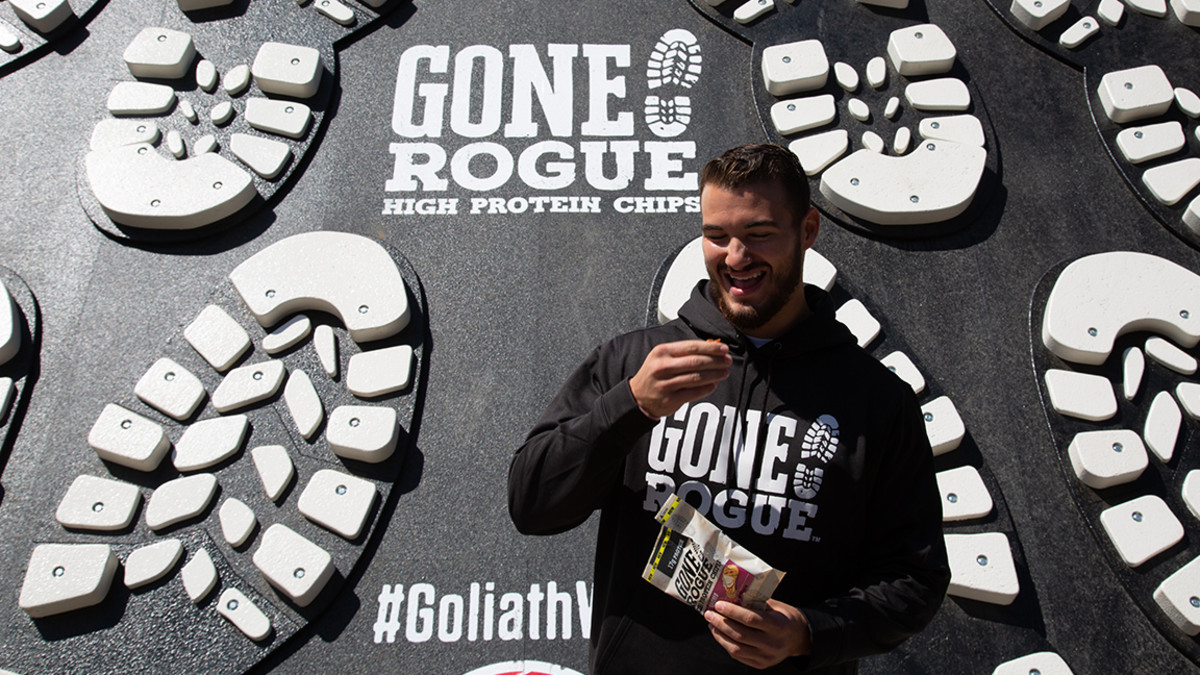 If you could only do one type of workout or one type of exercise to train for football, what would it be and why?
It would be just something simple like push-ups, sit-ups and running. I think you've always got to have a strong core – it's universal throughout all sports. It's also important to have good flexibility and be able to run and be explosive. I think push-ups and sit-ups are great. Back in the day, that's all Herschel Walker used to do, and he was yolked. He still is. Core and running would be my go-to, but as for all players, we have to do other movements too to stay big, stay explosive, so you can just stay injury free on the field.
Have you changed or evolved your training routine since coming into the pros?
Yes, definitely. In college, I was trying to get a lot bigger and gain weight because I came into college pretty skinny. But now, it's about maintaining and becoming more flexible and more explosive, and kind of rebuilding the body I have now.
Do you have a core workout out upper body workout that you can describe for us that you like to use?
I love core. We have these new rollers – they look like the big roller skates, except it's like a platform, and you can put your feet in them and do things like butterfly crunches. You could also do front roll-outs with your knees on the ground. I like those a lot. I also like flutter kicks on my back and front planks a lot. I think planks are one of the best core workouts you can do. I like doing push-ups and pull-ups as well. I would encourage everybody to do those, and then just run.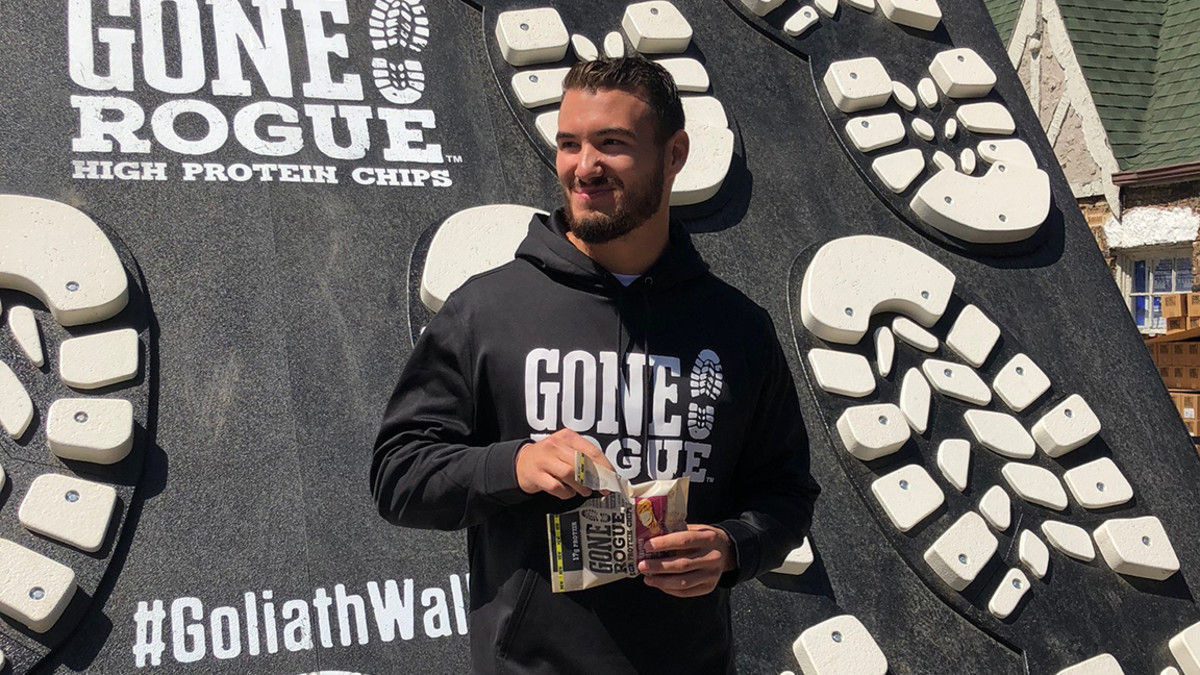 For access to exclusive gear videos, celebrity interviews, and more, subscribe on YouTube!