July Fourth is more than just barbecueing, fireworks and lounging on the beach—it's a time for Americans to remember that they live in the greatest country in the world (depending on whom you're speaking to).
After all, what beats freedom, hamburgers, baseball, Apple computers, watered down beer and Humvees? Not much.
But if you still need some help feeling that swell of American pride in time to celebrate the U.S.A.'s birthday this Fourth of July, here are some sports images that are sure to bring a tear to your eye and have you humming "God Bless America."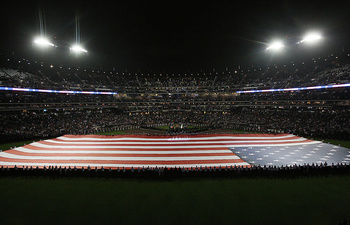 See the most patriotic sports images >>
For access to exclusive gear videos, celebrity interviews, and more, subscribe on YouTube!