Sports
NASCAR Icon Jimmie Johnson Sets His Sights on a New Race: the Boston Marathon
JIMMIE JOHNSON DOESN'T like to wear headphones when he runs. Without them, he can hear the breeze over the bridges on Little Sugar Creek, and the water pouring steadily over the rocks. He can hear the footsteps of other runners, kids climbing on picnic tables and jungle gyms, bike wheels on pavement, dogs barking over the pleas of their owners ordering them to behave. Sometimes all he hears is his own heartbeat. But often the noises just fade. "I largely go into my head," says Johnson. "It's nice to have nothing for an hour, or 2 1⁄2 hours. It's just nice to detach."
These days, Johnson, 43, has been running more than ever here in the quiet of Freedom Park, near his home in Charlotte, North Carolina, grinding through 20-mile days, peaking at 90 miles a week. It's a week before the Daytona 500, the first NASCAR Cup race of the season, and the stakes have likely never been higher for Johnson. He is the only driver in history to win five consecutive Cup championships ('06–'10), and his seven total Cup championships tie him with icons Richard Petty and Dale Earnhardt Sr. If there were a Mount Rushmore of NASCAR, Johnson, who's currently the highest-paid active driver, worth in the ballpark of $120 million, would surely be on it.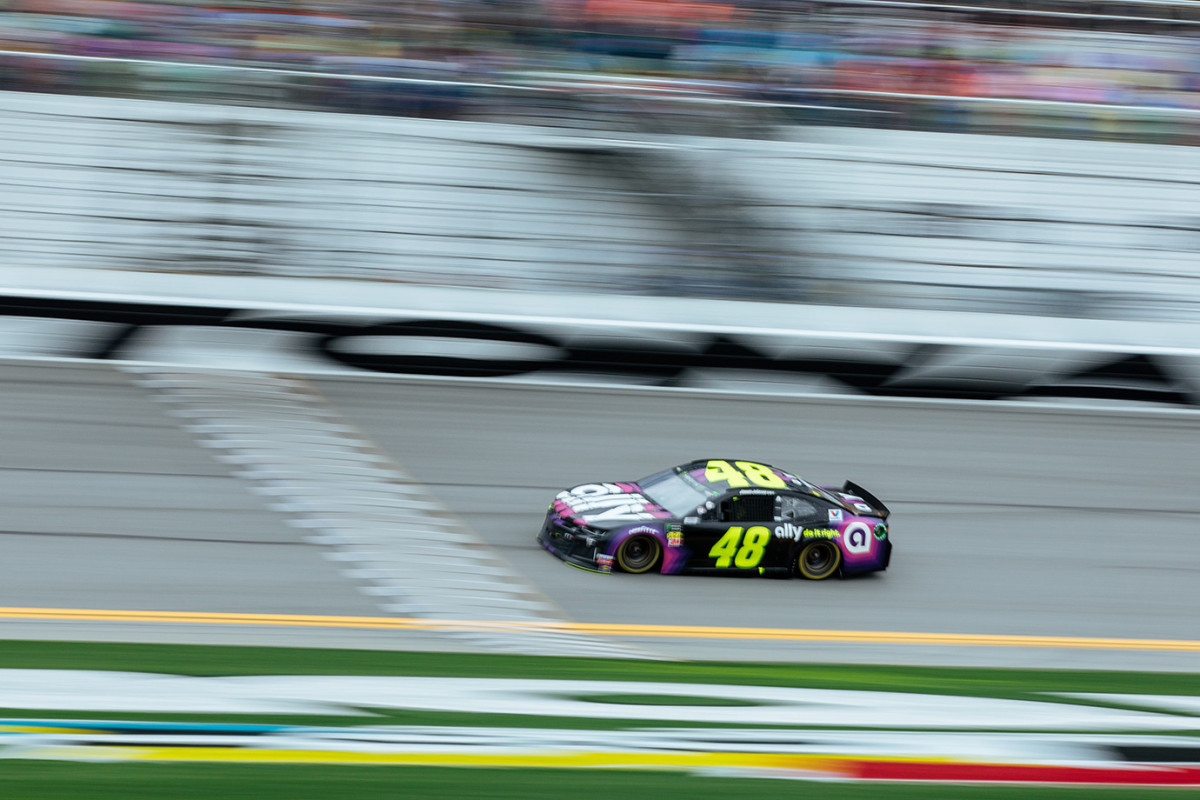 But this year, he's trying to bounce back from the hardest, most frustrating season of his storied career, after not winning a single Cup race in 2018—a first in his 17 years on the circuit. Complicating matters further, this season will be Johnson's first without the only crew chief he's ever had, Chad Knaus, who left to work with 21-year-old rising star William Byron.
Before the start of the 2019 season, Petty, for one, wondered aloud on an NBC Sports broadcast whether age had finally caught up with Johnson, a suspicion shared by many fans and commentators. Even if it has, Johnson says he doesn't feel he has anything left to prove. He knows that his "success has been insane" and sets a high bar. But he mostly races for himself now. Eight Cup championships would be an amazing achievement, sure. "But that's not what motivates me," he says. Then he adds, "I signed up to kick ass this year and lay it all on the line."
Johnson has also signed up for another kind of race, one that sounds crazy, given his schedule and its physical demands, and one that could prove as challenging as anything he's ever done. On April 15—fewer than 36 hours after he drives in the Toyota Owners 400, in Richmond, Virginia—he'll compete in the Boston Marathon. He's run three halves before, but this will be his first full marathon, something that's been at the top of his bucket list for years. And his goal is not simply to finish, but to finish fast, averaging a sub-seven-minute mile. "The year of the bombing, I was watching it on TV," he says. With his NASCAR races on Saturdays and the marathon on a Monday, he remembers thinking, "Damn, I couldn't run that." Then came the explosion.
Now, "I want to be a part of Boston Strong," he says. "I want to go experience that." And that's why Johnson is here at Freedom Park this morning, for a seven-mile run with his longtime endurance coach, Jamey Yon. He isn't totally sure how 26.2 miles in running shoes will compare with 500 miles in a race car. But he knows that half-marathons and NASCAR races are both, in their own ways, gauntlets of patience and endurance. In the Daytona 500, for one, drivers complete 200 2 1⁄2-mile laps around a track, at speeds in excess of 200 miles per hour. The race lasts a couple of hours, and the temperature inside the car can hit 140 degrees; he says he fortifies himself during those long stretches behind the stock-car wheel by sipping Gatorade through a straw connected to his helmet.
Johnson recalls watching an ESPN documentary about fellow driver Denny Hamlin that showed Hamlin's heart pumping twice as fast during a race as a runner's during a marathon. "Our toughest track is in Bristol, Tennessee, where we pull three G's on the body in the corners and it takes 15 seconds to complete a lap," Johnson says. The driver has to wrestle the steering wheel through the corners. And because of the hard left turns, he says, "I find that the left side of my lower back and my core gets a much stronger workout than my right side, just because you're trying to fight the G-forces in that direction the whole time."
That's partly why Johnson swims or bikes or runs—he's completed five triathlons and an Ironman competition—nearly every day, even at the height of the NASCAR season. Knaus tells me that Johnson began running to release energy and frustration, and the guys in his pit crew still think it's insane the way he can cycle 100 miles one day, then drive 400 miles the next, and not pass out from exhaustion. (He actually did once, after the Toyota Owners 400, which he's driving before the Boston Marathon; he had to go to the infield care center to be treated for dehydration.) "When I look at 2006, 2007—those first two champion- ships—I just knew I could be more dedicated," Johnson says. "I was good with the fundamentals of the car, but I just felt like I wasn't in as good shape as I needed to be. I got into fitness really hard. I've always enjoyed the variation of the training; there's an endorphin release." Or, put differently: "If you could ask my wife, she'd say, 'If he doesn't get his workout in, he's a pain in the ass.' That's just how it is."
Back at Freedom Park, Johnson and Yon wrap up their run. Johnson removes his hat, stained around the brim with sweat, and cools down by jogging in the parking lot. He's lithe and a bit pale, with a dark beard surrendering to silver. Sitting at a picnic table, he seems a million miles away from the vibrato of 750-horsepower engines and crowds of 150,000 fans; from the hive of the crew that surrounds him on race day; from the sounds and the smell of tires and gas. But two days from now, he'll be right back in it all, attempting perhaps his most ambitious challenge yet as an athlete: He'll run in the Daytona Half-Marathon in the morning, then drive in the Daytona Clash, the first unofficial race of the season. It'll be Johnson's first attempt at two
I GOT INTO FITNESS REALLY HARD. IF YOU ASKED MY WIFE, SHE'D SAY, 'IF HE DOESN'T GET HIS WORKOUT IN, HE'S A PAIN IN THE ASS.' THAT'S JUST HOW IT IS.
such events in a single day and a sort of dry run for the Toyota Owners 400 and Boston Marathon coming up in April. "The feeling of exhilaration and being on a high afterward is really indescribable," he says of running half-marathons. "I'm just like, oh, yeah, I can climb a mountain now."
IN THE PARKING LOT of Freedom Park, Johnson's 1949 Chevy Stepside sticks out among all the minivans, Priuses, and Civics. It's sleek and black and low to the ground, with a silver grille, handles and knobs that shine, black leather seats, and a motor that roars with the tap of the pedal. When Johnson, now sporting dark shades, pulls onto the streets of Charlotte, it's hard not to laugh at the sight of a NASCAR champ having to follow speed limits and letting someone else—an elderly guy!—pass him on the left. He says his wife, Chandra, a former model whom he met as a Cup Series rookie, in 2002, doesn't really like the truck, given it lacks family utility. It has only two seats, with no room for the couple's two young daughters.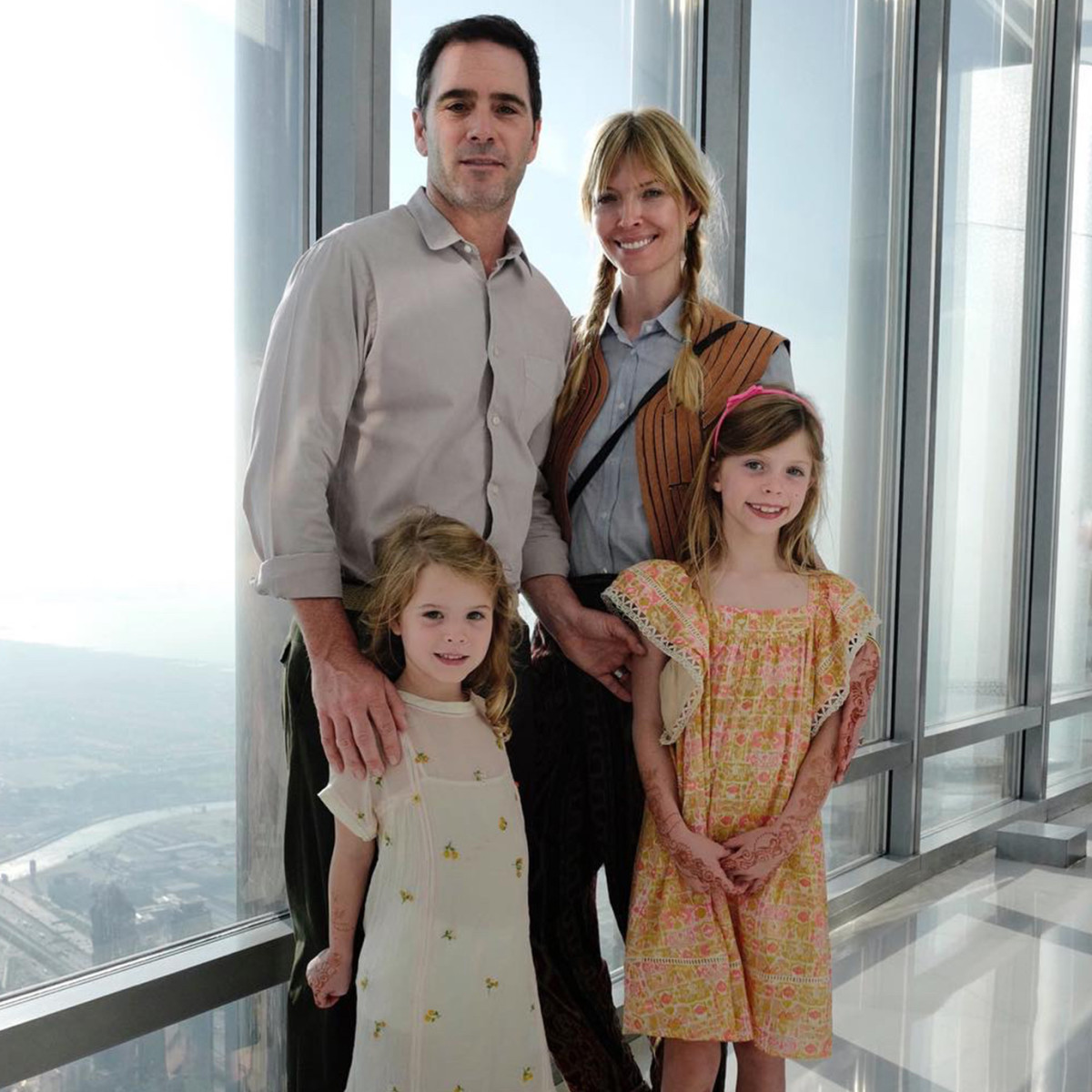 As Johnson drives, he points out running paths where he trains and the shop where he bought bikes for his family. Though he lives in Carolina, splitting time between his other homes in Aspen and New York, he still talks California. He was born in El Cajon, outside San Diego. His mother drove a school bus, and his dad worked at a tire factory. He started racing motorcycles at age 5, and, by that measure, he's been racing, in some fashion, for 38 years. Growing up, he raced buggies and off-road trucks in the desert, too. When he was 19, he was competing in an endurance race in Baja California, Mexico, when he briefly fell asleep behind the wheel and flipped his Chevy. He could've died, but he and his mechanic riding shotgun were unscathed.
In 2000, Johnson was sort of discovered by Jeff Gordon, a four-time Cup Series champion, when Johnson was still driving in the Busch Series (now the Xfinity Series), NASCAR's minor-league circuit. Johnson asked Gordon for some career advice, and Gordon, in turn, who was already impressed by Johnson, ended up co-owner of Johnson's team and later brought him to Hendrick Motorsports, where he remains. At the 2002 Daytona 500, Johnson was only the second rookie ever to get the pole position, a spot reserved for the driver with the best qualifying times headed into the race. Three miles from the park, Johnson turns the truck into the parking lot of a 13,000-foot warehouse.
"I needed a place to put all my shit," he says. "I've collected some cars, and then my mom has kept everything from my childhood." Inside, the place is filled with the spoils of his career: trophies, checkered  flags, pictures, helmets signed by all the NASCAR greats. Behind a long wooden bar, glisten- ing under track lighting, sit gigantic bottles of Moët & Chandon champagne, bigger than
THERE ARE STILL A LOT OF OTHER FORMS OF RACING I WANT TO PARTICIPATE IN. SO AFTER 20 YEARS OF NASCAR, IS IT TIME TO MOVE ON?
toddlers, that Johnson sprayed all over himself after victories. There's also a ridiculous collection of tall, beautiful grandfather clocks, trophies from the cup race held at Martinsville Speedway. Six of Johnson's seven NASCAR Cup series sterling silver trophies, made by Tiffany and freshly polished, stand in a row. (The seventh is at his house.) And then there are the toys: 15 cars, parked in two lines—among them a 1979 Suzuki JR50, a 1951 Mercury chop top, and a 1948 Ford Woody Wagon. He points out one of his favorite artifacts: a framed caricature of Def Leppard's one-armed drummer, Rick Allen, drawn by Allen himself. "He's been to a bunch of races," Johnson says. "Look, he drew himself as a stick figure—armless."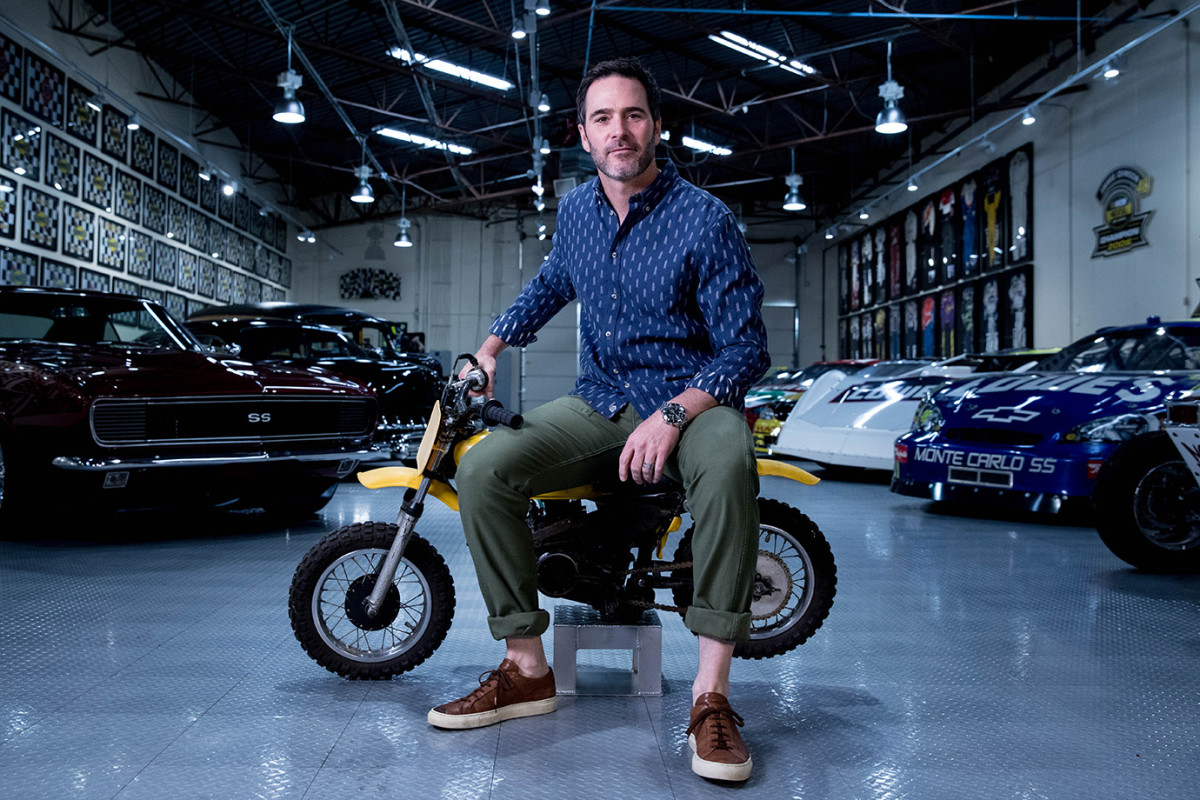 IT'S DAWN AT the Daytona International Speedway two days later—chilly in the brightening dark, the sky pink and gray. The checkered flags hang limp with drizzle. The stadium grandstands loom above the infield grass, where souped-up RVs, the homes of NASCAR drivers between races, are parked close together. Johnson wakes before 6 and posts a picture of himself on Instagram eating oatmeal and bananas and honey in his rig. At 7, he jogs past the garage area, where his crew is already huddled around the brand new chassis of his Chevy Camaro stock car; the legs and feet of one crew member dangle out of the driver's side window, sparks flying underneath. The logo of a new sponsor, Ally, is written in white on the Chevy's black hood, accented with purple.
Johnson jogs around for a while. Then he walks to a blue inflated arch, set up in the middle of the speedway, right on the racetrack, on which he'll drive in about eight hours. At this moment, however, nearly 800 runners are gathering at the starting line for the beginning of the Daytona Beach Half-Marathon. One of the waiting runners, a teenager with neon-green sunglasses, pesters Johnson the whole time. At 7:30, the MC calls out a countdown, and the racers take off, following the course away from the racetrack and onto Daytona Beach, where NASCAR itself began in the 1940s. Johnson starts out at a sub-seven-minute- mile pace. But, running on sand and against a hard breeze, he slows slightly. The finish line is an inflatable arch outside a P.F. Chang's, where a cheering crowd is lining the roads and someone in a giant turtle costume waves at the runners.
A runner named Ryan Carroll crosses the finish line first, after an hour and 19 minutes. About 14 minutes later, Johnson turns the corner—at some point during the race he turned his cap backward—and sprints across the finish line, followed by a video crew on bikes, his face red, his eyes puffy. He stops, hands on hips, and checks his time: 93 minutes—three minutes slower than his goal pace. He doesn't seem bummed as much as tired; he just ran 13.1 miles, after all. Like all the other runners, he gets a small gold medal hooked to a checkerboard ribbon."I ran too hard at the beginning," he says while riding from the finish line in the back of a golf cart. "My heart was pounding; I had to slow down."
In the afternoon, after a power nap, Johnson again emerges from the RV for the 3:00 exposition race. Wearing sunglasses and holding a bottle of Gatorade, he heads to the track. The speedway is mostly empty today; there's maybe a thousand people in the stands capable of holding a hundred times that. But many of the people who are here seem to have come for Johnson. On the way to the track, he stops to autograph dozens of little toy cars thrust at him by a halo of fans. Freshly dressed in a fire suit, the gray of his beard contrasted against the black fabric, he enters the pits. About half a dozen members of his crew gather around as he lifts his right leg and climbs in his car. Later, when asked how he feels after the morning run and the race, he says, "The only thing I had trouble with was getting my legs up over the door of the car."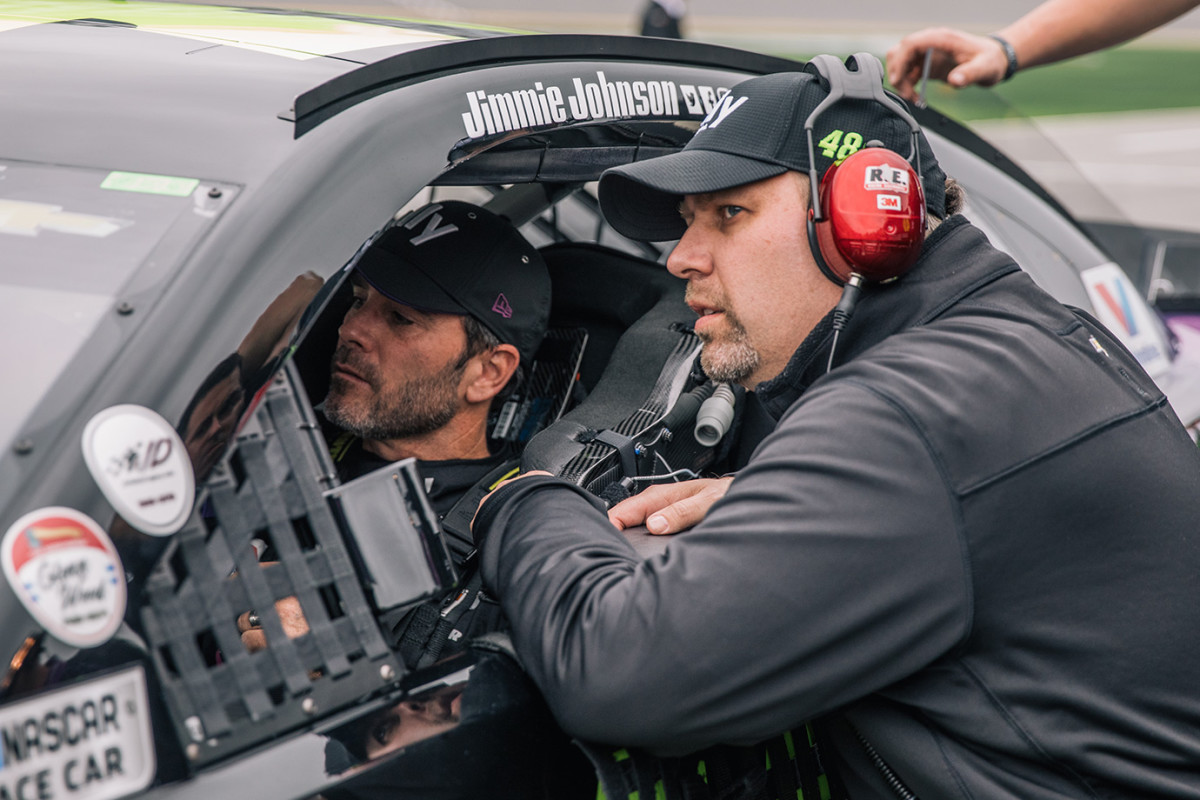 The Daytona Clash is an exhibition race with 20 drivers. It starts slow, with several caution flags because of rain. Then a red flag halts the race completely. The drivers slow and pull their cars off the wet track and into the pits, as pickup trucks, equipped with what look like blow dryers beneath them, ride around the track to dry it off.
When the race resumes, Johnson fights his way around his opponents, moving from the 14th spot to the 11th. He lacks flash compared with some of NASCAR's past stars, such as Petty, seldom without his big sunglasses and cowboy hat, or Earnhardt Sr., a mustachioed badass-type, known for knocking other drivers around. Johnson's popularity and success, in contrast, largely owe to his calculated, finessed style of driving. Some argue that his dominance made NASCAR stale, at least for a time. But Johnson's achievements are nonetheless impressive. As the race continues—the cars crowded in single file, the buzz of their engines echoing before they cross in front of pit row—he pulls into fourth place.
Soon, with the rain again threatening to stop the race, Johnson takes second place behind Paul Menard. With the sky falling black over the stadium, Johnson makes a dramatic push for the win, passing Menard on the inside. What happens next is unclear: Menard either steers slightly into Johnson or is barely clipped by Johnson. Either way, Menard's car goes into a sideways spin. In the pit, Johnson's crew jumps in exultation—until they see a maelstrom of sparks and smoke, as Menard's spin leads to a pileup that takes out nearly every car. No one is hurt, but some cars are damaged. With several laps still to go, officials call the race. Johnson wins—although controversially; later Menard accuses Johnson in the press of taking him out intentionally. And after the race, Johnson will indeed cop to his mistake in inadvertently turning Menard when he tapped him, and will tell reporters that he feels terrible about what happened.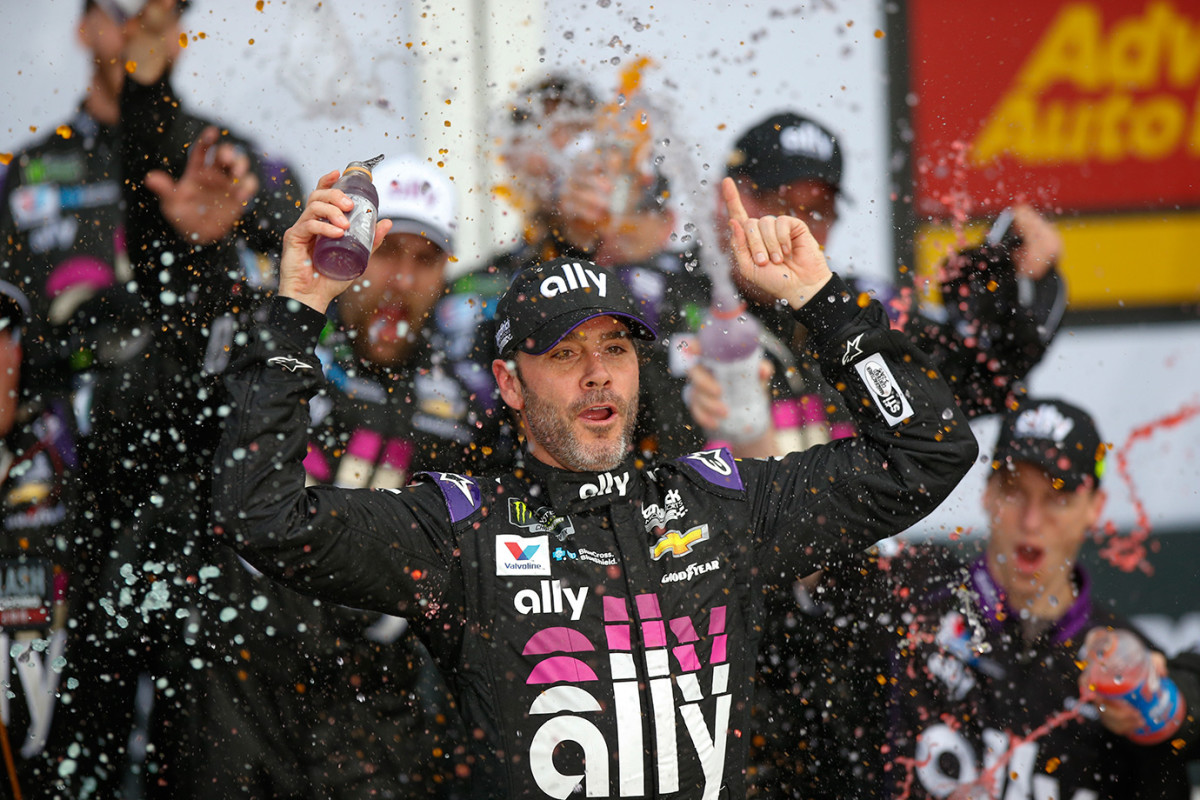 But right now Johnson, soaked with rain, walks to get another trophy. Whenever he finally decides to walk away from NASCAR and take no more of its trophies, he won't be done competing. "There are still a lot of other vehicles and forms of racing I want to participate in," he told me back at the warehouse. "And, you know, after 20 years of competing in NASCAR, I think that could be a good time to say, 'I've done this on a full-time basis; is it time to move on?' "
Perhaps so. But for now, he's standing on a podium, near an unending line of fans, umbrellas and TV cameras making it hard for them to see. His new crew chief, Kevin Meendering, hugs Johnson, as his PR handlers hold large umbrellas in a pointless attempt to keep him dry. Though the race doesn't count toward anything, and though Johnson fell short of his half-marathon goal, he sprays Gatorade in the air, onto himself, behind him, onto the Hendrick crew—everyone standing in the rain, Jimmie Johnson cradling a trophy once again.
For access to exclusive gear videos, celebrity interviews, and more, subscribe on YouTube!