As one of the most athletic players in the NBA, Iman Shumpert knows that the key to staying on top of his game is to focus in on his training. For all the natural ability that Shumpert has—and he has a lot—the Sacramento Kings guard also knows that he needs to put in the right amount of time in the gym to make sure he's at the top of his game on the court.
During his training in the summer, Shumpert uses core workouts, conditioning drills, agility exercises, med ball workouts, boxing, and footwork as part of his program. Shumpert thinks that core workouts are a key thing to work on for basketball players.
"I make sure I do a lot of core work in my training," Shumpert says. "I think that for my sport the core is the most important. I mean really in all sports, but especially in the sport I play, I keep my core right and try and keep that up no matter what I'm doing. I always get some form of conditioning in, and as long as I have a stable core, I know that'll keep me in good position to be close to where I need to be all time when I'm out there playing."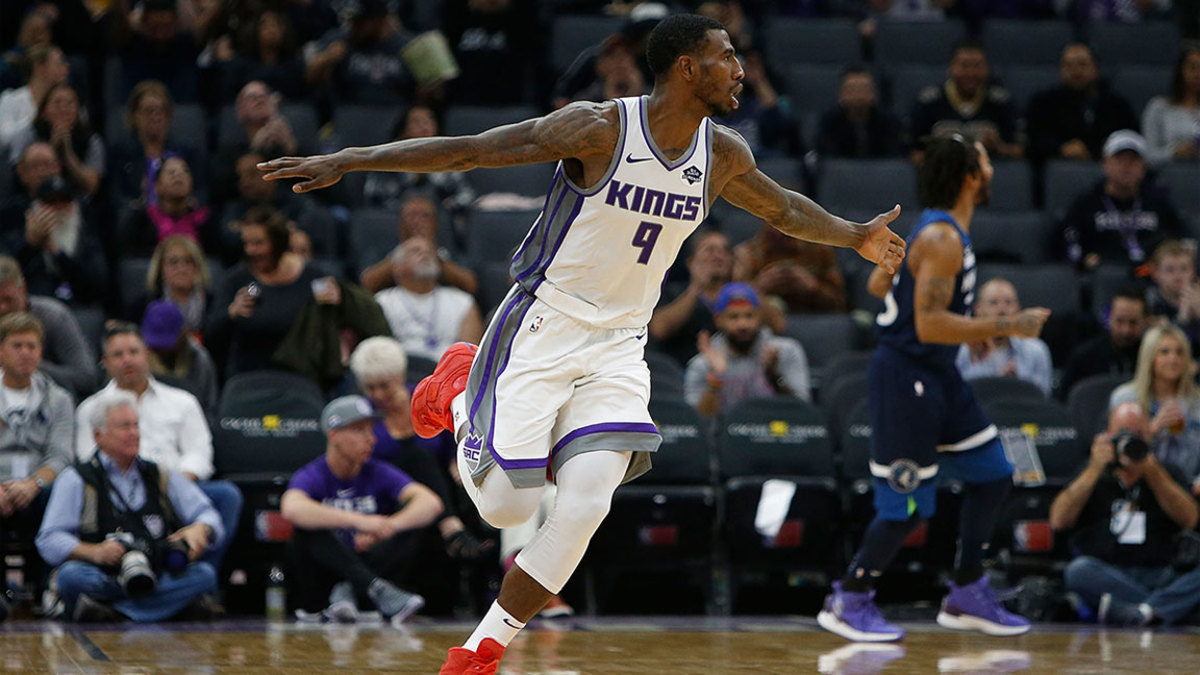 The hard work by Shumpert appears to be paying off this season. The Kings have played above expectations and are in position to fight for a playoff spot in the Western Conference, and Shumpert is putting up his best overall statistical numbers since he was with the New York Knicks back in 2014-15. Shumpert is looking to keep it up the rest of the year.
Shumpert spoke with Men's Journal about training to play his best on the court, balancing his rap career with basketball, releasing six-track album titled Substance Abuse, and about what's next in his music career.
Do you have any go-to routines you like to use in your training?
I really like to change things up. I'm a type a person who doesn't doesn't want to get stuck in any one type of workout. I need a variety of things to stay interested and that way you make sure you get the most out of yourself. I think if you fall into a routine, that's where the slippage comes in. I just try and stay out of that and just try to keep myself engaged with stuff that's fresh. It keeps my mind sharp and focused on making sure I'm getting better every day.
You've done boxing workouts in the past. How do those help you on the court?
It's just a different type of workout. It's one of those things where it helps me out a lot with my hand speed and keeping my balance and footwork going at all times.
What do you enjoy about being able to show your creative side through your music? What's it been like for you up to this point in your music career?
Breaking the barrier and finally going on Funk Flex, it broke a little bit of a barrier that people can't understand. The idea of being an athlete or basketball player and also being a musician. It's awesome to show people and break that barrier and that's the most exciting thing about it. People sometimes think that if someone plays basketball, they have to do that one thing they're great at. But I like being able to show that you can do more than one thing and do it at a high level.
Has your success in music shown other players they can also do things like that off the court?
I think it's cool that more and more guys are doing other things. Whether it's rapping, playing music, an instrument, ot even photography or engineering. There's guys that build stuff and do behind the scenes stuff, we have a lot of talented guys and guys in the league that are super creative. I love seeing that.
What's your favorite part of the music process?
As of 2015, it's playing my songs and seeing what my daughter thinks. It's really a test for me; there's a lot of songs that I'll create and sometimes I let my daughter hear it just to see if she's dancing or if she's feeling it. She can kind of motion to me, she's about that age and she'll be like 'No, play that other song.' She doesn't know how to say that but what I mean is you can definitely tell the difference in her energy. I play a lot of records for her and she doesn't realize that she's being an important part of the process. She's as good of an A&R person you can get [laughs].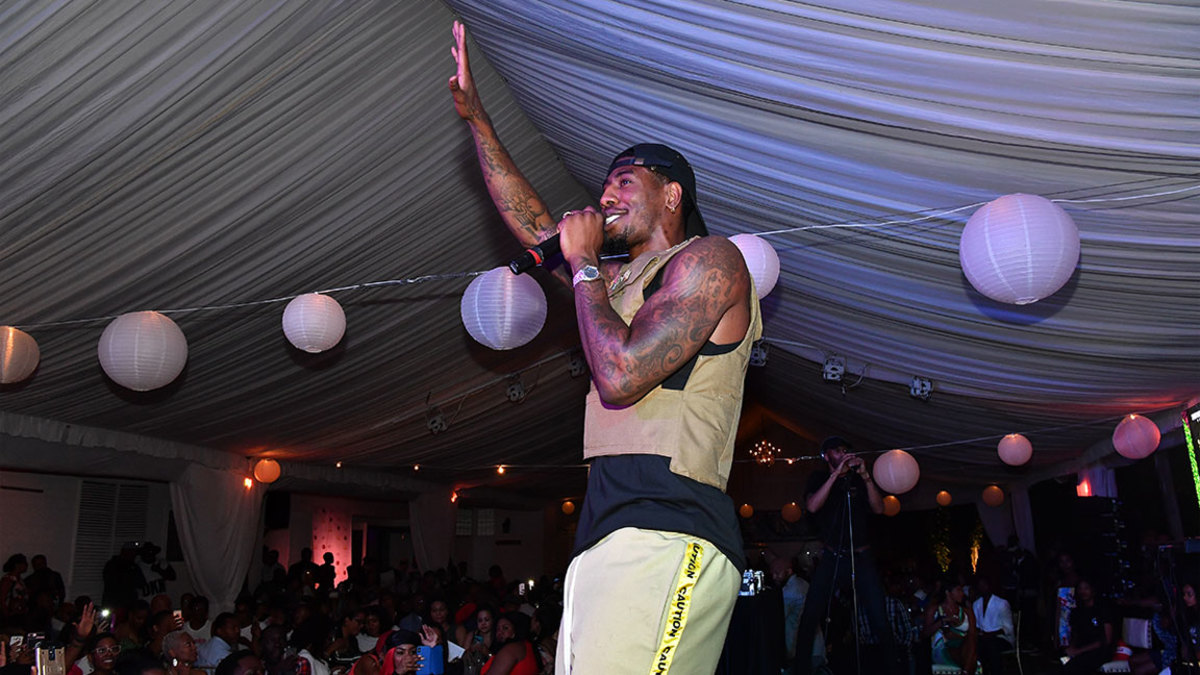 How does music and basketball come together for you as your two main passions?
I use music like I use everything. Everything has a feel to it for me, like how you move on the basketball court the rhythm you have when you're on the court. It helps me in being able to understand your movements and that helps me play alongside you. I can understand your movement, your rhythm how you do things, dribbling the ball, and how you flow on the court. I can see whose mood is up or down, or I can tell when someone listens to something really hyped up before the game because I see a guy who is really bouncing off the walls. You can see who is even keeled, and how the energy is. My job is to pay attention to the feel of the game and always add a positive energy to it on my team through the ups and downs of the game.
How do you find time to balance everything with your music?
I cut out the noise. I'm passionate about it and I'm ready and I've spoken with my in-house engineer and he's taught me how to do everything. I have a studio in my living room so I don't need to waste any time or call a bunch of people and I can just get right to work. I go in there and lay down my ideas and you know it can take 20 minutes and then I go upstairs and I go to sleep and you look at it later. Some people think you're in the studio all night with like a notebook and sometimes it just comes out of you and there's not a million people over and I just get things done. it's funny though the stigma that's like 'Oh yeah he is he spending all this time in the studio and not working out the gym,' and really the studio doesn't take as long as people think. Also I can only be in the gym for so long during the season, you need rest during the season to stay fresh and loose. So I think people sometimes have the wrong conception of that. I've been doing it for a long time.
What do you have coming up music-wise in the future?
I recently partnered with a record label. I didn't want to do it before, but with me doing a couple shows that I did this summer it was the right time for it. So the music will be out further and more people can get it and more people be aware of it. I'm excited about that and hopefully the stuff that I share people will into it and we go higher and better from there.
Anything else you're working on you'd like to share?
I've also been working on a clothing line, it's called Centerpiece and the idea behind it is it's a men's line and we will have a lot of unisex things. It's predominantly a men's line and we think of the Centerpiece man as being a centerpiece of the family, of being a father in teaching the guys around you, and knowing yourself at the core and that's really what it's about it to me. That was the best way to kind a help that line stand out, and my brother came up with a cool graphic like he always does, I'm excited.
For access to exclusive gear videos, celebrity interviews, and more, subscribe on YouTube!