Brooklyn Nets guard Spencer Dinwiddie went back to school, but it wasn't just any school. Dinwiddie followed in the footsteps of many other NBA players by enrolling in the Harvard Business School Crossover Into Business program last year.
As the NBA continues to grow in popularity around the globe, and as athletes continue to build brands of their own with social media, overall media exposure, and their play on the court, being well-versed on the business side of things has become almost as important as training in the gym. That's where the Crossover Into Business program comes in.
The semester-long program, which is run by professor Anita Elberse, has been around for a few years, and it gives athletes in professional sports the chance to add educational and business experience to their careers. The program sets up athletes with some of Harvard Business School's MBA student mentors, which allows the athletes to learn more about the business decisions they'll make in their careers, as well as giving them experience they can use during and after their athletic careers are over.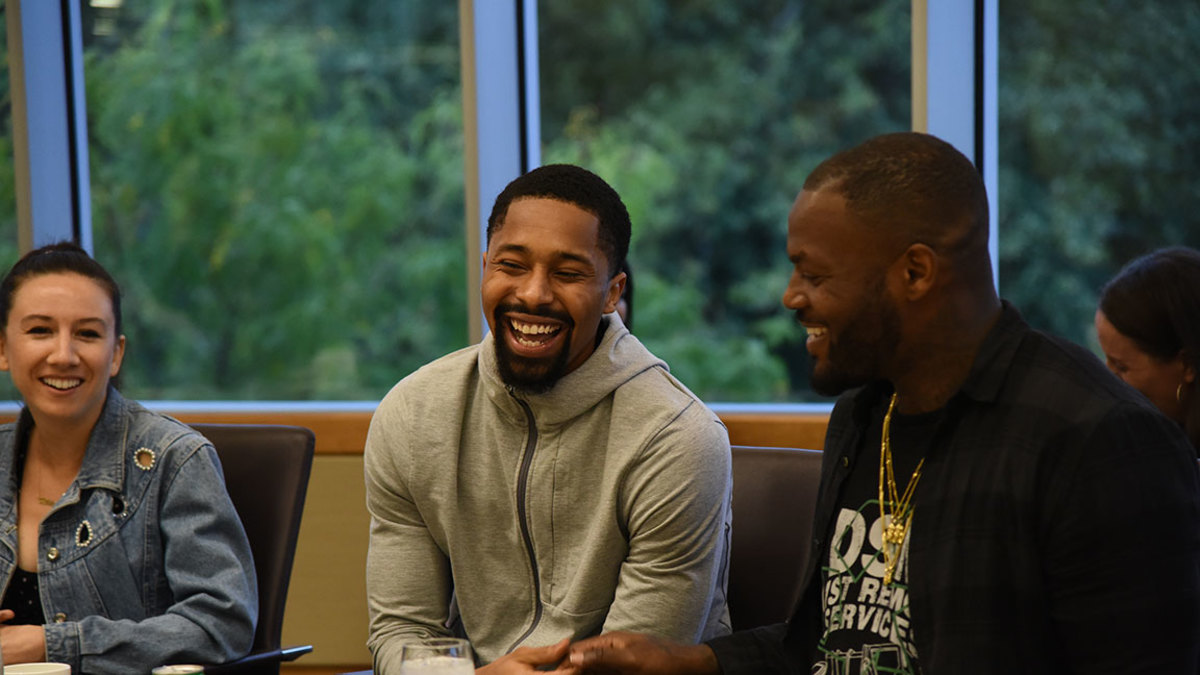 Dinwiddie was excited to take part in the program, which also included fellow NBA players John Holland and Zaza Pachulia, as well as WNBA players Imani Trishawn McGee-Stafford, Cheyenne Parker, and Kelsey Bone.
"For me, being a budding entrepreneur and having aspirations off the court, it was something I wanted to learn and explore more on the business side," Dinwiddie told Men's Journal. "I'm in the mode of acquiring knowledge and relationships on the business side and it's paramount that you learn as much as you can and have the best resources. This was a way to do that and I felt like I learned a great deal from this program for the business side of things and my future after I finish playing."
Professor Elberse is highly experienced in the world of business, entertainment, and sports—she teaches an MBA course on the intersection of all three and has also done numerous case studies on related topics, including Jay-Z's book Decoded, the streaming service Hulu, as well as franchises like FC Barcelona and Real Madrid.
"It's in a way like a mentorship program, something where the athletes can get smarter about business and do so while they're still active," Elberse told Men's Journal. "The program is highly customizable for the athletes, because many of them have different backgrounds, different expertise, different goals, and are just simply in different stages of their careers as well. Whether it's about finance, real estate, business deals, branding—everyone is looking for certain things and we try and work with what they're interested in."
Other NBA players who have passed through the program include Dwyane Wade, Chris Bosh, Caron Butler, Lance Thomas, John Holland, and Joe Harris, while WNBA, NFL, and MLS players like Martellus Bennett, Tina Charles, Sam Cronin, Kofi Sarkodie, and Mohamed Massaquoi are also alums.
As students, the athletes go through a range of different subjects and projects, including business planning, business case studies, business analysis, and project presentations. The program also gives the athletes access to business executives, students, professors and other connections they can use as resources during the program and in the future.
"The core of the program is that we pair each athlete two of our second-year MBA students," Elberse says. "They'll walk through different case studies with those students, but they maybe also will do additional readings and work in areas that they have particular interest in. We also have the athletes come to campus and have some time there, because obviously they have tough schedules and games to play, but it's great to have them be there and get a sense of what it's like."
On top of all his work in school, Dinwiddie has been doing plenty of great work on the court this season. He's having the best season of his career, averaging career-highs in scoring with 17.5 points per game and field goal percentage by shooting over 45 percent from the floor, and the Nets are in position to make the playoffs for the first time since the 2014-15 season. Dinwiddie has been a huge part of that, and he was rewarded in November with a three-year, $34 million contract extension with the Nets.
"I finally feel like I have an NBA home in Brooklyn," Dinwiddie says. "It's been really rewarding seeing the plan come together in Brooklyn and I look forward to being here more years. It's great to have that stability and the people I work with here every day are incredible. When the fans are rocking and the stadium is full, there's nothing better. They give us the energy and we hopefully can make that postseason push this year and give the fans that experience. We look forward to putting the best best team we possibly can out there."
Men's Journal spoke with Dinwiddie a bit more about Harvard's Crossover Into Business program. Here are some of the highlights:
What was your experience like taking the Harvard Business School program?
It was a really great experience and I really enjoyed it. The school works in partnership with several sports organizations, and they have some of their athletes come and do a course with the Harvard Business School. You learn their case study methodology and you also go for a little time to an actual physical class in early September where they just go through the program and connect you with student mentors. We learned a lot of interesting stuff regarding case studies and you get a more drastic understanding of the different deals athletes make and you just acquire a lot of knowledge about the business world.
Why did you want to be part of the program?
I feel like it's never too early to start planning your future and learning about business off the court. Caron Butler was one of my mentors when I got into the league, and he did the program and he stressed to me the importance of keeping those things in mind even when you're young or a rookie. I have business and entrepreneurial plans and I thought this would be very helpful to learn for all that.
Do you see more NBA players talking to each other about business and off-the-court stuff now?
Yeah, for sure. I think the culture of the NBA is definitely shifting or has already shifted in that way. Guys are thinking more about business-related stuff and finance, and they're a lot more open about that then maybe they used to be. So that's a lot of fun to be a part of that.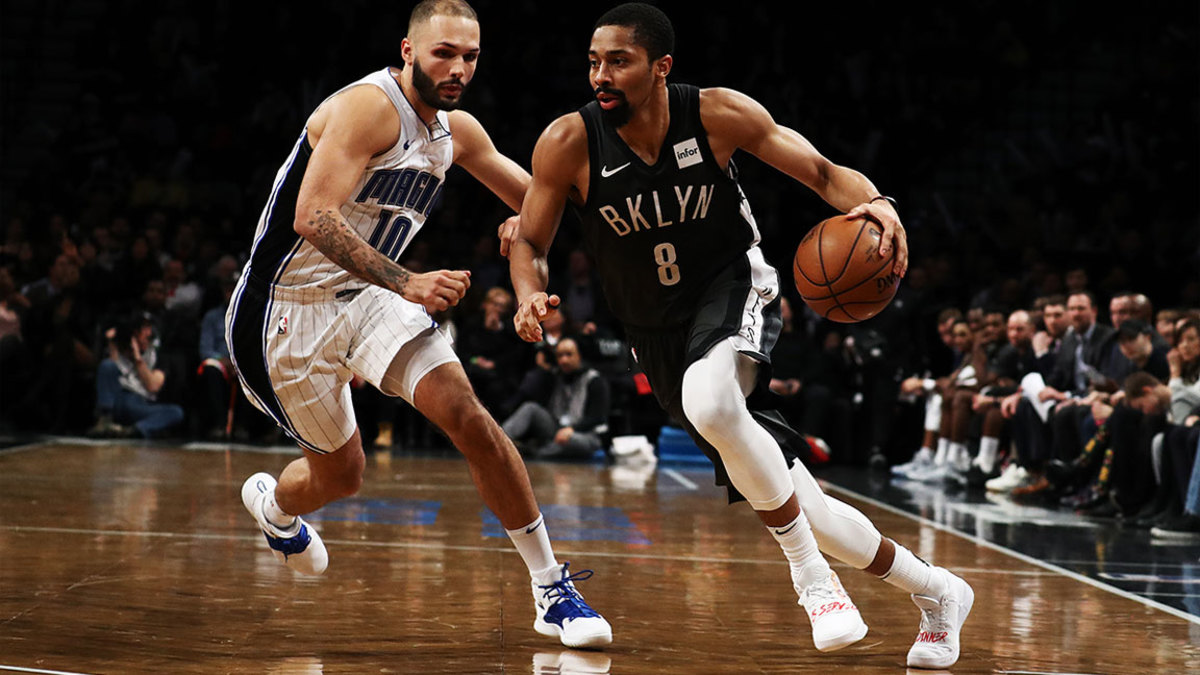 What are some of your post-career aspirations?
There's a lot of thoughts in my mind about what I might do in the future, but nothing that I've fully executed yet. My primary focus in terms of off-the-court currently is working on my brand and also with my partners at Project DREAM. So there's that I'm working on now and there's a lot I want to do in the future and that's what the Harvard program was also about for me.
What was it like to balance the schedule of being an NBA player and doing the program?
That was definitely the toughest part. I mean basically I just tried to block out time between games and stuff to get the work done. Sometimes practice days can run a little bit long and you're doing treatment and being with the PT afterwards, so you have to make time to get your work in.
Would you recommend the program to other players?
Definitely, my experience was great. It's amazing to enhance your knowledge base and then to be interacting and building relationships with brilliant people who are actually in Harvard Business School. I would definitely recommend it to anybody that has that that interest.
This interview has been edited for clarity.
For access to exclusive gear videos, celebrity interviews, and more, subscribe on YouTube!