It can be easy for an NFL head coach to let things go diet-wise.
When you're watching game film late into the night and spending most of the week preparing for games at the office, it's not out of the ordinary to reach for fast food, snacks, or other quick—but not always healthy—food options.
Washington Redskins head coach Jay Gruden fell into that trap. But heading into the 2017 season, he decided to do something about it. After ballooning up to near 250lbs, Gruden took charge of his nutrition and dropped around 30lbs over the summer, according to an interview with ESPN.
"There are times when I don't have the best eating habits in the world and I cheat a little bit," Gruden said. "But for the most part I know how hard it was to get it off, and the last thing I want to do is splurge on three double cheeseburgers, large fries, and two Cokes. I try to stay picky about what I eat."
Gruden told the network that he stayed away from his three favorite cheat meals—"pizza, burgers, and chicken wings"—and started to keep a diet with much healthier options, including chicken, steak, vegetables, and fish.
Losing weight wasn't just a vanity issue for Gruden. The head coach has had issues with his knees over the years, and dropping weight has helped with the pain and "wear and tear" that he often dealt with during the season.
"It feels so much better to move around," Gruden said. "I used to be so sore. I'd get out of bed and I could hardly walk to the bathroom, my joints hurt so bad. Once I lost the weight, I started feeling better. I was able to run. I'll go out and take a 30-minute run after walk-through or right before dinner."
The head coach got into the action during training camp with his players, doing some pushups during workouts over the summer: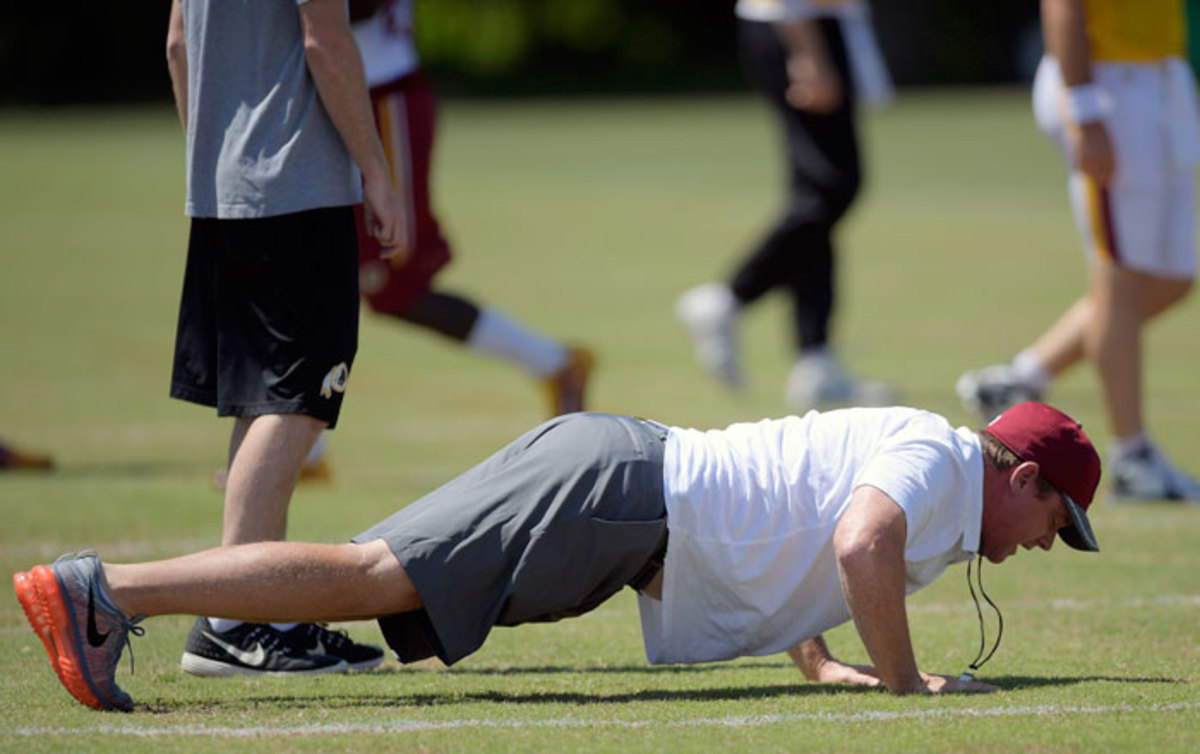 John McDonnell / The Washington Post via Getty Images)
Gruden told ESPN that he doesn't usually eat after 6 p.m. anymore if he can help it, and he also uses smaller portion sizes to help control his food intake.
"I feel way better," Gruden said. "The big thing is getting a little workout and eating better. I feel better all the way around. I have more energy at practice and more energy watching tape. Before, I felt big. My face felt heavy and my clothes, you don't notice it when you wear [T-shirts], but when you put on nice clothes, that's when you notice it. You're going from a 36 [waist] to a 38, and you might have to go to a 40. I'm like, 'Oh, God.' Now I'm back to a 35, and I might be able to get into 34s now."
Gruden has been able to keep the weight off for 2017—and he hopes to continue the trend into next season.
Are you looking to slim down and get your nutrition and diet in order? Try these programs, meals, plans, and tips from Men's Fitness, and watch your flab drop:
[RELATED7]
[RELATED8]
For access to exclusive gear videos, celebrity interviews, and more, subscribe on YouTube!