Kansas City Chiefs quarterback Patrick Mahomes has had quite the year. After his first season as a full-time starter, Mahomes won the MVP award and turned the Chiefs into Super Bowl contenders.
Mahomes threw for 50 touchdowns last season, and while the Chiefs came up short, they're in position to make another deep playoff run this year. A big part of that is due to Mahomes' talent, and he's been working on that talented arm all offseason. Training is a major part of Mahomes' offseason routine, and this winter has been no different.
"Shoulder care is definitely something I'm doing more than I used to," Mahomes told Men's Journal. "My trainer, Bobby Stroupe, takes me through a routine where my shoulder is in awkward positions while gaining strength. I throw from so many awkward positions on the field, so it's an important part of my routine."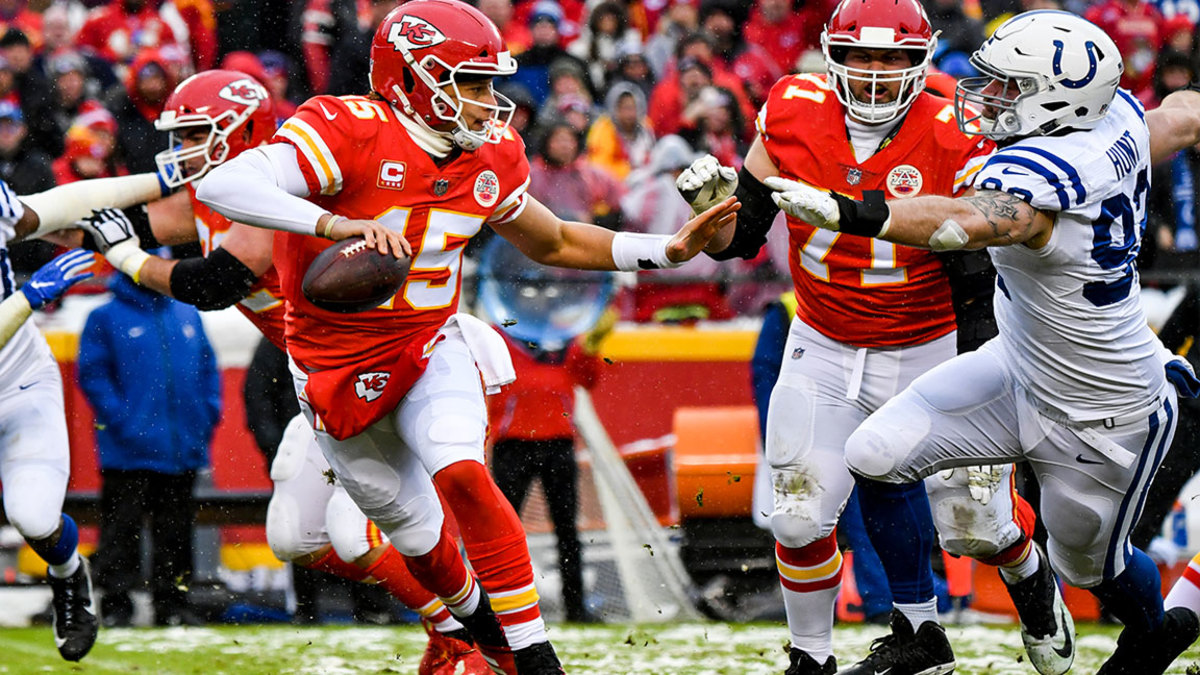 Along with Mahomes' great play on the field, Mahomes has also seen his profile rise off the field and one of those areas has to do with his love of ketchup. After putting that out into the world last year, Mahomes has started working with Hunt's, including on the Hunt's new Best Ever ketchup. Here's a look at some of the fun stuff Mahomes has been doing with Hunt's:
@PatrickMahomes has made the first selection in the All-Time Favorite Condiment draft. Now you can pick our thickest, richest, all-natural ketchup – Hunt's Best Ever – for your team, too! pic.twitter.com/6mAWR3oN62

— Hunt's (@HuntsChef) April 23, 2019
Mahomes spoke with us about his offseason training routine, how he eats when he trains, his work with Hunt's, and why he loves ketchup so much.
You're one of the most athletic players in the league. What are some workouts and training you do to help you with speed and agility?
The thing I've worked on the most recently is mobility. I work a lot on mobility in my joints, hip flexor and legs. It's important to get everything out of your body that you can.
What have you learned from your father over the years about being a professional athlete?
Mainly just the work ethic that it takes to become a professional athlete. You have to grind every day. You can't just show up and play on game day. You have to prepare throughout the week to get ready for the game.
How does Hunt's Best Ever Ketchup hold up to the competition? See what our newest ketchup can do. pic.twitter.com/SLX6Afl1hC

— Hunt's (@HuntsChef) April 16, 2019
What are some of the ways you follow your diet to stay in your best shape?  
I've gotten much better with my nutrition as of late. It's something you have to take care of when you get to the NFL to stay in the best shape possible. It's so important.
How many meals do you eat each day?
I usually eat four to five meals a day. I eat breakfast, then lunch and then spread out my dinners to make sure I'm not eating too much at any one time.
Ketchup + @PatrickMahomes = True Love #Valentines pic.twitter.com/UfRaXwDHW8

— Hunt's (@HuntsChef) February 14, 2019
Take us through a Patrick Mahomes workout session, what type of stuff are you doing in the gym on a typical workout day?
I make sure to get in some foam rolling and time with the Hypervolt volt to warm up. I have to make sure my body is ready to work out. I do legs one day and arms the next and then keep switching back and forth. We also always do shoulder mobility workouts and throwing mobility exercises. It's important that I always make sure my shoulder is the healthiest it can be.
How has being a former baseball player helped you as a football player?
I think it's helped me throw from different arm angles which is an important part of my game. I like to play on the move, not static. I was able to throw from uncomfortable positions accurately at a really young age.
What are some techniques you've been able to bring over from baseball to help you with football?
Definitely long toss. It builds arm strength and something that I still do. I still do a lot of different arm workouts with bands that I did when I played baseball.
What's it been like working with Hunt's and your partnership so far? What have you enjoyed about the relationship?
I think what I've enjoyed the most is the people. The people at Hunt's have been great. They aren't just a partner, they are someone I can trust. And of course I love the product. Being a ketchup lover and being able to have Hunt's Best Ever whenever I want is awesome.
What has it been like to work with Hunt's on the Hunt's new Best Ever ketchup?
It's been fun. It was cool to try the ketchup before it was released. I loved it right away. It's fun that I can get it whenever I want it. I'm excited about the launch of the new ketchup, Hunt's Best Ever. It just tastes better. I've already asked Hunt's to ship me more bottles.
What are you hoping to do in the future with Hunt's?
I just hope we build on the relationship. There's nothing really specific I want to accomplish with them but long term relationships are important to me. I just hope we keep finding different ways to expand on my love of ketchup.
For access to exclusive gear videos, celebrity interviews, and more, subscribe on YouTube!