NFL player Brandon Copeland doesn't spend his offseason like other athletes. Sure, he makes sure he's getting in the gym and staying in shape for the following season., but along with that, the former New York Jets, Detroit Lions, and now-Patriots linebacker spends time as a professor of a financial literacy course at the Wharton School of the University of Pennsylvania.
If you know anything about Copeland, the linebacker dishing out financial advice and teaching young people about financial literacy isn't much of a surprise. Copeland has long put a focus on his personal finances, including when he started his career in the league by saving and investing more than 90 percent of his paycheck.
"Through my life experiences, I've come to understand the importance of financial education and now try to use my platform to help others on their journey to financial freedom," Copeland says. "I look back and wish I had learned about finances when I was growing up, which definitely would have helped me make smarter decisions during my early 20s. My personal lack of financial education growing up, combined with the idea of "financial fitness" and how it relates to your overall mental health, inspired me to start teaching my class, 'Life 101' at my alma mater, University of Pennsylvania, to make this information accessible and relatable."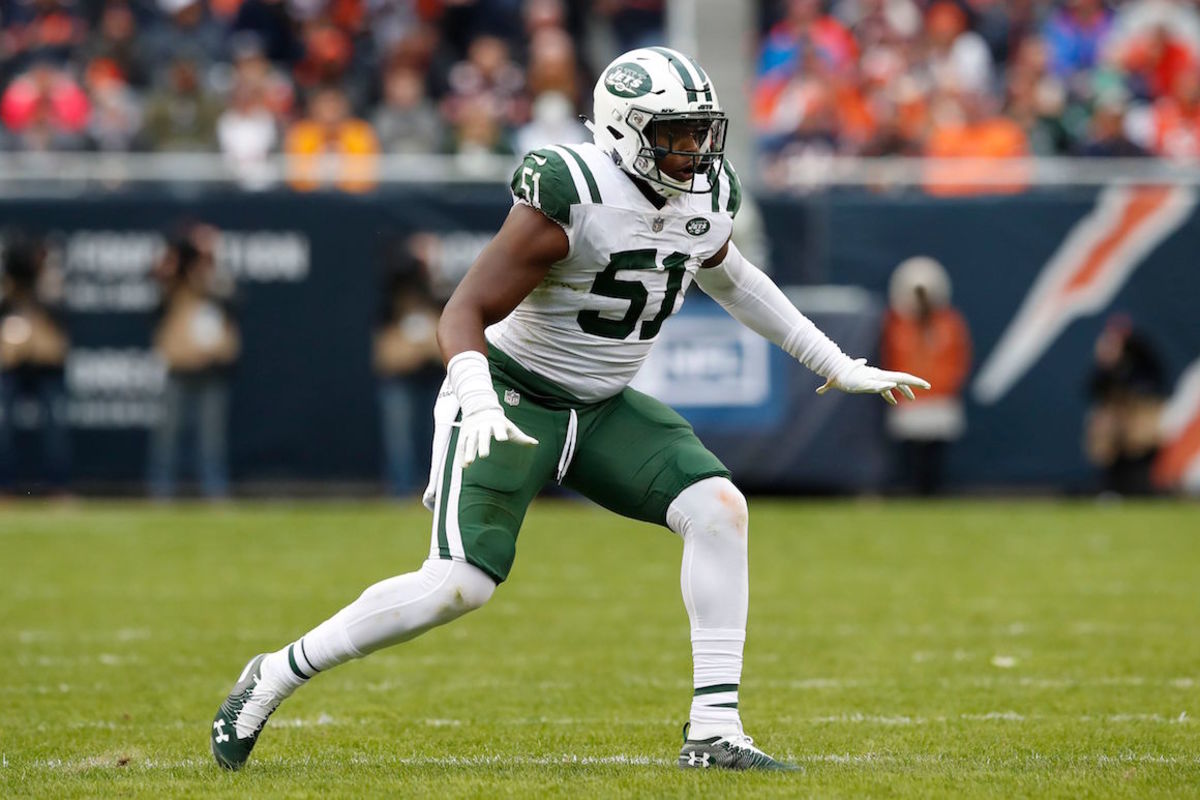 Copeland's interest in finance is in part what led him to partner with Capital One to help promote financial well-being for people. Part of that was the Mind Over Money study, which found that people having a change in mindset can positively impact financial decision-making. Copeland said that these are some of his "favorite tips" that came from the study and ones that he uses " to stay on track and make smarter money decisions."
Don't let the last play affect your next play: "If there is a decision you're not happy about, accept it, learn from it and move on. We've all had that one cheat meal that led to an entire weekend of unhealthy eating. Again, the key is to accept it and move on—because all decisions add up."
You can't stress what you can't control: "During my rookie year, someone told me 'you can't stress what you can't control' and this has stuck with me throughout my career. I can't control if the roster is getting cut from 90 to 53 people, those decisions are out of my control. But what I can control is being a player worth keeping on the team. I can control showing up on time, and being present when I show up."
Keep your goals in front of you: "Reminders can be as simple as making your goals the screensaver on your cell phone. This small but consistent reminder can ensure that your goals are always top of mind, especially when making financial decisions."
Copeland spoke with Men's Journal about his best financial advice, being a college professor, how he trains in the offseason, and more.
Men's Journal: What made you want to start your career off by saving and investing more than 90 percent of your paycheck? How did you come to that decision?
Brandon Copeland: Football has been a great opportunity, but my goals stem far beyond the football field. I am using the financial "head start" from football to set myself up for success well beyond my playing years. I personally feel that saving and investing most of my money will help me accomplish my post-football career goals.
How would you describe your financial fitness mantra?
I try to keep my long-term goals at the top of mind. When you have a vision for yourself, you have to act accordingly. You HAVE to find solutions that work best for you—you can't just follow others. For me, thinking about my future helps me make disciplined decisions, which are often harder to make in the moment, but lead to long-term sustainable financial success.
What was your experience like being a financial literacy professor at The Wharton School of the University of Pennsylvania? How did that come together?
It has been a great experience. I'm currently in my second spring semester teaching at UPenn and I can really feel my impact on campus when students and alumni pop into my class just to learn for the sake of learning. It's also a humbling opportunity for me to reflect on my own journey from student-athlete to professional athlete as I walk the same grounds, I did years ago, now through a different lens.
Why did you want to partner with Capital One and work on this together?
The partnership is a perfect fit because we share a common goal, which is to help people achieve financial well-being. The Capital One Mind Over Money Study is all about educating people about an unseen force at play – stress – when it comes to having a financially-fit mindset, ultimately to help people build the skills and tools they need to thrive. The study found that the negative effects of stress on financial decisions can be mitigated by changing our mindset and focusing on what we are in control of.
How did the partnership come together with Capital One?
I'm so excited to partner with Capital One on the Mind Over Money Study as they were able to quantify the widespread effects of stress on financial decision making. In fact, it found that stress is linked to worse financial attitudes and practices, even when controlling for household income and FICO scores. What really hit home for me is that the study isn't just outlining the statistics about the problem – it's focused on solutions everyone can grasp.
What are some things people should think about when it comes to making their financial decisions?
I like to tell people that every decision adds up, even the small ones. Punishing yourself for past decisions will not help you move forward, so be kind to yourself when reviewing purchases. Stress can push us to make decisions based on whatever feels most satisfying at the moment. In some cases, these decisions can lead to regret, which can lead to further feelings of stress, and so on, creating a vicious circle. Next time you are thinking about a past purchase, and there is one you are not happy about, you can try to accept it, acknowledge that it was a mistake, and formulate a plan to avoid it next time. However, try not to stress too much about it—because the stress itself can make you less likely to do better.
I also urge people to take advantage of the free resources and tools available to help educate yourself on how to cultivate and maintain a healthy financial mindset – online blogs, books, apps, podcasts, and more. For example, Capital One offers an awesome credit monitoring app called CreditWise, for free. Whether you're a customer or not. CreditWise helps users understand, improve and monitor their credit. Many people don't realize the importance of their credit score on everyday life. I highly recommend downloading the app and using it to educate yourself on your credit score to help make progress toward your financial goals.
What are some of your favorite ways to train in the offseason?
Training and hard work is what has kept me in the NFL for going on eight years. I push my body as hard as I can, both mentally and physically, so that during the season I am battle-tested and prepared. My trainer, Troy Jones Sr., is very hard on me, but that is one of the reasons I choose to work with him every year. We have worked together since high school, and he constantly comes up with new ways to challenge my athletic ability.
What's your overall financial philosophy?
I've worked very hard my entire life to make money—I paid attention in school, had internships, networked—all with the promise that it would help set me up for "success," which for better or worse a lot of us correlate to financial success. Now I must work twice as hard to save the money I've made and three times as hard to learn how to grow it and make it work for me long-term. This philosophy ensures that I stay 100% committed in my pursuit of financial freedom, as discipline and 'work' remains an integral part of the process.
For access to exclusive gear videos, celebrity interviews, and more, subscribe on YouTube!