Natural ability is obviously important if you want to be an NFL wideout. But to really separate yourself from the competition, there's no way around it—you need to spend time in the gym. NFL wide receiver Brandon Marshall understands this all too well.
At 6'4" and 230 pounds, Marshall is one of the most physically gifted wideouts in the league. But the receiver, who also works as an analyst for Inside the NFL on SHOWTIME, doesn't rely solely on those attributes to dominate the NFL—he puts in the time in the gym to make sure he's in peak form for the season.
"I think it's critical," Marshall says of his training. "A lot of times when you see athletes, you only see the physical gifts, the talent on the field. But so much more goes into being able to play at an elite level, consistently, for a long time. That's where the training comes in."
Marshall does a wide range of exercises and workouts to keep himself in top shape, including bench pressing, dumbbell rows, functional training, intense treadmill work, Olympic weightlifting, sled pushes, and—most importantly—squats.
"For me, the king of all exercises is the squat," says Marshall. "It sounds pretty simple, but you get bang for your buck there. I know it's not exciting—it's not like, 'Oh my God! This is revolutionary!'—but those are key for building my speed and lower strength."
Marshall's commitment to his fitness was on display during the 2015 season. After setting Jets records with 109 receptions and 1,502 receiving yards, Marshall became the first NFL player to have a 1,000-yard season with four different teams. With the way Marshall works out, it's not a surprise to see him dominate.
"I have a few pillars that I go by and live by," says Marshall. "One of them, that's my physical fitness and exertion. Working out, speed and agility training, conditioning, strength training, it's all extremely important."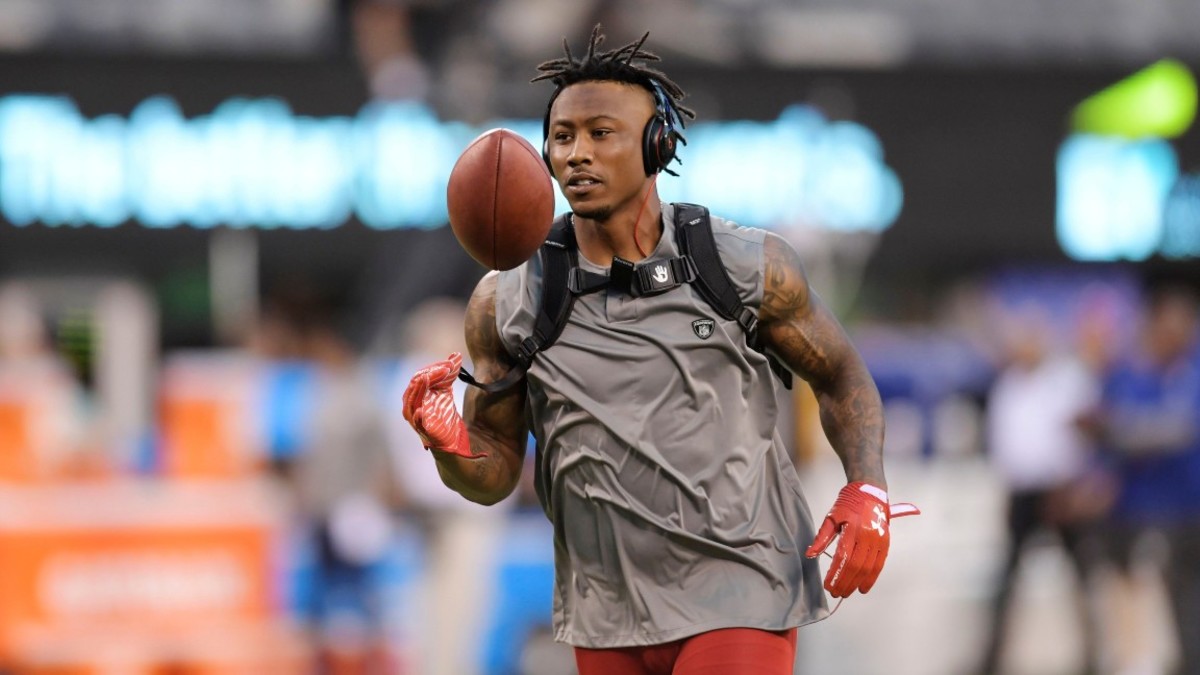 Here are some of the exercises that Marshall utilizes to stay ahead of the competition:
Barbell Back Squats
How to do it: Start standing under the rack with your feet hip-width apart, gripping the barbell, keeping it rested on your shoulders. Dismount the bar from the rack and squat down, bending your knees and keeping your hips back, and your back as straight as possible during the movement. Dip down until your thighs are just below your knee, then straighten up into starting position. Make sure you extend your hips fully without hyperextending them.
Why Marshall does it: Squats help with building lower body strength and muscle, which helps wide receivers increase speed. The movement helps with flexibility, hip movement, and builds strength in your quads and hamstrings, which helps players when they move in and out of routes and cuts on the field.
"It's just traditional—just get in there and squat," Marshall says. "A lot of times we are always looking to be progressive, always looking for the new thing, but sometimes tradition wins. We keep it simple. We didn't put millions of dollars into our equipment [at Fit Speed Athletic Performance, where Marshall trains in Florida]. We really only have a few pieces. The squat is key for us."
Sled Pushes
How to do it: Load up a sled with a comfortable, but challenging, amount of weight and set a distance ahead where you will push the sled for each of your reps. Marshall uses between 15-25 yards, depending on his workout. Lean over and place your hands on the sled handles and push off using your legs, pushing as hard as you can towards your goal distance.
Why Marshall does it: Sled pushes work your core, as well as your lower legs, quadriceps, and hamstrings—key areas for football players, especially wide receivers. The pushing can help improve acceleration, as well as flexibility in your hamstrings/legs. "We focus on movements and exercises that can translate to football movements," says Marshall. "The sled is big for that."
Pushing off the line of scrimmage and breaking out of contact with defensive backs is similar to the pushing the sled. Marshall says the sled helps increase his speed and explosive ability coming out of his breaks with the increase in lower body muscle and explosive power.
Air Squats
How to do it: Start standing straight with your legs just over shoulder-width apart. Squat down and sit through your hips, so that your hips dip just below your knee. Raise up, extend your hips, and stand up fully straight to complete the movement. Marshall uses a Keiser Air Squat machine for his workout.
Why Marshall does it: Marshall uses the machine to add resistance to his body squat work. The exercise helps to strengthen your thigh muscles and hip muscles, as well as your quads and hamstrings. The latter two are extremely important for wide receivers, especially in preventing injuries and keeping their speed up at the proper levels.
"We all [athletes] do the same stuff, pretty much," says Marshall. "But when it comes down to it, there are a few things that you can't shy away from—squats are one of those for me."
Bench Press
How to do it: Lay down under the rack and grab the bar with both hands using a strong grip and straight wrists. Take the bar off the rack and lower it down to your chest and keep your forearms in a vertical position. Press back up with the bar from you chest back into the air, locking your elbows straight at the top.
Why Marshall does it: The bench press helps with upper-body strength, including in the chest, arms, triceps, and shoulders. While lower-body strength is very important for wide receivers, upper-body strength is also key for pushing through defenders while trying to get open. Even though Marshall outweighs most defensive backs, his increased upper body strength gives him even more separation from players.
Runner Machine Sprints
Why Marshall does it: Marshall uses the Keiser Air Runner to do sprints and for his conditioning work. The machine gives Marshall the ability to add resistance to his workout, which helps with lower body strength, overall speed, agility, flexibility, and acceleration—all integral for wide receivers.
"I think that as football players, we obviously know that you have to be conditioned," Marshall says. "You have to be strong and you need speed. The Keiser company does a great job of making the Air Squat and the Air Runner machines—they really help out. I really focus on that a lot too. When it comes to exercises we put a lot of work in on the Keiser Air Runner and the Keiser Air Squat to help speed and power."
Treadmill Incline Exercises
Why Marshall does it: Marshall uses a treadmill and puts it on a hill incline to help with speed training and conditioning. The incline allows Marshall to build muscle in his lower body, including the calves, thighs, glutes, and ankles.
"Treadmill work is one of those things that we do for speed and conditioning," says Marshall. "The one thing that I think that separates what we do [at Fit Speed] from everyone else is our speed training. I have a high powered Woodway—the ELG Treadmill. We call it The Beast. It goes up to 30-something miles per hour, 35 percent incline, so I can do my hill work inside, I can do my speed training inside, I can do long-distance inside. No matter what's going on outside with the weather, I can get my work done in a controlled environment. I would say it's more efficient—it helps me reach my goals a lot faster."
One-Arm Dumbbell Rows
How to do it: Lean on a bench with your left leg and lean forward with your left arm, placed towards the front of the bench. Your upper body should be parallel to the floor. Grab the dumbbell with your right hand and lift it upwards. When you reach the top of your lift, hold that position for a few seconds, then slowly bring it back down to starting position. Repeat the movement and then switch sides.
Why Marshall does it: The rows help with his upper body strength, hitting the shoulders, traps, biceps, lats and middle-back muscles. Wide receivers need strong arms to help corral short-range passes, and the added muscle and power helps when they're crossed up with defenders.
"Athletes have different philosophies for training. There are different ways of getting to it," says Marshall. "Some people do it with lifting, some people stay away from that and get to more functional training. I like to focus on the functional training. I think that it translates well to the football field."
For access to exclusive gear videos, celebrity interviews, and more, subscribe on YouTube!