Smashing a perfect drive, pummeled down the fairway is one of the best feelings in golf and straight ripping one with a PGA Tour player watching makes it even better. That sensation gives you a rush of satisfaction that echoes around your psyche at least until your next shank, but hopefully a little longer. Especially if you've just marked an eight on the card. Both of these things, I've just done standing on the 12th tee at Riviera Country Club.
I've come to The Riv, as it's affectionately known, to play in the Genesis Open Pro-Am. In hopes not of testing myself against a pro, but rather to see how wildly different our games are.
Riviera is a golfer's dreamscape. Nestled in in a Pacific Palisades canyon, the course is surrounded by mansions of the rich and famous, including, I'm told, Julie Andrews and Mel Brooks, who live in neighboring and disparately designed homes along the 12th hole, his modern and her's with a more classic look, obviously.
The course itself is a pristine test of golf, requiring laser-like focus on every shot and the Genesis Open is a favorite stop on tour. Celebrities turn out to support LA's only PGA event (Mark Wahlberg and Luke Wilson are in the pro-am field,) and the event supports Tiger Woods' charity, The TGR Foundation. "This course is one of the favorite of golfers around the world," says Erwin Raphael the US COO of Genesis Motors. "This year, for example, we'll have 21 of the top 30 golfers in the world playing here. I've spoken over the last two days to a dozen to fifteen of them and they all talk about how much they love this place. Plus it's one of the biggest tournaments on the tour, early in the year."
Much like the tour pros, this is one of my absolute favorite courses. I've been lucky enough to play The Riv before, so I have some idea what to expect, but I've never teed it up in tournament conditions like these. The four-inch kikuyu rough is so thick and lush I'm surprised there aren't a few horn-rimmed hipsters out here snagging some sod for a green juice on the back nine. Then there are the greens. If you watch any golf on TV, you know they are going to be fast, and you think you'll be able to adjust with a little practice. Hahahahaha! Easier said than done. The ball just rolls and rolls and rolls on like a cross-country freight train.
Ahead of my PGA Tour pro-am debut, I solicited a little advice from Raphael, who as the host, managed to keep it together playing with Mark Wahlberg and Tiger last year. "Keep pace. That's number one," He said. "Number two is just relax. You're not gonna impress him (your pro,) even if you hit three birdies in a row he's not going to be impressed. Stay calm, swing slow and have fun." Cool, that's my plan.
Of course, I won't be playing with Tiger, which is probably for the best. I don't need that kind of pressure. He was pre-paired with the Executive Vice Chairman of the Hyundai Motor Group ("It's good to be the king!") I'll be playing with European star and number 31 in the world Rafael Cabrera-Bello.
Hoping to get off on the right foot, I set my alarm for some early morning yoga to get the body moving and a solid breakfast packed with lean proteins and yes, a green juice (if you can't beat 'em …) I got to the course well ahead of my noon tee time for a decent practice session on the range where I was hitting solid shots despite having hardly touched my clubs in 2019. Nevertheless the start of my round at the Genesis Open Pro-Am was ugly. Teeing off on the drivable (for the pros) par-4 tenth in a bit of a gale and a bit of a downpour, I was unable to shake off the sonorous musings of a heckling rapper busting the chops of pro-am participants to elevate experience. After trying to dance off his ad-libbed, busted rhymes, I blocked my ball well right into the sand. Not a day you want to spend on the beach, it's 50 degrees and raining. Thankfully Cabrera-Bello has very nearly found the green with his tee-shot and one of our other playing partners is in the fairway. We are playing a team format, so only the lowest score of the group counts.
When I get to my ball, the lie is decent in the bunker but it's awfully close to the lip. And even with a sand wedge, my ball ricochets out and leaves me short-sided my pitch from there races across the green. Two putts and I make bogey. No bueno! But our pro- dunks the birdie, so only my pride is hurt.
On to the par-five 11th, Cabrera-Bello tees off a good 50 yards behind us and smashes it perfectly to right-center of the fairway. I hit a hard hook off the tee to the left rough, so I cross my fingers there won't be any trees in my way. After popping his second to leave a wedge in, Cabrera-Bello saunters over to me, while we are waiting for our other two comrades to hit for a refresher on the names we had shared back on the 10th tee box. Making notes on the scorecard so he can remember what to call us, he mused "Nick… you have a hat," noting the brown fedora I'm wearing in this chilly weather.
Finally arriving at my ball, the lie looks ok, and I'm not blocked out. So I pull a three-hybrid to try to leave myself short of the bunker in the front of the green and a full wedge in for my third. These are what we shall call "best laid plans" soon to be laid to waste. Trying to hold on to the club a little longer to chop the ball out, I smothered it into the the gnarly, wet kikuyu. The ball traveled a sad 20 yards to a new home deeper into the rough. When first you don't succeed, try, try again. So, I give the same shot another go. Want to try to guess what happened? Yup, the same damn thing.
Twenty or so yards farther up, I find my ball again in the rough. Finally, I make a good decision, wedge to the fairway. Hooray! But it's a short-lived success. From 115 yards, I miss the green long right and couldn't get it up and down, so I've just made a magical southern California snowman on my second hole. Good times!
Cabrera-Bello on the other hand, hit the fairway and the green in regulation and made a solid par after kissing the lip for birdie.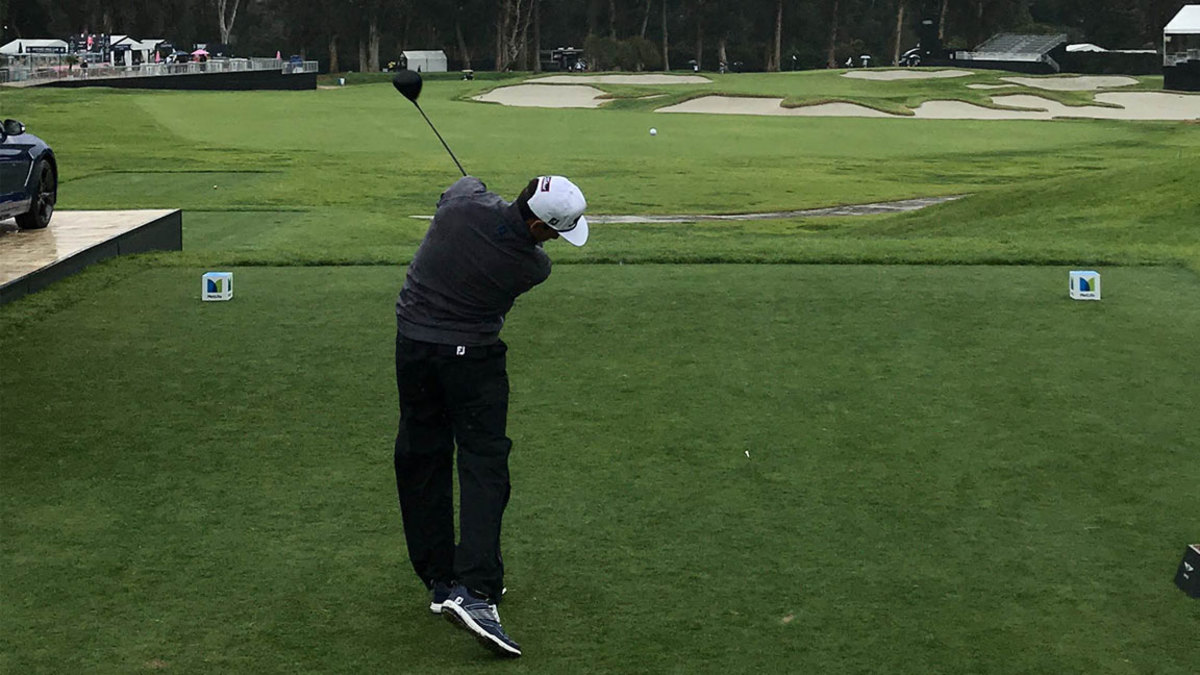 On the 12th hole, I teed off first and blistered what looked like a perfect draw, starting down the right hand rough turning back to a fairway that slopes to the left. Rafa blocked his drive right into the trees that spit his ball back out to the middle of the fairway. A good break, but it left him about 220 yards in for an approach that would find the green. (Golf clap!)
After my monster whack, I get to enjoy a nice long walk up the fairway admiring the "Bogey tree," the large sycamore under which Humphrey Bogart used to lounge with a thermos full of whiskey and it occurs to me that I should have packed a little single malt in bag to pour out in tribute. "Here's lookin' at you, kid."
But as I approach the end of the fairway, my ball is nowhere to be seen. It got hung up just a couple of feet in the right rough. Should have packed that Scotch for myself. The lie isn't great but I'm still only a wedge out. I give it a whack but it comes out funky, with tons of top spin, barley gets 10 feet off the ground a dives toward the barranca, more mistakes and another double bogey. (I told myself I wouldn't cry.)
Still another on 13, where I was so wildly out of position, I'm not sure how the rest of my team made out. I check my bag just in case I did pack a dram or two. No dice. Hopefully someone made a par, but it's rather clear, I'm not going to be much help to day.
During the actual golf tournament, Genesis is giving away their North American Car of the Year on the par-three 14th and 16th for the first hole-in-one on each. A G70 not just for the player but the caddy as well, pretty cool. But it turns out you can't win a car in the pro-am. Damnit! It's just not my day. But, at least I can see the bar from here, so it's definitely time for a drink as I won't not driving! Not that I made an ace or even hit the green. I struck a decent eight iron that caught the bunker by about half a foot. Rafa's caddy Colin Byrne saw the impact mark in the sand and said, "It's a game of inches." It sure is, man! After two shots to get out of the bunker, (I'm typically a strong bunker player, so this is particularly disheartening,) I manage to hole a putt for bogey. Which felt almost as good as the cocktail I make quick work of before the next tee where a made another poor drive but managed a decent pitch out and wedge up. Another bogey, but at least it wasn't a double, though I wish the whiskey had been. So, I popped off for another belt after smacking it in the bunker again at par-three sixteenth. Bogey, once more.
A decent drive at 17 but a unfathomably awful second and I find myself a bit lost, (might be the whiskey.) Long hole made short, and I'm marking another eight. Yeehaw! Highest score wins, right?
The 18th at Riviera is a fun finishing hole (even hough, we will just be making the turn.) Up the hill to the clubhouse with a natural arena, you need to hit two good, well focused shots here. Obviously, I'm not going to do that. I find the right trees, but trying to stay positive, it looks like there's another bar up there. Of course, my crap luck, the next shot is blocked by trees and the bar isn't open yet.
Having learned my lesson, I wedge out and wedge up to the green for a par putt that didn't drop.
After a snack and a coffee, I slip during my drive on the first tee, which pretty much sums up the rest of my round. I go on to bogey the next six holes, which weirdly felt fine. I hit some quality shots quickly followed up with bad ones. Sure, I'm a little disappointed. Nothing was really firing, but I am still having a great time. The other amateurs are good company. They are guys who love the game and here for the same reasons – to play a world class course, in ball-busting conditions with one of the best in the world. For the golf-obsessed, what could be better? We had a nice walk with some interesting conversation in weather that could have been a little more L.A., but it could have been raining frogs and I'd probably still have loved every second. Rafa also seems like a genuine person, chill and totally affable. He and his wife are expecting their first and across a few fairways, we talked, among other things, about the complex political negotiations that go in to naming a child. I remember the haggling all too well. He and Colin are happy to give reads and seem to embrace the format, though I'm sure practice sans duffers is more effective. Obviously the pro-am performance is part of the gig on the PGA, but not once did they seem annoyed with our poor play (I wasn't the only one playing below my abilities.)
For the full tour experience, we were "put on the clock" by PGA Tour rules official Mark Russell after hitting into the par-three sixth hole. (Though we finished our round in a little over four and a half hours, which seems quite reasonable for walking Riv in the rain.) "I love you, but the next group is on the eighth green," he said. We accepted his warning and hustled our way through the next hole. My two amateur compatriots picked up at some point on the hole and Rafa and I both hit decent drives to similar spots on the fairway. I pulled my five iron approach into the wind a bit left while he landed his on the front of the green. I hit my pitch a trifle deep over the other side of the green and flubbed the first wedge back but hit the second to tap in range. Rafa congratulated me on a nice five for a four since my handicap was netting me a stroke on the hole. He hadn't noticed my first chip. I said it actually a six, adding a touch of pressure to his par putt. Apparently no one saw that shot, so no one would have known. But, that's not why we are here, that's not why we play this game.
Another double bogey on eight and my drive on our last hole is weak sauce, up against a fence. After a drop, my options are still lousy so, the lesson of the day is well learned. I hit wedge, wedge leaving me a good go at par but the putt doesn't drop. C'est la vie.
In the end, I've taken 97 shots to get round The Riv. That's a big number and about 10 shots more than what I thought were modest expectations. At home, I'm a reasonably decent golfer who can break 80, but it seems I forgot to pack my game. Rafa came in close to even par – (conditions were tough. He finished the Genesis Open T25 at five under par.) We may have been on same golf course, but I'm not sure we were playing the same game. A swing forged over decades of dedicated practice, and game at least nine levels above my own is impressive to experience in person and up close over 18 holes. I hope one day I get to do it again… and if that day ever comes, maybe I'll remember how to play.
For access to exclusive gear videos, celebrity interviews, and more, subscribe on YouTube!