Any sports fan knows the name J.J. Watt. For the past four years, the reigning NFL Defensive Player of the Year has incited fear in opposing offenses, punished quarterbacks, and help transform the Texans defense into one of the best units in the league. Regardless of how many linemen match up against him, Watt always seems to find the quarterback. He plays with heart on every snap and, on top of all of that, he still maintains a modest, levelheaded attitude.
Even though Watt has an incredibly busy schedule, he always seems to find time to help the community. He frequently makes guest appearances to the Houston YMCA and is a strong force in the greater Houston area. In fact, Watt along with Gatorade, headed to the YMCA today to for the Gatorade Beat the Heat program to surprise a bunch of young athletes. Rather than phoning it in, Watt went above and beyond what was expected of him. He sang happy birthday to a camper and he even "nae-nae'd."
And he sings happy birthday too. JJ Watt is getting an Emmy next. pic.twitter.com/XuXo3YAIOy

— David Nuño (@DavidNunoABC13) July 27, 2015
https://twitter.com/KHOUSportsMatt/status/625701078026227712
Just before he busted out those moves, we spoke with Watt. 
MF: First, congratulations on a dominant season. Also, congratulations on being named the number one player by NFL.com. What does that honor mean to you?
JJW: Thank you, man. It's pretty incredible, obviously, to have my peers vote for that. It's incredible because they are the guys that watch film every day, those are the guys that play and those are the guys that I respect the most, so it's pretty awesome for them to give me that title.
MF: To be the best and to have the title as the best, training must obviously be a huge part of your routine; can you take us through a typical off-season day for you?
JJW: In the off-season I train twice a day, five times a week with my trainer. Then, there's always massages and neuromuscular therapy worked in there as well on different days. But, yeah, it's pretty extensive. Usually, in the morning, we do our platform movements, our agility work, our on-the-field work, and in the afternoons we do the strength portion of our workouts. So, it's a great program and we've been tweaking it every year and just trying to make it better and better. So, we feel really good about where we are this year.
MF: Could you describe your diet and if you've changed it or kept it the same the past couple of years.
JJW: I'm always trying to learn and grow, so my diet has, over the years, evolved. The biggest pull now is to try and be as big, as strong, as fast as possible while also trying to be as lean as possible. So, it's just a lot of lean proteins like chicken and lean steak, things like that, maybe salmon. Then, there's a lot of sweet potatoes in my diet, broccoli, corn, wheat bread, whole wheat pasta, stuff like that. Just trying to make sure that I get the proper fuel that I need to make sure that I have enough calories in me, but also making them good calories.
MF: Do you have a favorite food?
JJW: Favorite food. Ummm. I mean my favorite food isn't healthy at all. I'm a Wisconsin kid, so I like brats and burgers and stuff like that. Cheese curds.
MF: Do you incorporate that into the diet much?
JJW: It is very rarely incorporated into the diet. It's a cheat day and I don't get it very often. But, when I do, that's always a great day.
Watt Announces Partnership With Reebok With 5'1″ Box Jump >>>
MF: Shifting gears a little bit to the football side of the equation, starting with offense. Last season you had three receiving touchdowns, so I'm sure all fantasy owners are wondering, did you level ESPN to change your position as a defensive end/tight end?
JJW: [laughs] I don't know how all that stuff works. I'm just going to go out there and whatever the team asks me to do to help us win football games I'm always going to do. So, if they ask me to do that, I'm going to do that and whatever I can do to help us win.
MF: Back to the defensive side: last season you had 20.5 sacks, two sacks away from Michael Strahan's sack record, do you have your sights set on breaking that record this year?
JJW: I just go out there every game and try to be the best I can be for our team. You know, you don't really look at records, you don't really try and go out there and say I want this number; I want that number. I'm trying to go out there every single game and be the best player I can be for my team. And then, wherever the numbers fall, they do. Obviously, you're trying to get as many as you can. But, you can't really put numbers on it beforehand. You just try to go out there and play the best you can.    
MF: So, today you're down at the YMCA with Gatorade and you surprised a bunch of young athletes. What have you been doing with them?
JJW: Today we surprised some of the kids down at the YMCA. It's a chance for me to come out here and do some drills with the kids, which is always fun, and also rehydrate with Gatorade as a part of the Beat the Heat program – educating teen athletes on heat safety. The Houston heat is very serious. We just want to make sure the kids are properly hydrated and refueled every single day so that they can go out there and perform day after day and we don't have to worry about them having any dehydration issues or anything like that.
MF: I know you're very involved with the Houston community and specifically the YMCA, so with a star-status as large as the one that you carry, how does it feel knowing that one small visit can possibly change someone's life?
JJW: It's absolutely incredible. Definitely one of the coolest parts of my job is being able to know that you can walk into a room or walk into a classroom and you can put a smile on somebody's face just by showing up. And then, being able to use that can help educate people on different things or help motivate them to be even better is pretty incredible. I don't take that for granted at all. I'm very fortunate.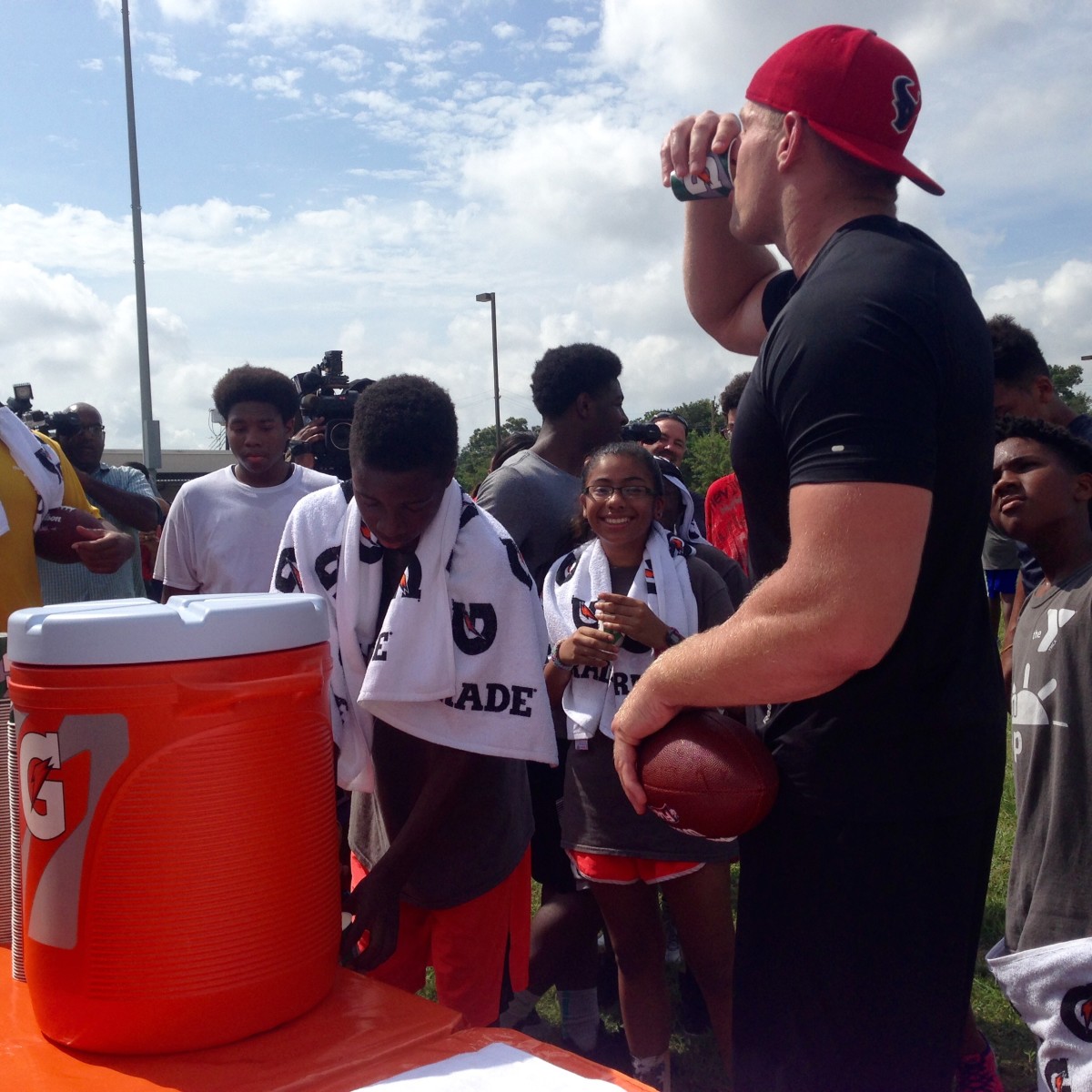 For access to exclusive gear videos, celebrity interviews, and more, subscribe on YouTube!