It's a very cold winter morning in Baltimore, and Ray Rice is up early for a training session. Heavy overnight snow has brought traffic to a standstill, so Rice travels slippery roads to reach Sweat Performance, a concrete box of a gym with Astroturf flooring and exposed ductwork in an industrial park outside the city.
As pop music blares over a tinny sound system, Rice does box jumps and burpees, pulls sleds and tugs ropes, with minimal breaks, alongside his training partner, Mary Clare "M.C." McFadden, a 50-something former U.S. National Lacrosse team player who's now a strength coach at a nearby college. When Rice lags, McFadden barks.
Oddly, there are no other football players in sight.
Instead, the morning "boot camp" class is filled with all sorts of regular people, some quite fit, others less so. Here's a three-time Pro Bowler accustomed to state-of-the-art NFL facilities sweating to Katy Perry alongside lawyers, stay-at-home moms, and at least one grandfather. And the weirdest thing is how normal it all seems. At one point, Rice gets distracted between drills, slowing up his effort. McFadden will have none of it. She yanks his shirt. "Come on, Ray!" she yells, just inches from his face. "Focus!" The class's oldest member, a septuagenarian lawyer with bad knees, cracks a joke about Rice's form.
If you're wondering where the sports world's foremost pariah has been, the answer is here, in this gym, in this class. Over the fall and into the winter, when he had no football job to report to, this was the closest thing to a team Ray Rice could find. He came to Sweat Performance every morning, and sometimes twice a day, to be just another face in the fitness crowd.
"This is the place that got me out of the shell," Rice says at the end of the session. His suburban boot-camp classmates stop by on their way out to bid him farewell. One asks Rice about a rumor that he's leaving town for good. Rice nods, and they bump fists as the guy quietly shuffles out the door. It's a difficult thought for Rice, leaving town, because these are some of the first people he saw as he started to emerge from a self-imposed exile last fall.
"They gave me an opportunity to be me," he says, looking away. "Literally, this place saved my life."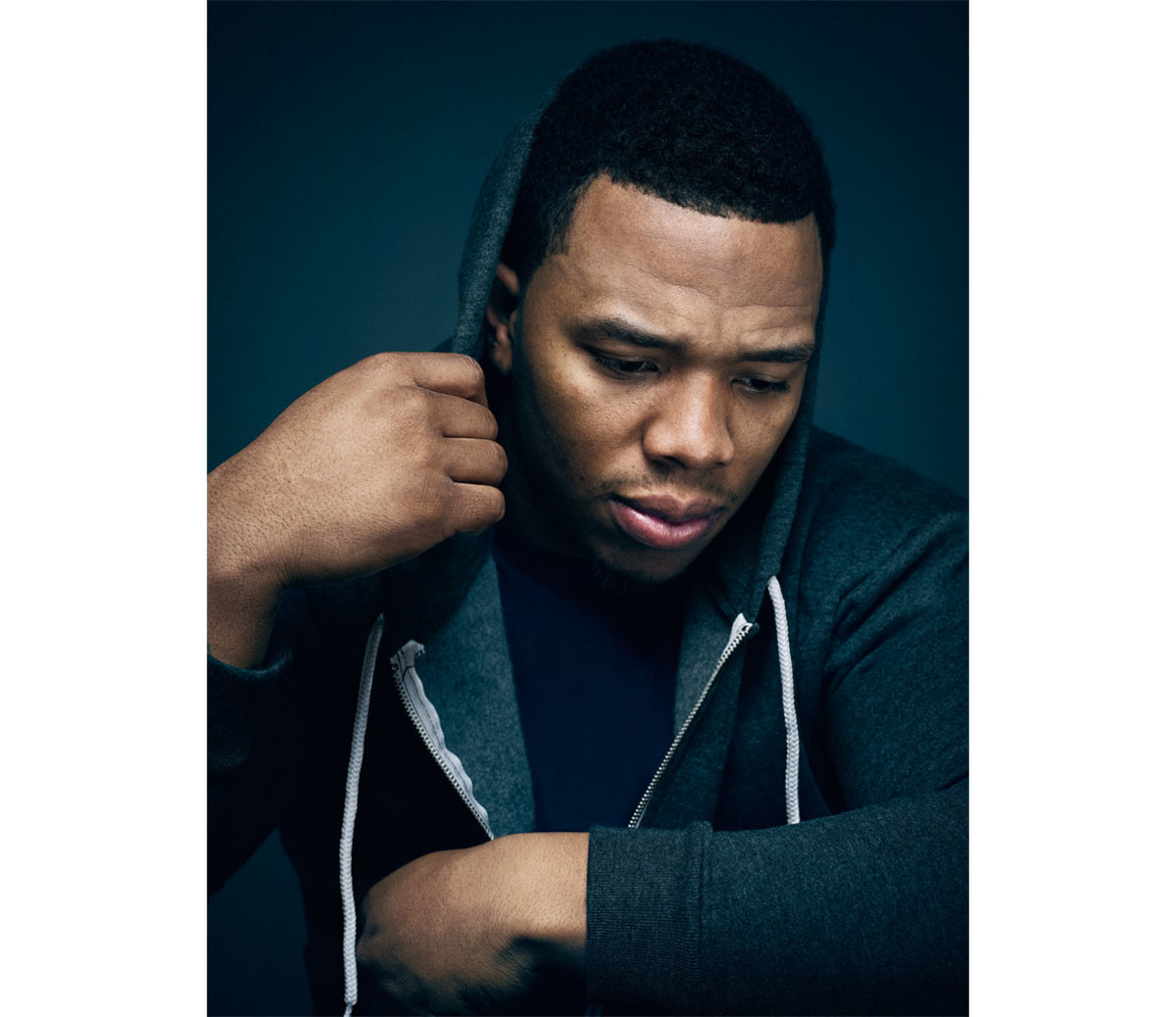 You probably feel no sympathy for Ray Rice, and it's hard to blame you, since we're talking about a professional football player who punched his then-fiancée so hard in an elevator at an Atlantic City casino in early 2014 that he knocked her unconscious. We've all seen him do it, too, courtesy of the surveillance-camera footage leaked to TMZ by a hotel employee. It's impossible to watch the video—which has no sound—and not be horrified. After leveling Janay Palmer with a single blow, Rice waits calmly for the elevator doors to open, then drags her limp body into a hall, where he lays her down. He looks anything but panicked. It all goes down in such a way that you'd think he did this regularly.
Once that footage traveled the world, the outcry was immediate and intense. The NFL suspended Ray Rice for the entire season and the Baltimore Ravens voided his contract. Rice became, overnight, a global symbol of male rage, celebrity entitlement, and the NFL's extremely broken moral compass. Many people wondered—fairly, of course—why he wasn't in prison. And it's entirely possible that no NFL team will sign him again, even if he's perfectly able to play.
For many, including me, it was all the more troubling given that this was a man who had spent the first 27 years of his life assembling an impressive life story. He'd overcome personal adversity (poverty, the murder of his father) and physical limitations (he's very small for a pro football player) to become one of the best running backs in the NFL. In Baltimore he had a reputation for kindness and generosity and was widely viewed as empathetic and charitable. Rice was a homeless advocate, a relentless supporter of Baltimore's Make-A-Wish Foundation, and an especially loud voice on the subject of cyberbullying. His free football camps for low-income and special-needs kids were attended by thousands. And he visited the House of Ruth, a shelter for victims of domestic abuse, several times. Rice's work in the community was so widespread that he became close with Baltimore's mayor. In 2012, he was voted the city's most charitable person.
Whether you believe that the elevator episode was a freak incident, that it was a onetime loss of control that occurred at the end of a night of heavy drinking (on the evening in question, the couple had wine at dinner and then tequila afterward), or that Rice has been a monster all along, the result is equally unsettling. Because if Ray Rice really is the good guy he seems to be, how can we possibly make sense of this unconscionable act?
Former NFL Player Wants to be a Pro Cyclist>>>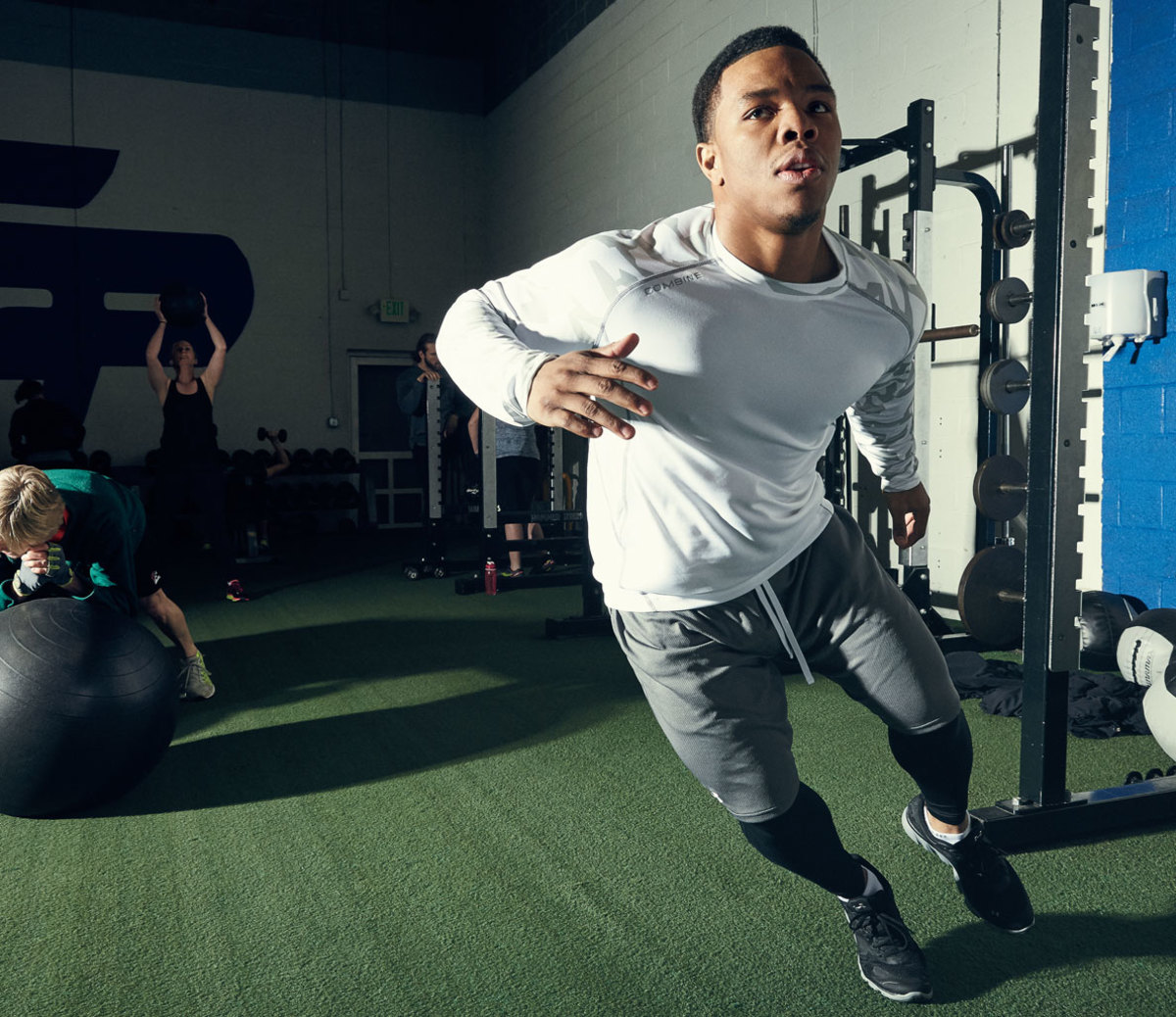 While it's true that domestic abuse is typically a pattern of behavior, catastrophic lapses in character do occur. And football players might have shorter fuses than the rest of us. "If your whole life you're trained to be aggressive, other things tend to come with that," says Jonathan Fader, a leading sports psychologist who works with professional athletes (though not Rice). "Their job is to be aggressive."
It's a question I struggled with before meeting Rice. I'd admired him since his college days, when he was the humble star on a wildly overachieving Rutgers team, and enjoyed watching him play on Sundays in the NFL, when my nephew would—at least until last September—proudly sport his purple Rice jersey on game days. But like everyone else, I'd seen the video, and my opinion of him was turned upside down. Then I went to visit him.
The first thing you notice about Ray Rice in person is his size. He's surprisingly small, compact even, and disarmingly normal, which explains how he can so easily melt into a crowd of average looking civilians. He's soft-spoken and playful: He undercuts the tension of facing the first journalist in months by preempting any pretense of our meeting. "I needed to wear something bright," he says, in reference to a garish, neon-accented track suit. "I've had enough darkness lately." Janay was there and so was his 2-year-old daughter, Rayven. When I ask about the neon shoes Rice is lacing, he says he's "trying out some Under Armours," then adds, quietly, almost embarrassed, "I'm not a Nike guy anymore."
When I get home that night and confess to my wife that I find Ray Rice likable, that he comes off genuinely nice and contrite-seeming— and that I find it much harder to view him as a monster after I see him in the flesh with his family, as opposed to scrolling on tape, an image behind angry talking heads—she looks at me sideways. Her reply: "That could be true. I believe in second chances. But abusers often come off as nice and swear their crimes are outliers."
Of course, that description applies to Ray Rice, too.
"They don't know me," Rice says about the critics who'd never seen his name before the footage surfaced. "You can speak to any person and you won't find one blemish on my life but this one."
Rice won't discuss the elevator incident in detail, but he states unequivocally that it was the lone incident of domestic violence in his relationship. "Do me and my wife argue?" he says. "Who doesn't have a disagreement with their significant other? If [my behavior over time] was that serious, my wife wouldn't be my wife. She would have left." Whatever the truth, Rice says he accepts that "the worst 30 seconds of my life" will haunt him forever and that the scorn heaped upon him for it is warranted. "I got publicly crucified, and I deserved it," he says.
Ray Rice is sorry. He'll say it even if you don't ask him about it. Like a 12-stepper at a wedding, Rice openly discusses "my incident" or "my awful mistake" to the extent that he may as well wear a sandwich board that reads, "Hi, my name is Ray, and I hit my wife."
At first, I assumed he was just following a crisis-management playbook. But that instinct was fleeting. The truth is that, after several days in Ray Rice's company, I found him to be believable, and the fact that I feel guilty about it has nothing to do with any lingering doubts about his character. It's because of those ghastly newsreel images of him in the elevator, the case's incredible weight, and the intense societal pressure to hate Ray Rice in perpetuity—or at least as long as he continues to want to play football. I can't help but wonder: If his own wife can forgive him, and the old lawyer who sees him at the gym every day can forgive him, if the accomplished mother who trains alongside him every Thursday can forgive him, should it be so impossible for the rest of us?
Eagles Linemen Do Pushups with Linebacker On Their Back>>>
After he set his life on fire, Ray Rice actually had two options. He could hole up, hide out, and vanish, a tarnished figure who would eventually fade away; or he could step right out into the maelstrom and begin to rehabilitate himself. At first, he did the former. For days after the video went public, Rice didn't even leave the bedroom of his suburban mansion. He was wallowing, a broken man who'd lost his job, his sponsors, his reputation, his pride, and—in all likelihood—the career that had defined him and made him very rich. "I was on the brink of—I didn't know whether it was worth living anymore," he tells me after the boot camp, his voice nearly a whisper. "I see why people commit suicide." I couldn't tell if Rice meant that he actually considered killing himself; what was apparent was that he at least reached a point where the option made some sense to him. "I got low," he continues. "Nobody knows how low I got. When you're that low, if you don't have the right people around you, you'll call it quits on life." Rice credits his wife, who has publicly backed him throughout the crisis, and young daughter for pulling him out of this emotional abyss. "I couldn't quit on them," he says. "The two people who love the mess out of me are sitting there, like, 'OK, what are we going to do next?'"
Rice also credits his trainers—specifically, two from Sweat Performance who helped pull him out of that hole. One of them is Courtney Greene, a retired NFL safety who's been Rice's friend since childhood and who was running the Thursday morning boot camp. He and Kyle Jakobe began texting Rice immediately after the tape hit the media, and when Rice ignored them, they drove to his house. "They kept asking, 'When are we gonna work out?'" Rice says. "I was like, 'Work out? What are we working out for? Do you not see what's happening?'"
Ultimately, Greene and Jakobe persuaded Rice to come back to the gym after hours, sometimes as late as 10 or 11 p.m. because he was afraid to see anyone. Slowly, as he got more comfortable, he began to go in during more normal hours and was surprised to see he wasn't universally despised. "After a while, it became normal," he says. "I think that was the best thing—just to see the outside again. [Here] I had more people for me than against me." He glances at the gym, where his classmates are cooling down. "These are the first people I dealt with."
Mike Kimbell, Jakobe's business partner, says that nearly everyone at the gym embraced Rice immediately; David Kuryk, the attorney who'd earlier goaded him in class, backs that up. "Everybody here feels the pain," he says. "During the darkest times, he came to work out, and it was support for him."
Before Rice's first class after the incident, he was clearly nervous, Mary McFadden recalls. He called the group over and asked to speak. "He said the one thing he knew was that he could come here and no one was going to judge him," she says.
Another evening, Rice was in the gym when a class of local high school football players came in to work out with Jakobe. Rice asked if he could speak to the kids before they got started. He talked to them about accountability and owning mistakes, and the impact was clear, Jakobe tells me. "Here's one of the most dynamic running backs ever, who made this catastrophic mistake, talking to teenagers in the most vulnerable period of their lives about how one mistake can bring your life down."
When ESPN's Outside the Lines published a long and excellent tick-tock of the controversy around Rice's case, and the NFL's fumbling of the matter—it reported that Ravens execs had tried to keep the elevator footage under wraps, the NFL had failed to properly investigate the incident, and Rice had come clean about his behavior from the very beginning—Jakobe was quoted in support of his friend. The comments got him and his gym some criticism. "These weren't necessarily good reflections on the business," he says. "Not all publicity is good publicity." Still, he has no regrets. "It was cool to see: Here's a guy beaten up so badly in the media, and our people were loving him. I was very proud of our gym for that. It gave him stability in an insanely unstable situation."
Russell Wilson's Football Workout>>>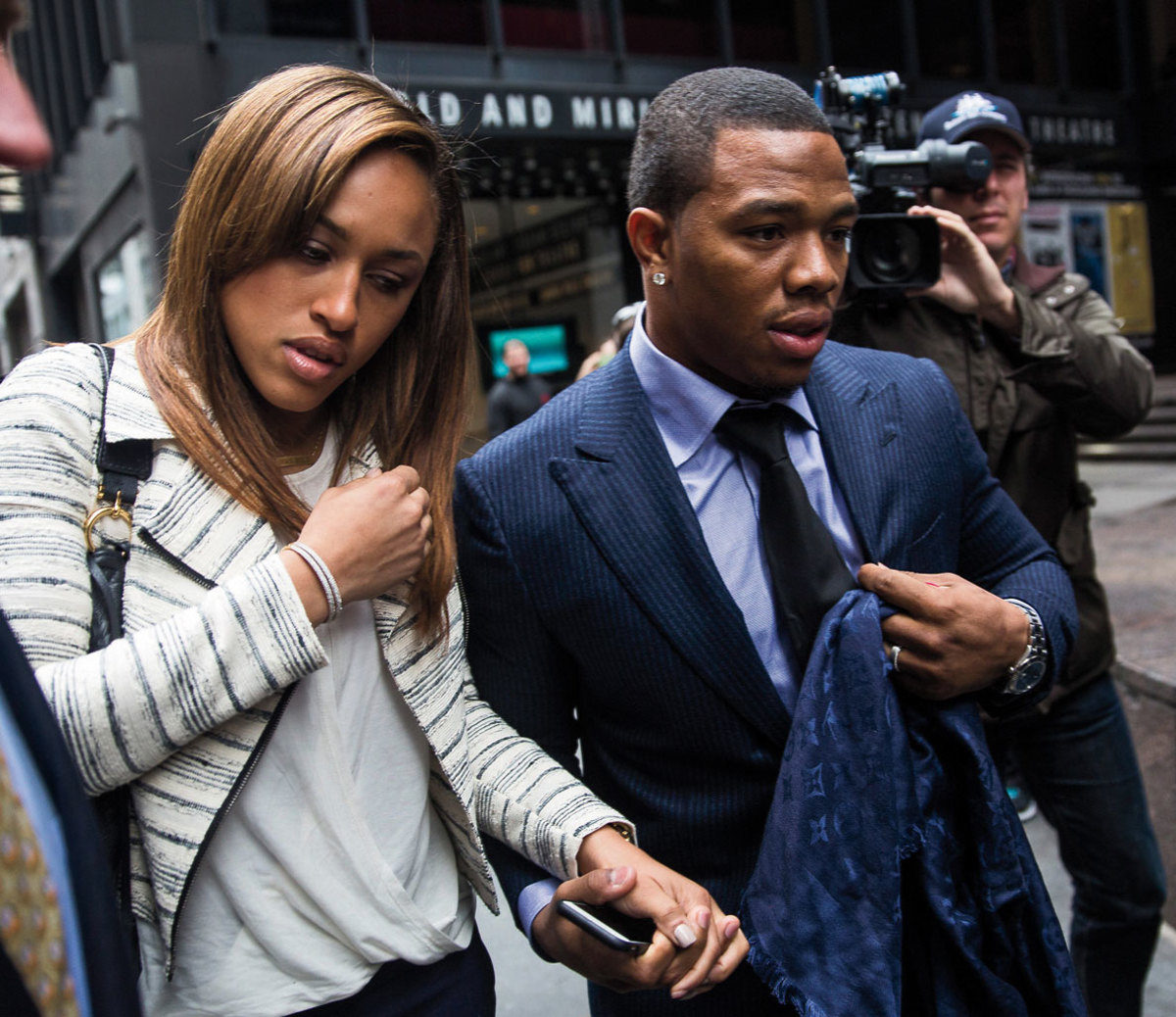 After Rice was banned from the NFL and indicted on assault charges last year, he agreed to a deal that allowed him to avoid trial. Instead, he entered a "diversionary program" of therapy and anger management with the agreement that, if he avoided trouble for a year, the charges would be wiped from his record in May. Rice was free to discontinue the treatment after fulfilling the court's requirements, but he didn't. After seeing that therapist weekly for many months, he's still visiting on an ongoing basis and says the process "stripped me to my core." Without what he calls the "umbrella" of football, which always gave him cover from his problems ("There was always a practice to go to or a game to prepare for"), Rice was able to open up about his troubled childhood, which saw the murder of his father when he was just a year old, and the loss of his adolescence because he was forced to help his single mother raise and support his young siblings. "I came out of therapy feeling better, feeling free," he says. "That's not excusing my mistake, but I think it's a blessing in disguise that the most prominent thing in my life got taken away."
In November, a federal judge overturned the indefinite suspension given to Rice by the NFL, ruling that he never lied or misled the NFL about his actions in Atlantic City, as the league had asserted. And in March, Rice settled a wrongful termination lawsuit with the Ravens; reports say he was awarded $1.58 million of his $3.52 million annual salary. As of now, Rice is eligible to return to the league.
If he returns, he knows it won't be in Baltimore. That part of his life is now over.
Drafted out of Rutgers in the second round in 2008, Rice was an immediate star and the face of the Ravens franchise. He named his daughter Rayven. In 2013, he won a Super Bowl. So one of the hardest things for Rice has been accepting the fact that the city he grew to love so much he even spent his off-seasons there was no longer going to be home.
Rice's new home will be in Stamford, CT, a half-hour drive from his childhood home of New Rochelle, NY, where his mother still lives. Rice says that if a team decides to give him a chance, he won't do what he did in Baltimore and establish roots. "I'll rent," he tells me at Kinetic Sports Club, his new gym, in a commercial area of Pelham Manor, NY. "I don't want that emotional attachment again."
As we talk, he's preparing to work out with his new trainer, Jay Caldwell, a local guy who's trained many other current and former New York area pros, including Justin Tuck and Ahmad Bradshaw. Janay and Rayven are with him here, too, and as soon as Rice drops into a plank, his daughter runs over and planks right under him. "Me and coach Jay gotta work, baby," Rice says. "Can Daddy go to work?"
Rayven, now 2, probably isn't used to her father working. For the past year he's been around the house more than at any time in her short life. He made her breakfast. He took her to the zoo. "The best part about this year was taking my daughter to school," Rice says. "I can't be a halfway dad, who gets home and doesn't have time to watch Frozen or put the training wheels on her bike."
Still, Rice says he's been ready to take the field since last fall. "I honestly feel like I'm 25," he says between sprint drills. "I'm not condoning being out for a year—especially in my situation—but this year off was like a fountain of youth for me. It was a way to focus on things I hadn't had a chance to, in terms of my body, my overall health, my mental capacity, and what I wanted to do going forward with life."
Unlike his previous gym work, the focus of his new training has been more running-back specific. "We want him to really be ready for free agency when they call," Caldwell says.
Rice says he'll miss the camaraderie of his Sweat Performance family and the foundation it gave him but is looking forward to "getting back into working out where I started, in my hometown." He plans to supplement trips to Kinetic with workouts at his old high school. "I have some unfinished business here in New York, too," he says.
On this day, Rice and Caldwell are working out in a large room with a turf floor and a soccer goal against one wall. It is empty except for one guy with a shaved head doing his own furious workout in a back corner. When he notices Rice taking a break, the man introduces himself, saying they'd played against each other in high school. They still have friends in common. "I remember, man!" Rice says. "What are you doing now?"
"I'm still playing," the guy replies. "In the AFL, for Philly." The AFL is the Arena Football League. "I love it. It's football, man."
Rice nods. "That's what I'm trying to get back to now."
A few minutes later, Rice is still thinking about the random dude who trains alone in order to stay fit to play a brutal game in an obscure league that barely pays a living wage. To me that seems crazy. But Rice gets it.
"I still wanna play football, not just for the money," he says. "Just give me health insurance and I'll play. It'll be like high school all over again—just playin' for the love."
Many football observers seem to think Ray Rice will get a chance to play again—but not all. When NPR asked Hall of Fame coach Bill Parcells what he thought about Rice's chances of a comeback, it wasn't the incident that gave him pause but an issue that's come up in other recent stories: Rice's on-field performance during the 2013 season, when he averaged a career-low 3.1 yards per carry. "I think if someone's demonstrated a true alteration of his behavior and true remorse for some of the things that happened, you could understand how you could kind of say, 'OK, let's see,'" Parcells said. "I think, unfortunately for Ray, it came at a time in his career [when], well, he was well down the road. Running backs' longevity isn't that long usually anyway."
Rice's response is that this stat should come with an asterisk. "I had an injury, man, a traumatic injury," he says, referring to the Grade 3 tear of his rectus femoris—one of the two major muscles in his left quad—that made it nearly impossible for him to cut right but that wasn't recognized till the season ended. He missed a total of two games but never spoke of the injury publicly. "It looked like my game had diminished, but I played through an injury," he explains. "I'm fully healed, and if you scratch that one season, I was a Pro Bowl, thousand-yard runner each year before." Discussing his on-field résumé is one of the rare times Rice sounds at all prideful. "I was catching out of the backfield, doing it all in the NFL. Now that I'm trying to clear the air, I think teams will understand that. Beat writers only see the 3.1 yards."
Rice is 28, an age at which many running backs before him have suffered precipitous career declines. The primary driver of that decline, it seems, is the accumulating damage of taking 25 to 30 hits a game, year after year. But Rice hasn't taken a hit since 2013, the season he played hurt. So if you ask him, he's not just healthy for the first time in two years, he's also fresher than at any point since college.
His weight has settled in at around 207, right where he was during his best years. He feels "light and strong," he says. He's sitting in the office at Sweat Performance, looking out at the gym. Above him, on a wall, are two rows of framed NFL jerseys, including his. "I'm ready to give it another shot."
But what if September comes and no one calls? For a short time last year, Rice let himself believe that some team would. And frankly, he had reason to be hopeful. To say that Commissioner Roger Goodell's NFL has been accepting of violent offenders is an understatement. There have been 56 episodes of domestic violence in the commissioner's eight-year tenure, and 13 of those players are still active; in fact, a few weeks after I saw Rice in February, the Dallas Cowboys signed Greg Hardy—suspended last year for allegedly choking, hitting, and threatening to kill his girlfriend—to an $11.5 million deal.
In many ways, the story of Ray Rice is now also about the power and permanence of imagery. The reason Greg Hardy is shopping for mansions in Dallas while Ray Rice is an unemployed guy working out in suburban gyms is that one's crime was filmed and the other's wasn't. That distinction is real, but is it fair? If we're going to allow second chances, should they come with caveats?
Right now the only certainty is that Rice won't wear another Ravens jersey, though he says he looks forward to playing in Baltimore again, even if it's for another team. "I honestly think I'll get more cheers than boos," he says.
Whether or not his NFL career continues, Rice says he wants to get his college degree and thinks he might become a trainer. "I just wanna live happily," he tells me. "I'm not in jail, after May I won't have a criminal record. I still have my family."
In short, he has, for the first time, some larger perspective about a world that's not framed by football. "Essentially," he says, "I got a second chance at life."
Bad Lip Reading With NFL 2015>>>
For access to exclusive gear videos, celebrity interviews, and more, subscribe on YouTube!