New Orleans Saints quarterback Drew Brees has made some more history. The 39-year-old quarterback already holds a number of records due to his prolific passing stats over the last decade, but his latest milestone is the one he's always been chasing.
After passing for 363 yards against the Washington Redskins, Brees jumped over NFL legend Peyton Manning to become the NFL's all-time passing yards leader. Brees had previously passed Brett Favre and Tom Brady on the list, and now he stands alone with 72,103 yards—and counting. (By the end of the season, Brees had 74,437 passing yards.)
"It's hard for me to reflect too much right now because my career isn't done," Brees said to ESPN after the game. "There are still goals to be accomplished, there are still challenges to be met. So I'm still very focused on that. And yet when something like this happens, and there's so many people that are responsible for that, that can be a part of that, that makes me happy."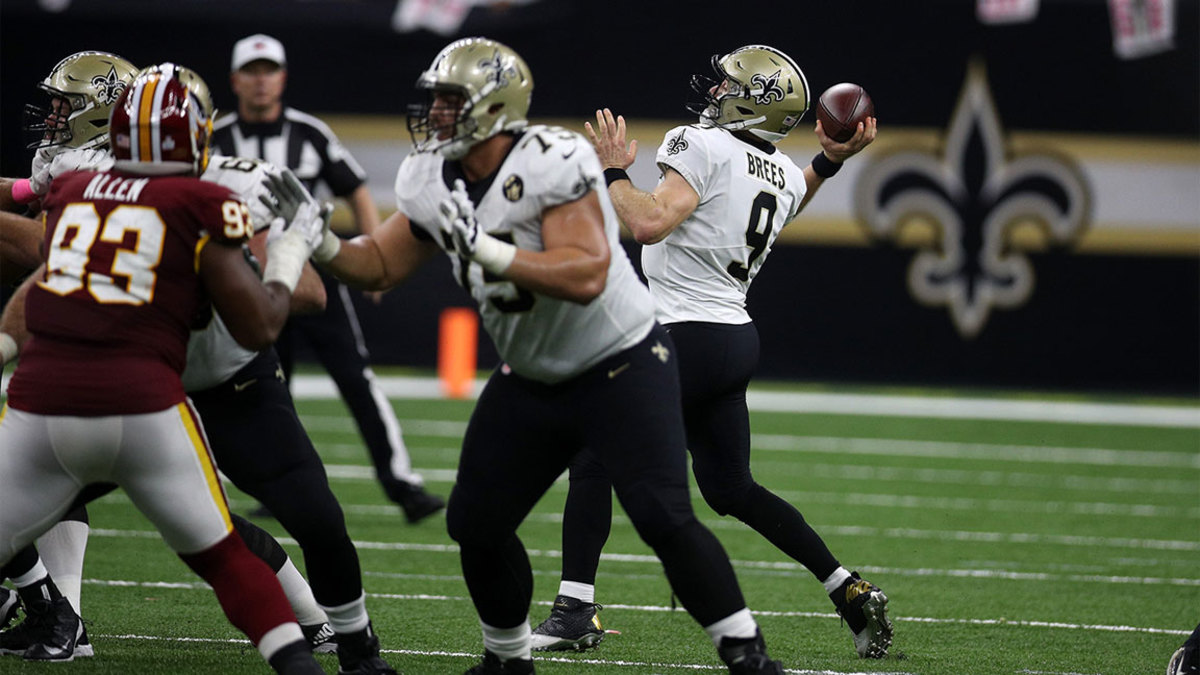 Brees set the record during the game with a 62-yard touchdown pass to wide receiver Tre'Quan Smith, who will now go down in the books as the player who caught the record-setting pass from Brees.
With this 62-yard touchdown pass…@drewbrees is the NFL's all-time leading passer! 🙌 #GoSaints pic.twitter.com/K6vTQVwfOe

— NFL (@NFL) October 9, 2018
Peyton Manning made this funny video congratulating Brees on the record:
Peyton Manning congratulated @DrewBrees on breaking his record… sort of! 😂😂 pic.twitter.com/Se6zz881OY

— NFL (@NFL) October 9, 2018
Since Brees signed with the Saints in 2006, he's been the most prolific passer in the NFL, throwing for over 5,000 yards in five different seasons. For comparison, no other quarterback has done that more than once, according to ESPN Stats & Info.
Making the record even more incredible is the fact that Brees was not a top NFL Draft prospect due to his height at 6'0", and in 2005 he suffered a shoulder injury that many thought would be a career-ender. Instead, Brees signed with the Saints, helped the team win a Super Bowl in 2010, and he's continued to set record after record.
As many people say, the rest is history.
For access to exclusive gear videos, celebrity interviews, and more, subscribe on YouTube!