Before he was drafted, New York Giants RB Saquon Barkley achieved a major milestone. The former Penn State running back, known for his powerful lifts and impressive legs, became the first-ever rookie to star in the ESPN Body Issue before being drafted by an NFL team.
"It was an honor to be the first player to do this before I had a team," Barkley told Men's Journal. "People think I did the Body Issue because I was the No. 2 pick in the draft and taken by the Giants, since the magazine came out after the draft, but the shoot was actually before it all—and I think that's a unique accomplishment."
Being in the spotlight is nothing new for Barkley. The 6'0", 230-pound running back made headlines at Penn State and the NFL Combine with his feats of athleticism and strength. Barkley can clean over 400 pounds, and he's third all-time on the heaviest squat list in the history of the Nittany Lions football program. His sculpted physique has earned him plenty of attention, too.
"A lot of people look at my photos and ask, 'How do you get legs like this?" Barkley says. "When you're 230 pounds, people don't think you can move very fast; I put a lot of hard work into my legs and my calves to help keep that speed and power. "
As the second overall pick in the draft—and for a team with a history as rich as the Giants—expectations are high for Barkley, but the running back isn't fazed.
"I don't feed into other people's expectations—I set my own," Barkley says. "When you listen to other people's expectations, you limit yourself. I want to be a great athlete, a great football player. I want to be one of the best to ever play, that's my mindset, that's my goal. I'm focusing on trying to be the best I can every day."
Barkley was featured in the Body Issue alongside a number of other athletes, including Minnesota Timberwolves center Karl-Anthony Towns, Los Angeles Galaxy forward Zlatan Ibrahimovic, U.S. figure skater Adam Rippon, U.S. hurdler/bobsledder Lolo Jones, and Hall of Fame golfer Greg Norman. Barkley appeared with Rippon, Jones, and Norman at a panel discussion for the issue, and he said he was impressed by 63-year-old Norman.
"Everyone's been asking me who I think is the best, and it's Greg Norman—the guy is just incredible," Barkley says. "That's body goals, right? To be fit like that at the age of 60. He's ripped. It was an honor to be part of this group of athletes—be alongside guys like Jerry Rice—getting to celebrate what we do with our bodies."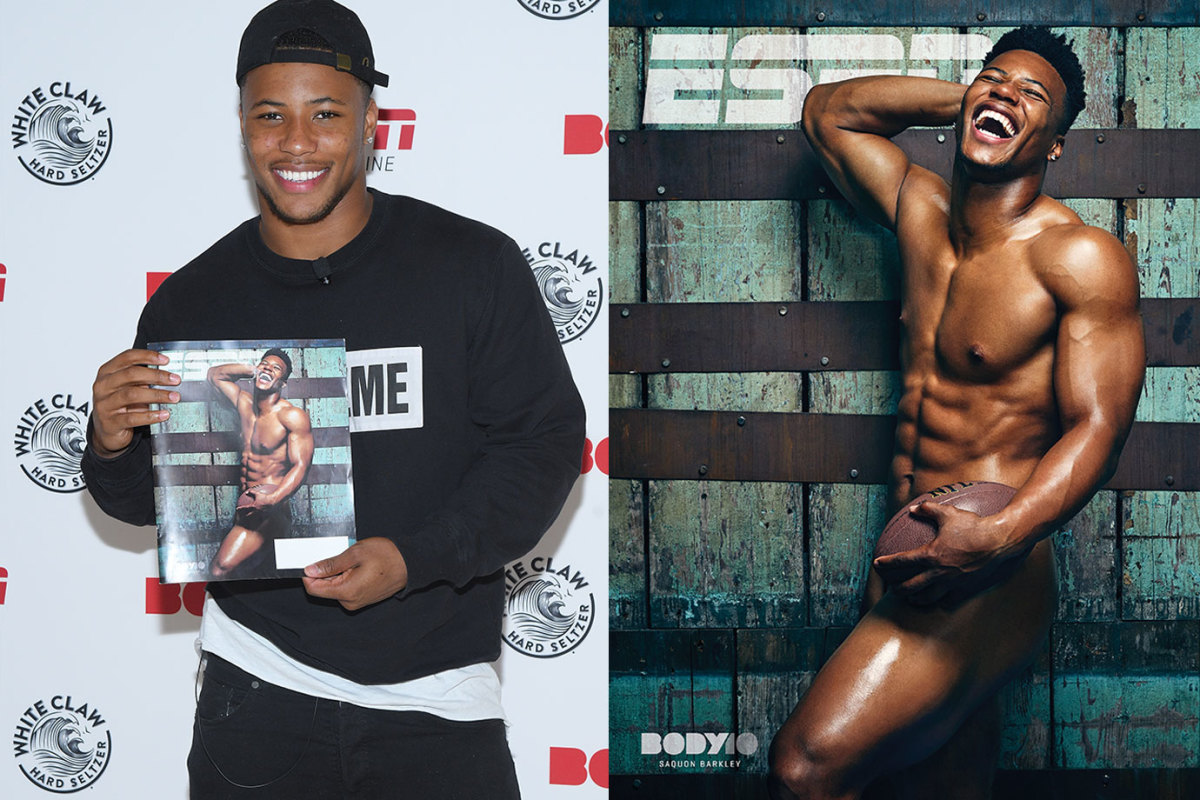 For as sculpted as he looks in his Body Issue shoot, Barkley didn't do anything special to prepare for it.
"I just showed up," Barkley said. "You kind of don't know what to expect, and then it's all out there. Getting the photos taken takes a little while to get adjusted to, but my photographer was there and she did an unbelievable job and it made me feel comfortable. The photos came out great. The photo of me smiling, actually, that one was an accident. I was doing poses and I kind of got into it like a model, and I started laughing and we just got that perfect shot. That's how it works sometimes."
With training camps starting up in July and the season just around the corner, Barkley has continued to work out in the gym to prepare for his first year as a pro. Barkley said he doesn't try to get too complicated with his workout routine.
"My body type fits my position," Barkley said. "I make sure to keep strong to handle that bruising and hitting through a 16-game season—and hopefully through the playoffs and the Super Bowl, too."
New York Giants fans will be hoping for the same.
Here are a few behind-the-scenes shots of Barkley from the photo shoot: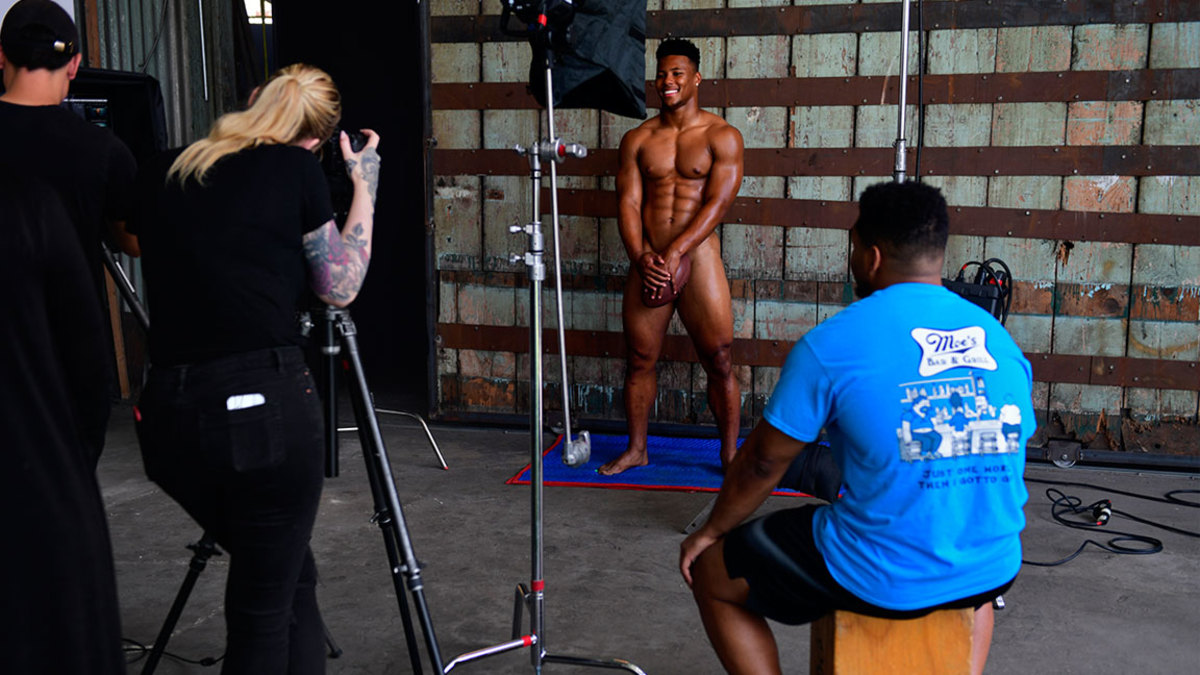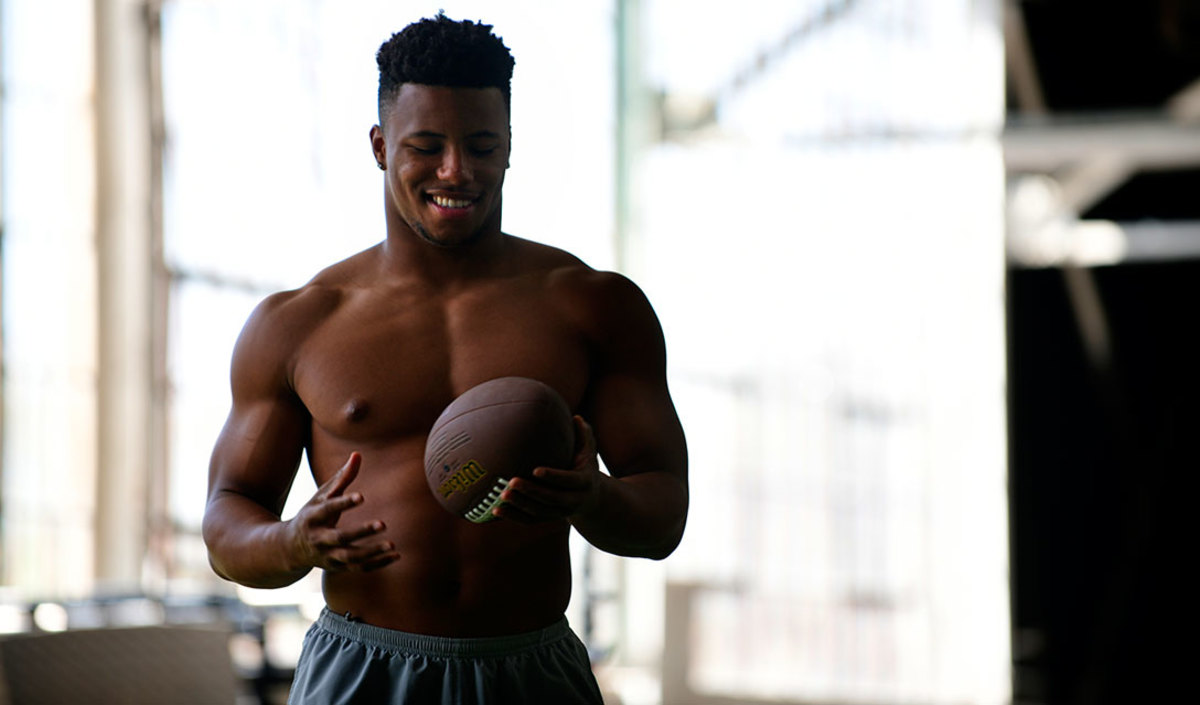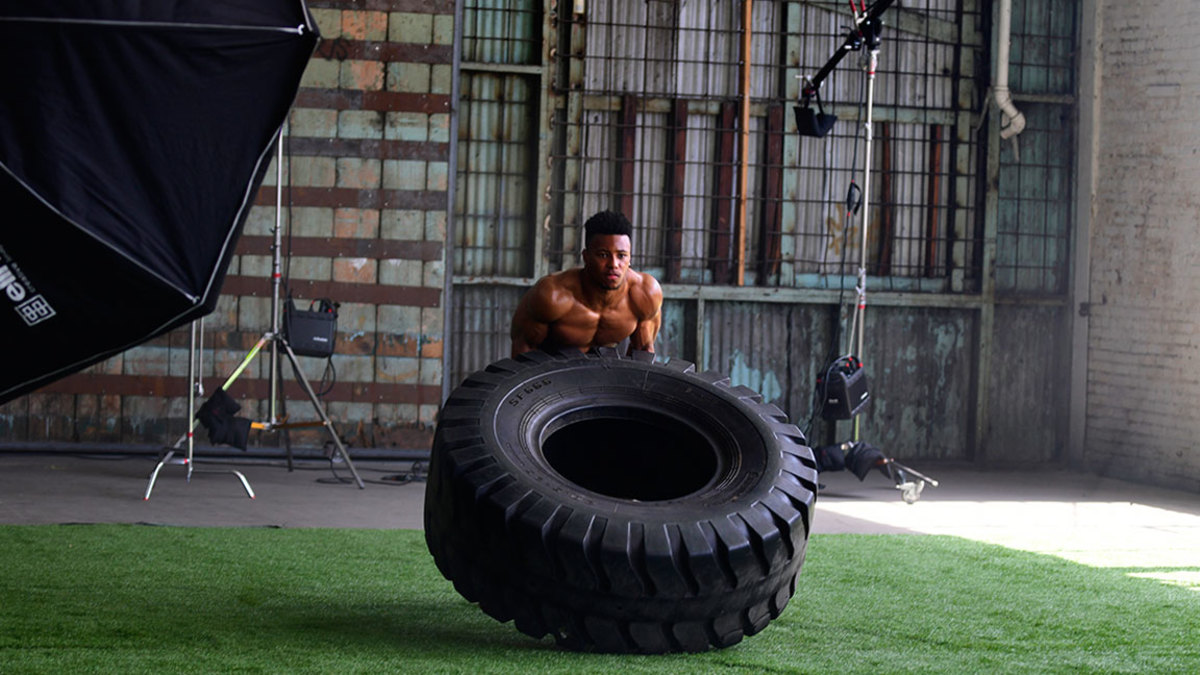 For access to exclusive gear videos, celebrity interviews, and more, subscribe on YouTube!