In the minutes before Villanova faced off against North Carolina in the NCAA national championship game, Rana June had a sneaking suspicion the Wildcats held an advantage that was hiding in plain sight.
June, the CEO of bioanalytics company Lightwave, was paying close attention to the respective student sections. Each was positioned at opposite ends of the court in Houston's cavernous NRG Stadium—Wildcat fans in their navy, Tar Heel fans in their distinctive Carolina blue.
The fans only matched in one regard: All were wearing a silicon Lightwave wristband, like a simplified Fitbit, that tracked their every clap, jump, and cheer, and relayed that motion in real time to computers while microphones in the cavernous arena recorded the peaks of crowd noise.
Just by looking at that data, June noticed a telling detail: Before the game, the Wildcat fans were louder and more energetic than the Tar Heel fans. The Nova students had been louder than their Oklahoma counterparts a few days before, and it had showed in final score. Would all that cheering be a difference-maker again? June intended to find out.
In the semifinal and final games of the 2016 NCAA men's basketball tournament, each school's fans were at the center of a first-of-its kind experiment, pioneered by Degree, to track fan motion and noise during a live stadium game. By outfitting each fan base with trackers and routing that crowdsourced data through Lightwave's software engine, the Degree experiment would help quantify exactly how passionate and excited fans are in the high-pressure environment of championship basketball.
"Ask any sports fan about their team, and they'll rattle off statistics," says June, a data scientist and former DJ who pioneered the Lightwave technology at the heart of the Degree experiment. "That quantification of the art form that is basketball is really important to the culture of the sport and our understanding of success. What does home field advantage mean? How can we quantify that? How can we quantify the 'momentum' of a game?"
At the Final Four, the Lightwave tech captured two basic categories of data from fans in real time: sound, specifically the volume and pitch of a crowd's cheering; and motion, measured in G-forces over time. (More advanced sensors can also track biometric data like heart rate and sweat production.) The tech is still experimental, but June's team has refined their analytics enough to recognize signature G-force patterns (clapping versus jumping out of a seat) and pitch cues in cheers (a shriek of joy versus a low groan of disappointment).
"Our data shows that the fans drive the game too," June says. "Any performer, whether an athlete or a musician or a DJ, will say that the crowd matters. How can we get closer to the experience and creating memorable moments?"
The final, of course, provided plenty of those. When North Carolina's Marcus Paige sunk his game-tying three-pointer with six seconds left, the cheering from Tar Heel fans measured a deafening 91.9 decibels. That was the loudest fans got all game, until Villanova's Kris Jenkins hit the game-winner. The Wildcat fans erupted at 92.5 decibels and generated an average G-force of 1.9, which, June notes, is roughly equivalent to a Bugatti accelerating from 0 to 60 in 2.5 seconds.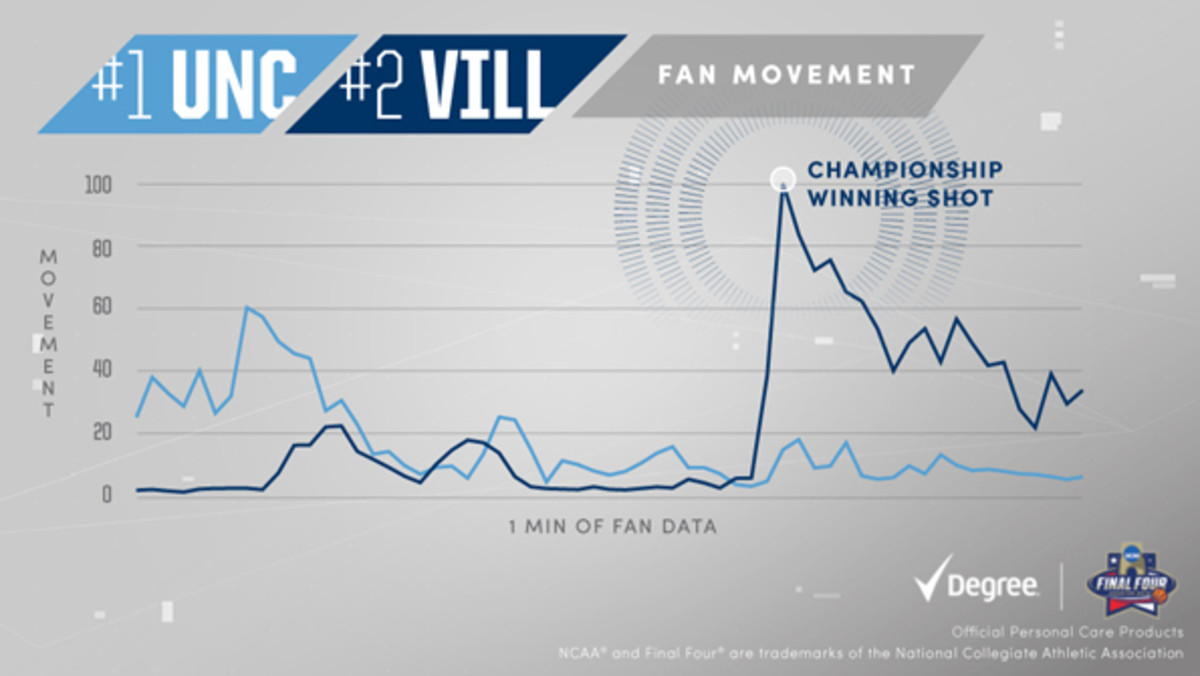 Villanova fans erupted as Kris Jenkins sunk a game-winning shot in the 2016 NCAA men's basketball championship / via Degree and Lightwave.
From those primary data sources, Lightwave has developed algorithm-driven measures of fan involvement like "excitement" (a combination of motion and sound analyzed via standard deviation) and "passion" (a total aggregate measure of "excitement").
"It's a little like applied neuroscience," June says, and her tone suggests she realizes the boldness of that claim. "But I'd never say we're measuring emotion, per se. We're just using data to understand how people are feeling, like a heartbeat monitor for hundreds of people."
June points to one example that stood out during North Carolina's semifinal game against Syracuse. About eight minutes into the second half, the Tar Heels had the Orange on the ropes, 57-40, and were looking to put them away, when Syracuse's Trevor Cooney made a brilliant three-point shot shortly before a TV timeout. When play resumed, the Orange played like a different team. Cooney slammed down a dunk, then stole the ball from North Carolina's Marcus Paige. Syracuse's Malachi Richardson made a layup, then drew a foul. Tar Heels coach Roy Williams called a timeout, but the Orange rally continued, as Cooney once again stole the ball and Richardson sunk another crucial three-pointer. In just two minutes, the Orange had rallied to within seven points of the Tar Heels.
When June looked at the fan stats, she noticed a big spike in noise from the Syracuse students during the TV timeout. They'd amped up their cheering right before their team's rally. Did the fans sense a momentum shift? Or were they the extra spark that the beleaguered Syracuse players needed? It's hard to say. Correlation (Syracuse fans went nuts right before their team rallied) doesn't necessarily imply causation (the Orange rallied because their fans were urging them on).
But even correlation is a big step forward, if only because nobody's ever bothered to measure that fan interaction in real time before this experiment. Where before there were only sportswriter clichés—the momentum-changing block, the dagger shot—there is now some semblance of data around the ethos of a game. And the data says: Fans matter.
"People have always said that the game dictates how the fans behave," she says. "But our data shows that the fans drive the game too."
Lightwave's data-driven approach obviously stands on the shoulders of the statistics-driven "Moneyball" mentality. But it also implies that games, with their emotional swings, are more than a clash of Excel spreadsheets, and that athletes (particularly less psychologically hardened college players) are more than their statistics. A rookie point guard might be hot one night, but lukewarm the next. A quarterback seems unstoppable until he throws an interception that crushes his fans (and his confidence) for the rest of the game. A historically mediocre backup goalie makes an astonishing save—then, fueled by the cheers of his fans, keeps making astonishing saves.
Over the course of a season or a career, these moments seem like anomalies. But in a stadium, in front of thousands of rowdy, sweat-soaked, face-paint-wearing, die-hard fanatics screaming themselves hoarse, such emotional moments of sports heroism (or devastating error) may very well define who goes home with the trophy.
The best way to quantify those moments, June says, is to capture the wisdom of crowds. Fans may not be right all the time, but there's a value to their instincts—honed over hours and hours of watching their favorite teams play—for when a coach might call a trick play, or when a veteran player might step up in a crucial moment, or when a plucky backup is about to forget how average he is and start playing like an all-star instead. In those cases, fans aren't just reacting to the ebb and flow of a game. Fans are predicting what might happen next, and, just by cheering, they're also influencing the game. And Lightwave's tech harnesses that noise and motion to explain when, and why, and how the fans are doing it.
Of course, Degree's experiment is essentially limited to three college basketball games, and two of them were lopsided at best. But Lightwave, crucially, now has a framework for continuing research. "Our partnership with Degree has had two parts," she says. "Part one is real-time insight during the game. Part two is combing through the data and looking for interesting facts. Timely, interesting insights. Over the next year, as our partnership continues, our computing engine will ingest more biometric data, and our system's intelligence will improve. We have a lot more smarts around how we're treating these kinds of moments."
Those smarts aren't limited to sports, either. Degree and Lightwave are launching their next project at a concert with the pop star Becky G. Instead of comparing fan data against slam dunks or clutch three-pointers, they'll be looking at the pop star's performance, but the science remains the same.
The takeaway for now, June says, is that fans do have an impact on the game, and she has the data to back it up. "If fans really are contributing to their team's performance, then maybe they have an obligation to go to the game."