It's no exaggeration to say New York Giants wide receiver Sterling Shepard had a life-altering offseason.
The former Oklahoma star married his girlfriend, model and actress Chanel Iman, at the Beverly Hills Hotel in March. In May, the couple announced that Iman is pregnant with their first child. The due date, naturally, is in August—right when Shephard will be rejoining the Giants in training camp. (He is leaving nothing to chance: He has already spoken with his head coach about finding a way to be there when the baby is born.)
Shepard is excited about the new addition to his family. He's also excited about a professional addition—that is, the Giants' acquisition of highly touted running back Saquon Barkley.
"There was a lot going on this offseason, for myself and for my team," Shepard told Men's Journal. "The pregnancy came as a shock at first, but I'm so excited and I can't wait to be a father. I also think the Giants can make a big jump this season on the field, and I'm ready to get back out there and compete."
The Giants endured a rough 3-13 season in 2017, but have taken some positive steps. New head coach Pat Shurmur has some new tools to shake up the moribund offense, including Pro Bowl guard Nate Solder. The team also drafted Barkley with the second-overall pick. Plus, Shepard's electric receiving colleague Odell Beckham Jr. is expected to return fully healthy after missing most of last season with an ankle injury.
"We added a lot of talent this offseason that can really help us on offense," Shepard said. "Odell coming back healthy will have a huge impact, and adding someone like Saquon means defenses won't be able to load the box on us. It should open up some big running lanes for him, and give guys like myself, Odell, and the other wideouts the chance to do some big things."
Giants fans sure hope so.
Shepard spoke with Men's Journal about his offseason training routine, his essential fashion tips, working with the fashion label 2(X)IST and Bloomingdale's, what he wants for Father's Day, and who he loves to beat most on the football field.
Men's Journal: You've had quite an eventful offseason. How does it feel heading into Father's Day with a baby on the way?
Shepard: It's crazy [laughs]. Chanel and I are very excited. A lot of things have been happening: we got married, the baby is coming, training camp is coming—it's been amazing and I'm excited for what's next. At first I was shocked. It wasn't exactly planned. But after the shock went away, I became really excited. I can't wait to be a father.
I found out right at the end of last season. She called and she was like, "You gotta get home." She told me over the phone, and I brought home like five more tests to make sure, and sure enough… there you go.
What will be the biggest change for you with the baby coming?
Probably not being able to go out with the boys as much. But I'm excited to be around the baby, so it'll be a good change for me.
You're also expanding your off-the field interests these days. What do you enjoy about doing fashion-related projects and working with brands like 2(X)IST and Bloomingdale's?
I'm into fashion. I really like the creativity and expression involved. My wife, obviously, is big in the fashion world, so it's great to have that side of it, too. Chanel will give me some style pointers sometimes. She lets me do my thing, but sometimes she's like 'you gotta take that off.' Fortunately, we had a stylist for the wedding, so that made it easier on me. 2(X)IST has some great stuff, it's stylish and it's comfortable, too.
How would you describe your style? Do you have a favorite type of outfit?
I'm all about comfort even when I'm trying to be stylish. My favorite type of outfit is something simple, like a cool pair of sneakers, jeans, and a casual shirt. I like going black-on-black when I get the chance, and sometimes when I'm out in California I'll throw on some brighter colors. I also like to throw on a snapback hat when the moment calls for it. Those can help top off an outfit.
Do you have any style tips or fashion advice for guys?
My big advice: Keep it simple. You don't always need to go over the top. Sometimes keeping it simple can be the best way to make yourself stand out, even though it sounds like the opposite. An accessory or shoes can help be that extra addition to your outfit and make it stand out. Don't be afraid to throw on something new or different just to see how you pull it off. Usually I'll have a watch on, and I have a ring I like to wear.
What do you want for Father's Day?
Just to be around family. I'm a huge family guy. I don't really like material things all that much, so family is what makes me happy—being around people I love.
You still make time for offseason training, though.
I'm constantly just in the gym. I have a trainer, and I'll usually go out to California to train in the offseason, since the weather is good out there. It's easier to be outside. I'll do a lot of different stuff in my training—core work and agility are important. I like doing single-leg workouts, squats, lunge variations, stepups with weights, planks, that kind of stuff. You can't really slap on the pads and work like that, so I focus on staying in the best shape I can. I've learned how important it is to take care of your body, so I'll get massages and make sure I'm staying flexible.
Do the Giants require you to do anything specific with your training during the winter?
There aren't really any requirements from the Giants, but you have to come back at the right weight. They give you a weight before you leave for the offseason, and you have to come back in that weight or you can get fined. It's like $500 for each pound over or under, it can add up quick. I've been fined a few times before [laughs].
How are you feeling about the upcoming 2018 season for yourself and the Giants?
I'm feeling good. We're still trying to get the offense down, since it's new to everybody with the new coaches coming in. Having Saquon is a huge piece to the puzzle on offense, and it gives the Giants an element we haven't had in a few years. I think most people see me in the slot/inside position a lot and I want to establish that outside game. That's what I've been working on a lot this offseason—being outside and getting more comfortable in that space.
What team is most satisfying to beat during season?
That's hard, because I hate everybody in our conference [laughs]. But the one that takes the cake is the Eagles. I can't stand the Eagles.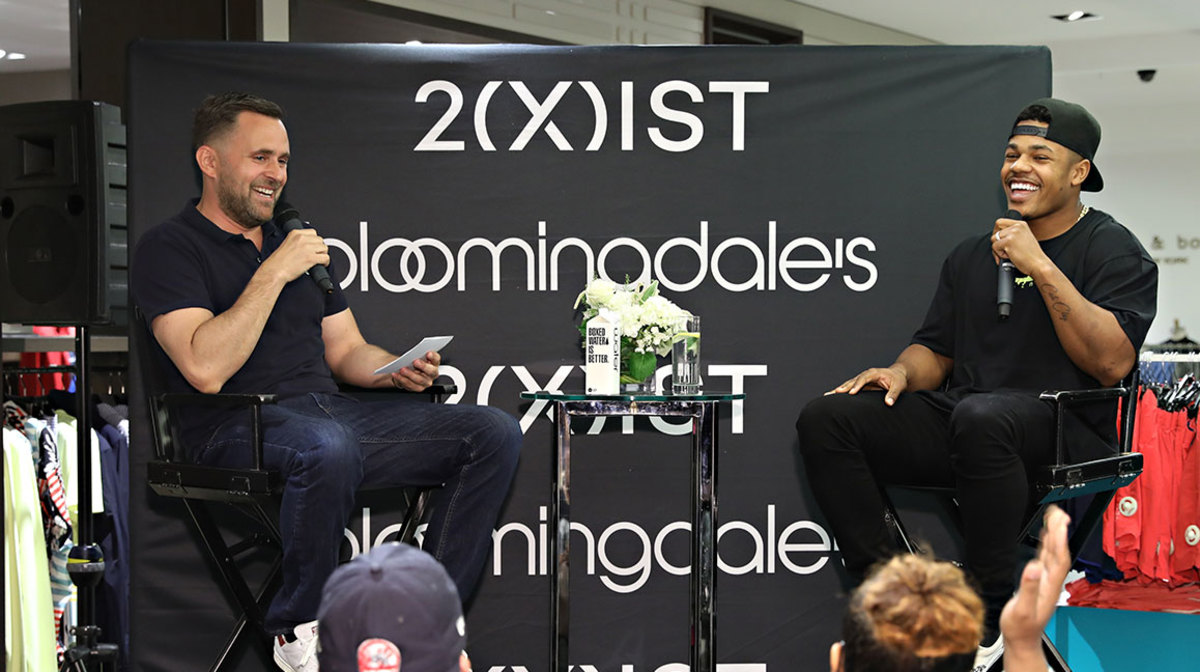 For access to exclusive gear videos, celebrity interviews, and more, subscribe on YouTube!