When Doug Coby won the first SRX race at Connecticut's Stafford Motor Speedway, one of the more intriguing concepts sown into the series came to fruition. The local all-star had triumphed over a field full of motorsport legends—and a David vs. Goliath story line was realized.
"It was actually Ray's idea," says racing icon Tony Stewart, co-creator of the series [with NASCAR Hall of Famer Ray Evernham], about the decision to add up-and-coming short-track drivers to the roster. "We didn't know exactly how it was going to shake out, but after we ran the season I was extremely pleased with it. I thought it brought an element to SRX that made it real to local short-track fans."
Short track is the grassroots of stock car racing, and its dedicated fans come out on a regular basis. Those are the racing consumers that Stewart, Evernham, Sandy Montag and George Pyne had in mind when they created the Superstar Racing Experience (SRX), betting in part that these devotees would germinate and grow the series into one that elevates motorsport in general.
Based in part on the old IROC championship, which ran from 1974 to 2006, the six-event series played out on both dirt and pavement tracks. SRX is stock car racing whittled away to only the bare essentials: A mere dozen racers in nearly identical 700-horsepower cars built to trade paint challenge each other, flying faster and faster laps. The diminutive length of the circuits yielded races that were tight and competitive in wheel-to-wheel proximity. Plus, there was some pretty solid contact—often involving Paul Tracy—putting in more than his share of laps as the series' villain designate.
Stewart, who won the season championship and two of the six events, raced alongside other big names for race fans to embrace, including Tracy, Bobby Labonte, Willy T. Ribbs, Bill Elliott, Tony Kanaan, Ernie Francis Jr., Marco Andretti, Hélio Castroneves and Michael Waltrip. Equally large were all of those local heroes whose less-celebrated journeys through racing received some deserving time in the national spotlight.
All in all, the six-race series was an exciting adventure for fans. Telecasts were easy to follow and beefed up with high-tech drone coverage, cameras on board in every car. Drivers even wore heart rate monitors—giving viewers an organic handle on the level of stress and intensity faced behind the wheel.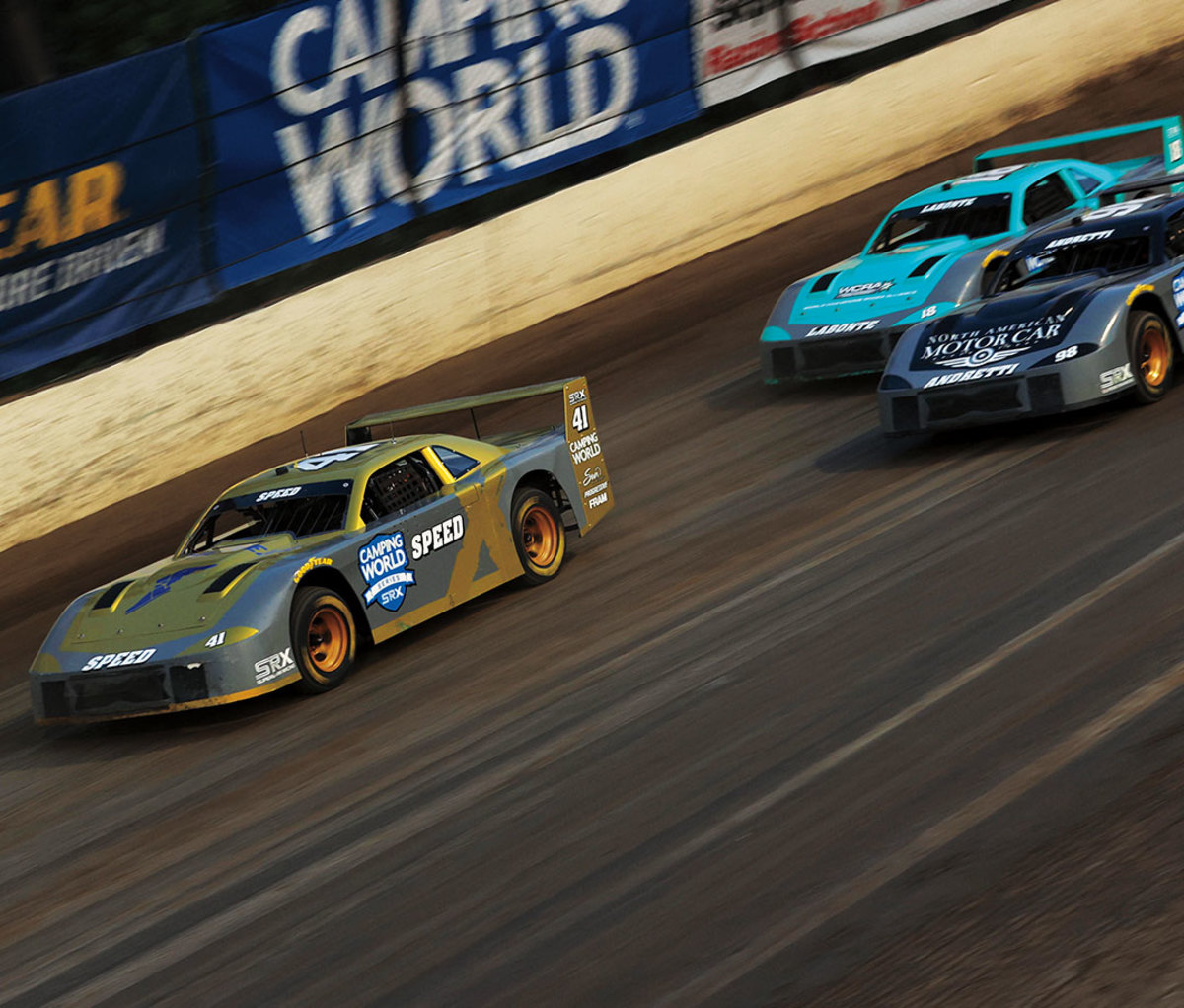 Half of the events completely sold out their venues—others came close—and each race was viewed by a television audience of 1.25 million or more, making it the second-ranked motorsport in America. It was enough to get the CBS nod for another season next summer.
What will the second installment look like? "Obviously, we're looking at everything that happened over the course of the six weeks," says Stewart. "We're looking at the things we know went right and looking at the things we know
we can improve and making the adjustments. At the end of the day, we want to take the product that we have and make it better. Hearing the fans' input throughout the six weeks and the drivers' input—those are important things we'll consider going into next season."
While the details of tracks, drivers and television windows haven't been nailed down yet, the folks at SRX expect the look and feel to be quite similar in terms of format and number of races and participants.
There are, of course, miles and miles of historic race tracks across the country that are worthy of the spotlight and scores of drivers that fans would love to see compete. Evernham has indicated the group envisions introducing a pair of
road courses to the lineup—which should allow different driving styles to flourish, further enhancing the dynamic nature of the series.
SRX, as its creators have said, is not designed to compete with NASCAR. That would be a David and Goliath story minus the happy ending. Rather, its purpose is to help grow the game and introduce viewers to other genres—be it Indy, NASCAR or beyond.
While no one is quite sure what season two will entail, it's a very safe bet it'll be another top tier, supercharged racing experience.
For access to exclusive gear videos, celebrity interviews, and more, subscribe on YouTube!