Even though tennis is one of the more traditional sports out there, it doesn't mean players have to stick with traditional options when it comes to training. Tennis star Madison Keys is doing just that by utilizing IBM's AI technology to help her train for the biggest events on the schedule, including the U.S. Open.
"I am a massive fan of the app and working with IBM on all this," Keys told Men's Journal. "I can get the data that I need to help me prepare. It's fast and up-to-date and I can see the that I want to know and have those in the back of my head when I'm playing my matches. The more specific data, like where my opponent is serving on break point down, or where they're hitting the ball so I know if I need to push them back a little things like that that can make a big difference."
Over the last year, Keys has had great success on the court, making it to her first Grand Slam final at the U.S. Open in 2017, and reaching the semifinals of the 2018 French Open. While Keys lost both those matches to Sloane Stephens, the 23-year-old is using those experiences to help her get even better.
One way she's been doing that is with IBM's advanced technology, which allows her to track video of different players, her opponents shots, and even her own shots as he works to craft a strategy on the court. As she moves forward, Keys is planning to continue using the technology in her training, combined with the intense physical work she does to stay in top shape on the court.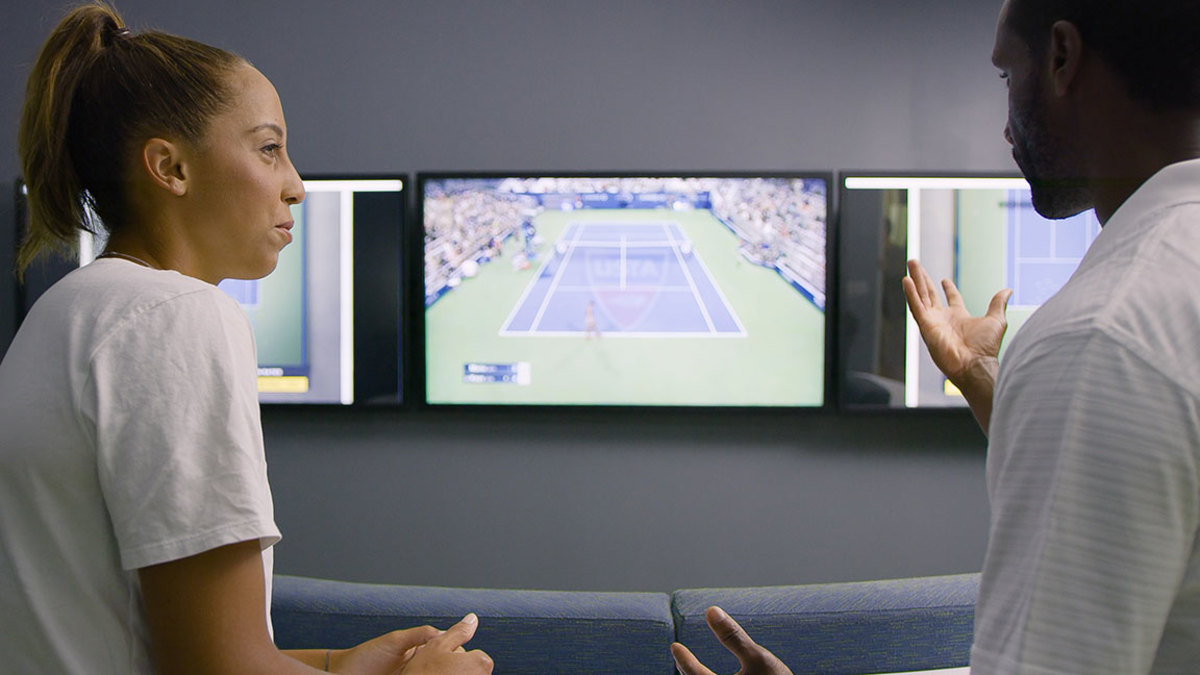 Keys spoke with Men's Journal about her training for the U.S. Open, using technology in her preparation, and where she loves to play around the world.
On working with IBM's technology to help her train and prepare:
"I'm excited about the new technology as far as being able to use it in practice. I am a visual learner so being able to have the video aspect of it is so exciting and big for me and I'm excited to incorporate that in my training so that I can also see what I am doing. That's the thing that I don't really do as much right now, but being able to specifically see what I'm doing, it helps me decide what I should practice and focus on heading into matches."
On training for big tournaments:
"I do a lot of different things. I like weightlifting and cardio workouts, and I'll do a lot of circuit workouts and plyometric as well. Those explosive movements and stuff like that are big for me as a tennis player. I'll work on power in the offseason and then maintain that during the year. If I could do only one type of workout for tennis, I think I'd stick to circuits of some sort because I feel like you can get everything all at once that you need you can get your your cardio, your plyo, your weightlifting, and your strength, and for me I'd much rather do cardio that way rather than riding on a bike or something like that keeps you a little more involved."
On her mental preparation:
"I would say that as far as mental stuff, especially in New York, I think the biggest thing is managing energy, which is something that I've gotten better at as I've come to this tournament more and more. I think it's just really good to be honest with yourself and if I'm not feeling up for something I have no problem staying in my room in ordering some food and relaxing and managing my energy and kind of just checking in with myself throughout the day. It's trying to stay really calm and relaxing, kind of joking around with my team and not letting myself over-think things. Then before the match, just going over things with my coach. I've done some meditation stuff like apps on my phone, but sometimes it's just about breathing deeply taking some deep breaths and slowing my mind down and focusing and something simple that can really help quiet my mind."
On where she likes to play around the world:
"As far as cities, one of my favorite stops every year is Rome I think it's super fun to play there, because the tournament is really cool and the fans are super engaged, but also you get to walk around going to dinner, and the history—it's truly one of the most amazing cities in the world. I love it."