NFL players have gotten very creative since the league relaxed their touchdown celebration policy ahead of the 2017 season. From doing mock weightlifting sessions, referencing movies, "playing" baseball, to doing "Rock 'Em Sock 'Em Robots" together, each week brings out new inventive ways for players to celebrate.
In 2018, the players have continued to turn touchdown celebrations into a work of art.
In case you didn't know about the rule changes from last year, here's what the NFL updated:
1. Players can use the football as a prop in celebrations
2. Players can celebrate on the ground
3. Group demonstrations are (finally) allowed
After being mocked as the "No Fun League" for restricting players' celebrations too much, players now have a wide canvas to have fun when they score.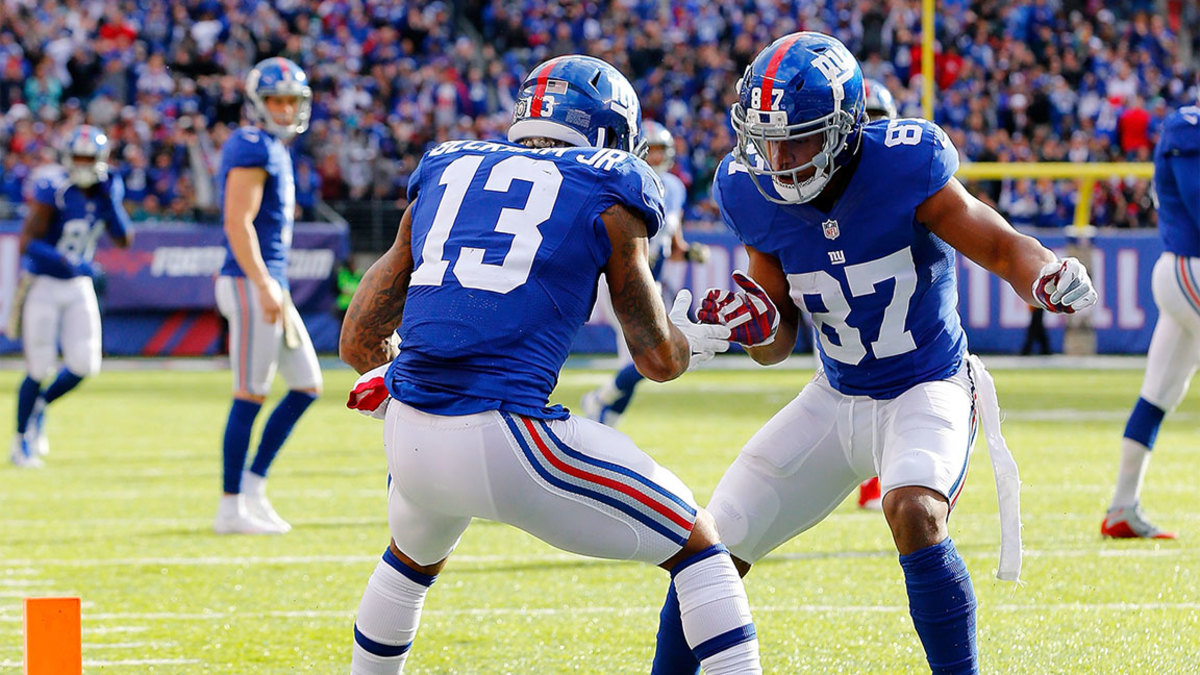 Here are the best NFL touchdown celebrations of the 2018 season—so far:
1. Doug Baldwin and Tyler Lockett, Seahawks
In what has to be one of the most creative TD celebrations in recent memory, the Seattle Seahawks receivers acted out the classic baseball fight between Nolan Ryan and Robin Ventura (Tweet video courtesy of Jeff Eisenband of The Post Game):
.@TDLockett12/@DougBaldwinJr synced up with Nolan Ryan/Robin Ventura pic.twitter.com/tnmfuZemdP

— Jeff Eisenband (@JeffEisenband) October 29, 2018
1A. More Seattle Seahawks fun
Doug Baldwin, Tyler Lockett and a couple other Seahawks players dig for gold on this touchdown celebration. Fitting, considering it came against the San Francisco 49ers. 
A win as good as gold. #GoHawks pic.twitter.com/douKbQBZwI

— Seattle Seahawks (@Seahawks) December 3, 2018
2. David Njoku and Darren Fells, Browns
Cleveland Browns tight ends David Njoku and Darren Fells did the "Fusion Dance" from Dragon Ball Z against the Raiders:
Teamwork on the #Browns TD celebration 😂#CLEvsOAK pic.twitter.com/Pen0tz20MF

— NFL Network (@nflnetwork) September 30, 2018
Here's a comparison for the Browns TD:
Greatest TD celebration of all time!! pic.twitter.com/6946KdbhLE

— Julio (@juliobruuuh) October 1, 2018
3. Kansas City Chiefs Defense
The Chiefs defense did a tip drill together after scoring a touchdown against the Jaguars:
CHIEFS WITH THAT TIP DRILL 🔥🔥🔥 pic.twitter.com/5EKskIXjS1

— The Checkdown (@thecheckdown) October 7, 2018
4. Odell Beckham Jr. and Sterling Shepard, Giants
The New York Giants wideouts played rock, paper, scissors after a score:
A peek behind the curtain on @obj and @sterl_shep3's TD celebration 😂 pic.twitter.com/tjzlp5lqf1

— ESPN (@espn) September 30, 2018
5. George Kittle, 49ers
The San Francisco 49ers tight end channeled Chargers legend LaDainian Tomlinson's classic celebration while scoring in Los Angeles:
6. Tajae Sharpe, Titans
Sharpe and the Tennessee Titans went bowling after Sharpe scored a TD:
The Titans TD celebration though 😂#PHIvsTEN pic.twitter.com/mMWG9h8xjz

— FOX Sports (@FOXSports) September 30, 2018
7. Marquise Goodwin, 49ers
After scoring a long touchdown for the Niners, Goodwin did an impression of the long jump—something he knows very well after trying to qualify for the 2016 Rio Summer Olympics.
Marquise Goodwin with the long jump TD celebration 💯

🎥 @thecheckdown pic.twitter.com/ztzZ0kFWIt

— SB Nation (@SBNation) October 16, 2018
8. Dak Prescott, Cowboys
After having Conor McGregor on the field pregame, quarterback Dak Prescott channelled the MMA star for his TD celebration.
Dak with the Conor McGregor inspired celebration. 😂

(🎥: @dallascowboys) pic.twitter.com/8ys03As80T

— theScore (@theScore) October 14, 2018
9. Seattle Offense, Seahawks
After a touchdown, the Seahawks offense got together for a reference to the movie Drumline.
Drumline: ASSEMBLE! 🥁

📺: FOX #SEAvsOAK pic.twitter.com/0tMEIpz425

— NFL on ESPN (@ESPNNFL) October 14, 2018
10. JuJu Smith-Schuster, Steelers
The Pittsburgh Steelers star wideout welcomed a baby (football) into the world:
What.
A.
Catch.
🤯 pic.twitter.com/sVYNn6QtIr

— Pittsburgh Steelers (@steelers) October 7, 2018
For access to exclusive gear videos, celebrity interviews, and more, subscribe on YouTube!