Like height marks on a bedroom wall, my growth as a youth can be measured by how Roger Owens threw me a bag of peanuts. When I was an infant, the Peanut Man of Dodger Stadium dropped the bag in my lap. As a toddler, I received an underhand toss. At 10, he fired one in from the next aisle over. By the time I was a teenager, he'd sling three bags behind his back at once that somehow found their way to me, my friend, and a guy sitting two rows behind us. There are generations of Dodgers fans who measure their youth the same way, because this year marks the 60th anniversary of the Dodgers' move from Brooklyn to Los Angeles, and Owens has been the star of the stands through every single one of them.
"It's a young man's job, but after 60 years I'm still loving it," he says. "You see a kid catch peanuts, his face lights up and you really make his day."
On opening day, vendors in mustard yellow shirts line up in the parking lot in order of seniority. A supervisor keeps a list of events worked for the 85 vendors who will be walking the aisles hawking items such as peanuts, frozen chocolate malts, Dodger Dogs, cotton candy, Cracker Jacks, sodas, water bottles and Dippin' Dots. One through 85, the vendors make their choice of item and section based on what they think will be the best seller and route.
With 5,106 events under his belt, Owens sits atop the iron-man throne. Many vendors change items and sections depending on the time of the game and temperature, but there's no doubt what Owens will be choosing. While peanuts are no longer the best-selling item, frozen treats are no fun to pitch and catch. And he's been serving the same section—the second level from behind home plate to the left field corner above the home bullpen—since Dodger Stadium opened in 1962.
"We have no idea how he's able to do the throws he's developed," says Jeffrey Rose, a 20-year vendor whose father, Morton, is second to Owens with more than 4,900 events. "He makes it look easy, but no one has been able to duplicate them."
But it was at the Los Angeles Memorial Coliseum, where the Dodgers played for four seasons while their stadium was being built, that he got his start. The oldest of nine children, Owens was pitching on the baseball team at L.A.'s Manual Arts High School when the Dodgers moved in across the street at the Coliseum. In an effort to keep his family together, he quit the team and took to vending games after school at age 15 (the minimum was 16, but the supervisor didn't check IDs).
Owens and his siblings spent several years in foster care after his mother had a mental breakdown and was hospitalized when he was 10 years old. Their father, Ross, a part-time truck driver and minister, remained active in their lives but didn't feel he could take care of them on his own, so the girls went to one foster home and the boys to another. Owens titled his 2004 biography, written by his nephew, The Perfect Pitch, a dual reference to his first behind-the-back throw and the pitch he made his father to reunite the family.
"I pleaded with my dad that we wanted to come home, and he said, 'Your mom is still not here; it would be a real financial hardship,' " Owens explains. "I said, 'Dad, I talked to the girls and they said they are willing to make sacrifices to do all the cooking and housework. I spoke with Philip [who also worked as a Dodgers vendor for 19 years], and we'll get jobs to bring home grocery money. There's nine of us—we'll be a team.' He heard the perfect pitch and said let's do it."
Around the time he started doing Dodgers games, Owens' mother, Mary, was allowed to return home and the family was complete. After several relapses, she recovered fully and resumed her career as a registered nurse, living for 88 years.
By 1960, Owens was full time on peanuts, throwing bags overhand like everyone else and catching the quarter tossed back in payment. His first behind-the-back attempt was born from necessity. People were standing in the aisle blocking his angle to a fan yelling for peanuts during a game in 1963, so he tried a creative way to get the bag around the onlookers and was struck by the crowd response. That offseason, he practiced tossing peanuts to the pillows on his couch, cultivating an arsenal of trick throws—behind the back, under the leg, two at a time, curve and knucklebag—that turned peanut pitching into an art form.
"Even I was surprised by my uncanny accuracy with the trick shots," Owens says. "I was always a natural entertainer and took pride in knowing how to work the crowd. When I developed the under-the-leg toss and the splitter—two bags behind the back that would split in the air and go to different people—those were real crowd pleasers."
A few vendors have tried to emulate his flair, but one errant throw hits someone in the head and they decide to keep their jobs by never attempting that again. "We have no idea how he's able to do the throws he's developed," says Jeffrey Rose, a 20-year vendor whose father, Morton, is second to Owens with more than 4,900 events. "He makes it look easy, but no one has been able to duplicate them."
Buy a bag of peanuts and you become part of the action. You stand up, and everyone in the vicinity takes their eyes off the game on the field to see how Owens is going to get you those goobers. While he wows fans with his arm, he charms them with his warmth. Weaving his way up and down the aisles, he stops to socialize every few rows with people who feel like they know him. And they do. The $6.25 not only gets you a salty snack, but also a joke from his encyclopedic memory of endearingly corny cracks ("Where does the Easter Bunny eat breakfast? IHOP."). His first marriage and most of his job opportunities—as a salesman for a freight shipping company, or entertaining at private parties, corporate events, birthday celebrations and bar mitzvahs (including mine)—have come from people approaching him in the stands.
"It's a young man's job, but after 60 years I'm still loving it," he says. "You see a kid catch peanuts, his face lights up and you really make his day."
His fame extended past the confines of Chavez Ravine in 1976, when he appeared on The Tonight Show with Johnny Carson. After an interview at the desk, Carson and Owens strapped on vending boxes and took to the crowd, where Carson's attempt to go between the legs led to a classic comedic moment involving crushed nuts. Owens was later immortalized as the peasant peanut vendor at an archery contest in Mel Brook's 1993 film Robin Hood: Men in Tights.
"I'm always thrilled when I have the opportunity to be on television or in a movie," Owens says. "I really had a lot of fun playing off of Johnny. He was generous in making me look good, and I've never laughed so hard. The segment even made it on the video Carson's Comedy Classics."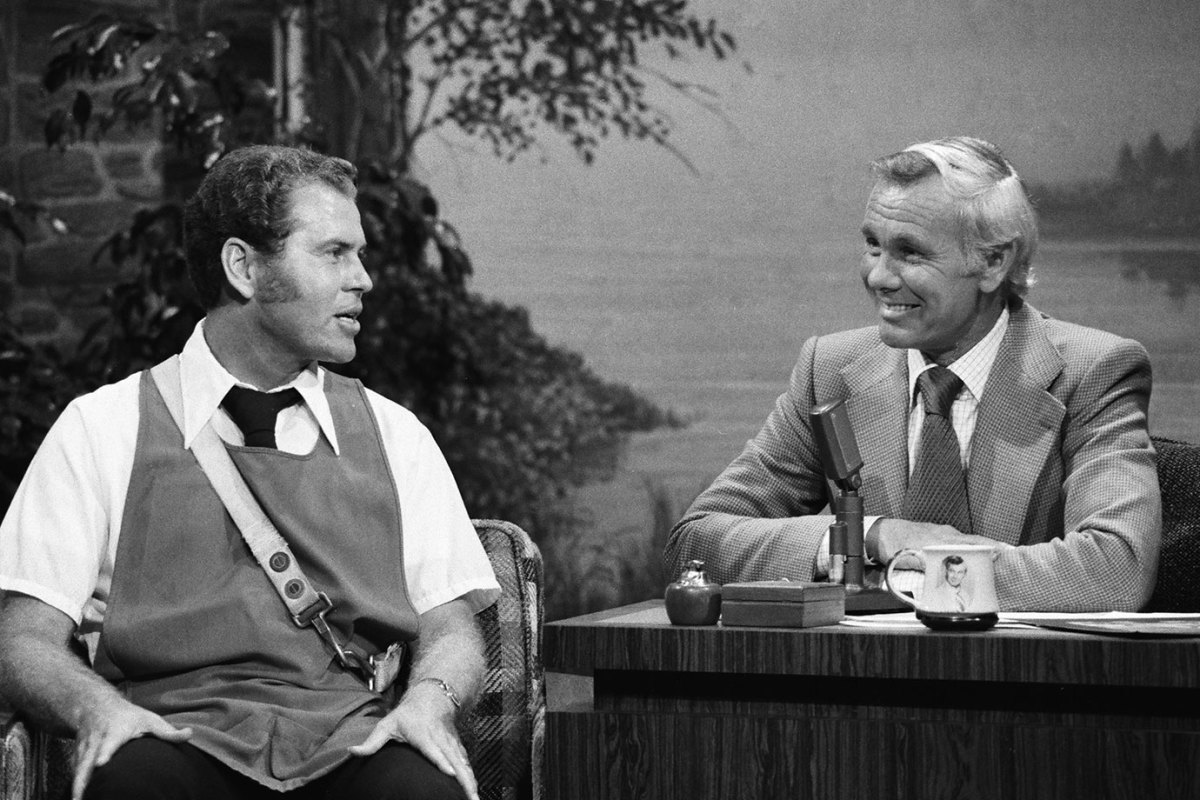 After seeing him on The Tonight Show, Cowboys management flew him to Dallas to do a Monday Night Football game. With a helper supplied to refill his vendor box so he never had to leave the stands, Owens sold 2,400 bags of peanuts in one night. The most he has ever sold at a Dodgers game is 1,000. He also was invited to Japan to help promote the Japanese Baseball World Series.
In 1981, Owens was invited to the Smithsonian Institution in Washington, D.C., for a Fourth of July celebration themed around baseball, where he was clocked throwing a bag of peanuts over 60 miles per hour and accomplished his most impressive feat—air mailing bags behind his back to arrive all at once in the waiting arms of a family of four. His photo is displayed in an exhibit on stadium vendors at the National Baseball Hall of Fame and Museum in Cooperstown, N.Y.
At Philippe's, one of two restaurants in Los Angeles that claim to have invented the French dip sandwich, there's a display across two walls dedicated to the world's most famous stadium vendor with framed photos, baseball cards, and a newspaper article. When Philippe's celebrated its 100-year anniversary in 2008, co-owner Richard Binder brought in Owens to pitch peanuts to customers. "He's an icon of the city," Binder says. "People love to see him."
It's not lost on Owens that he began working Dodger games to help his own family, and ended up impacting so many others. "It took many years for me to finally realize how much the fans in the stands appreciate me," he says. "It warms my heart, and makes me want to continue doing it year after year. Now I'm going through second and third generations who enjoy what I do." For me, it's four generations. As a child, my mother went to games with her father and grandfather, seeing a successful snag from Roger the Peanut Man as a way to get her father's attention.
Owens hasn't changed much over the years. He never embraced the technology of computers, cell phones and emails. His emails are handled by his wife, Sharon, whom he met 15 years ago through the analog version of online dating when she responded to a personal ad he placed in the Los Angeles Daily News. During their first date, she heard about his occupation and realized that her son had caught peanuts from him. They married on Valentine's Day, which is also his birthday.
At 75, he still entertains the crowd like no one else. He's had to remove some of the throws from his repertoire due to arthritis in his back—aging is not kind to going between the legs. And working requires more time for preparation and recovery. His day starts with stretching focused on strengthening back muscles, followed by getting loose on an exercise bike. After games, he'll ice the back while watching late-night talk shows.
When legendary Dodgers announcer Vin Scully retired in 2016, fans started telling Owens not to leave them too. He reassures them that retirement isn't yet a consideration. "When I leave that ballpark, it feels like I've done a good day's work and made a lot of people happy," he says. "I'll joke with them that I've already called the Dodgers to commit for another 40 years. The way prices are going up, I'll be selling these peanuts for $90 a bag. Think of the commissions I'll make!"
For access to exclusive gear videos, celebrity interviews, and more, subscribe on YouTube!