On the night the NFL kicks off its 2015 season, a hundred men and women are gathered in the TouchDown Club, inside an otherwise empty Philadelphia Eagles stadium, for a meet-and-greet sponsored by a financial firm. While many are Eagles fans, few notice the player in a black sweater, khakis, and cowboy boots, despite his 10 unblemished seasons. That doesn't surprise Jon Dorenbos. He's a long snapper, perhaps the last unheralded position in football.
But the crowd swivels toward Dorenbos when he's introduced as the night's speaker and improbably leaps on a chair that looks too flimsy to hold his 6-foot, 250-pound frame.
"Here is the team coolness scale," he says, raising his right hand to the ceiling. "Quarterback . . . !" He lowers his hand a few inches: "Running back . . . !" The hand drops farther: "Wide receiver . . . !" Another dip: "Every other person associated with the organization!" He gets down from the chair and places his hand on the carpet: "Long snappers are here, just so we're clear." It gets a big laugh.
ALSO: 7 Gridiron Classics, A Football Reading List

And he's not really joking. Special teams speedsters return punts for touchdowns, field goal kickers change games with one swing of the leg — even defensive linemen score fantasy football points. But no one pays attention to the long snapper until he makes a mistake. That's something the affable 35-year-old Dorenbos, who's been to two Pro Bowls and earns $1 million a season, has rarely done.
His ability to expertly snap a ball up to 15 yards isn't the only reason he's here tonight. He's a motivational speaker with a twist: Since the age of 13, Dorenbos has performed magic, and not the pull-a-quarter-from-behind-your-ear variety practiced by grandfathers everywhere. He asks an audience member to pick a card, then sketches a deck of playing cards on a piece of paper. He shakes the paper, and the chosen card, the six of hearts, appears to rise out of his illustration. On another sheet of paper, he draws a woman's palm and asks her to hold her hand up while he lights the paper on fire. Dorenbos asks if her hand is getting warm — no luck. He says maybe she's holding up the wrong hand. The woman shows the audience her other palm, and to her amazement it's blackened at the center. Between the tricks and the jokes, Dorenbos has everyone's attention. What he says next stops them cold. "When I was 12 years old, I was super-close to my dad," he says. "I came home one day, and out of nowhere, he murdered my mom."
Long snappers have to maintain a Zen-like composure throughout a game, during which they will likely be on the field for a total of approximately one minute. "Your biggest enemy is yourself and your mind," Dorenbos tells me over crab fries at a sports bar near his Philly condo. "If a receiver drops a ball, he can come back on the next play, 60-yard touchdown, all is forgotten. If we screw up, we sit on the bench, and all you have is time to think about how you botched it." I tell him I watch at least three NFL games a week and that I rarely notice a long snapper. Dorenbos nods. "You're basically called on for 10 or 12 plays a game," he says. "A lot of people go to the bathroom or get a snack."
Consider the plight of long snapper Trey Junkin, who was weeks away from retirement in 2003 when the New York Giants signed him to replace their injured snapper. With six seconds remaining, Junkin lined up for what would have been a game-winning field goal. He blew the snap, and the Giants blew the third-biggest comeback in NFL playoff history. A decade later, Junkin told reporters that he was still jolted from sleep by the memory.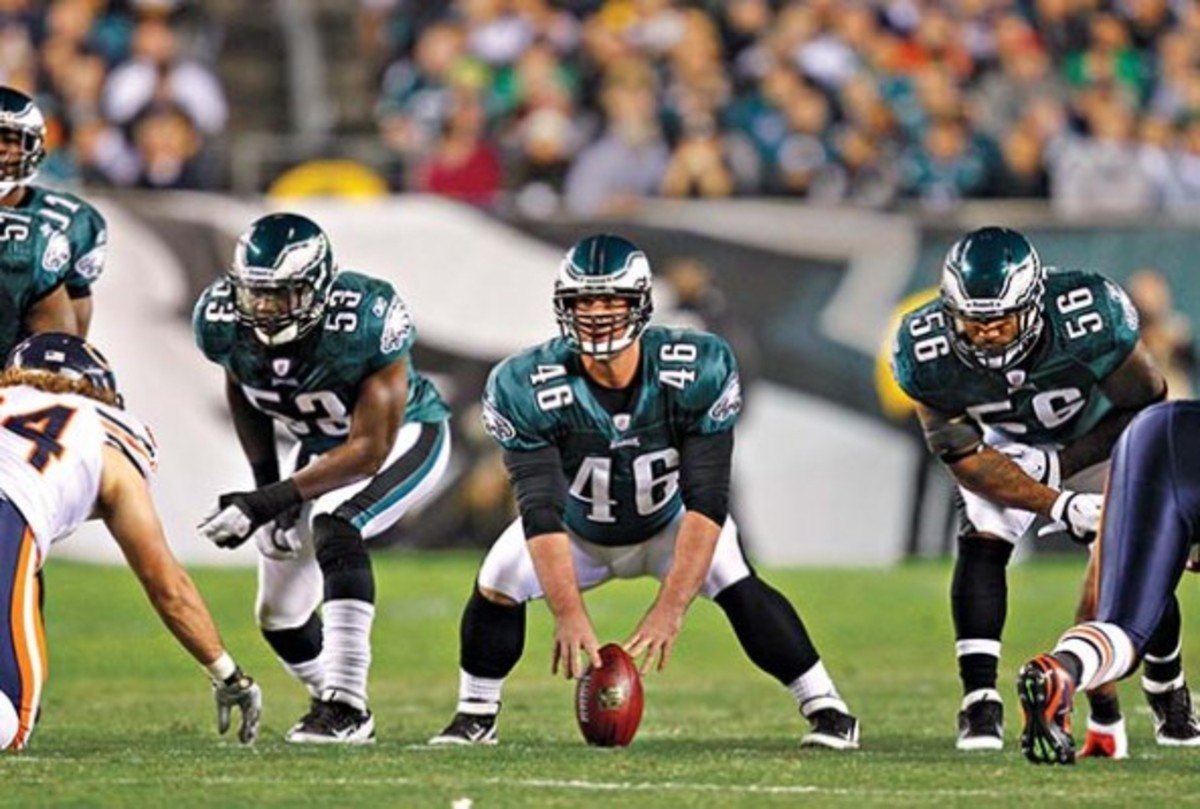 (Dorenbos during a 2011 game against the Chicago Bears. Photograph by Brian Garfinkel / AP)
Ideally Dorenbos wants to shuttle the football to his punter in 0.75 seconds; on a field goal, the time from snap to kick is 1.28 seconds. "A hundredth of a second doesn't sound like a lot, but that's the difference between every punt and field goal getting blocked," says Dorenbos. "My ball — when I'm on — spins three and a half times, no movement. You're always in search of the perfect rep. I love doing something over and over that's very tedious until it's legit. I dig that process."
When he walks out to snap during a game, says Dorenbos, "in my own mind, I'm a character in a movie, and I'm going to act like the greatest snapper ever. I don't think of the impact I'll have on the game."
Dorenbos' former head coach in Buffalo, Gregg Williams, once made the point that Dorenbos' family history likely armored him for high-stakes pressure. "If something goes wrong in a game, I don't really think it's going to affect him," said Williams. "The situation won't be any bigger than what he's already been through."
Growing up in the Seattle suburb of Woodinville, Dorenbos played everything but football and dreamed of wearing a Mariners jersey. The youngest of three, Jon was close to his father, Alan, a sales consultant for Microsoft and president of the local Little League. One Sunday in August 1992, with his brother and sister away, 12-year-old Jon came home for dinner to find his mother, Kathy, gone — "out with friends," his dad told him. The two played cards before Jon went to bed. Then Alan headed to the garage, where hours earlier he'd bludgeoned his wife to death with a power tool after an argument about a woman he'd been seeing. As Jon slept, Alan wrapped her body in a sleeping bag and repainted the garage.
The next day Alan turned himself in, and Dorenbos was told at baseball camp that his mother had died. All of Alan's children attended his trial, but only Jon testified. "I remember telling the D.A., 'If it helps end this, I'll do it.' I glanced over at my dad, and he had this cold, blank stare. They said, 'Raise your right hand,' and I raised my left hand. I was nervous as shit." Alan was convicted of second-degree murder and sentenced to 13 years and eight months. The last time Dorenbos saw him was through a glass partition a few months after the trial. "Shut the fuck up," said the boy, when Alan tried to speak. "Don't ever talk to us again." "Fuck you," Alan replied. Confronting his father was "traumatic," Dorenbos says. "One of the hardest things I've done in my life."
Jon and his sister, Krissy, went to live with an aunt in California. (Their brother, Randy, was 18 and chose to live with friends.) Back in Woodinville, Jon had met a neighbor who'd shown him his first magic trick. At the sports bar, he shows it to me: a sleight of hand move that transforms one red foam ball in my fist into seven. Through his teen years, Dorenbos spent hours learning deck shuffles and card flips. "I was subtly teaching myself discipline," he says. "This established something in me: I'll figure out life; I'll figure out how to do my job against a guy who's a foot taller and 100 pounds heavier than me."
Dorenbos went to a junior college as a linebacker with few expectations of going pro. But a friend at University of Texas, El Paso, told him they needed a long snapper. Dorenbos took VHS footage of himself and spliced it together with footage of his team's skilled long snapper. The result fooled UTEP's coaches and earned him a full ride. Luckily for Dorenbos, he developed a rocket-fast snap. "I knew I had the will to be good," he says.
Dorenbos credits therapy for helping him recover from his childhood and a recent divorce. "It helped me be OK with closure," he says. "I know who I am. A lot of people don't." His father was released from prison in 2006, but Dorenbos hasn't spoken with him. "I forgive him, 100 percent," he says. "I forgive him for being lost in life. I had to forgive myself first, which was really hard — that there's nothing I could have done to change it. If it were affecting my life, would my mom want me to be that guy?"
With a year left on his contract, Dorenbos suggests he'd be OK with walking away. "I didn't think I'd play a snap in the NFL," he says. "Not once." When the conversation turns to magic, his eyes widen and his lips move in double time. He says he's drafting plans for a Vegas show. Football, he says, is just a step toward completing the life goal he wrote down as a teenager in his therapy journal: "I want to die happy."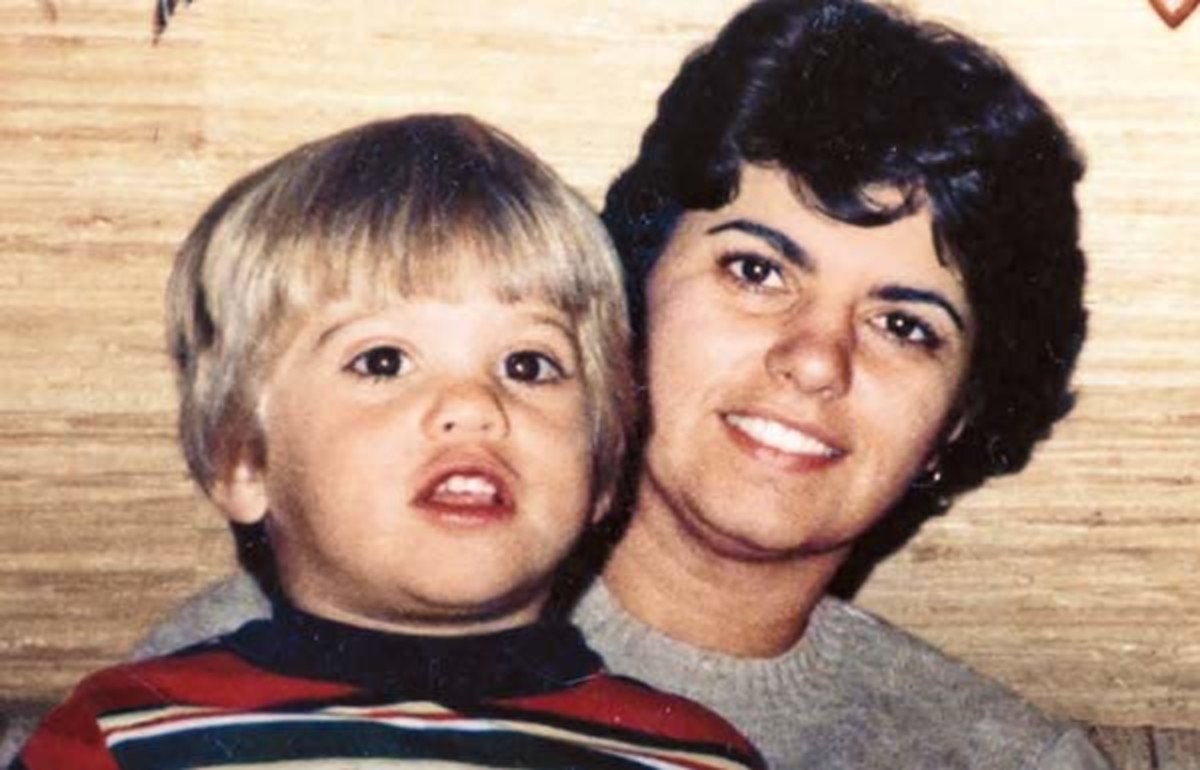 (Jon and his mother, Kathy. Courtesy Jon Dorenbos)
Back at the TouchDown Club, Dorenbos' presentation is coming to an end. Two men in ties and a striking brunette volunteer their rings, which Dorenbos squeezes in his hand. "The key is that we create our own integrity," he says. "So that the people around us feel better with us in their lives than without us. We're going to team up with each other. So did these rings." Dorenbos opens his hand to reveal the three rings are interlocked. "This is what life's about — coming together."
Later, as he's signing autographs, only a few people are watching the Steelers trying to topple the Patriots on the large-screen TVs. Dorenbos looks up to see Pittsburgh lining up for a field goal. The kick sails home. "Good snap," Dorenbos says quietly, if only to himself.
For access to exclusive gear videos, celebrity interviews, and more, subscribe on YouTube!