Taylor Branch watches college basketball differently than most folks. You watch in your raggedy college hoodie beseeching a 19-year-old to hit his free throws. Branch sees that same kid as an athletic sharecropper unable to afford a late-night meal at Taco Bell while the NCAA rakes in many millions on the back of his labor. You see your team's zone defense shut down your rival's sharpshooters and you start belting out the alma mater. Branch sees the systemic abuse of so-called student-athletes force-fed worthless diplomas so they can concentrate on bringing the university glory on the playing field. You see the rise of a Kobe-esque swingman, while Branch sees a young man who isn't even allowed to profit from his own signature.
Yeah, Branch isn't exactly Dick Vitale on the pure athletic joy level, but here's the thing: He's exactly right, and he'd like to explain exactly why to your favorite collegiate athletic director.
Frankly, the 68-year-old Branch is an unlikely crusader for justice in college sports. The subject seems like a relatively small issue for a Pulitzer Prize–winning author of a seminal trilogy on the civil rights movement and confidant of President Bill Clinton. But Branch's 2011 story for The Atlantic, called "The Shame of College Sports," which later expanded into an e-book titled The Cartel, forever changed the perception of the NCAA and its treatment of the young men who fill its coffers. Branch effectively killed the illusion of the NCAA as a benevolent organization looking out for kids whose athletic skills earn them a college education.
One of the first things Branch did in reporting the story was read the autobiography of Walter Byers, the man who essentially created the modern NCAA, turned it into a moneymaking institution, and then, in his declining years, admitted that athletes were getting ripped off. Byers' regrets inspired Branch to dig deep into the inequities that most student-athletes face in modern sports and the Kremlin-like bureaucracy that enforces its rules with impunity. But it wasn't until he met with an old friend that Branch realized the depth of depravity he was facing.
He called on William Friday, the former president of the University of North Carolina, Branch's alma mater, and a mentor. Branch recalls Friday's marching orders. "He told me: 'Taylor, don't mess this up. Get in there and fix it. Give the university back to Socrates, where it belongs. We're being washed over by money. We shut the university down at four on a Wednesday afternoon if ESPN says we've got to play football that night. We've totally lost our minds.' "
From that point Branch was on a mission. "Taylor hates injustice of any kind," says Daniel Okrent, a longtime friend and sometime publisher. "He gets so close, so immersed, he sees things another writer doesn't see."
In a way, injustice has been the theme of Branch's three major projects: With his civil rights writing, Branch humanized the characters, major and minor, who had been demonized for demanding progress. With Clinton, Branch was led by his vexation that a hugely flawed but good-hearted man was impeached over sexual charges brought on by a rogue investigation into a land deal. With the NCAA, it is disgust at the institution's sharecropper way of treating its athletes.
Public reaction to Branch's 15,000-word opus was cathartic; famed sportswriter Frank Deford said it "may well be the most important article ever written about college sports." Change hasn't come overnight, but eyes are now wide open, thanks at least in part to Branch's story. Last July, Branch testified before the U.S. Senate, ripping the NCAA a new one. He began by dispelling the notion that the ancient Greeks, whom the Olympics cite as the first amateurs, were not compensated for their achievements. Branch ended by imploring lawmakers to "make the athletes true citizens rather than glorified vassals in college sports."
In The Cartel, Branch recounted the history of the NCAA, a nonprofit institution that now has more than 500 employees and more than 200,000 feet of office space, all largely funded by the organization's slice of the billions generated by college-sports television deals. He detailed athletes banned from the College World Series for merely talking to an agent, players shunted off to academic majors that ensured high graduation rates but little education, and tutors and administrators happy to do anything to keep their top athletes eligible, whatever the price.
Even NCAA apologists admit his report has merit, but they argue there's simply no equitable way to compensate athletes at more than 300 Division I schools that have 300 different bottom lines and where only football and men's basketball are generally profitable. And what about the poor water polo players? The badminton star?
But Branch is a historian first and a journalist second, and he notes that throughout history, injustice inevitably reaches a tipping point, even if a practical solution hasn't yet been reached. He points to the Civil War and the economic boom that slavery made possible. "Abolitionists were seen as people who were indifferent to practicality and were driven by principle, and that's this tension," says Branch. "Here's the question: Do you adjust your principles to practicality, or do you adjust practicality to principle?"
With Bill Clinton, Branch has had a window seat at the same battle. The principle began back when he was 25, when Branch worked on the ultimate quixotic pursuit: the 1972 George McGovern campaign in Texas, and shared a dormlike downtown Austin apartment with a couple named Hillary Rodham and Bill Clinton. The odds of McGovern's winning were astronomical (Nixon ended up crushing McGovern in Texas), but each day the three worked from dawn to midnight and then, exhausted, might order a pizza and have a beer before waking up and doing it again.
"It was less fantasy McGovern would win than it was guilt," remembers Branch. "It was, 'What if this should happen, and the election could be close, and it could get close even in Texas?' So we'd get up the next morning and keep going."
The practical began a generation later. Branch watched from a distance as the Clintons moved across the country during the 1992 campaign. At first the more idealistic Branch was leery of the moderate Clinton. But on the eve of the inauguration, Branch found himself contributing ideas to the new president's speech. Afterward, Clinton called to ask if they could meet occasionally and tape their conversations for historical purposes. Over the next eight years, Branch might receive a call at 7 pm, asking him to drive down from Baltimore to meet the president at 9. They would talk for two or three hours; Branch would leave the tapes with Clinton and record his own recollections on his drive home.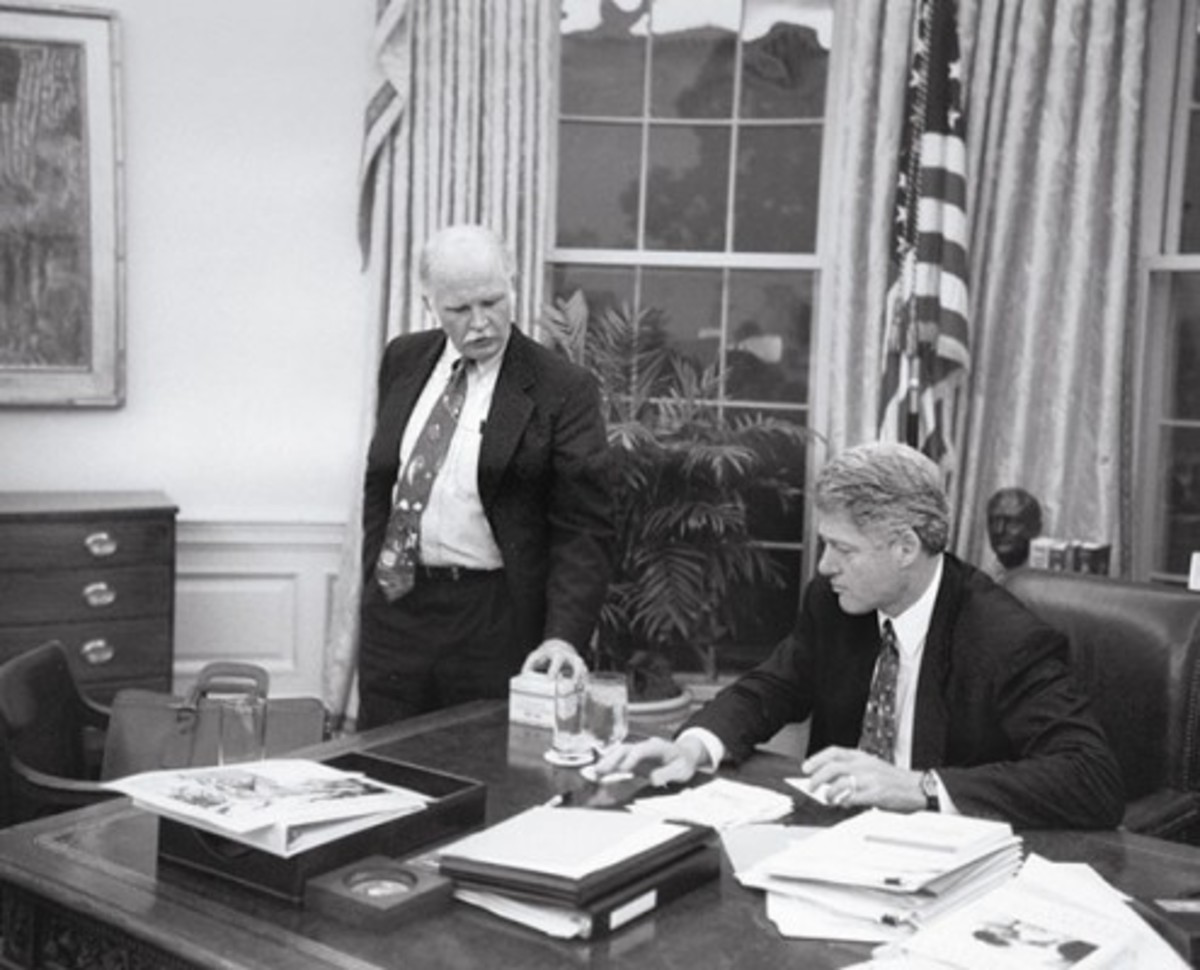 (Branch works with President Clinton in the Oval Office, 1993. Photo Courtesy Taylor Branch.)
Branch learned one of the clichés from Clinton's election — that it marked the end of America's battle over the 1960s — was exactly wrong. The 1960s weren't dead; they weren't even the past. Clinton's pollsters could predict with 80 percent accuracy how people were going to vote on a particular issue by asking one question: "On balance, do you think the 1960s were bad for Americans?" If a respondent said the Sixties were bad, then he or she would vote Republican. If one said they were good, he or she would vote Democratic. Branch thinks the Right's vitriol over how the Sixties changed America drove the hatred for the Clintons and now fuels the hatred of Barack Obama. "Some people are still fighting the last war," says Branch.
Branch thinks the NCAA is equally stuck in the past. He hasn't been alone in his cries for NCAA reform. Joe Nocera, at the New York Times, has touched on similar themes, arguing that the millions in profits need to be given to the "value creators" — that is, the athletes. Meanwhile, Jay Bilas, a former Duke basketball player and current ESPN announcer, tweeted pictures of Florida State selling Jameis Winston jerseys while Winston was being investigated for profiting off autographs. But Branch's piece in The Atlantic took the issue to a wider audience.
"The importance of something like Taylor's article was that it got so much attention outside of the usual circle," says Geoff Silver, an executive who left the NCAA last year. He says Branch's piece was read closely inside NCAA headquarters. "It moved the issue outside of the general demographics of people who care about these things and brought it to a much larger audience."
Popular awareness is rising on the NCAA's profiting from the labor of a volunteer workforce, and the wheels of justice are slowly beginning to turn. A long-delayed court case brought by former UCLA hoopster Ed O'Bannon and other players seeking compensation from the NCAA for using their likenesses in video games went the players' way last September. (The NCAA is appealing.) Football players at Northwestern University have started a movement to unionize. The University of Southern California pledged to honor scholarships for four years, a rollback of the ugly secret that most athletic scholarships can be yanked at the end of any school year for any reason.
But scrutiny doesn't always lead to change. Like any bureaucracy, the NCAA doesn't cede power willingly. In November, Georgia star running back Todd Gurley took the field against Auburn in Athens, Georgia, before 93,000 paying customers. It was Gurley's first game in a month — he'd been suspended for receiving more than $3,000 from memorabilia dealers for daring to sign his own name on helmets and jerseys. He had to sit out four games, donate a portion of the $3,000 to charity, and perform 40 hours of community service. In other words, the NCAA treated him like a criminal.
Gurley was rust-free on his return, rushing for 138 yards and looking like the All-American he was before the suspension. Then, with five minutes to go, Gurley's left knee buckled, tearing his ACL. The injury ended his season and probably dropped him lower in the NFL draft, all while playing for free. His future in football was in doubt, but one thing was clear: He owed the NCAA 40 hours of community service.
Taylor Branch just shook his head at the story. "I think most people think that it was wrong, what happened to Gurley," says Branch in his soft Southern voice. "But fans don't take the next step and say, 'By God, what right is it of colleges to prohibit income that doesn't even come from them?' To say you can't sign an autograph, where do they get off saying that? Those rules are bogus."Branch has become a sort of Don Quixote of student-athlete rights, traveling the country and taking his denunciation of the NCAA's plantation-style management to the masses. Well, if not the masses, then the people who think about these things at conferences and hold Senate hearings. In November, Branch, who lives in Baltimore, put aside an essay he was writing on Lyndon Johnson biographer Robert Caro's views on LBJ and race so he could travel to the University of Michigan to speak at a conference, "The Values of College Sport."
Few campuses are more qualified to hold such a symposium than U of M, where eight Nobel laureates have labored and banners celebrating the Fab Five, one of college basketball's most storied 1990s teams, are kept in a basement because a player received loans from a booster while the university and Nike made millions of dollars from their labors. Michigan is one of the top five public universities in the country, and its current athletes spend much of their time separated from other students on the school's Athletics Campus, near sports arenas like the Big House, a.k.a. the football stadium, which holds 110,000 fans and generates millions in gate receipts six Saturdays a year.
The value of college sports, at least the commerce component, had recently dropped precipitously in Ann Arbor, as the football team suffered through one of its worst seasons in years and students marched on university president Mark Schlissel's house to demand the athletic director's dismissal after a clearly addled quarterback was thrown back into an already lost game. By conference time, the athletic director had cleared out his office, and the football coach was just weeks away from being fired. Meanwhile, Schlissel had just walked back remarks on football's outsize influence at the school, not because the questions weren't valid, but because they were words that dare not be spoken aloud.
(Branch played tight end during his high school years in Georgia. Photo Courtesy Taylor Branch)
Branch continues to voice the unpopular truth, even at his alma mater. The scandal unfolding at the University of North Carolina involves hundreds of student-athletes (a term Branch despises — "We don't call young musicians 'student-musicians,' or young scientists 'student-scientists'; it's condescending") who took sham no-show classes to maintain eligibility with the happy complicity of instructors and tutors looking to please coaches, and bean counters hoping to keep studs eligible and turnstiles turning.
Branch had seen it all before. Universities forcefully direct athletes into majors that allow more time for athletics. Michigan Fab Five member Jimmy King spoke at the conference, where he told an all-too-common story: He was steered away from a business major by advisers who thought it would be too taxing on his hoop work.
Tired after a day of travel and an afternoon of speaking to an African-American history graduate seminar, Branch still offered a stem-winder. His talk touched on now-familiar themes: athletes unable to profit from their own signatures, athletes banned from competition for merely consulting an agent, and NCAA penalties falling hardest on teens with no guilt. He even mentioned that the sanctions applied to Penn State after the Jerry Sandusky pedophilia scandal primarily affected kids coming to play for the university in scholarship reductions and bowl sanctions.
"They punished high school students who didn't have anything to do with it," said Branch as some attendees squirmed in their seats.
The conference ended for the day, and Branch and I headed out for dinner. It takes much to outrage Branch — years of investigating FBI and police skullduggery targeting the civil rights movement and listening to Bill Clinton explain Monica Lewinsky tends to make a person hard to shock — but there was something about academia's refusal to engage on giving players the same rights other students enjoy that pissed him off.
"The part that gets a little frustrating is where I can't get people to say, 'How do you justify doing this?' " said Branch, his voice rising slowly. A few diners looked over as the polite-looking man got slightly agitated. He sighed and stirred his rice. "I literally cannot get anybody to answer that question." He laughed a small laugh. "They don't even want to hear the question."
The tough questions were not a part of Branch's childhood. He grew up in Atlanta during the 1950s and 1960s, as the civil rights movement roiled around him; Brown v. Board of Education came down when he was in first grade, and the Freedom Rides were happening as he entered high school. These issues were not talked about at home. He started working at his dad's dry cleaners when he was five, and most of his father's employees were black, but he never saw their homes or their lives outside the building.
But when he was around 10, one of his father's most beloved workers died, and Branch went to the man's funeral.
"I'd never been in a black church before, and people were falling over and getting hysterical," remembers Branch. "I thought they were having heart attacks. And then they said, 'We'd like Mr. Branch to speak.' It was the only speech I ever saw him give. And he started telling jokes about the deceased and talking about what he meant to him. And he broke down at the pulpit."
It was the first time Branch had seen his dad cry. While Branch doesn't directly trace his passion about civil rights to that service, it was an awakening moment that followed him through high school and college. "I'd never been part of it, but it had been all around my whole childhood, staring at me from across the street," he says.
He ended up going to the University of North Carolina, and then Princeton for graduate school, and became an activist of sorts, registering voters with civil rights icon John Lewis in Georgia. Branch then migrated to Washington, D.C., where he edited the Washington Monthly, a liberal policy magazine. Okrent was in D.C. at the time, and the two would play poker with other young journalists.
Okrent immediately noticed something different about his friend. "He was the best of us," he says. "He sang in church, he cared deeply about injustice, he knew he wanted to do great things."
Branch wanted to write about the civil rights movement, but publishers told him that he was too green for such a grand project. So he spent his twenties ghostwriting a series of books, toggling wildly from Watergate figures like John Dean to the memoirs of basketball legend Bill Russell. Branch moved in to Russell's house outside of Seattle for a while and had his first exposure to the intersection and separateness of sports and thought.
"One of the things Bill Russell told me is that sports are really deep, intellectually," says Branch. "He said, 'Every sport is some mixture of art and war. Some supreme mixture of competition and something that is beautiful. There has to be art in sport.' "
Branch put childish things away in 1982 and began 24 years of work on what became the trilogy called America in the King Years, a comprehensive historical account of the civil rights movement. Branch's pointillist details capture the cataclysmic movement of the second half of the 20th century so cinematically that everyone from Oprah Winfrey to Steven Spielberg has flirted with adapting the books to screen. It has been a disillusioning process for Branch: Oprah's production company was brought on to produce in 2006 and then he never heard from them again, and Spielberg also backed out. David Simon, who created The Wire, is the latest. Branch and essayist Ta-Nehisi Coates have been commissioned to write episodes for what could be six hours of drama for HBO.
"We'll see what happens," says Branch with resignation. "It's been frustrating, but the options have paid a lot of tuition bills."I drove to the Branches' home in Baltimore a couple of weeks after the Michigan conference. Their home of 30 years is simultaneously grand and unpretentious. Inside are paintings of opera stars and a few mementos from Branch's lifelong second passion, singing in a vocal trio with two buddies from his college years. His wife, Christina Macy, was working in her office, and Branch and I headed downstairs to talk.
The subject invariably turned to the Clintons and the battle to come, in 2016. One of the early scenes Branch witnessed in the Clinton White House was a philosophical argument the couple had over the appointment of a special prosecutor to investigate Whitewater, a land deal from Clinton's gubernatorial years in Arkansas.
"You're president of the United States," said Hillary Clinton. "They're trying to investigate things that are not impeachable, even if they're true, because they predated the presidency, and if you allow a special prosecutor, which is almost like a fourth branch of government, you're destabilizing our whole form of government."
Whitewater ultimately added up to nothing, but it opened the door to an investigation that would end with Monica Lewinsky's stained dress. Post-Monica, Branch watched a man battle with political, not personal, demons. Clinton saw it more as, "What did I do to deserve to have my presidency ruined by an Arkansas land deal?"
"He wasn't wrestling with guilt," recalls Branch. "He was wrestling with, 'How do I get out of it?' "
Branch isn't neutral in the upcoming presidential election. His wife worked as a speechwriter for Hillary, and he thinks she has what it takes, even if it's different from her husband's political makeup.
"I didn't think she was hungering to run for president the way he was. But if people go to her and say, 'Our chances of winning the White House and doing what we want to do for America are here and there's nobody else,' are you going to turn them down? She'd never do that. She has a sense of duty."
Shortly after we talked, the University of Michigan offered $5 million a year to 49ers coach Jim Harbaugh to lead its football team, an amount that would allow the school to pay each of its student-athletes a tidy sum annually to cover expenses and all guilt-free trips to Taco Bell. But it seems the issue of practicality and principle that Branch talked about still has a ways to go.
And there have been other signs of incremental progress: The NCAA announced in January that scholarships would be increased by several thousand dollars to cover the actual cost of college, not just tuition and board. It will give athletes money to travel home and, yes, spring for the occasional fourth meal.
Meanwhile, Branch says he'll keep pushing. On my way out of his Baltimore home, Branch showed me a jigsaw puzzle he and his wife were piecing together on a table in their dining room. On the box was some kind of psychedelic pattern, which looked migraine-causing difficult. Branch shook his head when I suggested that there was no way doing that puzzle could be fun. "No, you're wrong. We enjoy them a lot." He laughed a little. "I like puzzles — they're hard but not impossible."
For access to exclusive gear videos, celebrity interviews, and more, subscribe on YouTube!