Every major American sports league has teams that are chronically awful. Systemic malfunction usually works from the top down – bad ownership begets bad management and the product that fans pay to see becomes the toxic drainage cesspool into which all of the organizational chaos flows. And then, inexplicably, things get worse. 
But times – and teams – change. Sometimes a single player can be the touchstone that turns a franchise around, but the essential building blocks of good coaching, good talent evaluation and a competent front office also have to be in place. Eventually, hopefully, bad owners wise up, bad GMs are replaced by fresh ideas, and worn-out coaches are swapped for inspired and inspiring new ones. And since everything goes in cycles, the once-proud teams fall on hard times, whether because of changes in ownership, bad personnel decisions, or plain bad luck.
With that in mind, here are two groups of teams – one, the teams that used to be the butt of every joke but have recently turned things around; the other, teams that were once revered as examples of success, but have fallen into futility.
Teams That Were Historically Terrible, But Are Better Now
Arizona Cardinals: The Cardinals made the playoffs four times from 1948 through the 2007 season, due in large part to infamously penny-pinching ownership by the Bidwells. Then Kurt Warner led the team to two straight playoff appearances in 2008-2009 – including a Super Bowl loss – and snazzy-hatted coach Bruce Arians now has the team surging once again, with an unexpectedly good defense headed up by Patrick Peterson and the monstrous Calais Campbell. This year may already be doomed by Carson Palmer's ACL tear, but the team is pointing in the right direction.
Detroit Lions: Matt Millen's disastrous, quixotic devotion to drafting freakishly talented wide receivers eventually got him fired and laid the ground work for the NFL's first 0-16 season, in 2008. Ironically, it actually paid off for the Lions with Calvin Johnson, drafted by Millen No. 2 overall in 2007. Johnson has paired with Matthew Stafford to create a potent offense that has been complemented by a tenacious young defense, a combination that makes the Lions consistently competitive and squarely in the hunt for an NFC North crown, or at the very least an annual Wild Card spot.
RELATED: Football Stories Every Man Should Read
Clippers: The Clippers were synonymous with NBA futility for so long that just that name, Clippers, still just sounds sad. But Chris Paul and Blake Griffin make the team consistently dangerous and now under new management (you might have heard about the minor racially insensitive kerfuffle that got Donald Sterling booted out of the NBA) the Clippers have an enthusiastic new owner in former Microsoft CEO Steve Ballmer, a championship coach in Doc Rivers, and the backing of L.A.'s fair-weather fan base.
Chicago Blackhawks: From 1997-2007 the once-proud Blackhawks made the playoffs just once. They were so bad that ESPN in 2004 named them the worst franchise in sports – and again in 2006. And they weren't just bad, they created bad blood with their hometown fans by then-owner Bill Wirtz's insistence on not televising home games. Then Wirtz died and his son Rocky took over and embraced the adage of spending money to make money. He killed the TV ban and put the Blackhawks back on their feet. Led by young superstars Patrick Kane and Jonathan Toews, the team won Cups in 2010 and 2012 and is consistently a top team. 
Pittsburgh Pirates: For years the Pirates had a real nice stadium in PNC Park… and that was about it. The team consistently traded away homegrown talent before it had to pay up and didn't crack .500 in a single season from 1993-2012. But a newfound willingness to open up the purse strings, if only slightly, and the presence of arguably the best position player in baseball in 2013 NL MVP Andrew McCutchen has earned the Buccos two straight playoff appearances and revitalized a once-proud fan base.
Cleveland Browns: The Drive, Art Modell, Tim Couch, even MRSA – all these painful memories are starting to give way to the belief that good things can happen for the Browns. Sure, they've been to the playoffs just twice since 1989 (zero times since 2002), but Mike Pettine – seemingly the only option the franchise had to coach this ragtag bunch – unexpectedly has the Browns pointing toward a winning record. The QB situation is murky, but it seems like a win-win – either Brian Hoyer regains his confidence and efficiency, or the magnetic Johnny Football takes the helm and leads Cleveland into the future.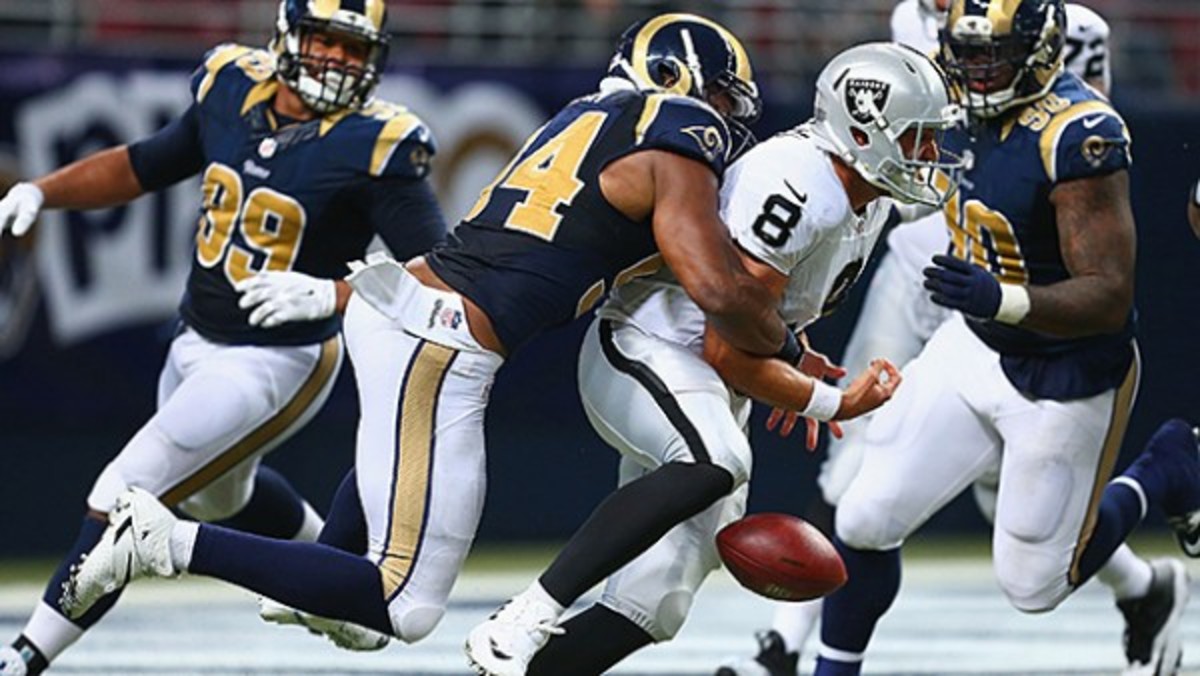 Teams That Were Great, But Are Now Terrible
Oakland Raiders: The Raiders have defined incompetence in the NFL for so long its hard to remember that there was a time (back when wide lapels were in and Blondie was a big deal) that they were a perennial contender and one of the most feared teams in the league. Alas, despite a bright spot with Rich Gannon in the early 2000's, it has been a long, dark road since then. Al Davis somehow got weirder, and took the team down with him, and now the next generation of Davises seems intent on continuing the tradition of making terrible personnel changes and threatening to relocate the team every five years.
L.A. Lakers: It seems like just yesterday the Lakers were so good they didn't mind blowing up their championship-winning team to solve the ugly Shaq-Kobe feud. Fast forward to present day, where the rusty spectre of The Black Mamba still haunts the Staples Center like the Ghost of Playoffs Past, and a bunch of guys who probably wouldn't start in Europe also run around the court sometimes. It will take a long time, some very lucky draft choices, and many millions of dollars – after they're done paying Kobe (for what, no one is entirely certain), of course – to fix the Lakers.
RELATED: What Would It Take for You To Stop Watching Football
Toronto Maple Leafs: One of the original six NHL franchises, the Leafs won ten Stanley Cups from 1942-1967, and twice lost in the finals during that span. Since then, they've won precisely zero titles and have made the playoffs just once since 2004. Yet they are still hugely popular in Canada because, well, it's Canada. At least they're winning gold medals. 
Miami Marlins: Okay, the Marlins may never have qualified as a historically great franchise, but despite never having captured a division title, they did win (read: buy) World Series titles in 1997 and 2003. The team hasn't gotten a whiff of postseason baseball since then, and has been good only at trading away brilliant young players to contenders. Yes, they just locked up Giancarlo Stanton long-term, but does anyone think he won't still somehow be playing for the Red Sox by 2016?
New York Jets: Even when the Jets were going to back-to-back AFC Championships they still had to suffer the indignity of foot-fetishgate and Sanchez-tattoogate. Then Mark Sanchez regressed, the offense collapsed, Butt Fumble happened, and the Jets went up in flames. Now airplanes fly over the practice field calling for the GM to be fired, and management won't let Rex Ryan – as lame as a lameduck coach can be – give an interview about his dying father for reasons that make no sense but are somehow tied to making the Jets look bad. The franchise is a train wreck about to be bit by another train.
Washington Professional Football Team: Say what you want about Dan Snyder, but he might be an intimidating poker player (except he's always bluffing). Washington won three Super Bowls with three different QBs in the 1980s, but all their current owner has done in 15 years is double-down on every mistake he has made. A long slew of free-agent busts didn't stop him from drowning Albert Haynesworth's flickering ambition in cash. He's hired and fired every type of coach there is – legends, greenhorns, and incompetents alike – while ruining so many promising players' careers, including the ongoing debacle with RG3. Ever litigious, Snyder has sued critics and elderly lifelong fans, and generally runs his team like the test-tube spawn of Col. Kurtz and a spoiled 12-year-old rich kid. And not only does Snyder not have any misgivings about his team's unequivocally racist mascot, he'll see your disgust, then invite a disgraced former tribal leader who embezzled money from his constituents to watch a game with him, then raise you this Thanksgiving day tweet.
Cleveland Browns: Nope. They're still the Browns. Let's be honest: Brian Hoyer is done, Johnny Football's first start could best be described as abysmal, and the team is right back where it started. This is the Browns we're talking about. But hey, LeBron, right?
For access to exclusive gear videos, celebrity interviews, and more, subscribe on YouTube!