Tom Condon can tell a true football story. A true football story contains a ration of gore, as it's really a war story without the bullets. It also checks the boxes for valor and grit — that willingness to grind through sizzling pain for the sake of the men wearing the same helmets. But what makes the story true isn't its ode to team-first values. No, what makes the story true is that it's bat-shit crazy — and usually pretty funny in the bargain.
Condon can tell a true football story because he played the game half his life, and because he's spent the other half so outflanking opponents that he's now the king of the sport's third column of power: a caste of superagents who write blockbuster contracts and bend the collective-bargaining pact in balloon-animal shapes. A former players' union president who fought the league for the basic human right of free agency, he's been making owners pay for their obtuseness ever since. Matt Ryan: $103 million; J.J. Watt: $100 million; Drew Brees: $100 million; Eli Manning: $97 million; Peyton Manning: $96 million — and so on down the line. Next up this spring: eight-figure renewals for Condon's millennial stars — Dez Bryant, Luke Kuechly, and A.J. Green — after which he'll spend months haggling boilerplate clauses for his 2015 draft picks. Though the last collective-bargaining agreement radically dropped the salaries paid to top rookies, Condon has found ways to wring extra dollars for his first-round kids, fighting till training camp over every last detail in their contracts. Of the 32 first-round selections last year, his were the last two to sign.
So Tom Condon can tell a true football story, though he lives in pinstripes and talks with the solemnity of someone trying to sell you a headstone. "When we signed Zeus Brown to the deal in Cleveland that made him the highest-paid lineman in the league," Condon begins, "I told him, 'Hey, Zeus, see that guy over there?' " — meaning rookie quarterback Tim Couch, the first pick in the '99 draft and another Condon client. " 'They want you to make sure nothing happens to him.' " Brown, 6-foot-7 and 360 pounds, looked down and said, "Oh. Take care of  Young Boy, huh?" But in a game that December, Brown was hit in the eye by a penalty marker tossed by an official. In excruciating pain, Brown hobbled to the sideline, then tried to put himself back in. "I go see him in the hospital," says Condon, "after he damn near lost an eye, and ask him, 'Buddy, why'd you run back on the field?'  Well, Zeus couldn't get through an entire sentence without dropping at least one 'motherfucker,' so he says, 'What you tell me about Young Boy, motherfucker?' "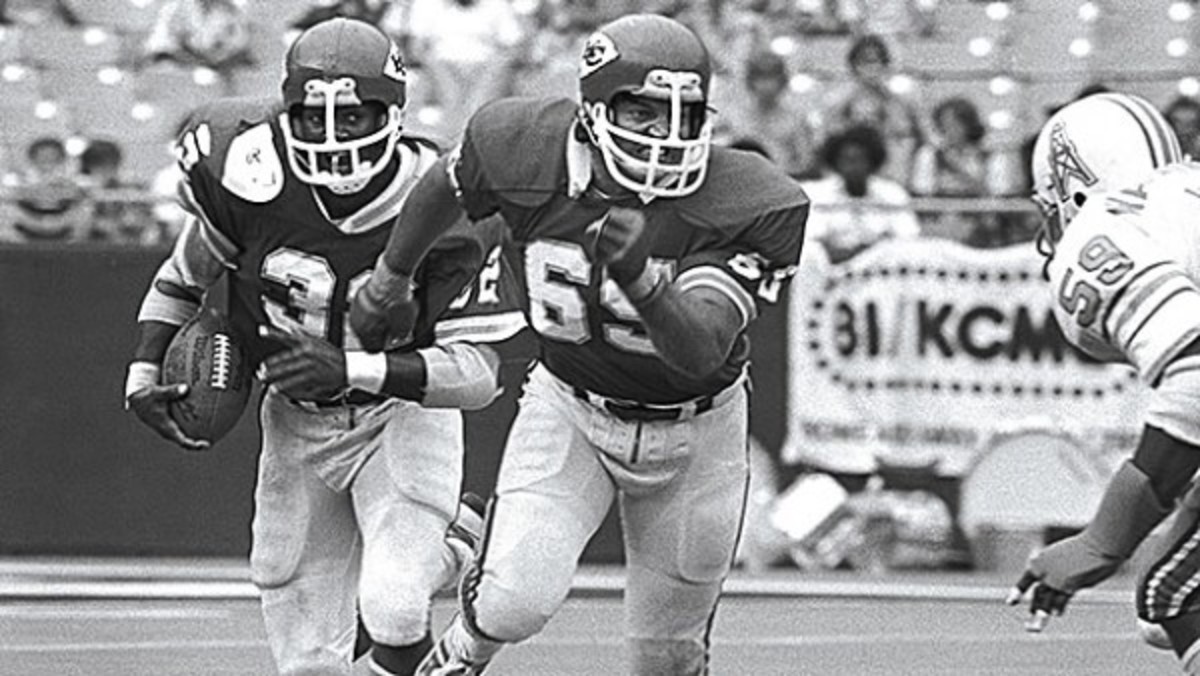 (Condon as a Chiefs guard in 1978. Photograph Courtesy The Kansas City Chiefs)
Suspended indefinitely for shoving the ref who hit him with the flag, Brown missed three seasons getting his right eye repaired and was cut by Cleveland while he healed. But since this is a football story that includes Tom Condon, it comes with a garnish: a parsley sprig of business-minded justice. Condon didn't just push Brown to sue the league; he went and hired tort king Johnny Cochran to do it. Then he moved Brown from Cleveland to the Bronx, where he'd get the world's most sympathetic jury. Epically outflanked, the league folded, settling out of court for $25 million. Brown staged a comeback in 2003 and played three seasons for the Baltimore Ravens, where he was a starter and a mentor to young linemen. He died suddenly, four years ago, of diabetic shock, but left a sizable estate to his kids, one of whom is now a standout tackle at the University of Oklahoma.
The moral of this particular football story? Don't fuck with Tom Condon or the hundred-plus players he reps from cradle to grave. He may dress like a banker, but he'll lower his shoulder and plant you in the dirt, then bill you your net assets to clean his suit.Condon built the best clientele in the league as much by avoidance as aggression. For 27 years, he's steered a wide berth around kids with franchise arms and frantic pasts. Jameis Winston? Johnny Football? No thanks; they're not worth the hours and aggravation. He'd much rather sign the left tackle you've never heard of than the zeitgeist prospect. He knows that the rule shifts of the last 10 years have thoroughly changed the way teams value their players, and that the stars at five positions so dominate payrolls that everyone else is fighting for what's left. "Quarterback, speed receiver, cornerback, edge rusher," he says. "And since they've let the linemen block with arms extended, left tackle's become as valuable as anyone but the passer."
So Condon hunts giants with balance and foot speed and pterodactyl wingspans. "They keep the defenders off them, which reduces impacts" and injuries, setting them up for long, lucrative careers. Take Andrus Peat, who, if predictions hold, will be the first tackle off the draft board this year. "That kid's first deal will be good," Condon says, "and his second should be special." Peat hits all the specs on Condon's punch list. He's a smart, stable kid from a two-parent household who actually went to class while attending school. Better still, that school was Stanford, a brand Condon respects. These days, he recruits just five kids a year from a handful of top-tier schools ­and looks for players who were three-year starters and/or captains of their squads. He trusts his eyes but trusts track records, too.
To be sure, Condon's still the quarterback king, repping almost half the franchise passers in the league. (He has, besides the icons already named, Matt Stafford, Sam Bradford, Alex Smith, and several others.) And though he prizes QBs and relies on their earnings — his agency does their contracts and books their marketing deals, of which the firm takes 10 to 20 percent — his heart, you sense, is with the men up front, who wage war for 12 years, take the worst of the beatings, and leave the game as faceless as they entered. That was Condon's footpath into the league: He came in as cannon fodder, a late-round pick, figured out a way to make a place for himself, and quietly built a name and a brand as the smartest guy in the room.
There are players who trickle back to college each winter, taking the odd marketing class. Condon went to law school while a starter for the Chiefs, studied for the bar in the off-season, and passed it in plenty of time to serve as legal co-counsel during the union's two-month strike in 1982. There are politically savvy vets who run for player rep to help their teammates get what's due them; Condon was on the union's executive board before he even turned 30, and was second in command to director Gene Upshaw while playing every down for four years. When the toll of a dozen years forced him to quit in 1985, he pivoted to become Upshaw's agent and consigliere, negotiating contracts that would one day make him the highest-paid chief in labor history.
So, assuredly, Condon knows the pathway to power and might well have succeeded Upshaw, who died suddenly in 2008, had that been his heart's desire. But he had no interest in the headaches or contumely that came with Upshaw's gig. "As close as I was with Gene, I thought, 'My job's tough, but his is impossible,' " says Condon. "You've got 1,800 players from varied backgrounds going against 32 billionaires. As I learned very early in the agent business, never go into a contract meeting where you're not the one with the leverage."
On a bizarrely cold morning in temperate Nashville, the winter sky swabbed a porch-deck gray, the view inside is not a lot more vivid than what's out the window. Though Condon left St. Louis and moved the football operations of the Creative Artists Agency to this downtown mid-rise 16 months ago, his offices here are whitewashed and packing-peanut bland, with boxes still strewn about the floor. Picture CAA's gleaming spaceship of a building in Los Angeles — the Death Star, as it's called by fearful rivals — then picture its polar opposite and you've got this place. Condon didn't design it, but it looks as if some lineman might have. All that's missing are the bite guards and knee wraps.
On his desk is a legal pad with 50 names, many — all right, all of them — famous players. It's the list of clients whom he personally handles and with whom he checks in once a week, or once a day as needed. There are the quarterbacks, of course, but those chats are brief; every minute of their day is scheduled, stem to stern. "When I was a player, I was jealous of QBs because they weren't getting blown up all the time," he says. "But now, between the film room and media and practice and therapy and the weight room and taking film home, how in God's name do they have a life?" Condon's deeper conversations are with injured vets facing drastic pay cuts and demotions. "One guy who's played hurt, they're trying to bump him down from corner out to safety. I asked him, 'If football ended tomorrow, would you be fine for money?' He said yes, so I told him: 'Fine. Then no pay cut!' "
Typically, Condon finishes his client calls before he starts his 12-hour day, but this morning there's a stranger in front of him asking questions as his muted phone wriggles and groans. He's a patient man, but there's a vein on Condon's brow that throbs every time his BlackBerry buzzes. By the time we wrap things up, it's well after nightfall, and he looks ticketed for a triple scotch — or an ischemic stroke.
"These are my busy months," he says of the late-winter run-up to the NFL Combine, free agency, and, of course, the draft. His five blue-chippers are training around the country for their pro auditions, and he's dispatched his support staff of agents to live with, and bird-dog, all five. "Anything they need — from orthotics for their cleats to gluten-free protein bars — we've got guys on the ground to go get it," he says. Those agents, who include Condon's son, Tom Jr., are take-no-shit extensions of Condon himself; they embed with these kids to push them past all tolerance and to eliminate excuses and distractions. There are roughly 800 agents credentialed by the union to rep draft-eligible kids, and though the big-gun firms — David Dunn's Athletes First, Joel Segal's Lagardère Unlimited — do something similar for their clients, Condon did it first and does it better, covering every conceivable angle. If his numbers are down slightly this year — his firm had seven first-rounders in the 2012 draft, and five firsts last year — it's because he's stopped shopping in bulk. "The rookie salary-slots took the fun out of first-year contracts," says Condon. "The real money now is in their second or third deals. And those guys are leaving their agents to come here; we've gotten a dozen or so stars the last two years."
Among them are Victor Cruz, who signed with Condon in 2013 and got a deal worth $43 million. Ditto Elvis Dumervil, who joined Condon that spring; two weeks later, he signed a deal worth $35 million, great money for a too-short pass rusher nearing 30. Then there are the stars so bollixed by bad agents that even Condon can't save their bacon. "I got a call from a famous player — I can't say his name — who's been screwed for years by his guy. The contract sounds great, but it's back-end-heavy; he probably won't see most of that money."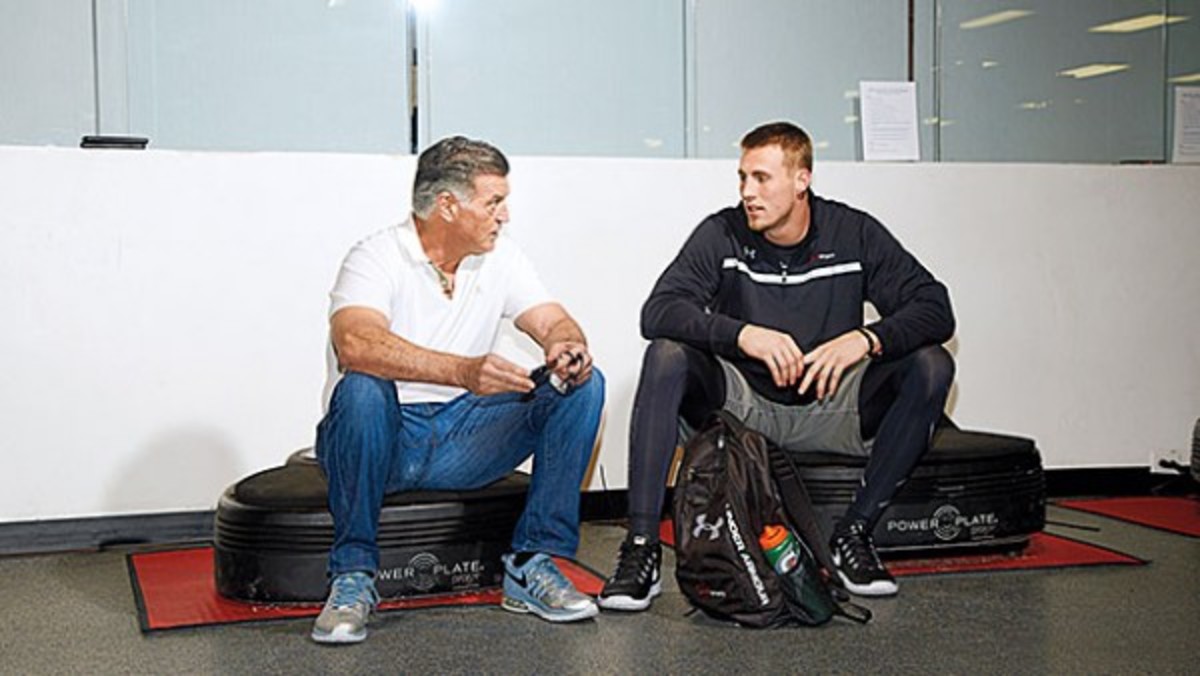 (Condon with Jeff Heuerman, Ohio State tight end, at an agency training camp. Photograph by Andrew Hetherington)
Condon says the agent's name, but won't go further. As he's too well aware, he works in dirty waters and can only slime himself by carrying tales. The majority of his rivals break rules for a living: They front money to players while they're still in college, "lend" cars and cash to their family members, and discount their fees (3 percent is the standard) to seduce a first-round kid. "Tom's one of three guys in the entire business who does things the right way every time," says an industry insider who is privy to agents' lures and snares. "Everyone else pays the kids up front. One of them's so overextended, he's almost bankrupt."
Bring this up to Condon, though, and all you get are shrugs. Every weekend, when he flies to a different city to take a player out to dinner after a game, he sees his rivals schmoozing in the stadium tunnel or preening on their iPhones for reporters. You won't catch Condon doing those stunts: He pays for his own game seat and sits alone in the nosebleeds with a ball cap pulled down low. But he didn't get into this trade to make friends. He barely has time for the friends he has, taking a ski trip once a year with three or four buddies, then holing up in the lodge on his phone, or texting clients from the golf cart in Palm Springs. "Worst golfer I've ever played with, and worst skier, too," says Peter Johnson, the former chief of IMG. "But he's a brilliant guy with no ego at all. He used to say, 'Peter, I'm just a windup doll; plug me in and point me in the right direction.' ?"
At 62, Condon looks fitter than some of his players. He carries a torqued 225 on his 6-foot-2 frame, though he's eight months removed from surgery to repair his shoulder and arm. A year or so back, one of his friends talked him into trying MMA. Condon, a gym rat, decided to work up to it by doing CrossFit, and tore his rotator cuff and severed his biceps, too. Unimpressed, he trained for four more months, doing kettlebell pushups and dips on rings till he couldn't raise his hand to feed himself. Finally, he went to the great James Andrews, who rebuilt Drew Brees' throwing shoulder and Peyton Manning's neck. If you're not Brees or Manning, it can take several months to slot into the surgeon's schedule, but Condon got with him straightaway for an overhaul. "What can I tell you? We do a volume trade there," says Condon with an eyebrow arched. Over the course of 10 hours and a low-carb lunch, it's the closest he'll come to cracking a joke.But levity isn't the point when you sit with Condon, or, for that matter, with Brees and the Mannings. Intensity is, that compulsive focus to be one step ahead of the pack. Condon's had it since boyhood, bred Irish-Catholic tough behind the smelting plants of Ansonia, Connecticut. His father, a lawyer, fought in World War II, came home a hero, and went back to college, then shipped out again to Korea six years later; there, his unit was so shot up it spent a year in Japan recovering. "Even after all that, he never drank, smoke, or cursed, and busted his butt till the year he died," says Condon.
Ansonia, a hard-hat-wearing, polyethnic town where they still said Mass in Polish and Italian, produced the best ballplayers in the state, funneling them through the ranks at Ansonia High, the bullyboy power in the region. Condon, a late bloomer, didn't start till senior year, then played as a walk-on at Boston College till they offered him a scholarship as a junior. He was an afterthought on draft day in 1974, a 10th-round pick by a dynastic Chiefs team that fielded seven Hall of Famers — on defense. Even so, Condon balked at their offer: a one-year deal for $14,000, plus $2,000 to sign. When he countered it, Hank Stram, the spitfire coach, almost fell off his chair. "Son," he said, "do you know how many 10th rounders have ever made this team? I'm offering you two grand for a summer job." But Condon stood his ground, pushed Stram to $18,000 (plus a $10,000 bonus), and won a role on special teams. By year two, he was the starter at right guard. Though he never made a Pro Bowl, he never missed a down either, taking every snap for 10 years. He signed with the Patriots in 1985, tore his hamstring on opening day, and quit to try his hand as a labor lawyer. When that didn't fly, he went to work with Tony Agnone, an agent with a handful of B-list players.
Deploying his grinder's ethos and the lessons he'd learned taking part in two collective-bargaining wars, he quickly built a roster of impressive picks, including three first-rounders in 1990. But he was mostly repping linemen and rush-down defenders, and no one got rich doing that. The real money came when you landed quarterbacks; alas, Marv Demoff (who repped Dan Marino and John Elway) and Leigh Steinberg (Steve Young and Troy Aikman) had a virtual lock on the position. "I had a plan for how to get to that level, but needed money to put it in play — at the time, I was a broke lawyer in Kansas City," says Condon.
So in 1991, he met with Johnson, then a senior VP at IMG, a sports-rep colossus with icons in golf (Palmer, Nicklaus, Player, et al.) and tennis (McEnroe, Borg, Agassi) but a very modest football roster. "Tom's big idea, which seems obvious now but no one ever did it till him, was to take college players at the end of their eligibility and give them a crash course in NFL training before their pro audition at the Combine," says Johnson. "He figured if we could get their strength and conditioning up, teach them how to interview, and ace the Wonderlic test, we could turn second-rounders into firsts, and low firsts into lottery picks."
Condon joined IMG and put his theorem to the test. He signed his first quarterback, Todd Marinovich, a peculiar, pot-smoking star at USC, and went out that winter to work with him personally at the L.A. Coliseum. "I put him through three-a-days stressing strength and speed, added 20 pounds of muscle onto his trunk and lower body, and hired receivers to catch balls from him on pro day. He totally killed it at the showcase we put on for him." Raiders owner Al Davis fell in love with him there and drafted him in the first round. Condon did even better for Heath Shuler at Tennessee. He went out to Knoxville and built a mid-first-rounder into the third overall pick in 1994. Then he found a loophole in the new bargaining rules (the players had finally won free agency in 1993, opening up the age of eight-figure contracts for lottery-pick first-rounders) and negotiated an up-front bonus so rich that the NFL banned it in the next CBA. Shuler, like Marinovich, proved a major bust, but you never really know with college QBs — at least, those not named Manning.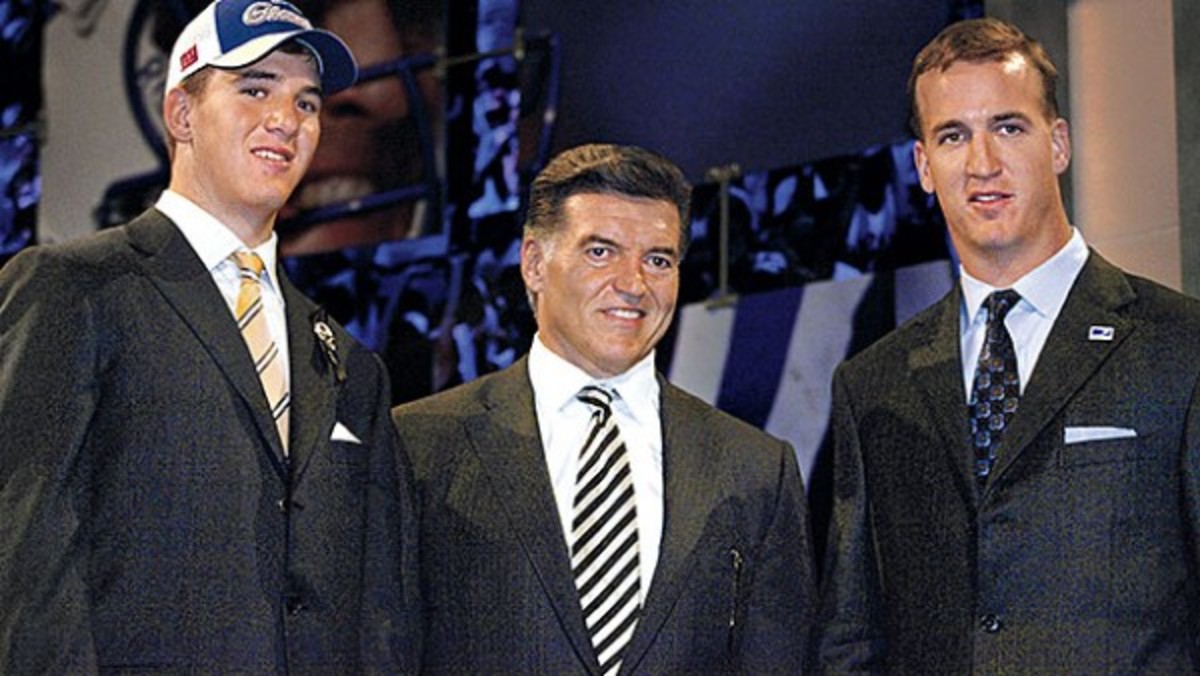 (Condon with Eli and Peyton Manning at the 2004 draft. Photography by Chris Trotman / Getty Images)
Condon would sign Peyton in 1998, beating out the countless agents who'd courted him for two years. "Biggest meeting of my life," Condon recalls, "but when I opened up my suit bag — no pants." So Condon wore jeans to face the Manning brain trust, "but he talked his way past it pretty quick," says Archie Manning.
By then, though, he'd ramped up his training module and turned his stodgy industry on its head. In 1997, he and Johnson flew six clients to IMG Academy, a 200-acre campus in Bradenton, Florida, that featured a top-end circuit of playing fields, a prep school for elite-level teens in four sports, a field house, and pro-style weight pits. He hired pro coaches to teach them NFL techniques, a nutritionist to customize their diets, a psychologist to drill them on interview skills, and an orthopedist to manage sprains and strains. Of those six, Condon netted three first- and two second-rounders, but a year later, he was up to four first-rounders, and by 2001, it was six — a class that featured Brees and LaDainian Tomlinson. "Other agents screamed bullshit, this crap doesn't work, but we had the facts to prove it," says Condon. "After five years, all the agents started doing it."
But when most other agents were training up clients and still paying them under the table, how could you keep your edge? "Well, I knew from being a player that guys liked free stuff," says Condon. "When the shoe guy came around, all these 300-pound men practically trampled each other to get to him first." So he prevailed on Johnson to hire marketing people for players who weren't big names. Soon, his nickel corners and slot receivers were getting a free car for doing in-store signings, plus cash from shoe- and gearmakers. "I knew it was working when I got a call from a Browns receiver saying, 'Charlie Batch gets a new car and trading-card money — how come I don't get that?' I told him, 'Son, I wouldn't know; I'm not your agent. Call him and ask that question!' "Condon couldn't have timed the market better. By the start of the new century, the league's ratings were so big that even third-tier companies were buying in, lining up rookies and retired players to pitch their goods. Meanwhile, the megastars had crossed the pop divide and become celebrities, hosting Saturday Night Live, doing cameos in films, and hawking every brand in sight. IMG marketed them around the world and broke salary records with every contract renewal. But then Mark McCormack, the firm's hallowed founder, died in 2003, and shortly thereafter, the company was bought by a Wall Street buccaneer named Teddy Forstmann. Johnson, Condon's boss, quit in a few months; Condon followed him out the door the next day, having had the foresight to demand a key-man clause in the contract he'd signed with IMG. That week, he was courted by the Hollywood giants, all  yearning to crack the sports-rep business. Condon made an easy call, he says: "CAA was number one in film, TV, and electronic gaming, so they had all the platforms to sell my clients. The clincher was, they were in the celebrity game and could get whatever my young guys wanted — backstage passes, movie premieres, Xboxes before they came out. You'd be amazed how much that matters to football players."
Within a month, Casey Close, who ran IMG Baseball (Derek Jeter, Ryan Howard), and Patrick Brisson, who ran IMG Hockey (Sidney Crosby, Jaromir Jagr), joined him, instantly turning CAA into a jock-world colossus. Condon, ever the grunt, declined the glitz of the coast, launching CAA Football in St. Louis, where his flight time to anywhere was under three hours — crucial for a man who spends half his life on connecting flights. Since then, he's landed haul after haul of lottery-pick passers while navigating the breakup of his 30-year marriage and moving his 12-man office to SEC country, where the best linemen, cornerbacks, and wideouts converge. "This life is hard on a spouse" is about all he'll say, though you can fill in the blanks for yourself. The merciless travel, the 12-month season, and a phone with no respect for the dinner hour: If you want Condon's job, you'd better find a woman who prefers some space. Condon's found such a woman, but she shouldn't dine out on false hopes.
Because far from winding down, Condon's bent on expansion. He plans to staff up the office in L.A., where the cash crop is great kid quarterbacks. Eventually, he'll hand the reins to his agent son Tommy, but Junior shouldn't spend that money yet. Condon's father went to the office every day till the age of 90, and he means to do likewise, sweating zillions for his players from the misers who run the sport. "We were the first firm to hire a league capologist to stretch the cap as far as it'll stretch," he says. "So when I give teams a dollar figure, that's the number we think is reasonable, and we've got the facts to back it up." As he learned in the '80s, when players asked for their freedom and the owners' counter was one word — no — this isn't a fair fight. Now, as before, it's trench warfare for leverage, and Condon, the old lineman, keeps opening holes that you could drive a tractor through.
For access to exclusive gear videos, celebrity interviews, and more, subscribe on YouTube!