Reeking of marijuana on a 100-degree afternoon last August in Dallas, world-champion foosball player Ryan Moore and a group of competitors walk into the 14,000-square-foot Texas Grande Hall, site of the $65,000 Independent Foosball Promotions (IFP) world championships. For three days straight, the sport's best players have been hammering on 60 foosball tables, 16 hours a day, for a chance to take on the golden child, "Mind Games" Moore – a top-ranked star at only 24 years of age. Possessing a technically perfect game, he is the only American to have beaten the all-time international champion of foosball, a Belgian named Frédéric Collignon, on his home turf. Moore has never had a real job. He owns three cars – one of them a Trans-Am – that he paid for with his foosball winnings. Moore makes his living playing tournaments, traveling six months a year on a pro circuit that happens to be organized, managed, and administered by his mom, Mary. Foosball is the family business. Moore has been playing since he could walk and isn't shy about dispensing wisdom to up-and-comers.
"You shouldn't smoke pot, bro," he advises a freckled, gangly newbie ranked somewhere midbracket. "It makes you unmotivated, and you're too young. Wait, how old are you?"
"Dude, I'm 19."
"Oh," Moore says. "Well, you shouldn't smoke sativa. It makes you unmotivated."
This year may well be one of the last for competitive foosball tournaments in the U.S. A tabletop game of soccer in which players move a urethane ball with plastic players fastened to metal rods, foosball was created as a parlor game in early 20th-century Europe. Although still popular on the Continent, foosball peaked stateside during the disco-era 1970s, with coverage on ABC, player trading cards, and a $1 million tour. In the decades since, the sport has managed to support a small band of professional players, but its glory days are long gone. Moore may be the king of foosball, but night is falling on his kingdom. "Every year, the world championships have been declining," Mary Moore says. "We're struggling. There aren't any game rooms, so kids just don't pick it up these days. I'm not sure how long we'll keep going."
If you even see a foosball table these days, it's probably gathering dust in the basement of a fraternity house, or playing host to a group of drunk cubicle workers at happy hour, who'll be spinning the rods haphazardly while the ball ricochets around a sticky, beer-stained table.
By contrast, the tables on Mary's IFP tour are like sports cars: ultrafast, responsive, and hard to operate unless you're a pro. For two decades, Mary has been running the IFP tour, an open-door competition with entry fees starting at $10 – a low bar that attracts a wide array of competitors and fills coffers for podium payouts to the sport's stars. A former pro foosballer in the Seventies, Mary took over the IFP after seeing her son win his first pro event at age 11, in 2000. "I thought, 'There's not going to be a tour for him, and he's going to be the best player in the world,' " Mary says. "So everything I'm doing, I'm doing for him."
As Mary sits behind the registration table, dealing with disgruntled competitors and selling silicone lubricant for home foosball tables, Ryan is working the floor of the Texas Grande Hall like a benevolent small-town politician. He bro-hugs everyone, flirting outrageously with his doubles partner's daughter, a high school cheerleader whose friends make fun of her for being into something so uncool. ("It's foosball," she's always reminding them, "not ping-pong.")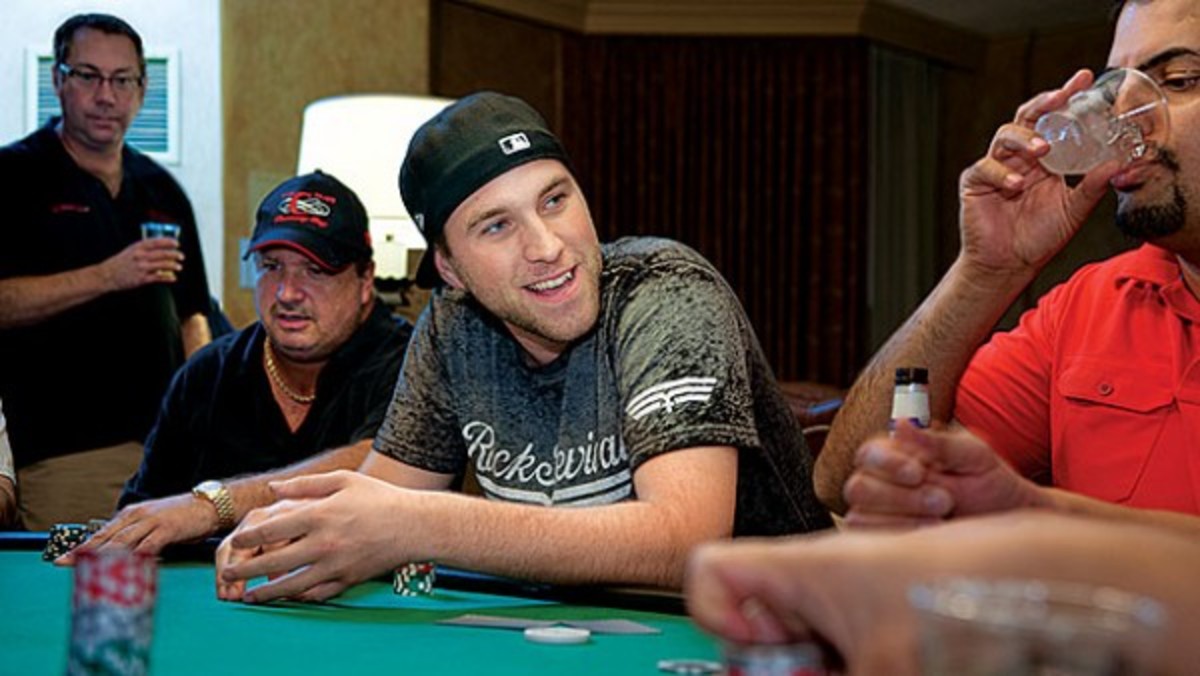 Ryan Moore and other pro foosballers playing Texas Hold 'Em the night before his big match. 
On the afternoon of the big match, Moore looks rough. His Ed Hardy–style clothes are rumpled, and his face is pillow-creased, as though he'd just rolled out of bed. In fact, he had – the night before he'd been up until 6 am playing poker with drunk, stoned foosball pros. He seems totally unprepared to take on his rival: Tony Spredeman, a 29-year-old ex–pipe fitter from Florida with a vicious, aggressive style. Then again, Moore's hangover might prove to be his secret weapon. The last time he faced Spredeman, in Las Vegas, he got so hammered in a casino the night before that he had to throw away all his clothes. "I threw up every­where," Moore says. "Oh, man, dude, I didn't even know what to do. But I got some food and some energy drinks in me and ended up beating him."
As Moore and Spredeman start warming up, a legend of the sport named Todd Loffredo finishes his doubles match and finds an out-of-the-way spot to watch the youngbloods do battle. A lean and twinkly 53-year-old, Loffredo won his first foosball championship in 1976. At the time, booming table sales were supporting the million-dollar tour; cocaine parties were not uncommon. Taking first place at the world championships meant driving home in a Porsche. If you won doubles, it meant a pair of matching Corvettes. "A lot of girls wanted to play with you," Loffredo says. "They knew you were popular, so it was easy. It opened the door." (Such was foreplay in the game rooms of the 1970s.) "We called it signing the contract – if a girl wanted to play, the guys would joke around, 'You gotta sign the contract first.' "
Professional foosball groupies trading table time for sex are a distant memory, but the IFP world championships still draw a crowd, though a smallish one. As Moore stares groggily at the table, a few dozen fans have gathered in the bleachers. By contrast, Spredeman is all fierceness and focus, a by-product of his monkish habits away from competition: lots of sleep, salad for dinner, no drugs, and only an occasional drink. "Basically, I play foosball, fish, and listen to heavy metal," Spredeman says. His wristband reads angel of death. "I will do whatever it takes to win."

Tony Spredeman vs. Ryan Moore in 2013. 
The match starts. They both shoot a modern, amped-up shot called the "walking snake" that's so bizarre looking it used to be illegal – you wrap your wrist around the handle, pin the ball, then walk it back and forth in front of the goal before shooting at a split-second opening. Moore jumps out to an early lead, but Spredeman's game starts to click, and he soon pulls away. Moore throws the kitchen sink at him – trick shots, schoolyard fake-outs (the "John Wayne"), some goalie-end shenanigans – but he can't crack Spredeman's discipline. When Spredeman scores the winning goal, Moore loses his composure for an instant. A chirped "Fuck!" escapes his pressed-together lips. Spredeman goes on to win in the final.
Moore is annoyed by the loss to Spredeman, in part because he's done it to himself. "He's been practicing all day," Moore gripes, "and I just got here at two o'clock." Mary is also unhappy, but her son's loss is a minor worry in the greater foosball universe. "The tour is struggling," she says, "and I don't want to give up just yet." Although Moore and Spredeman might well be the most gifted American foosers ever to play the game (in their world, they're like Shaq and Kobe, Federer and Roddick, foosball commands about as much respect as bumper pool. "My life right now is, I don't work. I just play foosball," Moore says. But the writing is on the wall. "I've gotta get rid of the Trans-Am, basically."
For access to exclusive gear videos, celebrity interviews, and more, subscribe on YouTube!