Patrick Peterson swims with bull sharks, aquatic monsters that eat mailboxes for lunch off Bora Bora. He jumps out of Cessnas and yearns to take up drifting, because where's the fun in tuning hotfoot Chevelles if you can't slide through a corner doing 90? He even likes training in burnt-sole heat, running ladders in 120-degree Tempe after the rest of his team has hightailed it inside, gasping for air and electrolytes.
There's something screwy about a guy who mocks death for pleasure, but you can't be quite right and do what Peterson does 16 weekends a year: go head-up all day against the biggest, baddest receivers around ­ – Calvin Johnson, Dez Bryant, A.J. Green, Julio Jones. Wherever they go, it's his job to follow, sprinting stride for stride along the hash marks with the ball in flight and the game clock burning. One mistake, one, and there goes his Sunday – or his season, since he plays in the NFC West, where his Arizona Cardinals will dogfight all year with the Super Bowl–champion Seattle Seahawks and the team they edged to get there, the San Francisco 49ers. "The night before a game, Coach comes to me and says, 'Just take that guy away tomorrow; we win if he doesn't get his numbers,' " says Peterson.
Right, Coach.
Peterson, 24, is one of the rarest of birds: a premium lockdown cornerback in the NFL. In a sport that's become a rolling-thunder air war of five-receiver sets and bunch formations, three assets are prized above all others: the franchise passer who can make every throw; the stellar defensive end who wreaks havoc in the pocket despite facing two blockers on every pass-rush; and the cornerback who takes your top wideout away and forces you to go to Plan B. That last job demands such a strange mix of gifts – foot speed and hand strength, yogic balance and flexibility, and a code breaker's eye for spatial cues – that only a few come along every decade. Those who do earn $16 million a season, or nearly double what they made five years ago, and are treated like royalty by grateful teammates. "The league's about putting on high-scoring games and does everything it can to boost up offense," says Brandon Flowers, the Pro Bowl corner who signed with San Diego this summer. "That's why we get such respect from the guys whenever we walk in the building – it's basically us versus the quarterbacks now."
COVER STORY: Why Andrew Luck Is the Future of Football
By broad consensus – though in no fixed order – there are four men today who fit the bill: Darrelle Revis, the New England Patriots' off-season steal who, at 29, has firmly entrenched himself as the best cover corner since Deion Sanders; Richard Sherman, the fire-spitting Seahawk who led the league in pickoffs and post-game shit-talk; Joe Haden, the whippet-fast Cleveland Browns ace, whom no one's really thrown at in three years; and Peterson, the youngest of the bunch and, by any objective measure, the most gifted. At 6-foot-1 and 219 pounds, he's built like a mastiff, but runs a 4.3 40, jumps 38 inches, and is quick enough to play press coverage all day, knowing he can lose his man off the line and still close any gap that opens. He's also the only one of the Big Four corners who plays straight-up man-to-man all over the field; the others either stick to the left or the right side and/or have a deep safety to back them up. This makes him the face of a defensive evolution: the bigger, faster ball hawk on whom the game rides.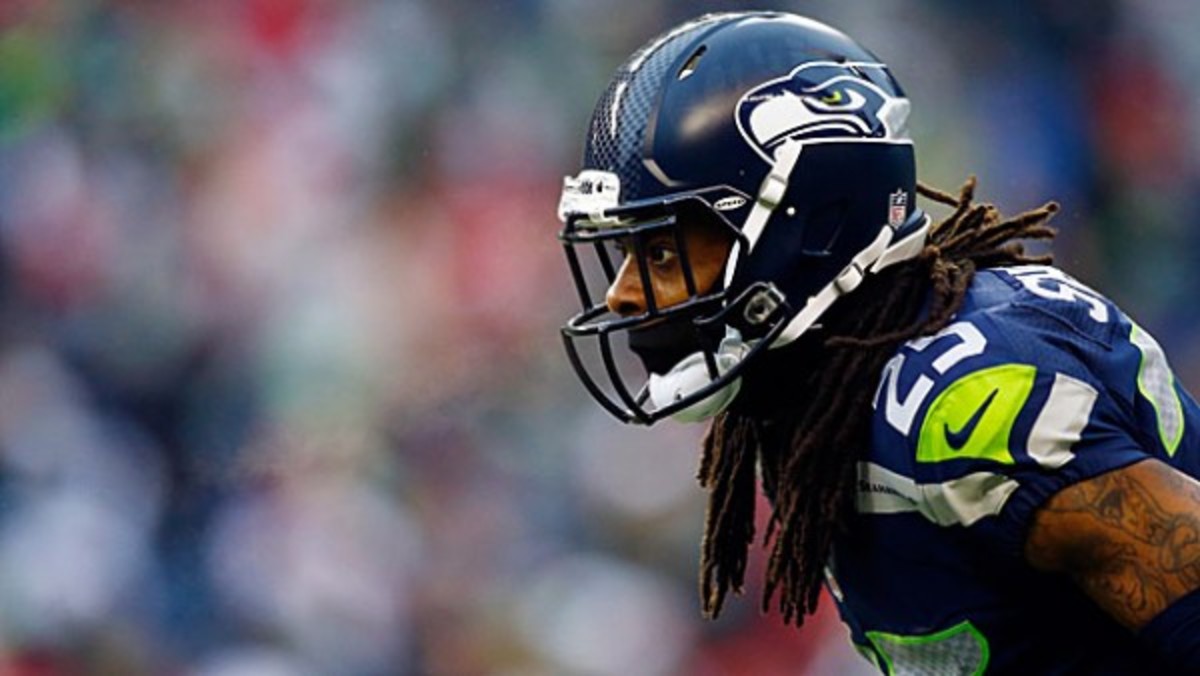 (Cornerback Richard Sherman during 2014 NFC Championship against the San Francisco 49ers on January 19, 2014. Photo by Jonathan Ferrey/Getty Images) 
Peterson and his ilk are a Darwinian retort to what's happened across the line of scrimmage, where suddenly every other team starts a 6-foot-5 small forward at receiver. "I'm like, What's going on with the gene pool lately? They're sending T. rex out for us to cover," says Flowers. "Six years ago, when I came in the league, the big guys were stiff and slow. Now, they all got hips like snakes and run a 4.4 40." These sleek hulks dominate above the field, winning battles for jump-ball passes that medium-size corners can't compete for, and box out in the end zone, using their reach advantage to come down with alley-oops for scores.
They've also gotten a boost from the league, which has rewritten a slew of rules to rein in physical play by corners. "The refs look at us as bad guys, but receivers do it, too – push off on comeback throws, lower their helmet [when being tackled]," says Peterson. "It's blatant, but it never gets called."
That said, if he's going to win the battles at the line, the new-breed corner needs to be a beast himself. Peterson recalls a game in his second season, when he singled up across from Brandon Marshall: "Six-five, 250, and first play from scrimmage, bam! He knocks me on my butt." Peterson, a Pro-Bowler each of his three seasons, knew that his balls, not his ball skills, were being tested. "Very next play, I took him to the ground; from that point on, we just played football." Marshall won the day – six catches, including a touchdown – but Peterson doesn't raise that fact. It's not that he's being coy; he simply doesn't remember. Because that's the other gift of the lockdown corner: on-the-job amnesia. Pressed about game-breaking beats that haunt him, Peterson knits his brow and gives a blank stare, like a senior who's wandered off from the nursing unit. "I'm trying to think," he says, racking his head before hitting on a game from last season. "Oh, yeah: Calvin Johnson caught a slant on us and took it 72 yards to the paint."
"What happened, were you out of position?" I ask, trying to get a rise from him.
"Nope, perfect position, I was right there."
"So, did he outrun you?"
Peterson, rightly proud of his world-class speed, gives a tight smile across the table. "I thought my linebacker had picked it off and went to block for him. That's the only way Calvin runs by me."
If you want to provoke Peterson, one of the few star corners who doesn't roll out of bed posting rants to his Instagram feed, you'll have to come stronger than that. Receivers have tried to dog him, yipping after a catch, but that all bounces off his unbejeweled ear as sound and fury signifying nothing. Only one man has managed to crack the code, buzzed his way into Peterson's brain and set up shop there. "That other guy," he says, too polite to say his name, "though my name is always in his mouth." As comes through, loud and clear, in conversations with both men, Patrick Peterson and Richard Sherman do not like each other. It is bigger and more intimate than divisional rivalry, and surmounts the tall shadow of money and fame, though the fact that Sherman just got paid (a four-year extension worth $57 million) ramps up the pressure on Peterson and the Cards to negotiate a deal that does him justice. No, this is deeper than that: It's a cornerback thing. We civilians can only try to understand.
Thirty years ago, before the NFL owned the world and reduced the rest of us to glazed-eyes consumers, the game's beau ideal was something called balance, a 50-50 split between runs and passes. Teams that hewed to balance – meaning "stuck with the ground game," even when it was being squashed at the line of scrimmage – were praised by announcers as structurally sound outfits, while the ones that threw a lot (such as Bill Walsh's 49ers and the San Diego Chargers of Don Coryell) were dismissed as dink-and-dunk, undersize hippies who, by the tone of things, were light in the loafers.
The funniest thing, though: Viewers loved the West Coast offense. They ate up Joe Montana torching lead-foot safeties with double-move hitches to Jerry Rice, and Dan Fouts marching 80 yards in five plays, zipping rockets to Kellen Winslow. To the NFL's disgust, the Niners dominated the 1980s (and much of the '90s), winning five Super Bowls in their glorious run. The advent, shortly after, of the gun-slinging passer – John Elway, Brett Favre, Steve Young, et al. – spawned his opposite number: the superstar corner. Deion Sanders arrived by limo, rocking dollar signs and dookie chains and running a 4.2 40. There'd been great cover guys and characters before him – Mike Haynes, the satin-smooth Raider DB who, with Lester Hayes, formed the greatest corner combo ever; Mel Blount, the Steeler assassin so adept at mugging receivers that the league changed its rules to rein him in – but no one bought their jerseys because they weren't where the sizzle was. In swooped Neon Deion in 1989. With his candy-colored wardrobe, see-it-from-deep-space jewelry, and 19 touchdowns off picks and punt returns, he didn't just raise the profile of the position or take away half the field; he recast corners as game-breaking threats to be feared and planned against. "I loved Deion and them 'cause they attacked the ball, wanted it way worse than the receiver," says Ty Law, the recently retired Patriot great who picked off 53 passes, made five Pro Bowls, and was this century's answer to Mel Blount. "But I didn't run 4.2, so I did it a little different. I smacked 'em in the jaw and made 'em feel me."
Law, six feet and 200 pounds of malice, was the avatar corner of the 2000s – a rough, tough cookie who bent (or broke) the rules with enough impunity that the league eventually changed them. "Coach Bellichick would say, 'You get one freebie today,' " meaning one personal foul against a receiver. "So early in the game, as the guy cut across me, I'd catch him right up here with a shiver."
Law, born and raised in Aliquippa, a Pennsylvania steel town gone to rust, had resolved as a boy to leave and not come back, by whatever means available. On the field, this meant battering the men he guarded with an assortment of blows and takedowns. "As we ran together, I'd punch 'em in the forearm with the downstroke of my fist," he says. "Other guys punched them in the thigh-pad instead, but I wanted to hit 'em where they'd bruise." More infamously, Law would simply grab his man and hurl him out of bounds on sideline routes. In the AFC title game in 2004, Law so manhandled the Colts' receivers that the team went screaming to Commissioner Roger Goodell, demanding that defenders be penalized if they jammed receivers five yards past the line. The Ty Law Rule, enacted the following season, cracked down hard on handsy corners and opened up the field for big-play wideouts.
And so here we are now with Cornerback 4.0: the Deion–Ty Law mash-up of speed and size. Peterson, like his peers, is sufficiently long and strong that he starred at the skill positions growing up. "Seven years old, he ran for four touchdowns the first game he played in Little League," says his father, Patrick Peterson Sr., an ex–high school coach in Pompano Beach, Florida, who now trains college seniors for the NFL Combine. Peterson Sr., a former cornerback himself who's the cousin of four NFL players, was heavily recruited by Florida and other powers, but had to quit the sport when a routine exam turned up a heart condition. "I cried and I cried – my dream was killed at 18 — but asked Jesus to give me a son who loved the game."
Peterson made a life project of his oldest son, on and off the field. As courteous a superstar as you'll meet – he neither drinks, curses, nor pops bottles at clubs, hanging at home with his wife of two years, a pretty med student named Antonique Larry – Junior remembers crossing his father only once, carrying a 2.0 average his freshman year of high school. Senior made him sit out sophomore season, which enraged everyone in Pompano but his son. "I went to every game and made it my classroom," Peterson says. "Learned the little tricks to guarding receivers," among them where to grab their jersey ("at the waist, so the refs don't see it"), how to slow them down ("with your forearm, but keep it in; if it's extended, you're gonna get a flag"), and what to key on before the snap, when a receiver's taken his stance ("watch the bottom of his numbers to the waistline; wherever his torso goes, the legs must go").
In his junior year at Ely, he sat with his father to map the surest route to the NFL. "Tom Brady was out of control, throwing 50-some touchdowns, 23 of 'em to Randy Moss – we both went, 'Cornerback, that's the ticket,' " he says. By his sophomore season at Louisiana State University (known the land over as Defensive Back U.), no one was throwing to his side, and so he was granted the rare honor of covering opponents' best wideouts wherever they lined up. "Julio Jones at 'Bama, A.J. Green [Georgia] – Patrick held 'em down each time he saw them," says Peterson Sr.
To keep his head in the game, or to simply stop him from asking, the coaches granted his plea to bring back kicks. In his last year in college, Peterson took a punt 87 yards for a score, broke off a couple of other punt-and-kick returns, and shattered the school record for special-team yardage – in the first half of the first game, against North Carolina. Here's another hallmark of the best-to-do-it corners, among them Deion, Darrell Green, and Mike Haynes: Their greatness demands that they get to touch the ball, despite the banzai risk of special teams. Arizona didn't wait three years to give Peterson his shot at returns. In his first-ever NFL game, he ran a punt back 89 yards for the winning score against the Carolina Panthers. He tied the league record for punt-return touchdowns in a single season (four) and became the first rookie to be an All-Pro starter as a punt-and-kick returner.
And his reward? The league stopped kicking to him, hitting high pooch punts so he'd have to fair catch them. All this respect is driving Peterson crazy, but not so crazy that he's ready to pull a Deion – give his man a cushion to bait the passer. "These quarterbacks now, they're just too good; you give 'em that little crack, and they'll fit it in there. Plus, I have to cover the whole field, which is draining for four quarters. Unlike the other guy, who only covers space."
Ah, right: that other guy. Him again.
Peterson and Richard Sherman are the best at what they do, but what they do is different enough to stir debate. Peterson is the very rare freelance corner who covers the same receiver all game long, tailing him wherever he lines up. Sherman is a conventional zone-read corner who guards a side of the field, not a man. Each has a distinct set of problems to solve: For Peterson, it's one man, but a vast array of routes to decipher when the ball is snapped; for Sherman, many men, but a small number of routes within his coverage area. Peterson has no safety help, but his assignment is always clear; Sherman has the fleet Earl Thomas behind him, but must fight through bunch formations to find his man. Naturally, each cornerback argues for his system. Sherman just happens to argue louder and longer.
It started mildly enough, to hear Peterson tell it. Asked last spring about Sherman's record contract, Peterson said, "Him being the highest-paid cornerback, the goal for the guys that come after is to be higher [paid]." The next day, he said, Sherman came after him, tweeting, "Want what I got? Get the stats I got! Least targeted." Accompanying the post was a screen shot of the leading interceptors of the past three years. At the top was Sherman, with 20 picks; in the middle was Peterson, with 12. Sherman followed up with a second graphic, showing himself with the fewest scores allowed last year (two) and Peterson with the most (six) among the Big Four corners. "Lockdown everywhere but the field," Sherman added.
Sherman, in New York to flog his selection as the Campbell's Chunky Soup star for 2014, has a different take on what touched this off. "Nothing was said till he went on the air talking craziness about my job. 'I'm not that good, I'm only a system corner.' Was Deion a system corner? Was Blount? Was Mike Haynes? Yep, and no one threw to their side, either."
A supremely confident man who earned a degree at Stanford and conducts himself like the debate champ of his class, Sherman was a wide receiver in college till he tore up a knee his junior year. When he returned a year later, the team was set at that position, so he took a wild flier at corner. Five years later, he's the face of the league, and a deeply serious student of his position. He speaks in paragraphs about the great ones of the 1990s, and his ambition to become the Deion of his day. "I want to change the game, take the ball from you and run it back. We got too many SWAT-team corners around, guys who knock it down instead of catch it. That's why I was least-targeted last year: I took 30 percent of the throws that came my way."
His numbers are off (it was more like 15 percent), but numbers aren't the point when you're talking to Sherman. What he's arguing, instead, is a philosophy: that defense is a choreographed dance for 11, not a fugue for 10 men and a rover. "You can't have one guy break his defense and follow his man around; teams that do that don't win Super Bowls," he says. "And if you do follow guys and give up six touchdowns, you should probably stop following guys around. Maybe you need to play our system. We won a Super Bowl with it."
Peterson shudders at the thought. "I could never play zone – I don't bail," he says, meaning release his man to the safety behind him. Like Revis and Law, whom he greatly admires, Peterson plays mostly bump-and-run coverage, hand-fighting wideouts for those first five yards. It's do-or-die football, with no one behind him if he whiffs and lets the receiver out of the gate. But it's also the way the warriors before him played the position. Blount, Mike Haynes, Dick "Night Train" Lane: They chucked you in the chest, then outran you to your spot, though they never had to compete against 6-foot-6 track stars who outweighed them by 40 pounds. Yes, Peterson allowed more scores than his peers, but the other three operated in one zone scheme or another, with safety help over the top. And Sherman, it should be noted, guarded lots of so-so wideouts, as teams sent their best to the other side. "You don't gain respect getting interceptions off tight ends and number-three receivers," Peterson sniffs.
Their feud drew plenty of notice around the league. Julio Jones, whom both men have faced, declared Peterson the best corner in the game: "He follows me everywhere; Sherman [only] now and then. If you're the best, you should go against the best."
DeAngelo Hall, the Redskins' Pro Bowl corner, snarked, "@Richard Sherman_25, the world wants to see you lock up with guys like @DezBryant and @AJGreen_18 all game long. I do too!"
And Darrelle Revis, bewildered by Sherman's rants, tweeted, "I never seen a man run his mouth so much like a girl." Sherman, the rapid responder, snapped, "One day you will get eight picks . . . but it won't happen anytime soon."
Sherman's jibes have made him fresh millions as this year's hot endorser (besides Campbell's, he's repping sports drinks and beef jerky), plastered him on the cover of Madden NFL 15, and brought legions of eyeballs to his Twitter page, which he'll no doubt monetize, too. There's room for that in the game, and a history, besides: Deion never shut his trap, and no one could shut it for him. But he flanked out alone on that island all day, manned up against Jerry Rice and Michael Irvin. He didn't mug you like Blount or maul you like Law, but opponents lived in terror of his closing speed and his high-stepping prances to the paint, after he'd run back a pick-off 80 yards. That, says Peterson, is how a cornerback does his business, not posture behind PowerPoint stats. Many pundits agree with him, numbers or no: CBS Sports and NFL.com have both named him the top corner in the game.
Now if someone would only throw the damn ball at him, Peterson might actually get to prove it. Probably not, however; he'll have to seek his thrills elsewhere. Maybe he'll take up skydiving without a chute.

Sherman and Peterson, by the Numbers: 
Richard Sherman: 6-3, 195 pounds, 26 years old
2013 Stats
Targeted: Once every 17 snaps
Interceptions: 8
Burned for a Touchdown: 1
Opposing QB Rating: 36.2 (out of 158.3)
Patrick Peterson: 6-1, 219 pounds, 24 years old
2013 Stats
Targeted: Once every 11 snaps
Interceptions: 3
Burned for a Touchdown: 7
Opposing QB Rating: 91.3 (out of 158.3)
For access to exclusive gear videos, celebrity interviews, and more, subscribe on YouTube!