This story first appeared in Rolling Stone.
Where Dez Bryant was raised, they call it the come-up — that Tupac-twisty climb from starveling to stardom, from rags-to-Rolls-Royce royalty. Bryant, whose first five years in the game stack up against any receivers in the Hall of Fame, is a one-of-a-kind wideout with length, strength, and speed, a beauty-and-beast-mode cocktail of Randy Moss and Marshawn Lynch. A former first-team All-American whose draft stock cratered when he was suspended from playing in his junior year of college, Bryant has been a bargain for the Dallas Cowboys since they traded up to pick him late in the first round in 2010: two consecutive Pro Bowls, one All-Pro selection, and a season for the ages last year.
This summer, he's pressing to finally get paid in a manner befitting his stats and rock-star station. He's retained Tom Condon, the premier agent in football, and signed with Jay Z's Roc Nation Sports to handle his contract talks with the Cowboys and broker his marketing deals; and he can't leave his house in suburban Dallas without being swarmed by selfie-seeking fans imploring him to please remain a Cowboy. Anywhere Bryant goes, they come from all directions, many or most of them female. Whatever they're drawn by, it's deeper than sex, though he's drop-dead-Denzel and he knows it. What they want, besides his baby, is to mother him, to make sure no one inflicts further harm on a man raised hip-deep in heartbreak. How do they know he's suffered? The way women have always known, whether it was Sam Cooke or Richard Pryor or Marvin Gaye who stood before them: They know a battered star-child when they see one.
More from Rolling Stone: Russell Wilson: The NFL's Chosen One

But all that's behind him now, the pain and the poverty and not knowing when he'd eat next. The bad old days were charnel-house bad: a grandmother on crack and running the streets; his mother selling crack to raise her three kids, all of whom she'd had by 18; the stepmother's house with the lock on the fridge. Here was a kid largely raised by his brother, who also happened to be his uncle; who knocked on neighbors' doors to beg for food stamps; who shared a tiny duplex with more than a dozen people and slept wherever there was room for him on the floor. "Crackheads in my house, potato chips and peanut butter for dinner — my life was shit all the way to college," says Bryant. The news is decidedly better these days: His mother, Angela, has cleaned her act up and is stable and married (to a woman, as it turns out); his siblings avoided the snake pit of drugs and have never been to prison or rehab; and Bryant, at 26, has the world at his feet, after carrying it on his back since he could walk. 
So why, sitting across from me at a plush hotel in Dallas, is he cartwheeling between outrage and wracking sobs, vowing to "show those motherfuckers who did me dirty"? Why is he so wounded by the bargaining machinations of reptilian Cowboys owner Jerry Jones, who had refused to make him a five-year offer at the going rate for franchise wide receivers? And why is he spitting fire at the man who gave him refuge after he'd been booted out of Oklahoma State football in 2009, calling David Wells, a black businessman in Dallas and a longtime trusted proxy of the Cowboys, a "thief and a liar" who Bryant says ripped him off?
RELATED: Tony Romo Finally Gets Lucky
The answer is, it's football, which is as brutal off the field as anything you've ever seen on Sunday. Betrayal, race politics, and a purported Walmart tape that may or may not depict a lurid crime: This one's the Super Bowl of player/owner battles, a midnight game of chicken between two bent-for-leather drivers, with the Cowboys' season hanging on the brink.
When you go back a decade and watch video clips of Bryant playing football in high school, what you see is a kid who, in every sense of the word, looked unstoppable in life. He wasn't just taller and tauter than those guarding him, with a condor's wingspan and an air-walker's way of taking the game three feet off the ground. He also had the knowledge — the impatient body wisdom — that he was going places the other kids weren't. It's there in every movement: the one-hand grabs; the whipsaw cuts after the catch. Even when he scores, it's clear he's just marking time. I'm ready for my close-up, Commissioner Goodell.
Ten years later, the stakes have changed, but Bryant's still a man against boys. At six feet two and 216 pounds, he's LeBron in cleats. The game's most productive wideout since 2012 (almost 4,000 yards total, and more touchdowns — by far — than any other receiver in the game), he's essentially become Dallas's passing attack. Simply put, he does what the greats have always done: makes the extraordinary look ordinary. And vice versa.
In truth, though, no one ever had it harder than Desmond D. Bryant coming up. His mother, the oldest of eight children by six fathers, was impregnated at 14 by her mother's boyfriend, MacArthur Hatton, who'd also sired two of Angela's siblings. Her mom, Virginia, left the house several months later to smoke crack. Angela quit high school, and replaced her mother in Mac's bed, functioning — at 15 — as his spouse. Hatton was in his forties when Dez was born. No one called the cops on him for statutory rape, which should give some sense of the anarchy in that family. Asked about that time, Angela merely shrugs. She had other, more pressing concerns at the moment, like feeding her boy and keeping a roof overhead, and needed Mac's help to do it.
Dez's first memory is of a squalid duplex on the wrong side of Lufkin, Texas. The town of 35,000, in East Texas, was an industrial wormhole of mills and foundries. You could make out all right there if you had a job at one of the plants, which was what Hatton had till he hurt his back. Between the pittance he earned and Angela's income as a motel housekeeper, there was usually very little to eat in the house — or often enough, nothing at all.
"I'm talking at least 15 people," says Bryant. "You'd be lucky if you had a Hot Pocket for dinner. We used to eat at Salvation Army on the regular, when the neighbors couldn't help us out."
Desperate, Angela started slinging crack to make the rent. By the time Dez hit grade school, Mac was off living elsewhere, and she was selling from her door. Dez would come home to find crackheads hanging out — and his exhausted mother buckling under the strain. "The drug game wasn't going how it should go, I guess, and she would get mad and take it out on me," he says. "Hit me with a pipe and threw a car amp at me — slashed me across the back."
Angela got arrested when Dez was nine and served a year and a half in prison for narcotics. He and his two full siblings — both sired by Hatton — moved in with Mac and two of his other kids; Mac barely seemed to notice they were there. "We never, ever had that guidance, as far as report cards and homework," says Bryant. "We just did whatever the hell we wanted to do." (In Mac's defense, he never learned to read or write, and he needed his daughter to read his mail to him.)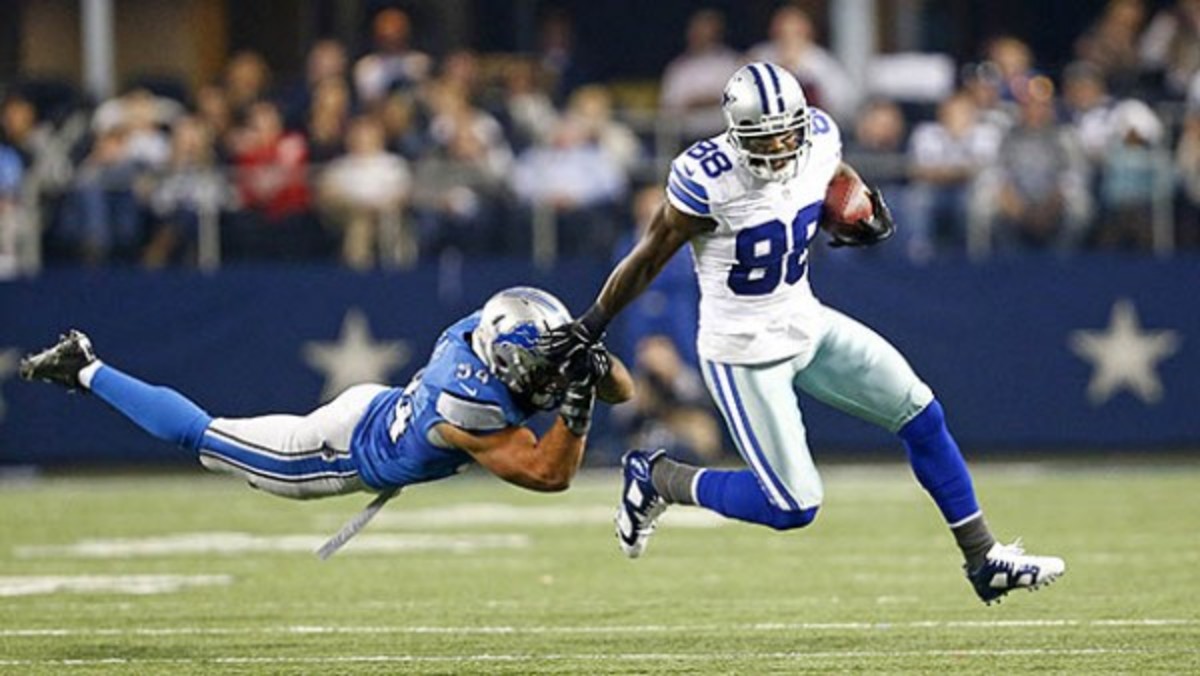 Fort Worth Star-Telegram / Getty Images
Luckily, all Bryant ever wanted to do was have a football in his hands. He gets somber recalling his first day in pads: "Me and my mom" — she was out of prison by then — "went down to the field to sign me up. But when they told us that we needed, you know, to pay for the equipment, we . . . well, we didn't have the . . . " He breaks off abruptly and ducks his head, holding it in both hands as he sobs. "But I swear on my life, I was blessed that day," says Bryant after composing himself. "There was this abandoned trailer, and on the stoop outside, I seen these shoulder pads and helmet sitting there. The craziest shit was, they actually fit me. I stole those, man. I stole 'em and I played."
A tailback and a safety his freshman year of high school, he switched to varsity receiver as a sophomore when Lufkin's wideout got hurt — and he scored the first two times they threw him the ball. Off the field, however, it was protean warfare just to make it to the end of every day. Behind in academics and prone to verbal outbursts, he'd been shunted off to special-ed classrooms since middle school. "His disabilities were emotional, not intellectual, but he'd slipped through the cracks," says Brooke Stafford, a teacher and coach at Lufkin High who put together a program to rescue Bryant. Knowing he couldn't play college ball if he continued on the special-ed track, Stafford recruited a team of teachers to tutor Bryant. They crammed three years of learning into 18 months, and attended to his other, dire needs. "He'd literally have nothing to eat except what he got at school, so we took turns feeding Dez on our dime," says Stafford. Miraculously, Bryant rallied to receive a diploma and to meet the requirements for an NCAA scholarship. 
At home, though, Dez had hopped from one fire to another when his father moved in with his girlfriend Deidre, the woman who would become his wife. They were 10 people living in a double-wide trailer, including Mac's five kids and her three. "She put this padlock on the fridge, like a big old bike chain, and only opened it up to feed her kids," Bryant says. (Deidre Hatton, reached in Jasper, Texas, where she remains with Mac, who's beset by a cluster of serious ailments, disputes that claim, saying that she and Mac did lock the fridge — but only to keep all eight of the kids from eating them out of house and home.)
Soon, says Bryant, she was kicking his siblings to the curb: first his half-sister Ebony, who was 18 and pregnant, then Shaun, 17. Next, it was Dez's turn to hit the street; he got tossed out at the end of his junior year. Deidre denies that she pushed out Dez's siblings, saying they left on their own, and that "me, Mac, and my God know what happened." She does concede that she forced Dez to leave, saying, "Dez had a problem with rules and the 'no' word." Happily, his girlfriend's family took him in; the months he spent on their couch were the most stable (and nutritious) of his teens.
This, then, was the Bryant who left for college in 2007 and entered the pro draft three years later: a battle-hardened kid with his eyes on the prize, but whose only life skill was catching a ball. "As good a player as I've ever had, but, man, he had a tough time getting to class," says Gunter Brewer, the wide-receivers coach at North Carolina who coached Randy Moss in college and was Bryant's position coach at OSU. "But he wanted so bad to do the right thing, and he didn't have a stitch of malice or horseshit to him." Bryant was an instant star in college, setting records as a freshman and making All-America as a sophomore. But just weeks into his junior year, he was suspended for the season by the NCAA for a minor infraction. Over the summer of 2009, he'd had dinner with his idol Deion Sanders, the Hall of Fame cornerback. When the NCAA asked about it, Bryant panicked and lied, saying he'd never set foot in Sanders' house. Suddenly, he was out of football and quit college as well, with six months to kill before the draft… (continued here on RollingStone.com)
For access to exclusive gear videos, celebrity interviews, and more, subscribe on YouTube!