There are golfers and then there's Tiger Woods. He is, without a doubt, the greatest player of his generation… and perhaps of all time. Somewhere back in the reaches of our standard definition memory, he was so good, so dominant, in fact, it was said that everyone else was playing for second place because the win was assuredly his.
Woods spent a staggering 13 years as World number one (683 non-non-consecutive weeks,) but only a short 365 days ago, Tiger Woods' future in golf was murky. After a couple of short-short-lived comebacks, Woods went under the knife for his fourth back surgery and sat out most of the 2017 season, spending long months in torturous recovery.
By the time he finally teed off in competition, a patina of rust had crept over his game. While there were flashes of brilliance, when he began his round at the 2018 Genesis Open, an early-season event he hosts and benefits his own TGR Foundation, Woods was ranked 550th in the world. A jaw dropping departure from his previous seat at the pinnacle of the game. He missed the cut in staggering HD. But he found the blocks and started to build. A top-10 here, a top-10 there, by the middle of the major season Woods found himself in contention at both the Open Championship and the PGA, a nearly unthinkable feat considering his ability to even walk, let alone swing a golf club, was in question only a few months earlier. With enough points under his belt Woods had, against expectations, made it to the playoffs, throwing mud in the eyes of much of the golf commentariat. Even more astounding, Woods went on to notch his first win in nearly five years at the Tour Championship against the best of the best.
For the golf world, for sports fans, and likely for Woods himself, the 2018 season was a comeback for the ages. Hollywood could barely have penned it in a more dramatic fashion… (maybe with a green jacket.)
Now it's 2019, and back in L.A., the PGA tour just announced the elevation of the Woods-hosted Genesis Open to equal Jack Nicklaus' and Arnold Palmer's events with a larger purse, a smaller field and enhanced promotion of Woods' passion project, the education- focused TGR Foundation. "To be included with two of the greatest golfers of all-time, in my hometown and at an event that benefits my TGR Foundation is something I could never have imagined when I first visited Riviera with my Pop. I would like to personally thank Genesis, the PGA TOUR and all those that made this dream happen."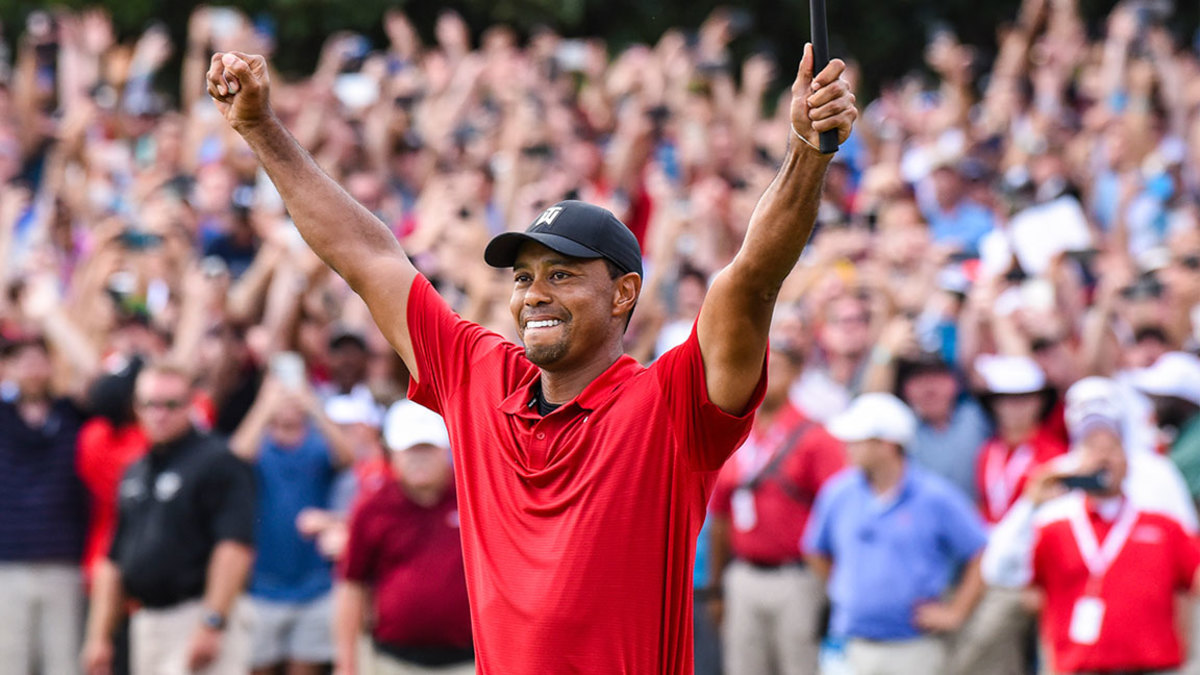 As the season begins anew and Tiger stalks win number 81 and a 15th major championship. We caught up with the Big Cat after his hosting duties at this year's Genesis Open were over and a T-15 finish to talk golf, giving back, getting older, and keeping fit.
You play host to the Genesis Open in Los Angeles, which benefits your TGR Foundation. Why is STEM education the focus of your charitable giving? 
In my house growing up, it was family, education and golf, in that order. School came before sports and I've always remembered that. At the foundation, we emphasized STEM early in its inception. We understood its importance in getting today's jobs, and ones that haven't been created yet.
How do you want to see those efforts to grow?
We absolutely want to continue to grow. There are over 200 Earl Woods Scholars attending college. We've reached about 165,000 kids through our Learning Lab in Anaheim and satellite Labs across the country, but our goal is millions of kids worldwide. We're on the way to doing that.
After a crescendoing season culminating with a win at the Tour Championship, this looks like a year that could tee up well for you. We've heard pretty much everyone else in the golf world opine. But what is Tiger Woods thinking?  
What's different is that this year I know what to expect. Last year I didn't know how many events I could play, or even if I could play. After starting at Hero in Albany in the Bahamas in December, I was just hoping to make it to Florida. That's not the case in 2019. Last year, things kept evolving. My game, my body, my equipment. There's less uncertainty now.
Want to make any predictions?
I know I want to win more.
The Tiger Woods of old was considered a bit "icy." Your demeanor seems to have softened a bit in your 40s, are we imagining it? What's up with that?
I think maybe I appreciate things a little more. Before my back fusion surgery, which was my last shot, I didn't know if I would be able to lead a normal life, never mind play tournament golf. My main concern was, can I have fun with my kids? Can we play soccer together again? Now that I have that, and competitive golf too, I feel blessed.
What's the best advice you've ever received?
One piece of advice I like to share is have fun. Whenever I played with my Pop, we always had a good time. We had contests, we'd needle each other, we made all sorts of bets, but we always had fun. I took that for granted.
What advice do you most want to give to your kids?
Sam and Charlie know how important the TGRF is to me. I want them to understand you should give back to other people, and to see how dedicated and committed our scholars are, even though they come from difficult circumstances.
Is there one moment you can point to that changed your life? 'If I hadn't done this thing, made this choice, I'd be on a much different path.'
If I hadn't been a professional golfer, I'd be in the military. My plan was to give myself a few years to see if I could make the Tour, and if not, I'd join the service.
You've been playing the game for 38-39 years. For more than 20, its been your job. Is golf still fun?
It's still fun, but it's work too. There's a lot you have to do physically and mentally to win out here. It's not easy.
 You are someone who spends quite a bit of time at the gym. How much have you changed your routine to protect your back? 
My workout routine has evolved over the years. I can't lift the heavy weights that I used to and I don't run much anymore. When I was younger, I'd run, 30 or 40 miles a week even when I was competing. Now I focus on strength and flexibility and being ready to play.
Tell us why you decided to get involved in the Jackson Park project? ( An affordable, municipal golf course on Chicago's south side.) 
My TGR Design company is very excited to be involved in this project. This course can be a lot more than just golf. It can make a positive impact in the community too. We're designing a course that will challenge better players, but will also be fun for beginners and high handicap golfers too. It's a public course, and to me, that's important. That's where I learned to play the game.
You're known to be a bit of a video game fan, what are you playing now?
Call of Duty.
If you could only play one more round, whom would you play with and where would you choose?
I'd play with my Pop anywhere. I miss our time together.
For access to exclusive gear videos, celebrity interviews, and more, subscribe on YouTube!