During his NFL and college careers, cornerback Adoree' Jackson has proven he's one of the most athletic players in football. Jackson plays in the defensive backfield and also uses his blazing speed as a return specialist for the Tennessee Titans.
As a former track star, Jackson has the agility and ability to run alongside the fastest wide receivers in the game. Jackson had a very strong rookie season for the Titans, playing alongside Logan Ryan and finishing with 70 tackles, three forced fumbles, and 17 pass breakups in 16 games played.
Now, in his second season in the NFL, Jackson is looking to take things to another level. Jackson was standout at USC in college, and he's ready to be a Pro Bowl-level player in the pros.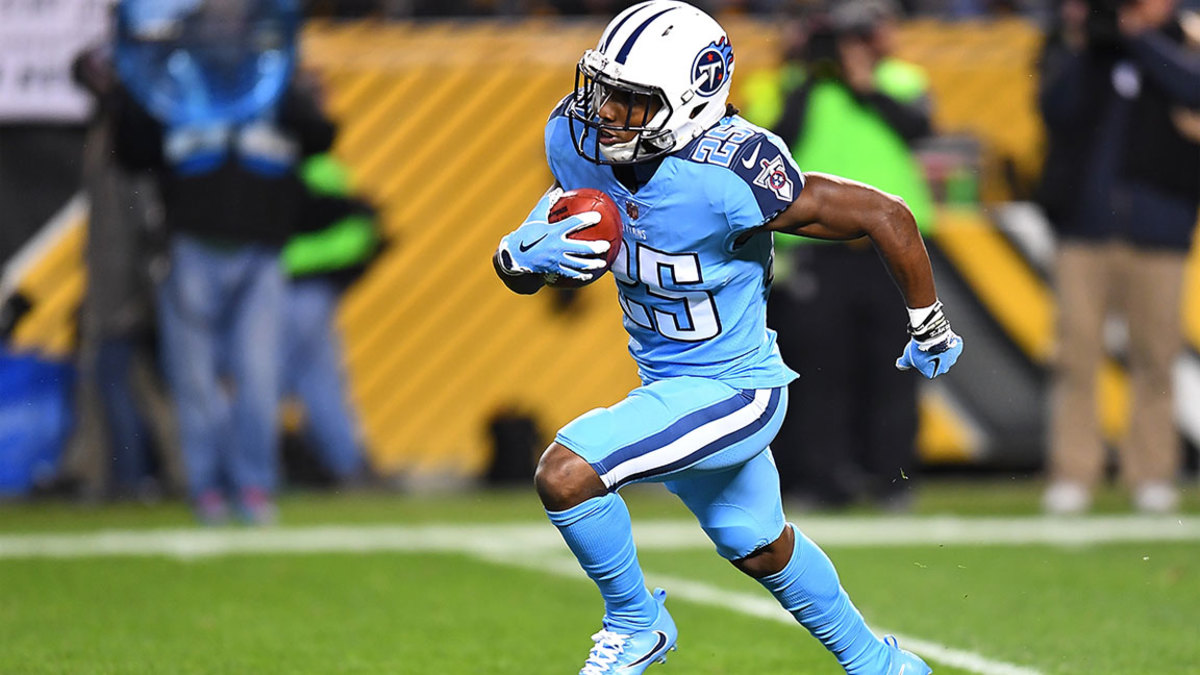 Jackson spoke with Men's Journal about how he trains, what he's learned since coming into the league, and how he adjusted to playing in the NFL.
Men's Journal: As a young player, what was the biggest adjustment for you coming into the NFL from college?
Adoree' Jackson: I think the biggest adjustment for me was time management, knowing that you've got so much free time on your hands and understand what you can do with it. You can watch film, study, hang out, play video games – figuring out the balance between how you're going to make yourself happy and then the game happy.
What is your workout routine like during the offseason?
I go to Stars in Anaheim in the offseason, so it's pretty much guys that play in the league, they all go there. The guy that trains me, Jason David, played in the NFL. He played for the Saints, he played for the Colts, won a Super Bowl. So, him being a corner coach, helping me out, getting me right. Just working on the little things I think helped me out a lot, so that's pretty much my day. Go there, we either watch film, see what we can correct on, (what) we can get better on, lift, get on the field. Then after, we play basketball, like shoot around or play video games, so that's pretty much what I do in the offseason.
If you could use only one type of workout to train for football what would it be and why?
I think if I could do one workout it would be my footwork or backpedal play. Footwork, I think that would be helpful. Whether that's press field work or backpedal and braking. That footwork stuff would be very essential to the game. You can work on a lot of things by just working on the footwork of the game.
I think any cardio besides football, for real. You can go out there and play pickup basketball, just running back and forth. Just something that keeps you active and running to get you in shape, because a lot of people don't want to do conditioning, just straight running back and forth. So, find something that you love to do that helps you to keep in shape, I think basketball for me. That's what I grew up playing, so that's pretty much easy for me to exercise.
What's the best piece of advice you've received about working out and training since coming into the NFL?
I know my best advice that I could give is just to have fun and believe in yourself. That's one of the things that coming out – they had me projected like second round I think. But, me believing in myself, believing in who I was, having faith in myself. I feel like if you can believe in yourself, the sky is the limit. If I can give any advice to anybody, or the advice that I received – especially my mom. She just told me take a leap of faith. Understand that he didn't bring me this far to fail and just to trust in him. When I'm always doing that and always believing, I think my confidence grows and I feel better
What have you learned from your coaches and veteran players on your team since you've made it into the NFL?
I think every day or every week I learn something new, I get to put something in my tool bag. I'll be like, 'Damn, I wish they could've told me that two years ago. I wish I would have known that then.' Just to be able to have (Titans Defensive Backs coach Kerry) Coombs, Logan (Ryan), KB (Titans safety Kevin Byard), (Titans cornerback) Malcolm (Butler) now, everybody being able to pitch in and help me out, and then last year I had (former Titans cornerback) Brice (McCain), (former Titans safety Da'Norris Searcy) Searce, Deshea (Townsend) and (former Titans Defensive Coordinator Dick) LeBeau and (former Titans Assistant Defensive Backs Coach Steve Jackson) Coach Jack. Having those seasoned guys be able to help me out and understand things. Then, we recently had (former Titans Safety/Training Camp Coaching Intern Michael Griffin) Griff and I feel like he did a great job with his time here to come in. Played the position, played the game, he just recently left, to be able to help us out. I think just having all those bits and pieces in my ear helped me out.
What are some of the lessons you learned in your rookie season and first years in the league that have helped you?
I think from (former Titans Defensive Backs coach) Deshea (Townsend) telling me – Coach Deshea was our DBs coach last year – understanding that they're (opposing wide receivers) are getting paid to make plays too. So, you've got to go out there and know that it's going to be a grind, you've got to compete. But at the end of the day, they're going to have to make plays, you're going to make plays. I think understanding that. Obviously you want to be dominant, but knowing you can't beat yourself up all the time because if they weren't getting paid to make plays they wouldn't be in this league. I think that helped me understand the game a little bit more. Trust myself, had a lot more confidence to go out there and be out there. I think Deshea and (Titans cornerback) Logan (Ryan) helped me out a lot coming in my rookie year.
How have you used what you've learned in your career so far to help you improve in the future?
Just working on the nuances of the game. Just working on the fundamentals, the details, the little things that separate a PBU, a missed tackle, making a tackle, a PBU to a pick. Just those little things. So, you're able to watch film and critique yourself, understand what you could do better, what you can do better. I think that's a great job of what we do. We've got the floor level, we're doing one-on-one's, we're doing anything with footwork to see how we can get better and improve so we can take the individual to the team, and then the team to the game.
If you could give younger players and your younger self advice about what you've learned since being in the NFL, what would it be?
I would go back to just believing in yourself, that's the best thing that you could do, the biggest advice because if you come out here and doubt yourself, don't have that confidence, you're not going to do well. Just go out there and control what you can control, and let the rest handle itself. You can control your effort, you can control your eyes, you control the small things, and then the small things eventually happen out to the big things. Just go out there, be calm, be comfortable, be ready. Have fun and believe in yourself.
For access to exclusive gear videos, celebrity interviews, and more, subscribe on YouTube!