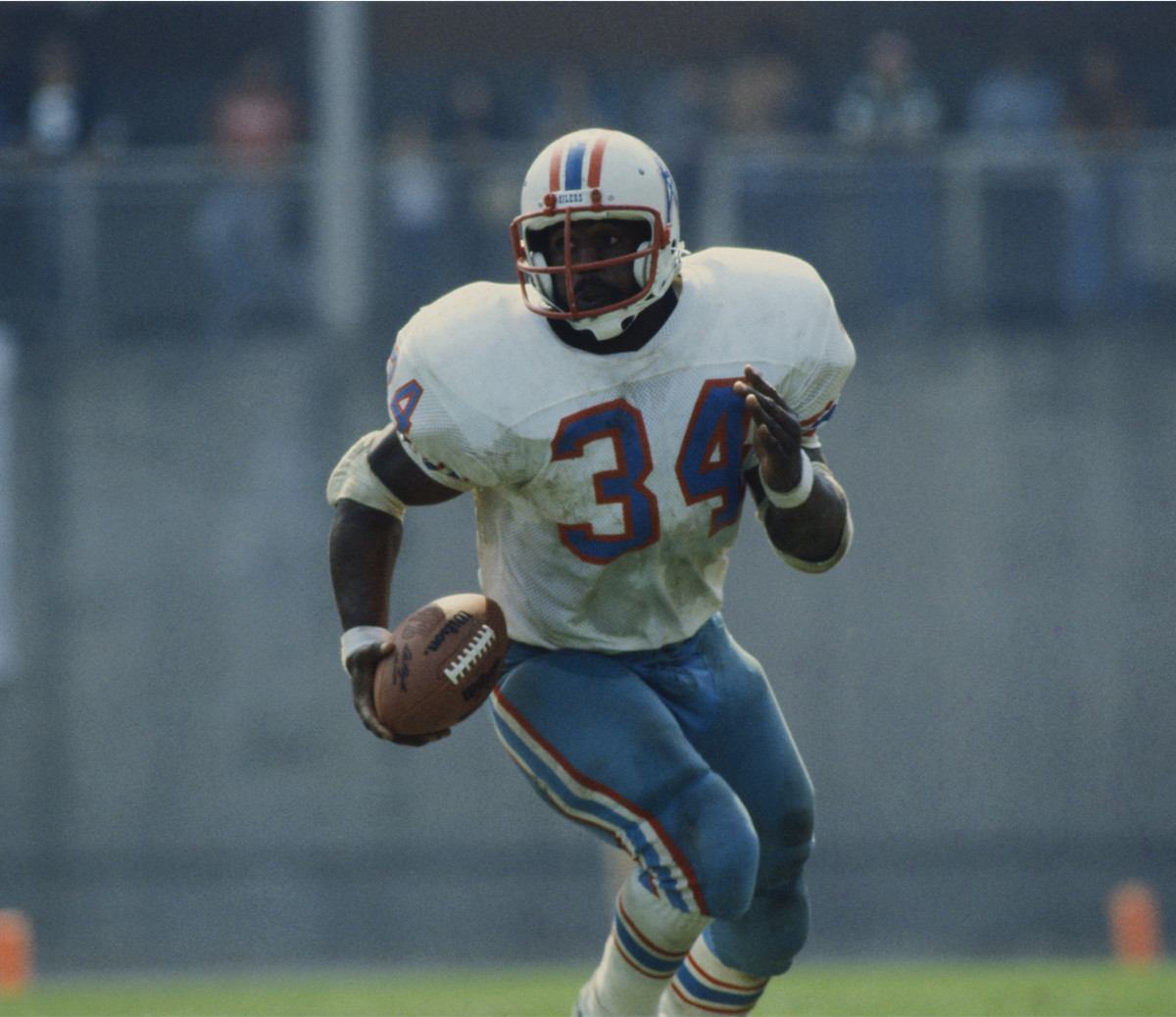 10. Earl Campbell
The 1978 Rookie of the Year and MVP, Oilers star Earl Campbell punished defenses in his short career, earning Offensive Player of the Year honors in three consecutive seasons. Campbell topped 1,300 yards and double-digit touchdowns in five of his first six seasons thanks to a vicious running style that saw him run directly into the teeth of defenses—frequently. (He set a record with 373 carries in one season.) Unfortunately, Campbell paid a price for that bruising mentality, putting up just five healthy seasons in the NFL.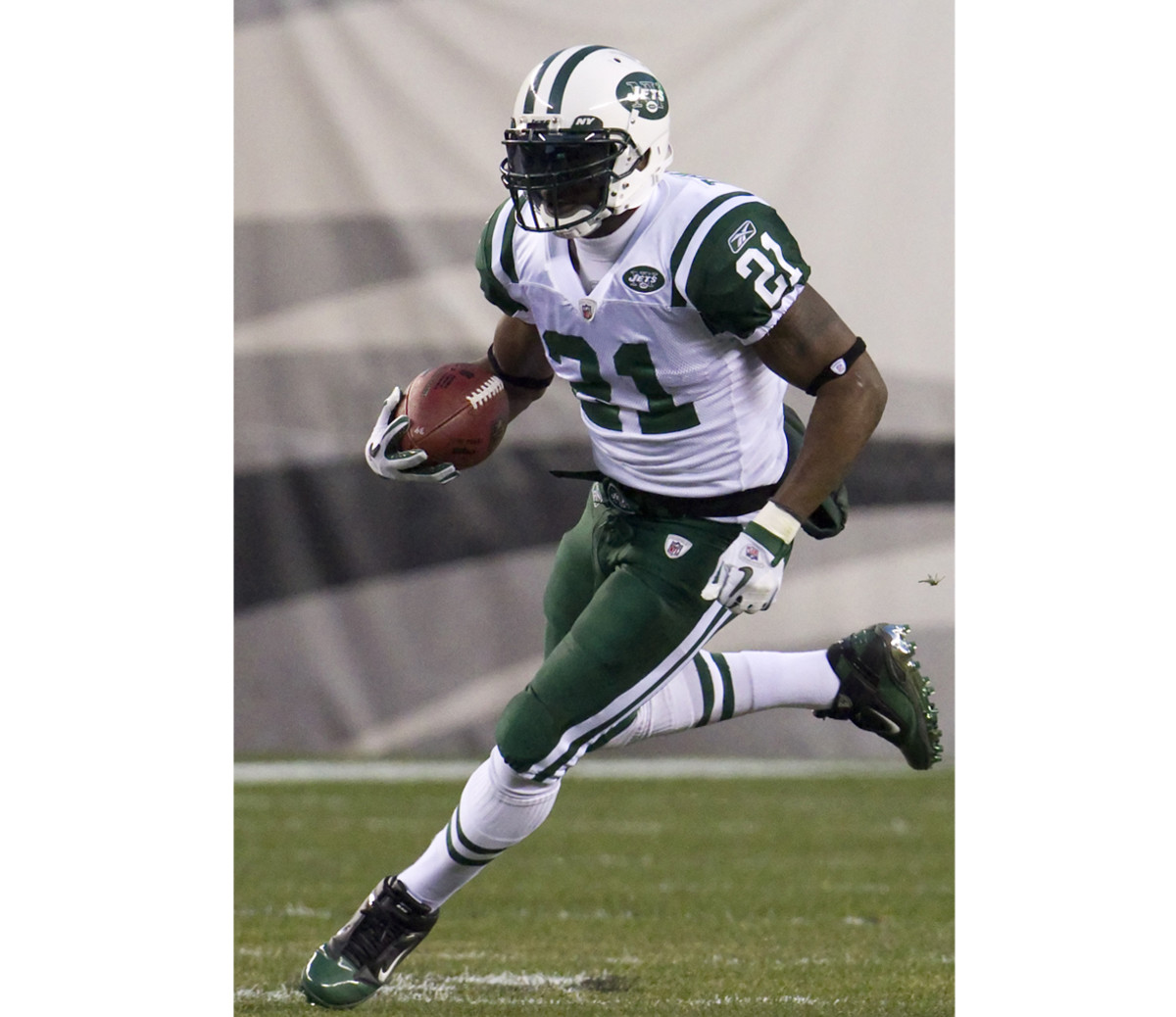 9. LaDainian Tomlinson
Today he's a change-of-pace back for the Jets who's grooming a successor and chipping in the occasional goal-line carry. But it wasn't long ago that LT was the premiere running back in the game, scanning the field in his trademark visor and dissecting his opponents for nine straight double-digit touchdown seasons to open his career. He's also the owner of one of the most dominant seasons in history, when he crushed the single-season record with 31 TDs and 186 total points in 2006. (Listen closely and you can still hear his fantasy owners bragging about it.)
8. Eric Dickerson
It can be hard to take him seriously when you see that Jheri curl, but Dickerson scampered for 13,259 yards in his 11-year career, leading the league in rushing three times and becoming the first halfback to gain 1,000 yards in seven straight seasons. A thoroughbred in the open field—albeit one in goofy goggles—Dickerson still owns the single-season record of 2,105 rushing yards, set in 1984. And the three-time Pro Bowler also came up big in the post-season, with a record 248 rushing yards in one 1986 game against the Cowboys in which he broke off TD runs of 55 and 40 yards.
7. Gale Sayers
The Kansas Comet put up giant numbers in an injury-shortened, 68-game career. Sayers started off with a bang, scoring 22 touchdowns in his rookie season and crossing the goal line six times in one December game, a record that still stands and a performance that none other than George Halas called "the greatest football exhibition I have ever seen." Oh, and he's also the best kickoff returner in NFL history with an unreal 30.56 yard average.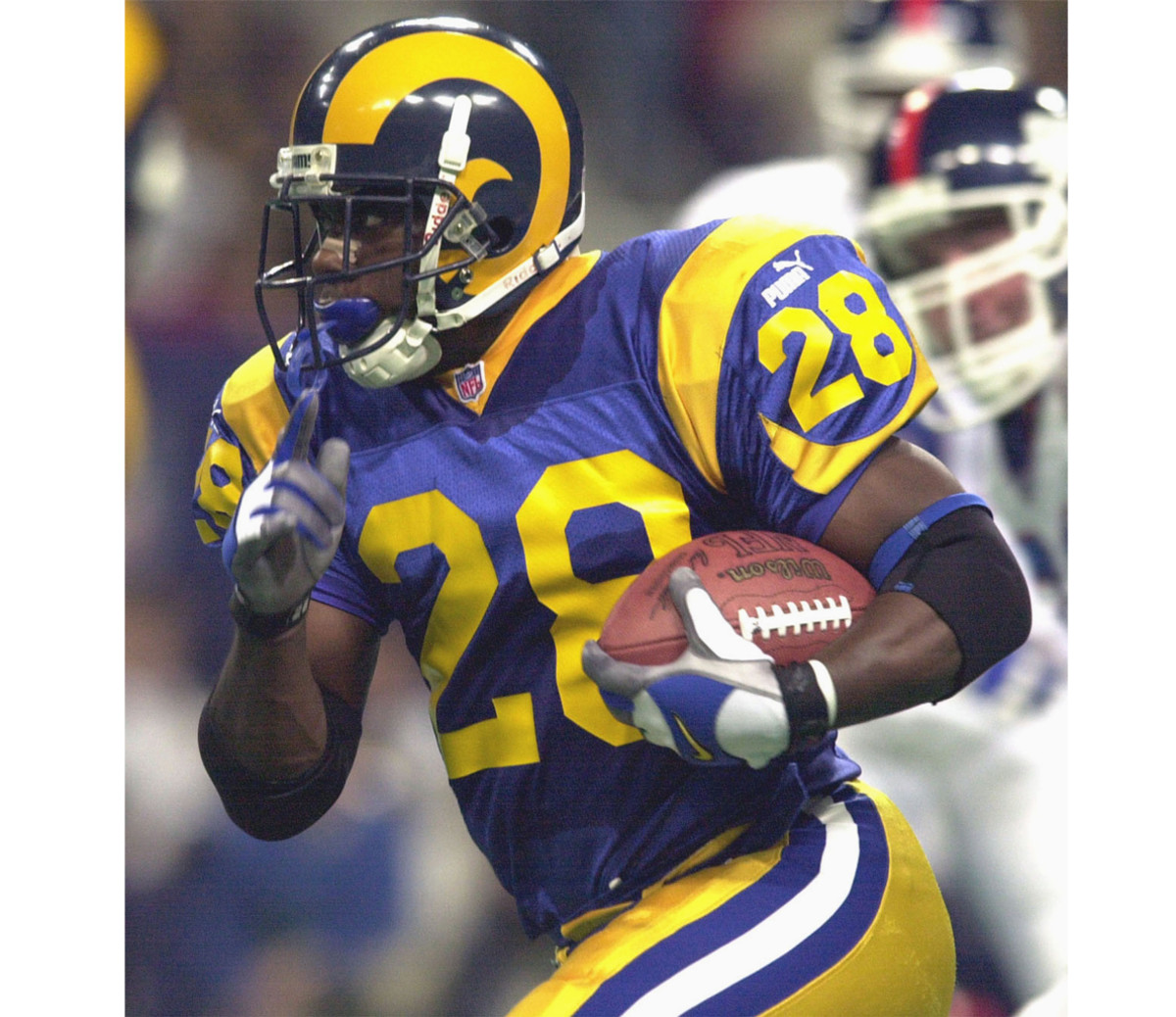 6. Marshall Faulk
The most important cog of the Rams' "Greatest Show on Turf," Faulk is, quite simply, the greatest receiving running back of all time. But although he averaged more than 63 catches per season in his NFL career, the seven-time Pro Bowler could also run, tallying seven 1,000-yard seasons. Remember, this is the player who took home the Offensive Player of the Year award in three straight seasons, most memorably in 1999 when he eclipsed 1,000 yards in both rushing and receiving.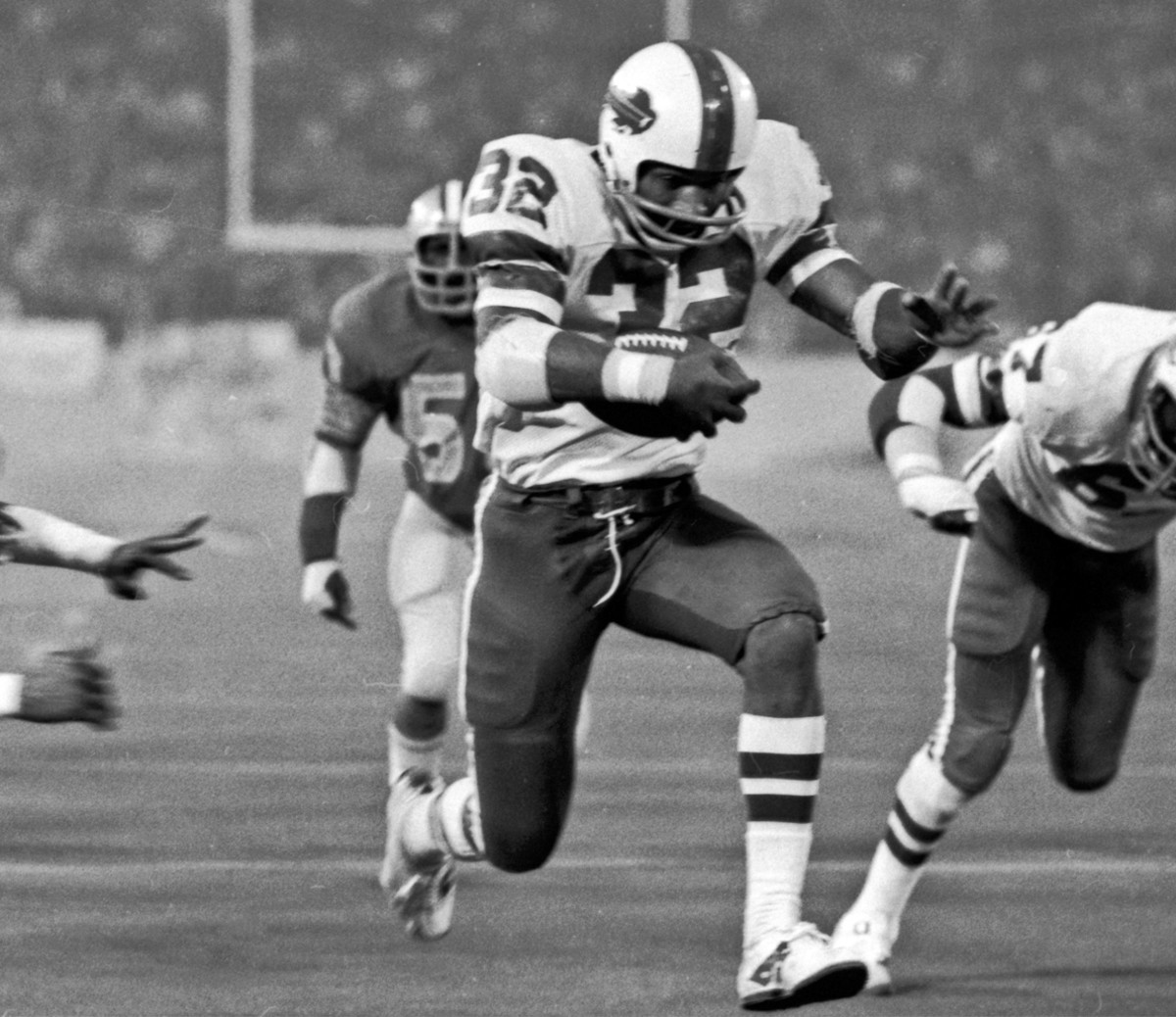 5. O.J. Simpson
We know it's hard, but put his post-football, um, hijinks aside and you have a legendary back. Wasted as a kick returner and decoy for his first three seasons in the league, Bills head coach Lou Saban finally turned the Juice loose in 1972. O.J. made the most of it with an explosiveness that helped him shoot through the line of scrimmage and into the open field, where his USC track skills took over. Best remembered for notching 2,003 yards in a 14-game 1973 season, Simpson had an NFL best six 200-yard games in his career, most of them coming for awful teams. (He made the playoffs just once in his career.)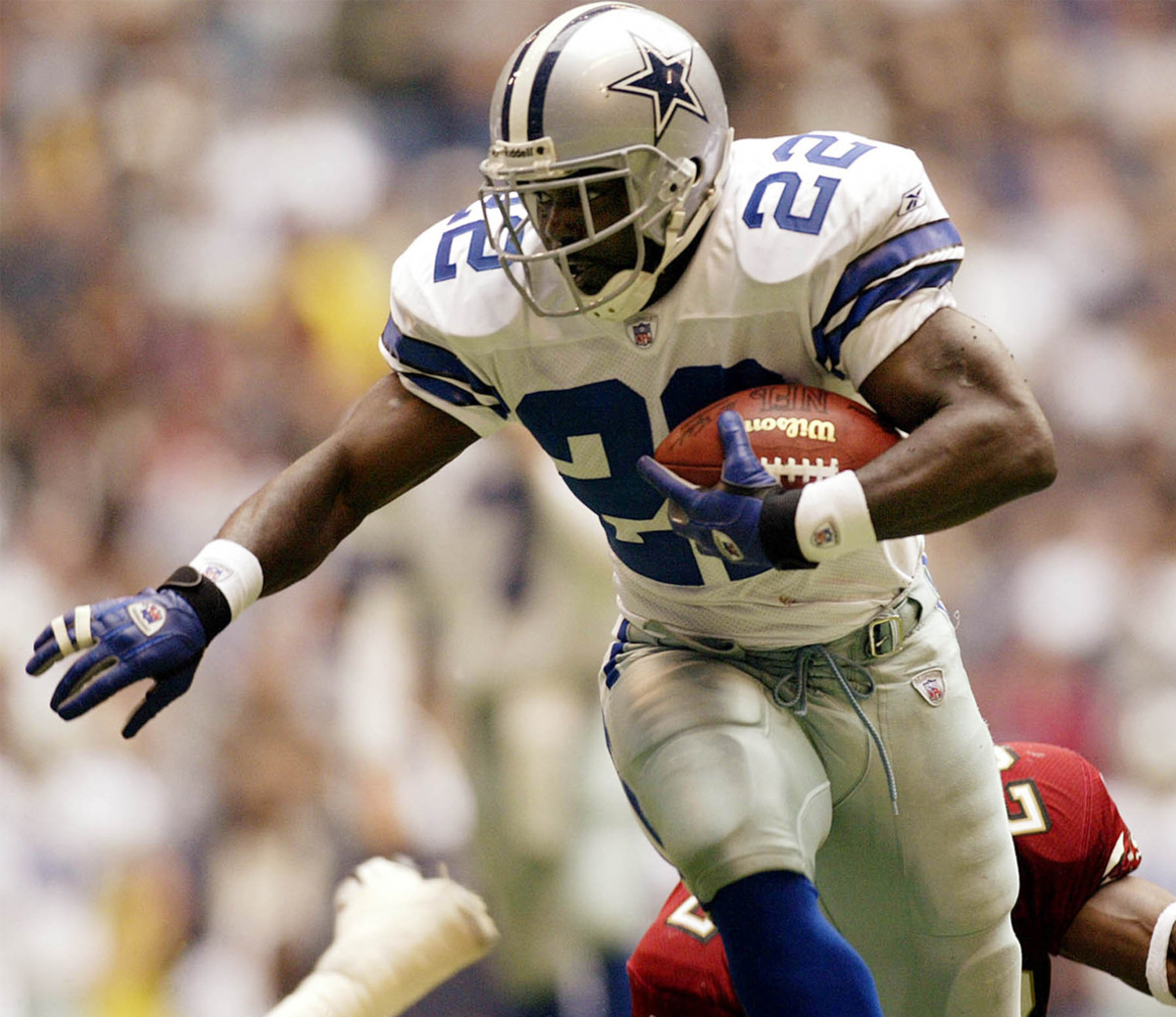 4. Emmitt Smith
When you think of Emmitt Smith, it's hard not to picture the over-the-hill back with gray in his goatee and a grinding desire to take over the rushing record. It finally happened on October 27, 2002 as a Cardinal, but the eight-time Pro Bowler was the heart and soul of a Cowboys team that won three Super Bowls, including in 1993 when Smith became the only player ever to win a rushing crown, MVP, Super Bowl and Super Bowl MVP in the same season. Yet, even though he's the owner of a record 18,355 career rushing yards, your girlfriend probably still knows him best as a one-time Dancing With the Stars champ.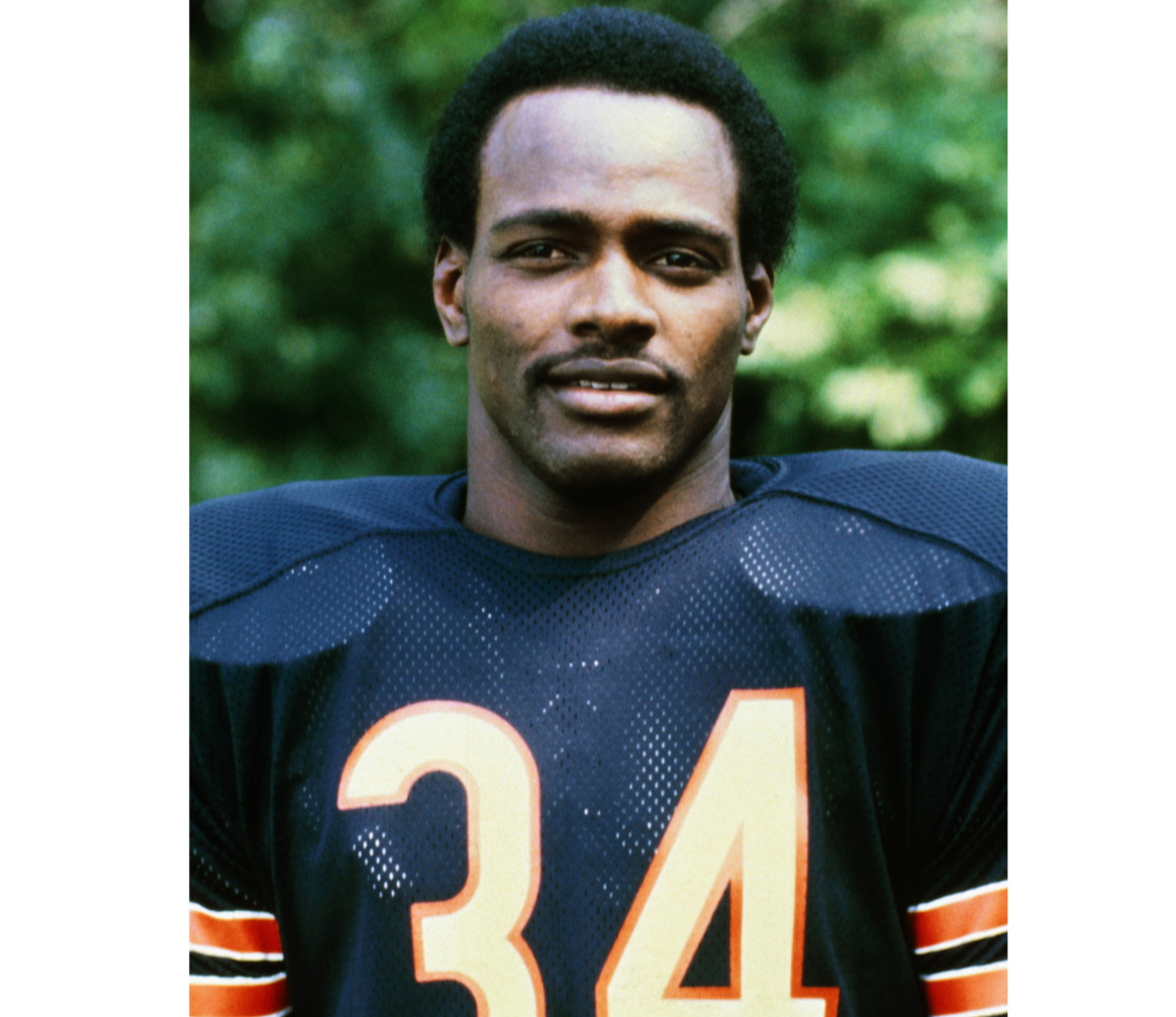 3. Walter Payton
You may picture Payton as an elusive back with a killer stutter step, but remember, the nickname Sweetness came from his personality off the field. On the gridiron, Payton was a bruising runner—a perfect fit for a blue-collar team and city—who liked to mow over defenders, refused to run out of bounds and essentially invented the stiff arm. Payton, who missed just one game in his career and logged 300-plus carries 10 times, retired as the leading rusher in NFL history (much of it with no offensive line) and was named to both the NFL's 1970's and 1980's All-Decade teams.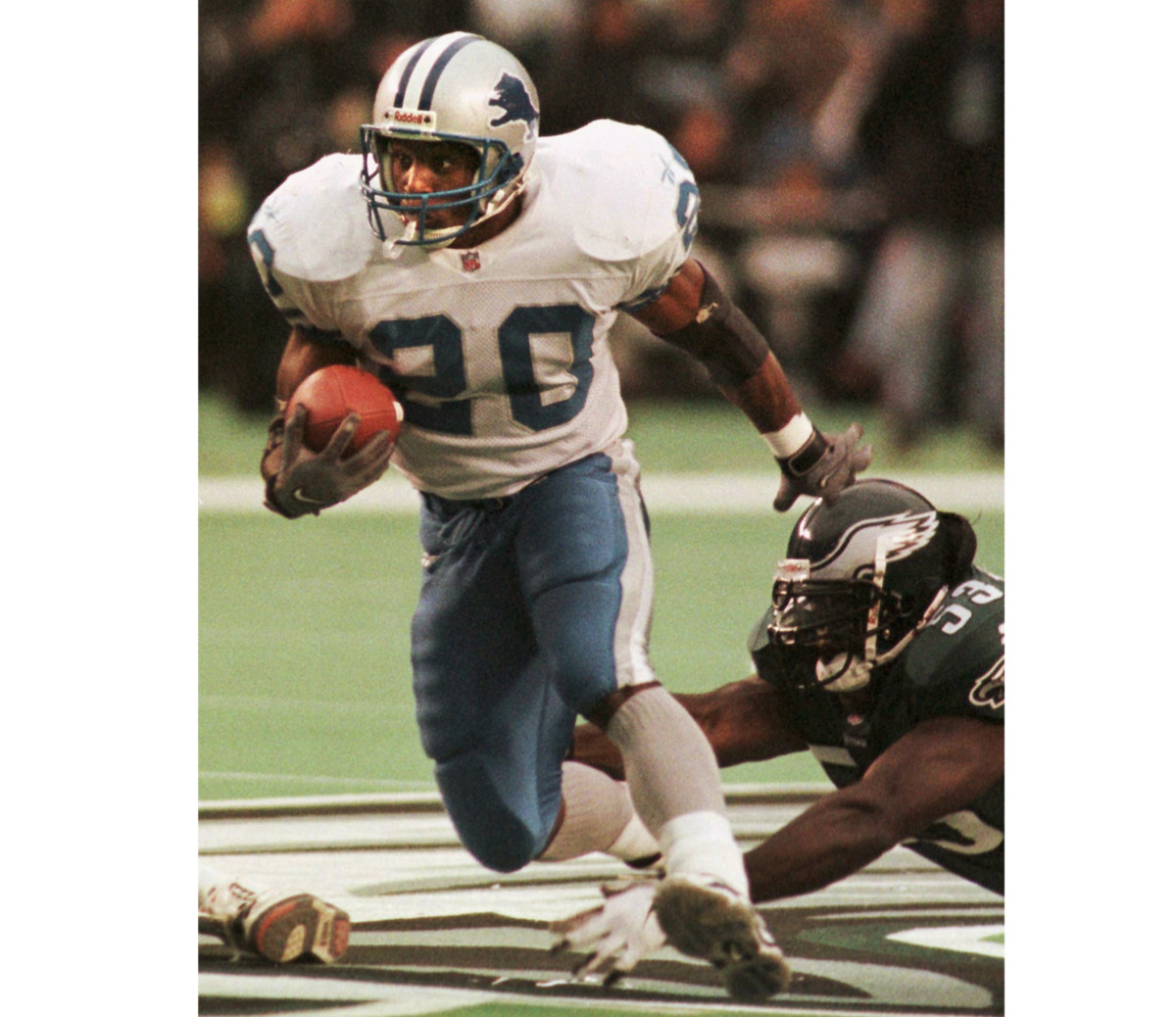 2. Barry Sanders
The elusive Barry Sanders was just 1,457 yards shy of Walter Payton's rushing record when he hung up his cleats. If he hadn't, there's no way Emmitt Smith tops the record books. The owner of four rushing titles, Sanders was the first running back to notch five 1,500-yard seasons (four of them in a row) and even went two entire seasons ('91, '94) without a fumble. Short and stocky, Sanders was custom-built for the artificial turf of the Silverdome, able to make quick cuts and turn losses into huge gains. Of course, some stayed losses. Sanders lost 1,114 yards in his career trying to turn small plays into home runs.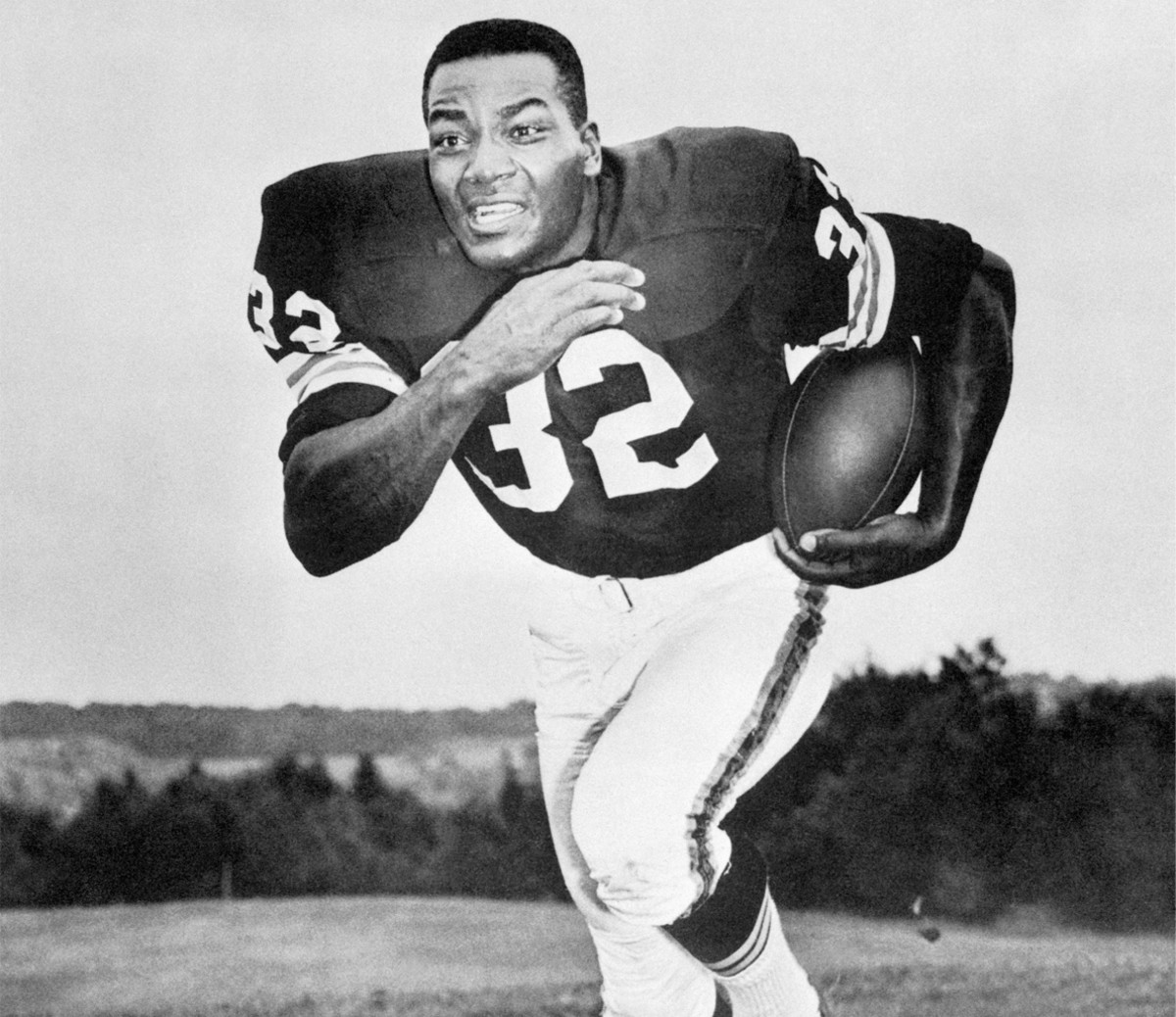 1. Jim Brown
More of a fullback who played halfback, this eight-time All-Pro and three-time MVP never missed a game in his NFL career—though he did cut it short to go into acting. The enormous Brown could just as easily run over defenders as around them, with a scary combination of size and speed that helped him lead the league in rushing in all but one season of his career and rush for over 1,000 yards seven times (he fell short by four yards once)—in seasons that lasted just 12 or 14 games. Brown averaged more than one TD per game in his career, and averaged 5.2 yards per carry, the highest in NFL history.
For access to exclusive gear videos, celebrity interviews, and more, subscribe on YouTube!