American football on Thanksgiving. It's a tradition that actually dates back over 100 years ago to the original NFL; a measly three-team league based solely in Pennsylvania. (It only lasted one season in 1902.)
In the years since the leatherheads, the holiday ritual has grown into its modern-day incarnation, consisting of annual games hosted by both the Detroit Lions (since 1934) and Dallas Cowboys (1966). In 2006, a third night game was added to the Turkey Day bill, with rotating home and away teams.
In honor of this annual institution, here are 10 of the most memorable plays from Thanksgiving Day games, throughout the years.
Perhaps this list will hype you up enough to get off the coach and outside for your own personal Turkey Bowl, with family and friends, to work off some of the calories that come with America's most acceptable day of binge eating.
(These plays run through 2010 and back.)
DALLAS COWBOYS VS. NEW ORLEANS SAINTS (2010) Miles Austin turns reverse into 60-yard touchdown
Starting off with a few entries from last year's games, including this nifty play by the Dallas Cowboys (an obvious recurring team on this list). After faking the handoff to Felix Jones, Tony Romo dishes the ball off to a swinging Austin, who takes a big turn down the sideline for the long reverse touchdown. Note that Jones ending up making the final block on the play. Teamwork!
NEW YORK JETS VS. CINCINNATI BENGALS (2010) Brad Smith's (shoeless) kickoff return touchdown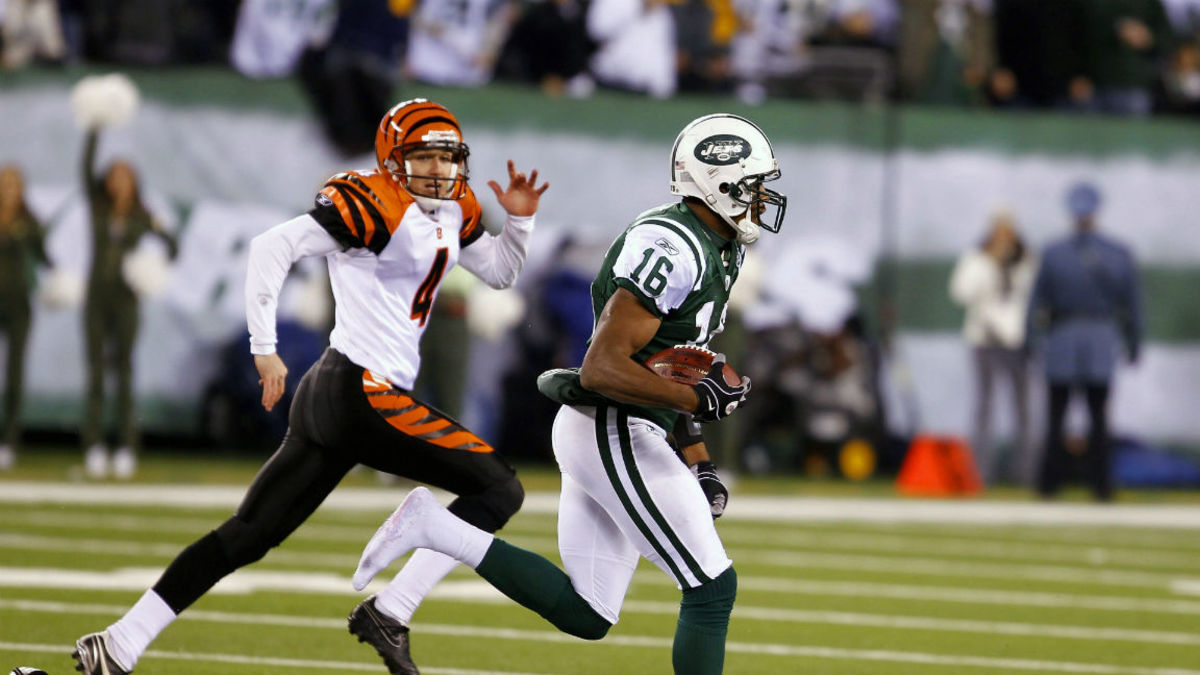 Known as the "Swiss-Army Knife" for his wide array of pigskin skills, Brad Smith (college quarterback turned receiver, wildcat back and kick returner) added a new element to his game last Thanksgiving – scoring a TD with one damn shoe. Smith took a 4th quarter kickoff to the house for 89 yards; actually losing his left shoe exactly on the 50-yard line. The sock scamper would have made "Shoeless" Joe Jackson very proud.
WASHINGTON REDSKINS VS. DALLAS COWBOYS (1974) Clint Longley's game-winning touchdown
Taking it all the way back to 1974; the Cowboys were hosting their bitter rivals, the Washington Redskins, when future Hall of Fame quarterback Roger Staubach went down with an injury (with the Cowboys down 16-3). In came rookie backup Clint Longley, who capped a fourth-quarter comeback with this 50-yard touchdown pass to Drew Pearson, pulling the Cowboys ahead 24-23. Longley went on to have very little success in the NFL, but will always have this memory to make Thanksgiving Day easier to digest.
DALLAS COWBOYS VS. SEATTLE SEAHAWKS (2008) Twisting, toe-tapping catch by T.O.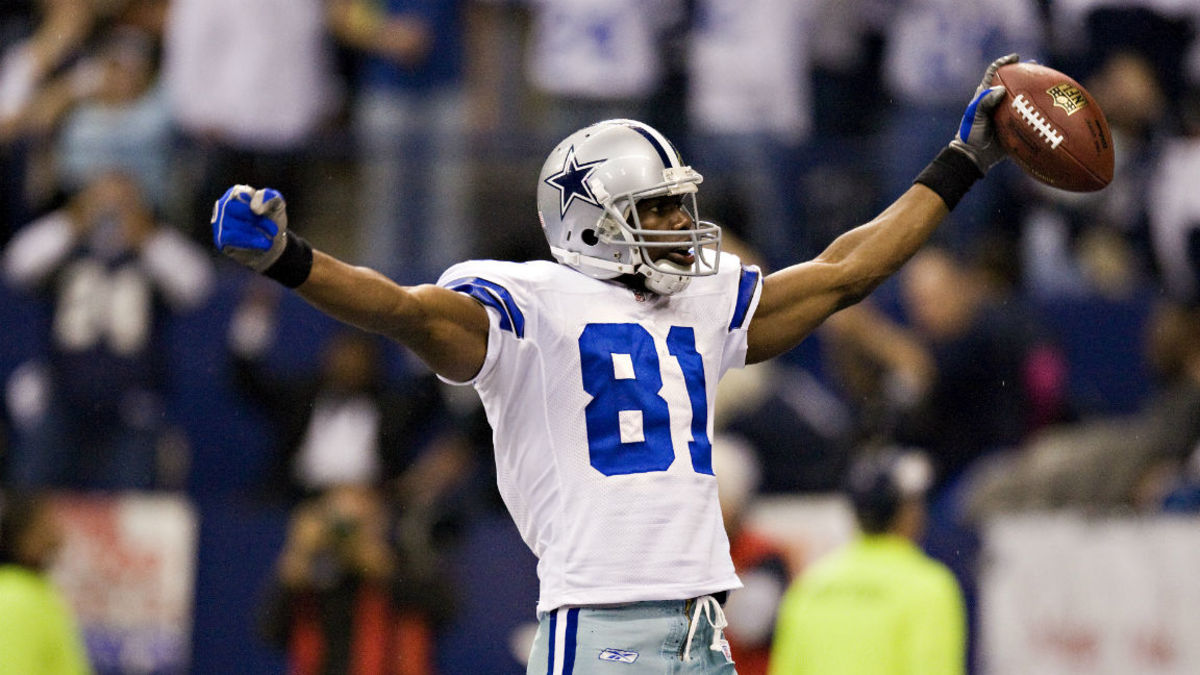 While his career is currently on "hiatus," T.O. had a nice run making dazzling plays as a member of the Cowboys from 2006 to 2008. During his last season in Dallas, T.O. touched up the Seattle Seahawks for 98 yards and a touchdown on Turkey Day, including this 30+ dandy near the sidelines. Watch as Owens twists his body 180 degrees and tips the ball from one hand to another, all while keeping both feet in bounds. "A "presence of mind" play at its finest.
MINNESOTA VIKINGS VS. DALLAS COWBOYS (1998) Randy Moss scores third touchdown of the day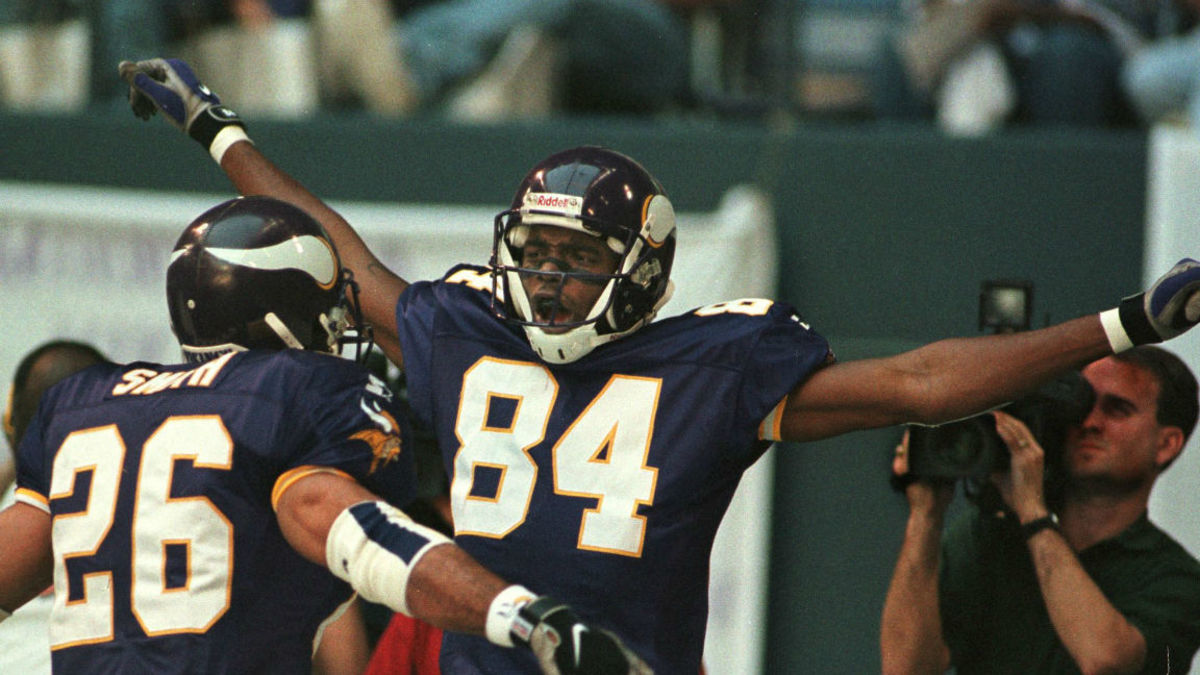 In just his first pro season, Randy Moss took the NFL by storm, scoring a rookie record 17 receiving touchdowns. Three of them came on Thanksgiving Day in Dallas, as the phenom turned all three of his catches into long scores. Moss nailed the hat trick with a short pass that he turned into a 50 yard plus catch-and-run burner downfield. "The Freak" at his finest.
MINNESOTA VIKINGS VS. DALLAS COWBOYS (2000) Randy Moss's end of end zone touchdown
Yup, he's back for more. Two years after going bonkers on the 'Boys, Moss returned to Dallas for a Turkey Day encore that did not disappoint. In a 27-15 Vikings win, Moss totaled 7 catches for 144 yards and two touchdowns, including this utterly amazing grab in the back of the end zone. Watch as Moss tiptoes both feet inbounds on this high degree-of-difficulty score.
INDIANAPOLIS COLTS VS. DETROIT LIONS (2004) Peyton Manning ties record with six touchdowns
For his Thanksgiving Day debut in 2004, Peyton Manning clearly wanted to do something special. In the midst of his best pro season (49 TD), Manning carved up the Lions for six touchdowns; three apiece to wide receivers Brandon Stokely and Marvin Harrison. The total tied a Thanksgiving record set by Bob Griese of the Miami Dolphins in 1977, and is one touchdown more than current Colts quarterback Curtis Painter has thrown all season (filling in for the injured Manning). Tough times in Indy.
DETROIT LIONS VS. CHICAGO BEARS (1997) Barry Sanders racks up three touchdowns
For a team that hasn't won a championship in over 50 years, hosting the Thanksgiving Classic hasn't bode too well for Detroit in recent decades. Luckily for Lions fans, at least they had Barry Sanders to look forward to during the '90s. In another collection-of-plays clip, Sanders dominated Chicago's defense in 1997 with three scores on the ground, racking up 167 yards in the process.
NEW YORK GIANTS VS. DETROIT LIONS (1982) Lawrence Taylor's 97-yard pick return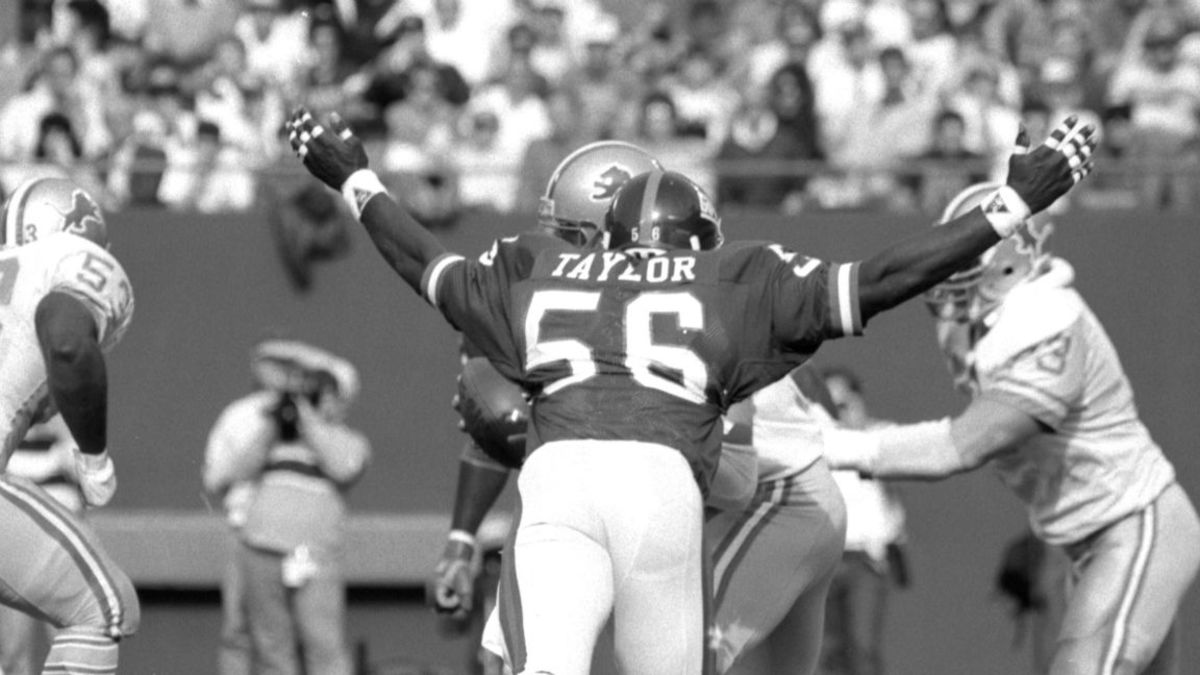 As arguably the greatest linebacker of all-time, Lawrence Taylor was known just as much for his mental prowess as his physical capabilities. On this particular play from 1982 (just his second season in the league), Taylor makes a perfectly timed jump on a Gary Danielson pass in the red zone, returning the pick 97 yards to break a 6-6 tie in the fourth quarter. The score would hold as the only touchdown in the 13-6 New York victory.
CHICAGO BEARS VS. DETROIT LIONS (1980) Dave Williams returns overtime kickoff for a touchdown
Finally, in this historic play from 1980, Bears return man Dave Williams takes the opening kickoff in overtime up the gut, before cutting to the outside for a 95-yard touchdown. The play marked the first time in NFL history that an overtime period began (and ended) with a kickoff return for a touchdown. 21 years later, it's another Bears kick returner, Devin Hester, who holds the record for most all-time return touchdowns with 18 (12 punts, 5 kickoffs, 1 missed field goal).
For access to exclusive gear videos, celebrity interviews, and more, subscribe on YouTube!