The concept of fitness as competition—not just to stay in shape or train for other sports—is something that has been developing for years now. Look no further than the fast-growing popularity of CrossFit. Not only has its overall numbers grown exponentially over the years, but its premiere annual event, the CrossFit Games, has also seen increasing numbers of participants each year. And those numbers are staggering. Fewer than 100 turned out to participate in the inaugural Games in 2007, and 118,000 turned out last year, and it's now a big-money event for the top competitors.
So, it's only natural that competitive fitness is taking the next step with the founding of the National Professional Fitness League. The league is not to be confused with CrossFit, but expect several familiar faces to be involved, from the participating athletes to the operational side of things, starting with league founder and CEO Tony Budding, who was the Head of Media for the CrossFit Games.
6 Most Brutal CrossFit WODs >>>
Franchises have already formed in New York, Philadelphia, Los Angeles, San Francisco, and Phoenix, and more are expected to form as the league expands after its inaugural season, slated to begin in August (an earlier summer or spring start is planned for the 2015 season). Several top athletes have already signed with one franchise or another, but combines have and still are being held in cities throughout the country, which will help teams make selections to round out their rosters.
We checked in with David Tao, Head of Media for the NPFL's New York Rhinos, to get a gauge on how the teams are forming and what to expect from the sport. Some of the basics to expect from watching this fan-friendly, spectator sport: head-to-head team matchups with eight athletes per team in two-hour/10-event matches that include four men and four women per squad. One man and one woman per team must be at least 40 years old to round out a team, adding in a master's element to the co-ed format of matches.
5 CrossFit Moves for Measuring Success >>>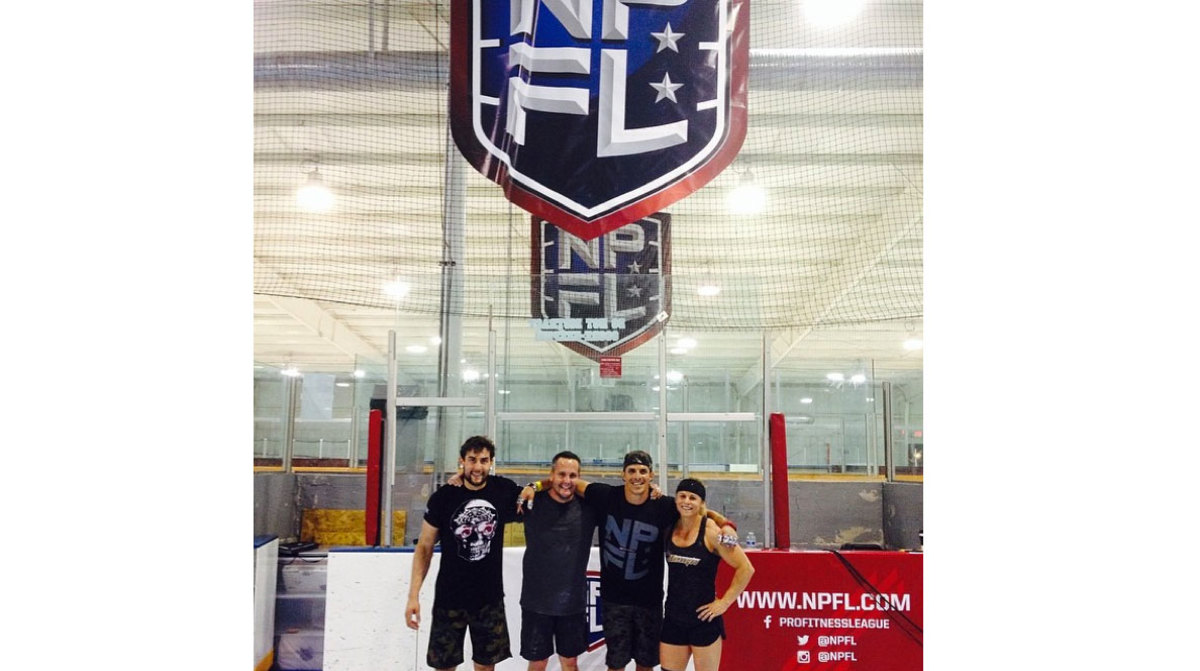 "We're hoping this league can show that men and women are competing on the same level worldwide," Tao says. "When else are you going to see a sport where a woman pulls ahead of a man on the highest level? We expect to see that in the NPFL."
As for how the events will play out, we'll see more strategy and team aspects than other fitness competitions out there. Expect four competitors to be out on the floor completing various fitness tasks in quick succession while teammates wait on the sideline as subs. Coaching will come into play to manage those subs and figure out how the team should best tackle different races or events, which will generally be left at least a bit open-ended rather than rigidly structured from start to finish. Tao says subbing and the nature of the events will bring something new to the table, since "experienced competitors aren't used to needing to realize who's on and who's off that day, or which events play to an athlete's strengths and which ones don't."
The Rhinos have had success in the off-season thus far, picking up top CrossFit athletes such as Annie Thorisdottir (two-time CrossFit Games champ) and Shawn Ramirez (current top-ranked 40-plus-year-old man in CrossFit). As the summer comes along, we look forward to seeing a detailed schedule for the season, complete with playoffs in the fall.
Full-Body CrossFit Workout >>>
For access to exclusive gear videos, celebrity interviews, and more, subscribe on YouTube!