The 2018 edition of the Downhill Challenge Medellín race might be a record-setting one. After putting together a 2,274-meter course through the streets of the city, riders in the race attempted to set a Guinness World Record for the longest urban downhill bike course, according to The Guardian.
Pro riders from around the world took part in the race, which was won by Chile's Pedro Ferreira, followed by bikers Adrien Loron of France, and Bernard Kerr of Great Britain. American rider Nicholi Rogatkin, who won the gold at Red Bull Joyride, also took part in the race and posted videos of his wild ride down the potential record-setting course, along with English rider Patrick Robinson.
The Medellín race cut through residential neighborhoods and city streets, using staircases, wood boards, escalators, sidewalks, and some pretty gnarly dirt jumps to fill out the course.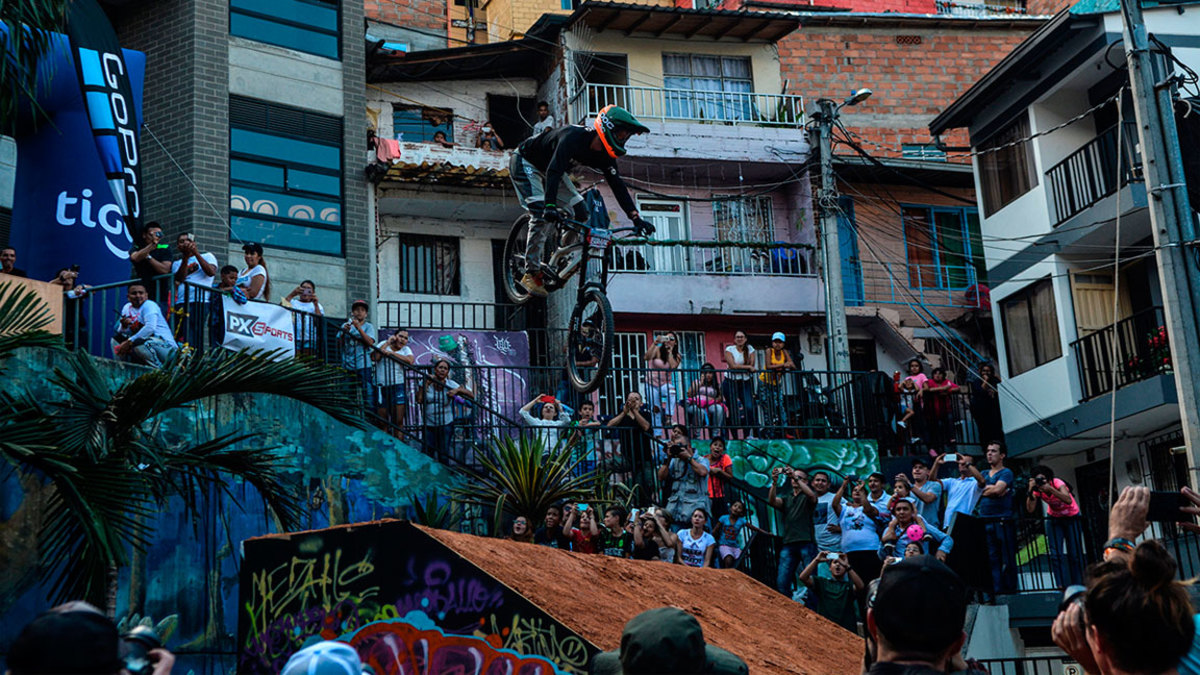 Here's a look at some of the riders taking on the course:
Wonderful things happen in Medellín's Comuna 13. This is a video recorded by @GoPro at the Downhill Challenge Medellín, the longest urban downhill race in the world | @AlcaldiadeMed @BureauMedellin pic.twitter.com/1snlGHEhTv

— ACI Medellín (@acimedellin) December 3, 2018
Course preview alert 🚵‍♂️ Switch views with #GoProAthlete @sampilgrim + @nicholirogatkin for a ride through the 'Downhill Challenge Medellín', the longest urban downhill race in the world.

Shot with #HyperSmooth from #GoProHERO7 Black.@pxsports_tv #GoPro #GoProMTB #Medellin pic.twitter.com/Ec2aWX2fqe

— GoPro (@GoPro) December 3, 2018
Had the time of my life yesterday competing in the Colombia, Medellin, C13 downhill challenge. Really happy with how I raced finishing in 14th place and getting myself into the Guinness world records book with this run. Bring on t…https://t.co/kXS3EhdTVe https://t.co/AHMa0oVTVu

— Patrick ROBINSON (@patrickrobins0n) December 3, 2018