As he enters his sixth year in the NBA, Moe Harkless is undoubtedly playing the best basketball of his life. In 2016-17, his second year with the Portland Trail Blazers, Harkless set or tied career highs in games played, games started, points per game, assists per game, rebounds per game, blocks per game, minutes per game, and field-goal shooting percentage.
The only question that remains: Can Harkless take his game to that mythical All-Star level?
Consider this: After nearly doubling his scoring output, Harkless has become a key cog in a talented roster that includes players like Damian Lillard, C.J. McCollum, and Jusuf Nurkic. With that core in place for another year, Harkless thinks the comfort level in Portland can lead to a special season.
"We kept pretty much the same group we had, so it's more experience being together," Harkless told Men's Fitness. "I think we've all got better individually, and as a team, collectively, I think we've all gotten better as well. We're pretty excited, and I think we'll be in the mix for the playoffs. I think we have a good chance to make some noise this year. The energy is always good, and I love the culture here."
The Blazers finished eighth in the Western Conference at 41-41 last season, and were swept out in the first round of the playoffs by the eventual NBA champion Golden State Warriors. It might not be easy—or even possible—to take down the Warriors this year, but the Blazers could give them a fight if they meet again in the postseason.
After putting together the best overall season of his career, Harkless spent the summer trying to get even better. Harkless put a focus on his core strength and lower body, using deadlifts, single-leg workouts, RDL's, legs curls, and squat jumps in his training.
Harkless also is a big believer in using yoga, which he feels gives him an advantage on the court for staying healthy, flexible, and agile.
"It's a physical practice, it's a mental practice, but it's a spiritual practice, too," Harkless says. "It helps me get into that zone you need when you're playing. The flexibility aspect is there, and it's a also a good workout—you hit core strength, upper-body strength, and lower-body strength all in one. You should get a good workout, and at the same time you get to work out your mind, too."
With the Blazers' core together another year—and Harkless potentially taking the next step in his game—Portland could be a force to reckon with in the Western Conference.
Harkless spoke with Men's Fitness about his training routine, why he loves yoga, and his favorite cheat meal.
MEN'S FITNESS: What's your training routine like during the off-season?
Moe Harkless: My training schedule is pretty intense during the off-season, especially compared to during the season. These past few summers I spent my time down in Florida at IMG Academy, training there. During those workouts, some days I'll do a turf workout in the morning and then some weight training, then to basketball, and then later, basketball workouts again at night. So, it's four different workouts every day, going intensely. I usually have a shake every night before bed.
What are some of the workouts and exercises you use that you feel translate best to the court? What helps you get in your best shape?
Deadlifts are one of my favorite. I also love pullups—I could do pullups all day. I don't like back squats too much, but they work. I really like using lunges in my training, too. I try to mix things up to stay athletic.
What does yoga do for you?
It puts me in a calming state of mind, and I can definitely apply that to my game on the court. It's definitely become more popular for players over the past few years. It can put you in the zone, and when you're on the court and matching up, you have to be in the zone in the same way. I think doing yoga and meditation helps you get into that place, and it helps my game overall.
What are some techniques you use when working out your core?
I'm a plank guy. Maybe part of that comes from yoga. I use those every day, sometimes just to warm up in the weight room to start my workout. I'll do a five minute plank series and just alternate moves—front-planks, side-planks, then planks with one arm up, and so on. Kettlebell workouts are great for my core, too. I use kettlebell squats since they hit your core and legs at the same time. That's my favorite way to do core.
What's your daily diet and nutrition like? What are your favorite healthy foods, and your top cheat meal?
I eat a lot of fish. I try to I stay away from red meats and stuff like that. I love sweet potatoes. I try to replace most of my carbs with either wheat products or sweet potato.
For a cheat meal? It's always chicken wings. It's my favorite thing to pig out on. I like to cook a lot—chicken wings are one of my favorite things to cook—but I'll do a lot of pasta as well. I've started recently just making desserts. I guess that's kind of like a cheat meal, too [laughs].
Did you focus on any singular aspects of your game in your training this summer?
I locked in on a couple things. One would be my shooting, especially my three-point shooting and my free-throw shooting. I also worked a lot on my different moves in the post. I wanted to work on finding different ways to score down in the post, especially when I have a plus-defender on me.
What are your expectations for yourself and the Blazers this season?
I think, just, I expect for us to be one of those teams where we're going to be fighting to make some noise. I mean, I can't say we'll be at the top of the list but we'll definitely be in there, in the mix somewhere. But in April, we'll be fighting for one of those top playoff spots. Then for myself, I expect to just continue to improve to just build off what I did last year, and just continue to improve in all parts of my game and just help my team win.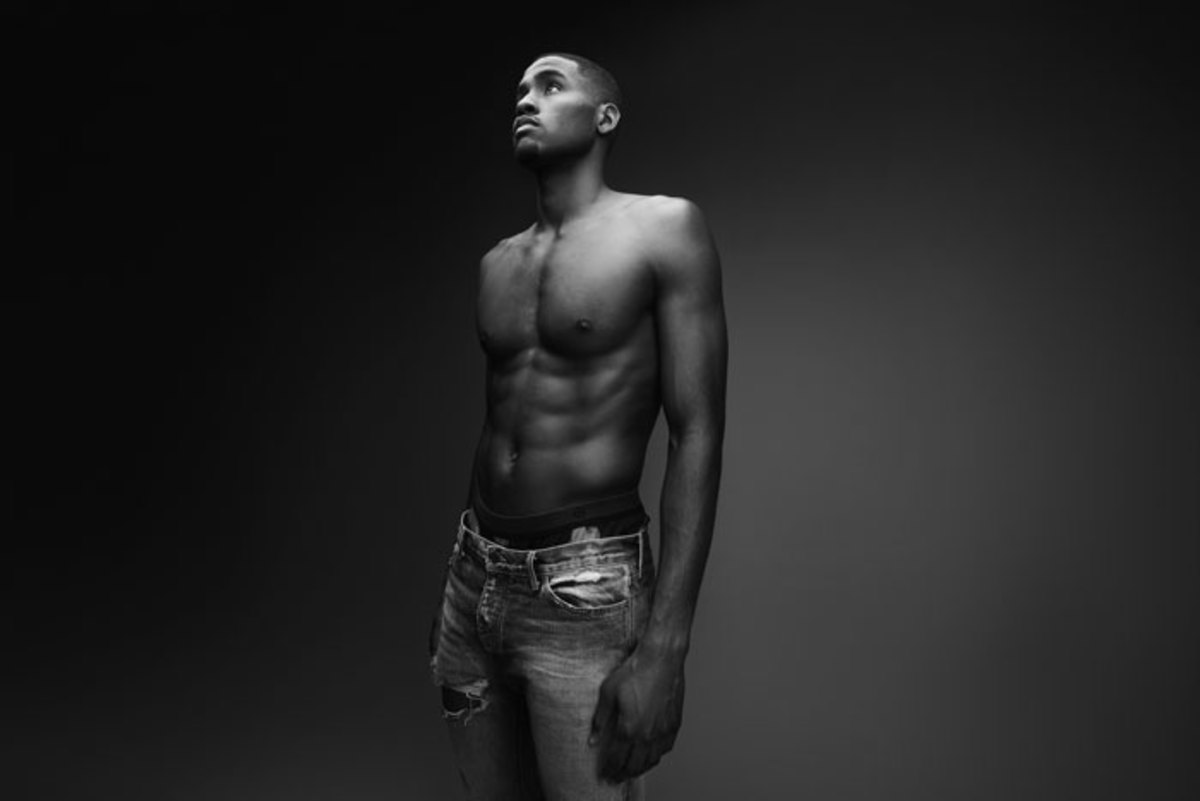 Courtesy of Sasha Samsonova
You have a lot of off-the-court interests—fashion and photography, among others. What drew you to those topics?
I think it really helps just to be able to take your mind off of basketball. The game can be overwhelming. The season gets overwhelming. So being able to have certain outlets definitely helps to free your mind and do things that you like to do. I like those things in particular because I think they're both different ways to express yourself. With photography, it's kind of a way to just capture things—family, friends—the way you see it. I think that's awesome. I love doing that. I take a lot of pictures. A lot of my friends get mad at me because I'm always snapping pictures of them when they don't want me to.
What are some of your favorite TV shows?
The Fresh Prince of Bel Air is my favorite. I love Family Feud, too. Lately, I've been watching American Horror Story.
For access to exclusive gear videos, celebrity interviews, and more, subscribe on YouTube!