While most fans marked the beginning of a new Major League Soccer season by suiting up in their team's colors and heading to a game, Adidas and MLS kicked it off with something a little unorthodox: a fashion show.
Adidas, which supplies the kits for all MLS teams, partnered with the league to launch Seams, a project where a handful of young designers reimagined soccer jerseys. The idea came about as a way to connect the sport with the world of fashion—and show that there's more than one way to wear a jersey.
"It's a great opportunity for us to marry our culture and trends with all 24 of our clubs," Rachel Leber, vice president of consumer products at MLS, told Men's Journal at the event in Los Angeles.
Four stylists and designers—Sara Gourlay, Corey T. Stokes, Andrew Andrade, and Pierre Davis—were chosen to rework the jerseys, and they created 48 different looks. We caught up with a few of them backstage before the show to learn more about how they approached the project.
Corey T. Stokes is a New York-based stylist and editor-at-large for High Snobiety. He worked to merge his own tailored aesthetic with the MLS jerseys, which meant rethinking what a jersey represented and styling it in innovative ways.
"I toyed with this idea of a uniform," he said, adding that he re-envisioned accessories, like sunglasses, and elements of a soccer kit, like shin guards. "I wasn't too caught up on trying to fit into the soccer world, but more so taking the soccer jersey outside of it."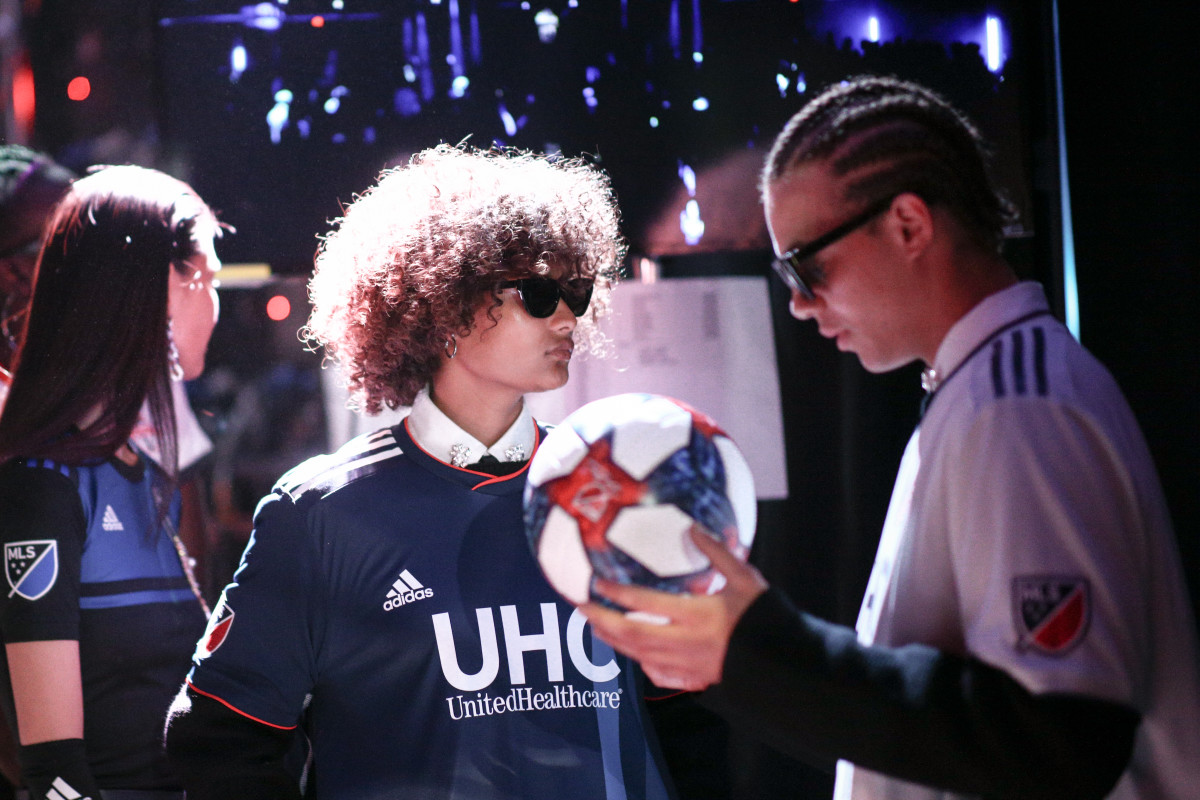 Andrew Andrade, a stylist at the LA streetwear boutique FourTwoFour on Fairfax, channeled his lifelong love of soccer into the outfits he put together for Seams.
"I think soccer as a whole is already a fashionable sport," he said, and he found inspiration from a number of famously stylish players, like Johan Cruyff and Pelé. His looks layered jerseys over and under more traditional staples—like trousers, exaggerated collars, and blazers. He described his collection as "a little bit of fashion, but more a direct reference to soccer."
Sara Gourlay, creative director of the women's streetwear brand Frankie Collective, has carved a niche for herself by up-cycling vintage pieces and fabrics into imaginative women's sportswear—pushing for a stronger female presence in streetwear, which is often dominated with men's looks. For Seams, she applied that same reworking technique to the MLS jerseys.
"I'd say each piece is unique," she said. "Just like the reworking, we looked at this jersey and said, 'What can we do with it?'"
Not surprisingly, her outfits pushed the limits of what you can do with a jersey: bags, purses, and even a catsuit made from stitched-together Vancouver Whitecaps uniforms were all featured in her collection. Although the designers were using men's jerseys, Gourlay made sure her designs included options for women as well.
The show comes at a pivotal time for soccer, when women's teams are pushing for equal pay and better representation. Soccer jerseys, as recent redesigns from Adidas and Nike demonstrate, are changing, too. For Gourlay, it's all about moving beyond tired clichés of what women's clothing should look like.
"The mindset before was that girls wanted to wear pink," she says. "But women actually want to wear the same swag as guys. It just needs to be fitted to our bodies."
The show also highlights how much athletic wear has influenced men's fashion. Athleisure is everywhere, and the idea of incorporating a soccer jersey into runway looks isn't as far-fetched an idea as it might have been a few years ago. But while sweatpants and hoodies are having their moment in the spotlight, Stokes hopes to see menswear swing back to something a little more formal.
"I think there's a fine line with making it look on purpose and it just looking sloppy and messy," he said. "I'm interested in the idea of dressing nice again."
As for what's next in men's fashion, he sees more tailored pieces, like trousers, button-downs, even casual suits becoming more popular alongside athletic-inspired apparel. Like many of the other looks on view at Seams, Stokes' outfits gave a glimpse at how a new wave of men's fashion could combine traditional menswear with style elements drawn from the locker room.
"It's still comfortable, but you focus more so on good tailoring—well-fitted clothes."
For access to exclusive gear videos, celebrity interviews, and more, subscribe on YouTube!