Men's Journal aims to feature only the best products and services. We update when possible, but deals expire and prices can change. If you buy something via one of our links, we may earn a commission. Questions? Reach us at [email protected].Sponsored content
If you're having trouble getting into shape, completing that pesky project, or just getting your life back on track, experts agree: Clearly stating your goals and keeping track of your progress is one of the best motivators you can find. If you really want to crush your goals, fitness, entrepreneurial, or personal, get yourself a journal and start writing in it, every day. Of course, some journals are just for writing, sketching, or notes. And that's fine. They also make great gifts. What's the best journal for men? We searched around and chose The SELF Journal as our Best Overall Journal for men.
The SELF Journal strikes the ideal balance between time management, goals, and gratitude. It's a science-backed 13-week program designed by entrepreneurs for entrepreneurs. But it's great for almost anybody who's having trouble getting started, or staying motivated.
Why Journal?
From scientists to fitness trainers, life coaches to job recruiters, experts around the world are practically unanimous in saying the best way to reach your goals is to spend some time with them before you try to tackle them. Think about them. Spitball them, troubleshoot them. Winnow them down to their bare essence. Think about what you really want, and why. It's a pretty deep soul-searching process, and the best way to figure it out is to write down your thoughts.
Don't tap them into your phone, and don't type out a Word doc. Write it down, pen to paper. You'll see your goals take shape and come to life. Once you know exactly what you're trying to achieve, then it's much easier to figure out how to get there. A journal will help you decide on a plan of attack, and stick to it.
We chose The SELF Journal as our Best Journal for Men because it lays out a plan for success. You just fill in the details. This doesn't have to be a diary. You're not trying to "get in touch with your feelings" or whatever (unless you are). It's more about accountability, tracking your progress, and seeing results. It's about crushing your goals and living your best life.
But self-improvement isn't the only reason for a man to have a journal. Writing, drawing, sketching, or even just cutting and measuring—guys have all kinds of reasons for writing stuff down.
Check out the rest of our Best Journals for Men below
Best Overall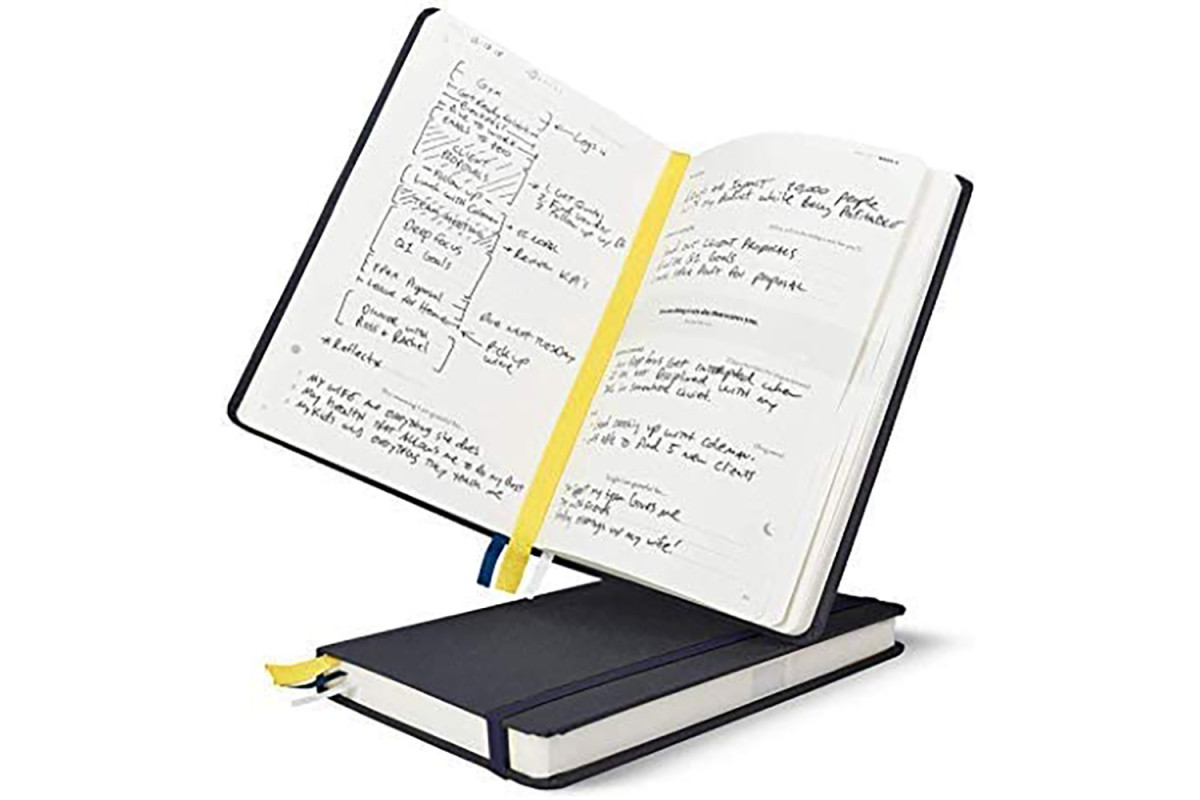 A productivity journal designed by and for entrepreneurs, The SELF Journal is used by Daymond John of Shark Tank as well as thousands of goal-smashers, executives, and fitness pros focused on tracking habits, increasing productivity, and planning projects.
More than simply a planner, each day it follows a science-backed Daily Structure for Success, including: Morning & Nightly Gratitude, Today's Targets & Goals, a 6am-9pm daily schedule, and plenty of space for notes.
Whether you want to start a business, increase performance, get in shape, write a book, or just hold yourself accountable and get your life on track, The SELF Journal can help you hit your target in 13 weeks. It's the perfect balance of time management, goals, and gratitude.
Get It: Pick up The SELF Journal ($32) at Amazon
Best for Weightlifters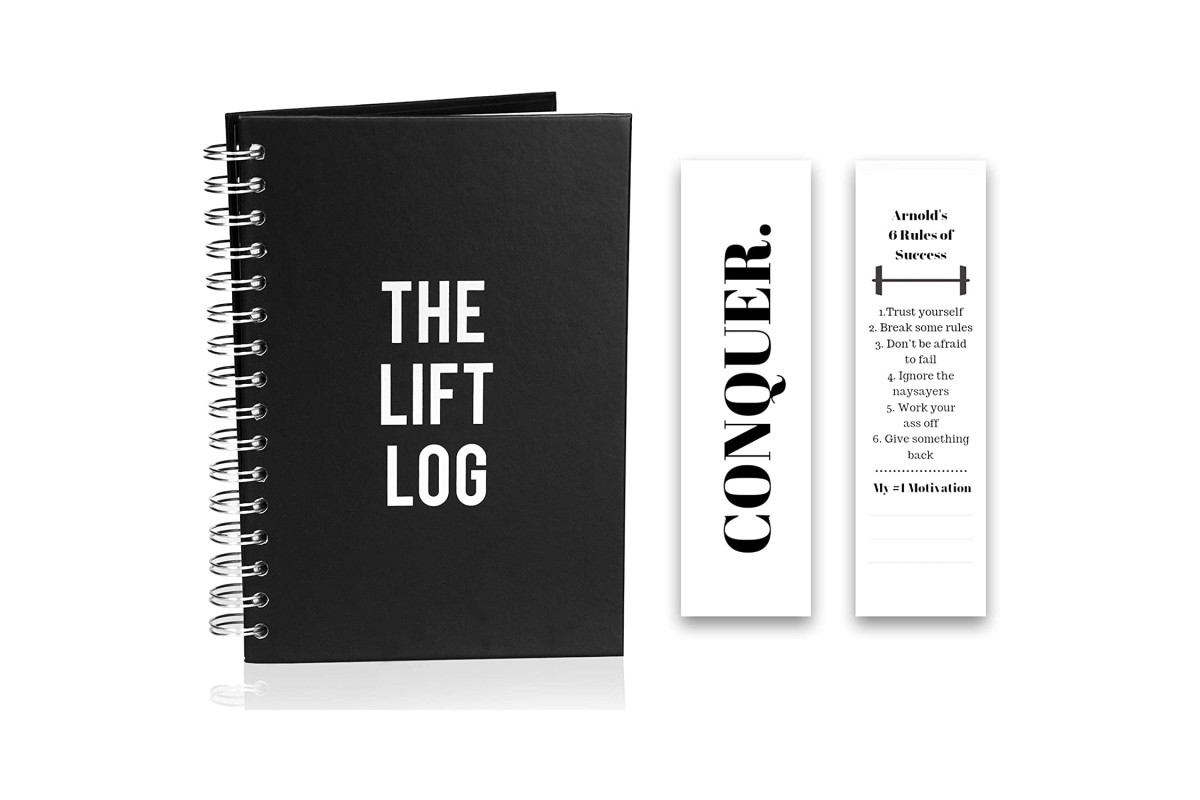 This might be the most comprehensive workout-focused journal on the market. You get six full months of tracking—more than 180 pages of blank templates. Track every lift, every rep, every cardio session for every day of the week.
This workout journal has space to record notes, nutrition, and more. Set your goals, track your goals, and crush your goals.
Get It: Pick up The Lift Log ($20) at Amazon
Best for Drawing and Sketching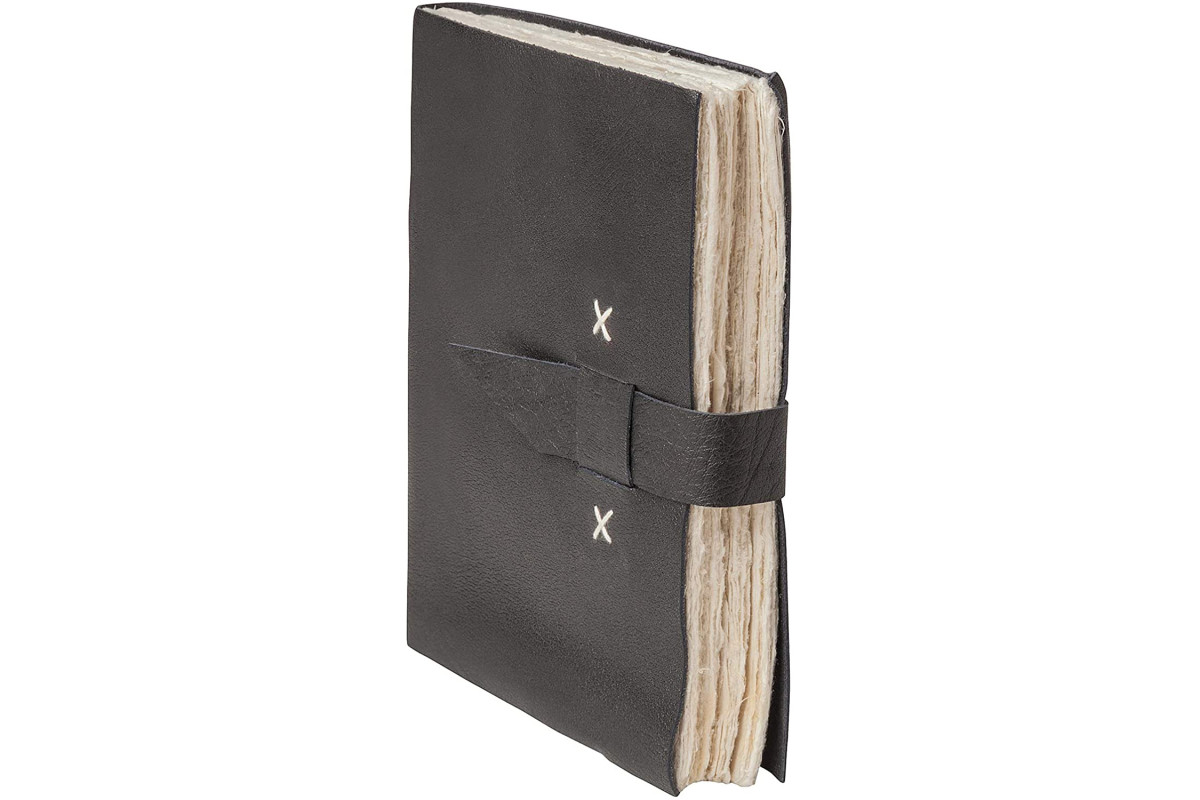 Individually stitched and bound with genuine rustic buffalo leather and 96 sheets of thick, authentic lokta paper, it's handmade in Nepal. By buying this journal, you're supporting Nepalese artisans and preserving a 1,000-year-old Nepalese tradition of making lokta paper by hand.
The pages are roughly cut to create unruly, untamed deckle edges, then handbound in leather with a loop closure and hand stitching. Everyone is slightly different.
Get It: Pick up the Ohm Store Lokta Journal ($22) at Amazon
Best for Writing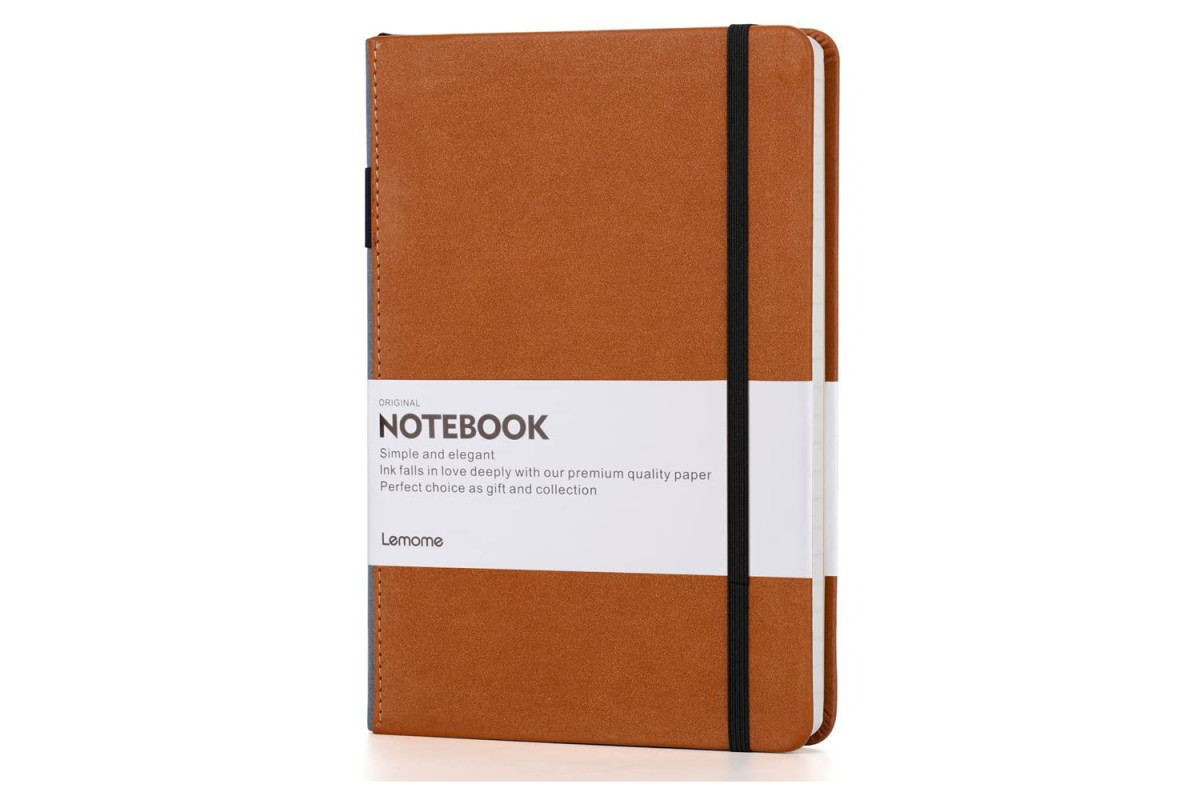 More than 800 reviewers rate this notebook 4.7 stars. With lay-flat, 180-degree design and an expandable pocket for business cards, notes, and more, this is a great travel-sized journal. The pen loop is on the outside of the binding, keeping the pages from separating from the cover.
90 sheets of thick, high-quality ruled paper resist bleeding and tearing, as well as hasty, hard erasures.
Get It: Pick up the Lemome ($15; was $16) at Amazon
Best for Makers & Craftsmen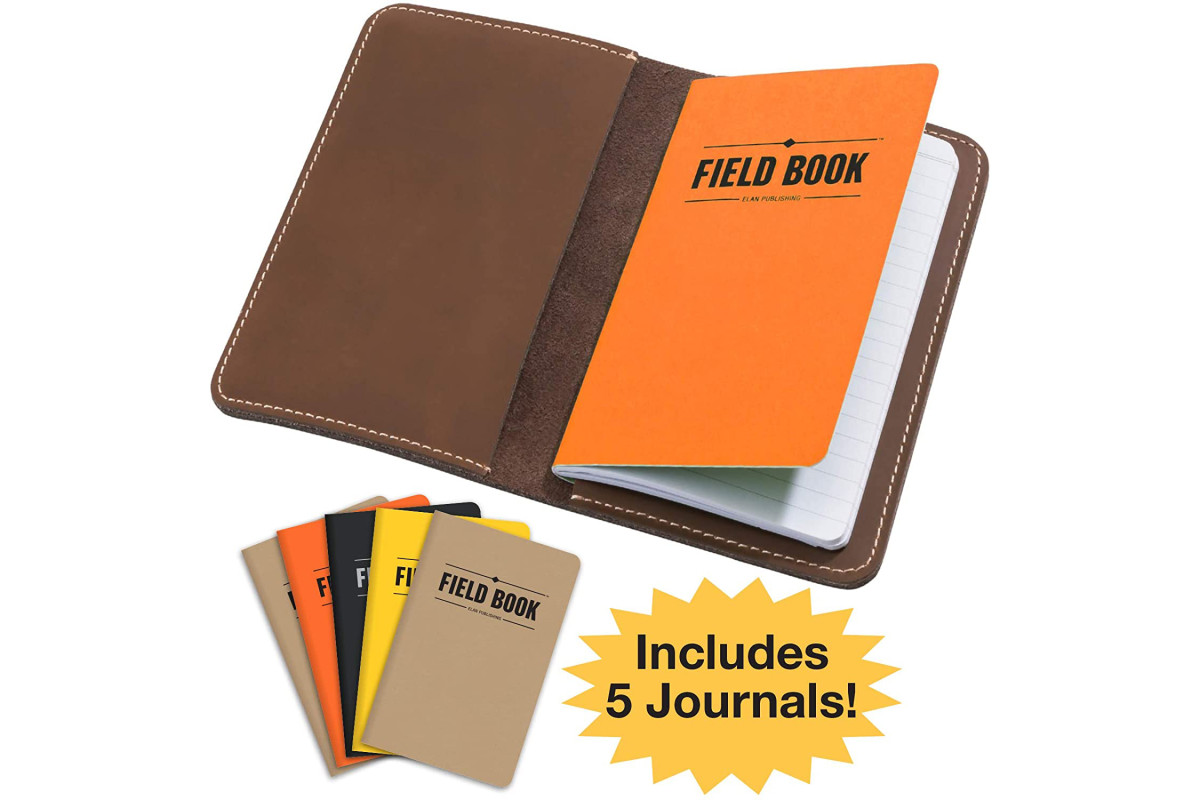 This stitched leather notebook holder comes with five Elan Field Notes memo books. It's compatible with Moleskine's ever-popular Cahier field books, which are far pricier. It'll slide right down into your hip pocket.
It's also available in a larger size, and in two additional cover designs.
Get It: Pick up the Elan Publishing Company Small Field Book ($27) at Amazon
Best for Gifting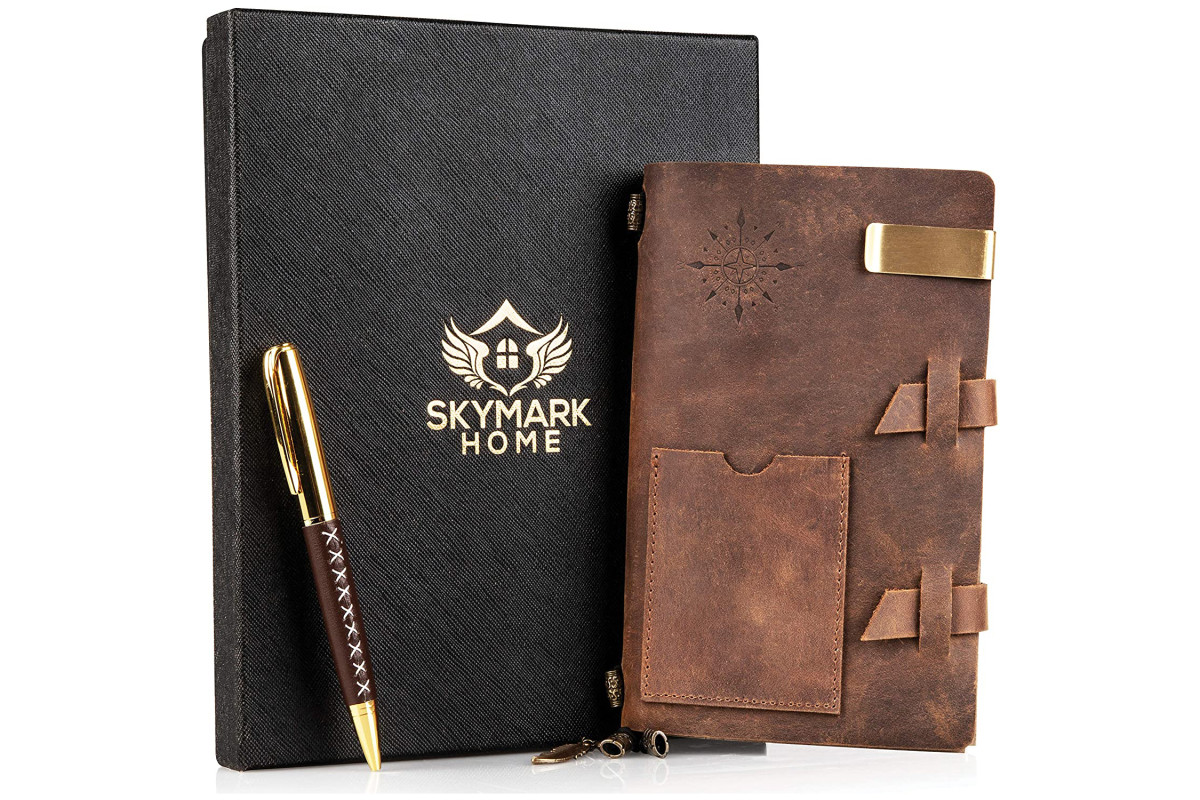 This stylish and rustic notebook set features a front card pocket, a gold clip, an internal plastic zip pocket, and several cardholder slots. 90 refillable lined sheets make it useful for years to come.
The Gift set includes a classy black gift box and gold, leather-wrapped ballpoint pen.
Get It: Pick up the Skymark Home Leather Journal ($30) at Amazon
Best Graphics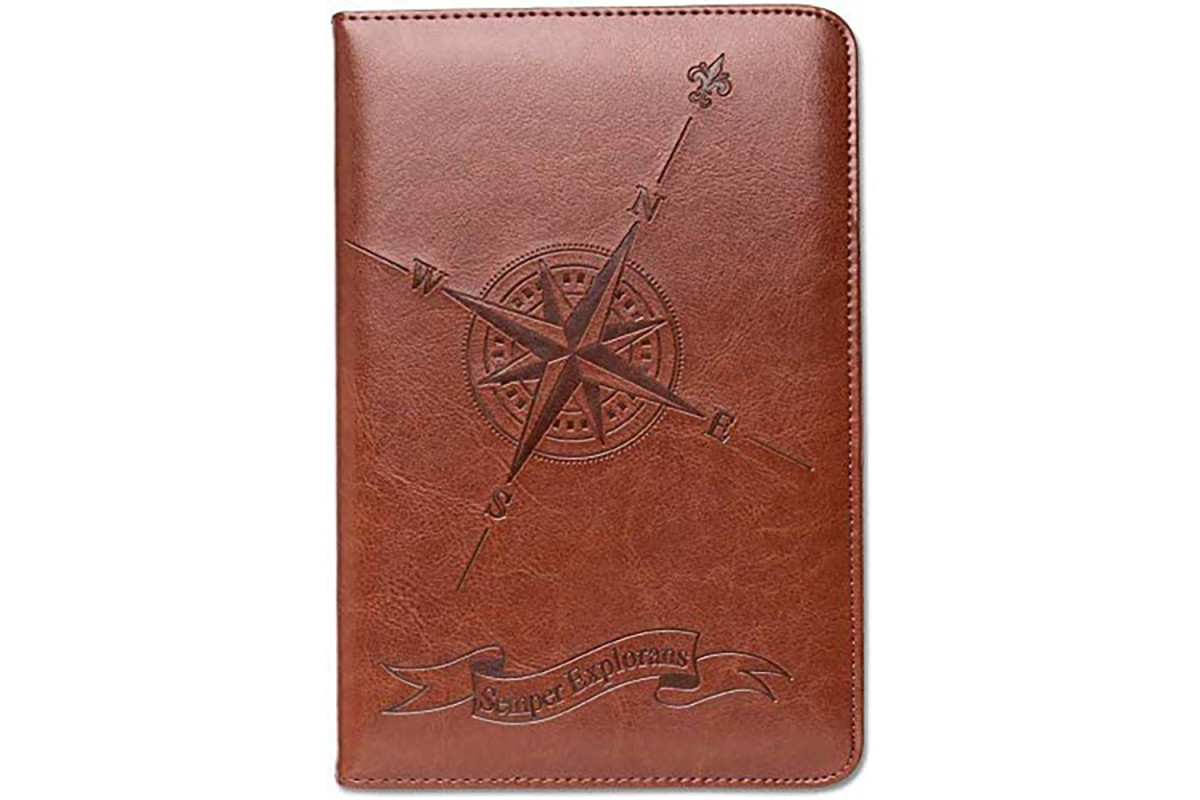 Perfect for fans of Game of Thrones, this is just one of 13 distinct designs by SohoSpark. It's made of synthetic leather, so it's cruelty-free easy to clean. And it gets a 4.8 rating on nearly 700 reviews at Amazon.
It's refillable with plain, lined, bulleted, or graph A5-sized paper.
Get It: Pick up the SohoSpark Black Dragon Journal ($30) at Amazon
Best for Tracking Fitness & Nutrition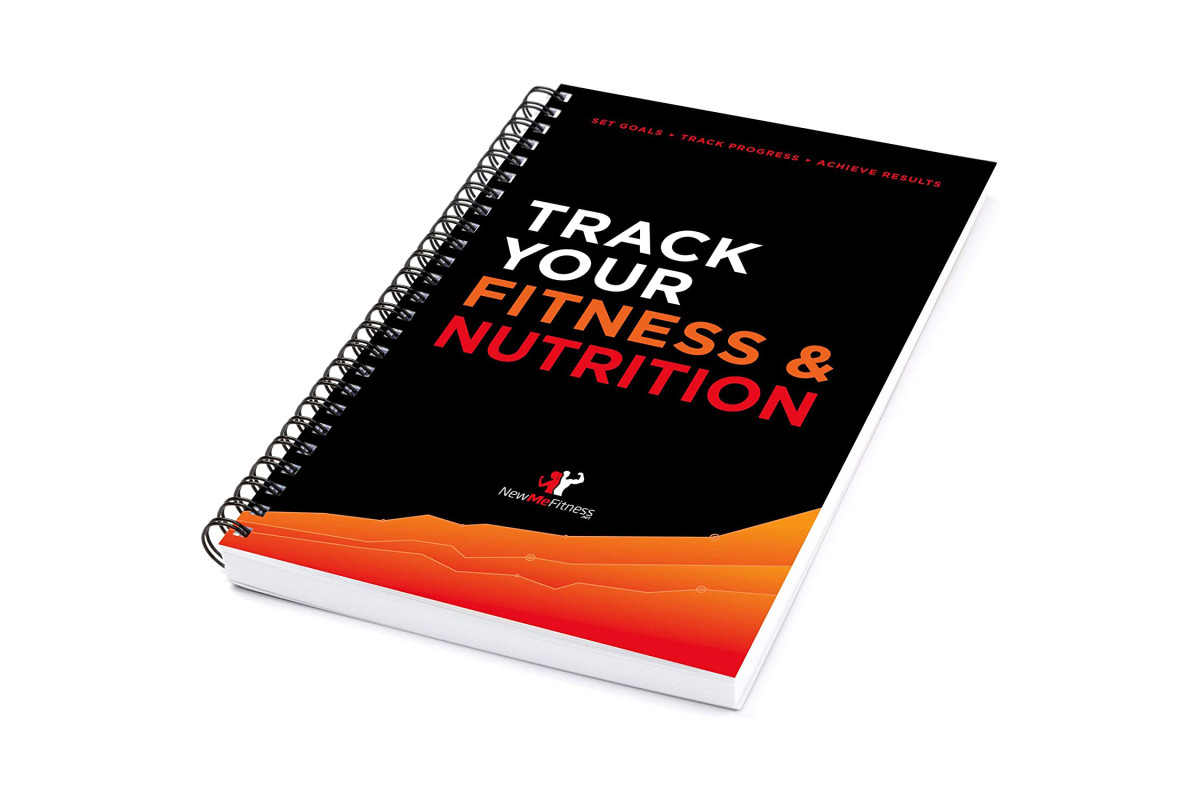 Research shows tracking your daily exercise and food in a fitness journal helps you reach your goals sooner—and maintain your results for the long term. This workout and food journal includes 66 dual-page spreads.
Whether you're doing cardio, weightlifting, or CrossFit, you can track information like which muscle groups you're working on, the specific exercises you're doing, and how many sets you performed. And log your food/calorie intake.
Get It: Pick up the NewMe Fitness Workout Logbook ($15) at Amazon
Best Go-To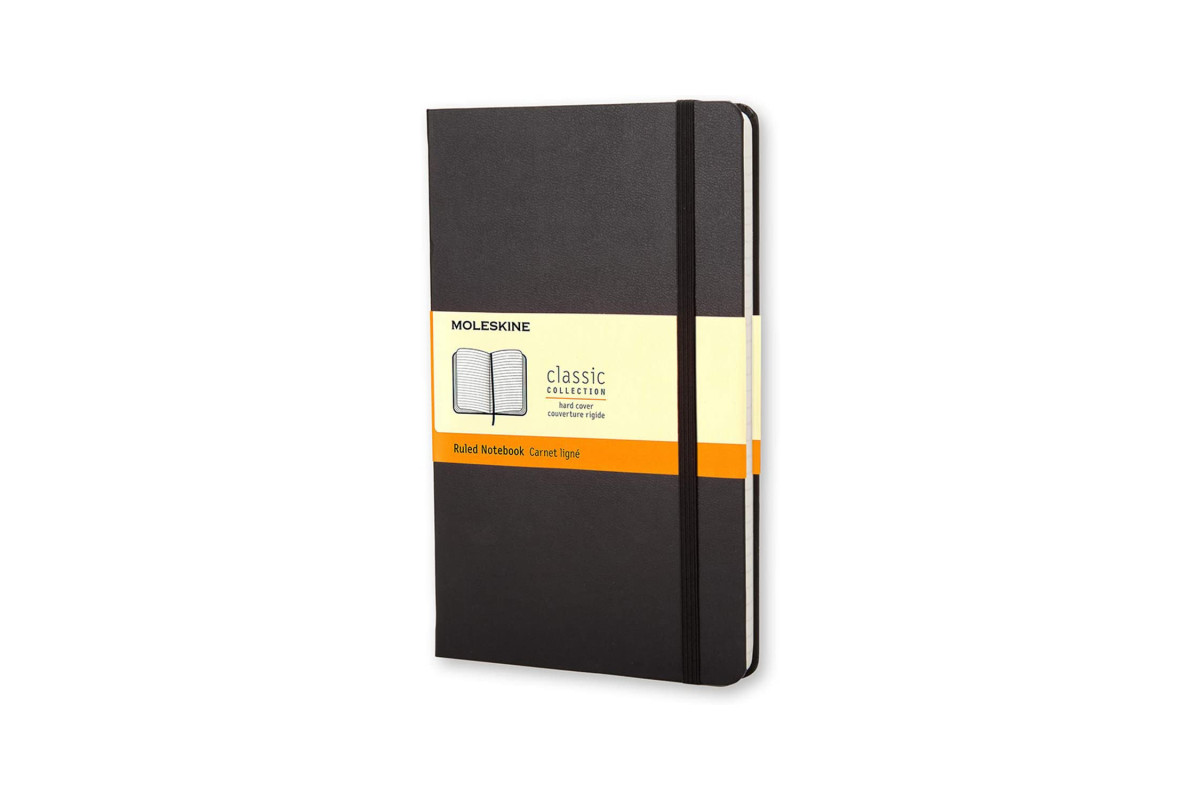 The best-selling—and most-reviewed—journal on Amazon is the one that sets the standard. Of course, Moleskine quality is legendary. The Classic Collection features bold new colors and a variety of page layouts to choose from.
Includes all the characteristic elements of the legendary Moleskine: rounded corners, ivory pages, elastic closure, bookmark ribbon, and expandable back pocket, enclosed within a colorful hardcover.
Get It: Pick up the Moleskine Large Classic ($20) at Amazon
Best Refillable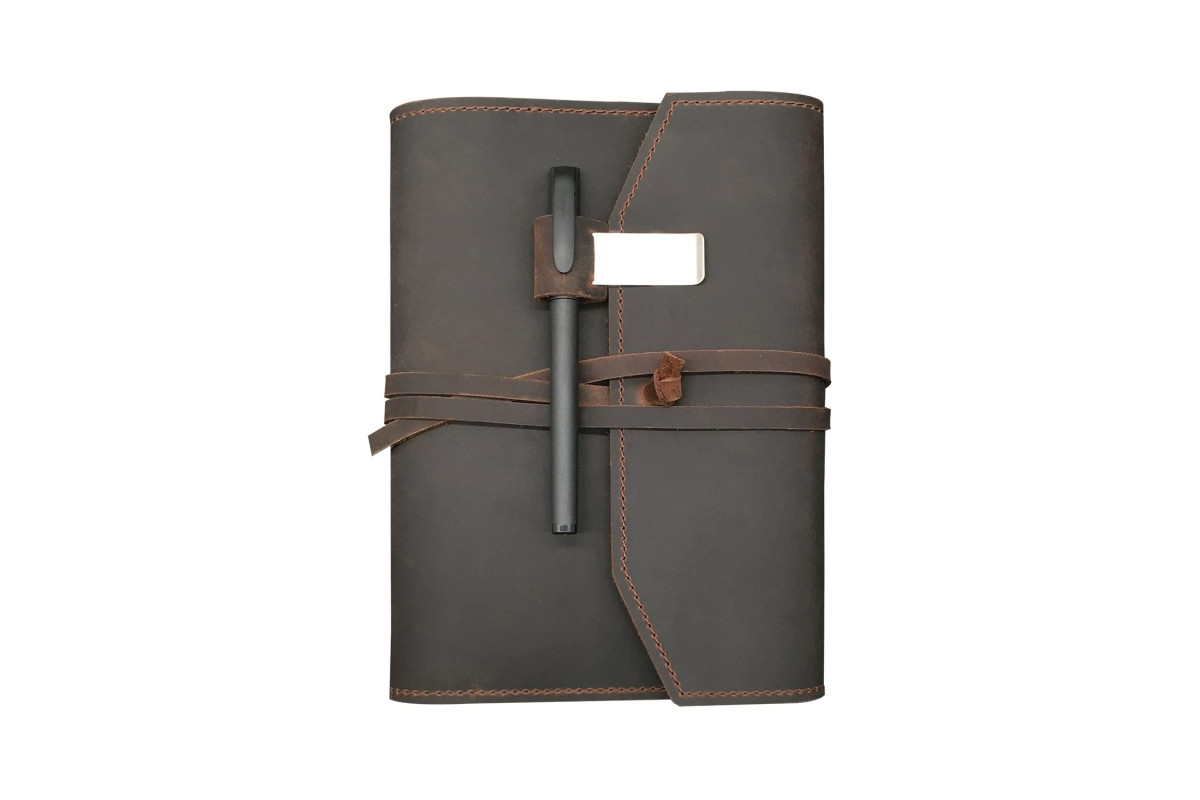 In the market for a large, writer-friendly journal? This soft leather cover comes with 100 sheets of 100gsm paper—but its innovative design lets you swap in notebooks any time you need new paper.
Made of crazy horse leather that will age with character, the binding has a lay-flat design to allow you to write all night long.
Get It: Pick up the Poromo Leather Journal ($27) at Amazon
Best Pocket-sized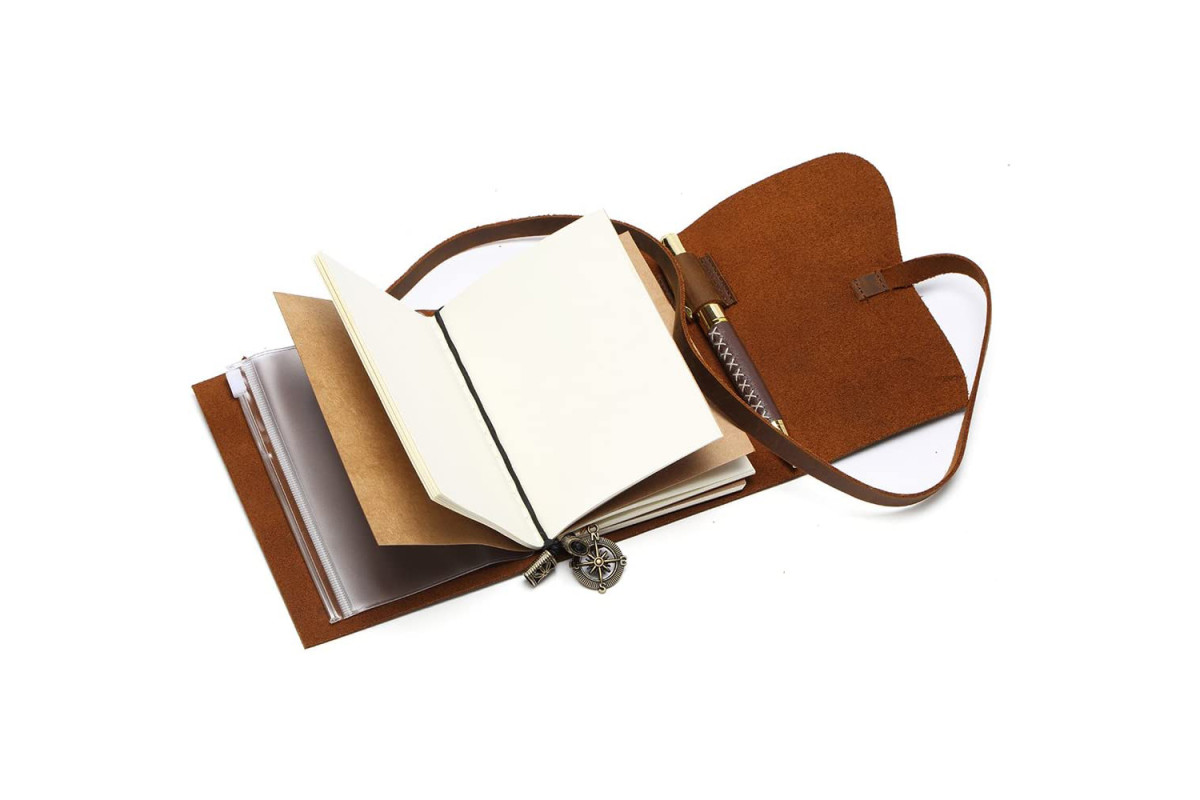 This compact, passport-sized leather journal fits in pockets, bags, or backpacks. It measures 5.4″x4.3″, it fits most A6 notebooks. They're bound with elastic straps in the binding that allow for simple refilling and easy customization.
Ideal as an EDC item, it includes three paper packs: cream unlined, cream lined, and brown plain. It also sports a PVC zipper pocket and comes with a pen.
Get It: Pick up the Sovereign-Gear Passport Pocket Journal ($20) at Amazon
Best Basic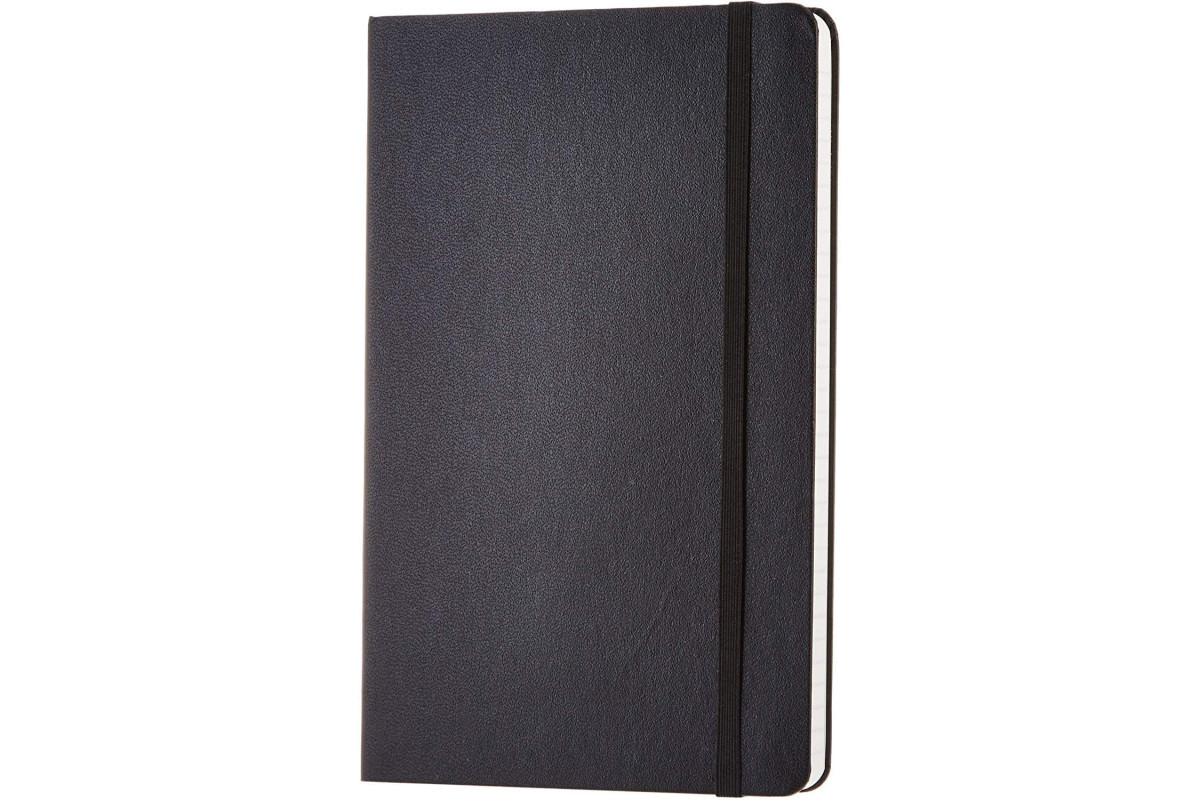 If you're looking for a quality, no-frills notebook, look no further than Amazon's house brand. With 240 ruled pages, it's ideal for the office, the trip, or the workshop. It has a cardboard-bound cover and acid-free paper.
Expandable inner pocket lets you stash notes, cards, or whatever.
Get It: Pick up the Classic Lined Notebook ($9) at Amazon
Best Business Journal
Sometimes you want to keep your personal writings and information a secret. It's especially important in business. This locking binder journal should do the trick. You could spend far more on a business notebook.
And because it's a binder, you can refill it with most any A5 size paper.
Get It: Pick up this Too Personal A5 Combination Lock Journal ($28) at Amazon
Most Versatile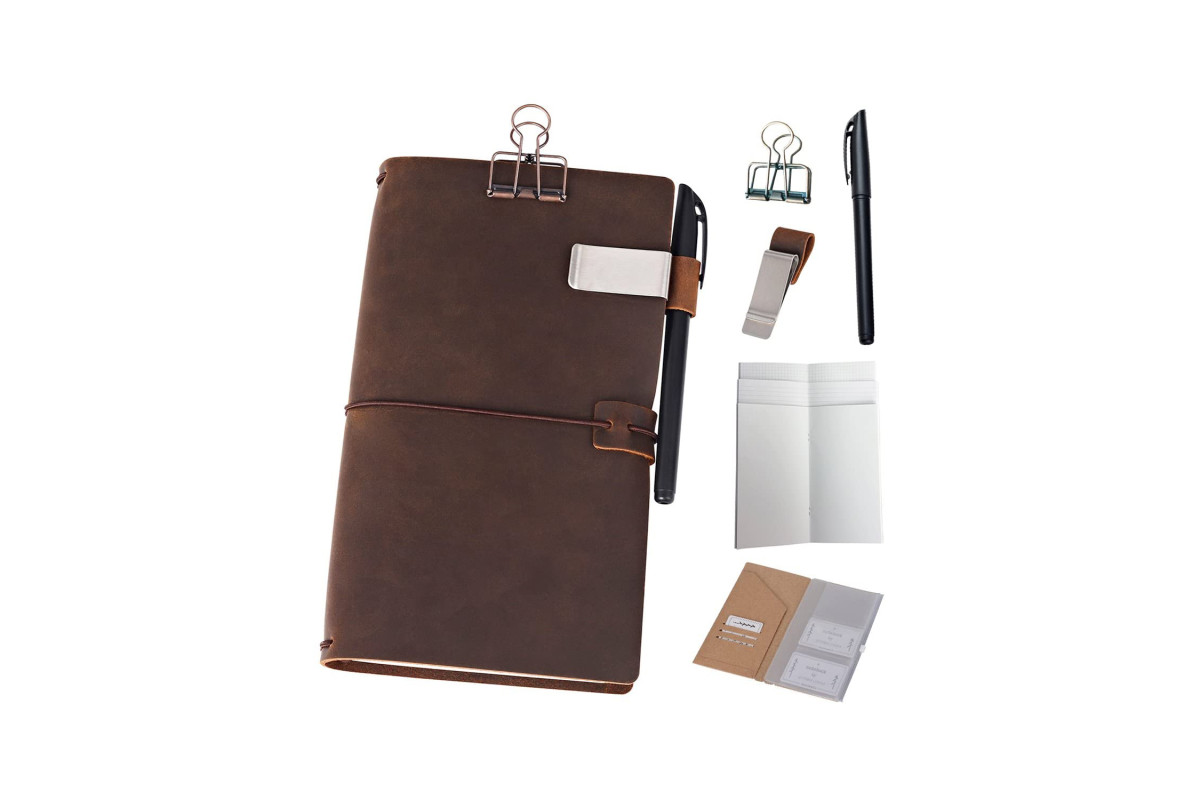 Stay organized wherever life takes you. Perfect for travelers and those juggling multiple projects, use it for daily reminders, as a personal journal, as a quick sketchbook, and more.
Four elastics in the spine hold the included three binds of 100gsm paper: one each of Ruled, Plain, and Graph. It also includes a PVC zip pouch, pen, and binder clip.
Get It: Pick up the Newestor Traveler's Notebook ($26; with $30) at Amazon
Best Planner for Motivation
Got big plans and dreams but aren't sure how to achieve them? This guided planner and journal balances goals with tasks to give you the structure you need to do more than just get through each day. It uses a minimalist approach to prioritize and plan. With goal tracking, gratitude journaling, and the occasional affirmation, it will help you improve your attitude and mindset.
The tracker breaks down your goals into monthly, weekly, and daily steps, then tracks your progress to give keep you accountable to follow through.
Get It: Pick up the Goal Crazy Planner ($24) at Amazon
Best Moleskine Alternative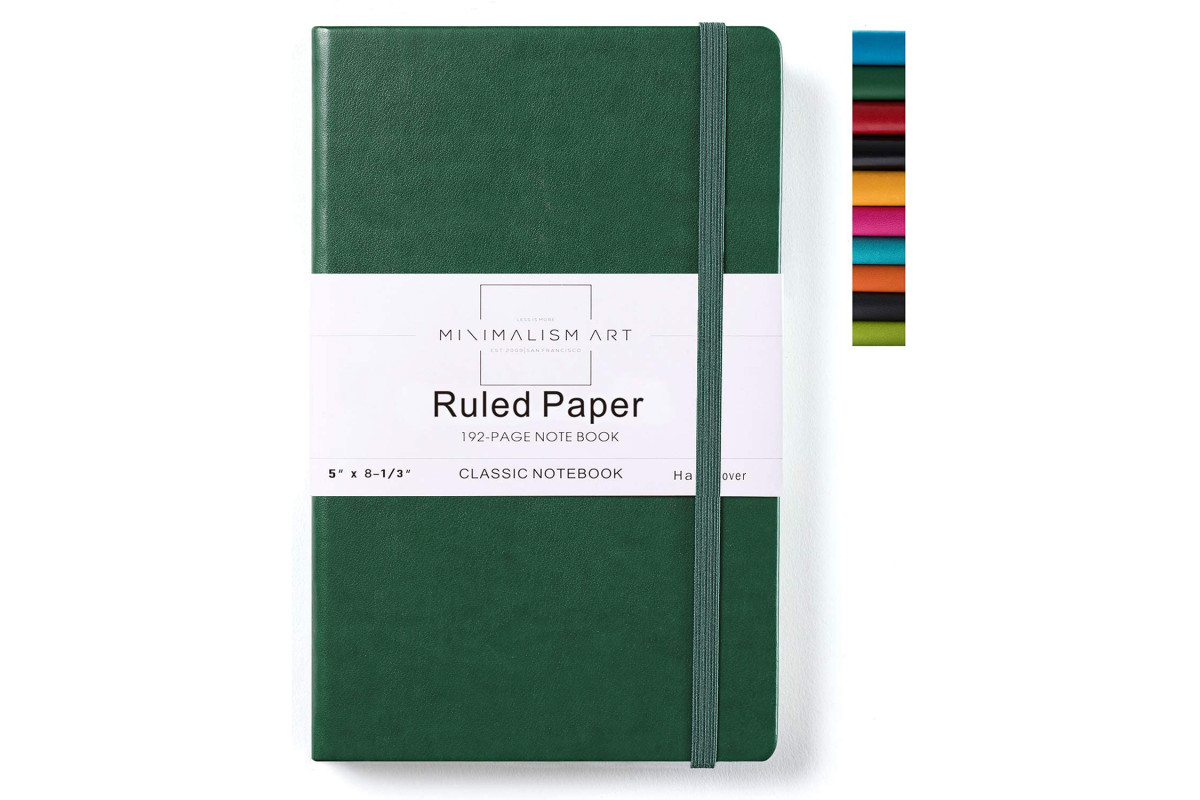 Available in several colors, this San Francisco company gets high marks from reviewers who tried it as an alternative to Moleskine. It's got a professional, distinguished appearance with 96 sheets of lined paper, making it perfect for the office or for work travel.
Bound with a hardcover with an internal accordion pocket, right now all colors of this A5 size are 41 percent off.
Get It: Pick up the Minimalism Art A5 ($8) at Amazon
Best Rustic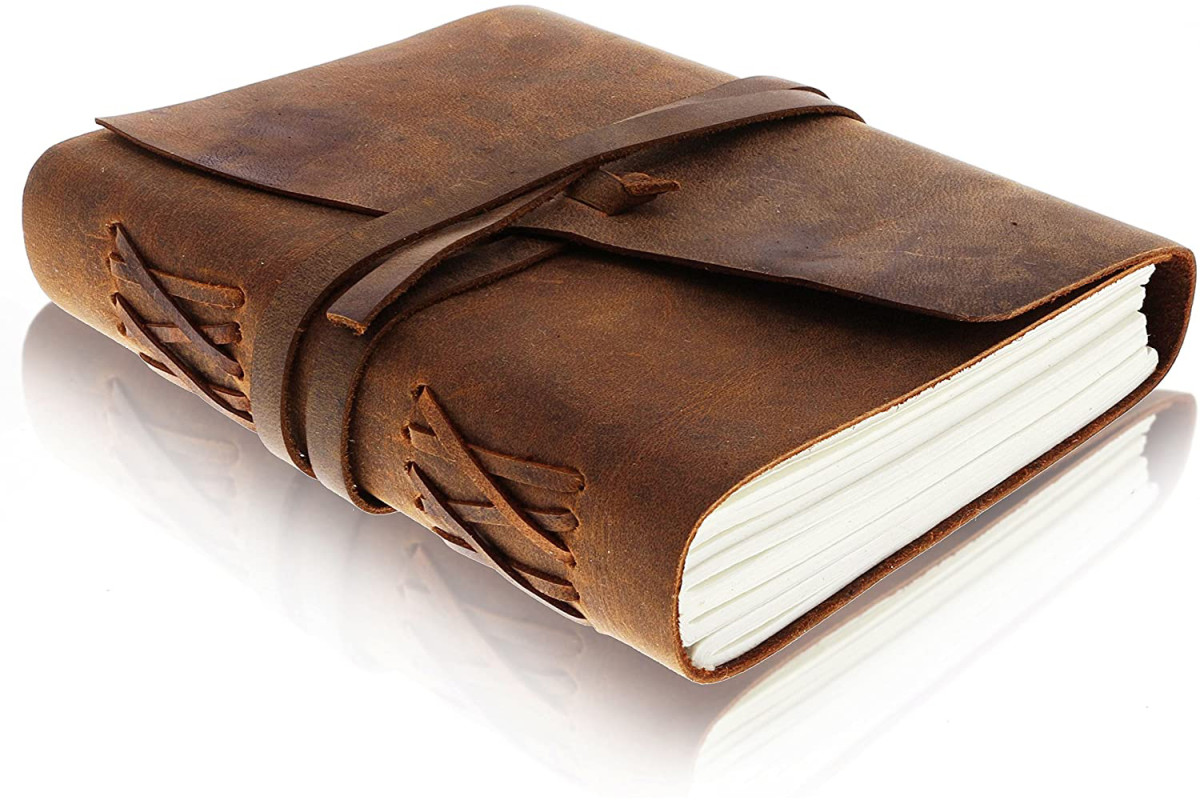 Wrapped in supple genuine leather, this notebook features 120 sheets of blank, off-white 120 gsm paper that's hand-crafted with recycled cotton, so it's acid- and tree-free. The hand-cut asymmetric flap and cover with hand-stitched Coptic leather binding secures the pages firmly.
All Moonster products are ethically sourced and fairly traded. With every journal purchased, Moonster donates a percentage of profits to Tehila, a non-profit organization in Zambia that promotes the prevention of child cruelty.
Get It: Pick up the Moonster Leather Journal Writing Notebook ($22) at Amazon
For access to exclusive gear videos, celebrity interviews, and more, subscribe on YouTube!