Cameron Weiss, the founder of Weiss Watch Company, was only five years old when he first started taking apart watches. Of course, back then he didn't have the ability to put them back together. Instead, they would be rendered into a pile of debris, so when family or friends had a piece that had run its course, they would hand it off to him with no expectation of getting it back.
"I would just sit there and dismantle any piece that I could get my hands on," says Weiss from his workshop headquarters. Those pieces weren't exactly of the highest caliber, but they helped ignite a fascination with the tiny mechanisms. "I didn't know that there were people who actually got to put them together as a job."
Since then Weiss has come a long way, all the way to Switzerland and back, where he honed his craft inside prestigious houses like Audemars Piguet and Vacheron Constantin. That experience, paired with an apprentice-style education under Swiss watchmakers, gave Weiss all the tools he needed to open his own watch company out of California.
Men's Journal spoke with Weiss on becoming a watchmaker, being a tradesman in the digital age, his Crown & Caliber-backed podcast Watch and Listen, and building an American-made brand.
How did you first learn about watchmakers?
My parents asked me to help them buy a watch for my brother as a present. They didn't know too much, and they knew how much I was crazy about them. I came across this collector while I was shopping around and ended up talking with him quite a bit. He was the one who first told me about the watchmakers in Switzerland, he had been there and visited some of the factories. I was amazed by the stories of people actually hand-making and polishing the parts.
How did you start training to become one?
I found out from a family friend that there were watchmaking schools, and a certain program called WOSTEP [Watchmakers Of Switzerland Training And Education Program]. They operate with a Swiss curriculum, and while most are in Europe, there are three very small ones in the United States. They cap it at eight students for two years full-time. There was almost no book reading. It was all hands on. Two Swiss watchmakers and the head of the program fly in to grade your final tests. Getting the call that I passed was one of the best phone calls I have ever gotten.
What came for you next?
One of our instructors worked for Audemars Piguet, and I got a job offer from them right after the test. They flew me out to Switzerland, to Le Brassus in the Vallée de Joux, just north of Geneva. It is the watchmaking capitol of the world. I had never been to Switzerland at the time; I had only seen photos and read about it. They drove me through the mountains, through this little village where Audemars has taken over pretty much all of the buildings. Every one of these beautiful, farm-style buildings is working on some part of their watches or built around the workers. I got to walk through the factories and see all of the people assembling or doing complex repairs. There is one special restoration workshop where these very experienced hands are able to work on almost any piece that Audemars ever made. Plenty of antique tools that they don't even make any more, some of the machines are still manual. It was a life-changing trip. I got the chance to go back when I started working for Vacheron Constantin, and stayed there for a couple of months. I got to train in complex watches with them, which meant I got to explore quite a bit more.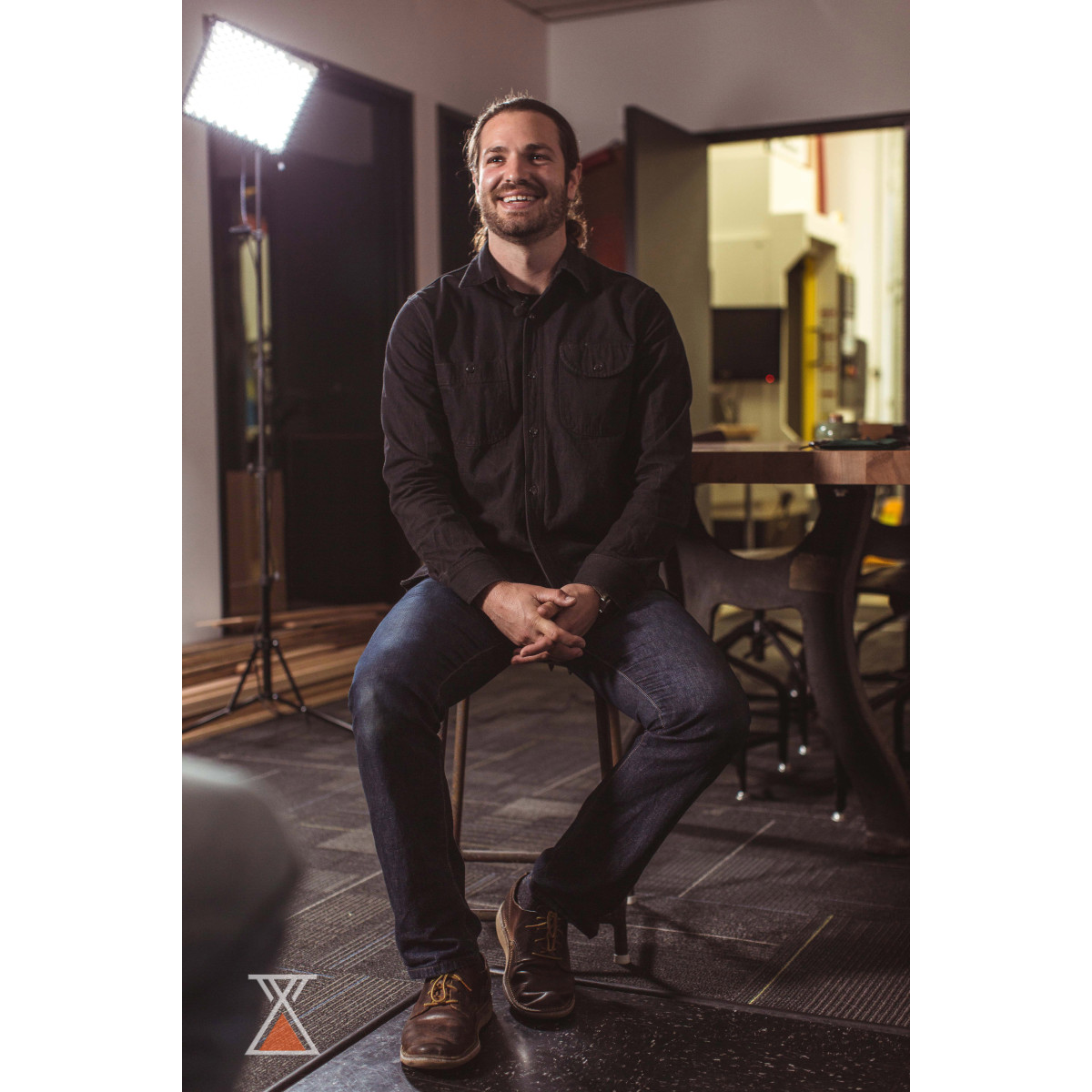 Did you ever plan on living out there?
The idea of starting my own watch line was always in the back of my head, and I thought that I would have to live in Switzerland to do it. That was just the way it had always been done. I was waiting for my French to get good enough, and to get enough contacts, but while I was working at the Vacheron boutique on Rodeo doing repairs on old pieces, I realized that I could do it right here in California.
How did that realization come to you?
I had already started making watches for myself, and I would wear them whenever I wasn't at the boutique. People stopped and complimented them or asked where I had gotten them. I would attend these pop-up events for American denim lines, which were full of people who cared about craftsmanship and aren't an electronic watch crowd. But they weren't going to spend thousands on a Swiss timepiece either, so what they needed was a product that had all the mechanics while keeping the cost reasonable.
How did you start building?
I bought a whole workshop from the widow of a watchmaker. It was an amazing collection and I was honored to get it. I still have his workbench and a lot of the tools I got from him. There are so many tiny hand tools that are tailor made for just one precise purpose. Pin vices, screw drivers, and just gripping parts while you work on it. The tools have to be in perfect condition, because you can damage the piece if it hasn't been taken care of expertly.
What problems did you come across?
The biggest issue was finding local manufacturers and machine shops that would help make the raw parts. For my own watches, I had been doing everything on my own, with my own hands, but to make a run properly I needed to find people that could help with that part of the process. There were many months driving around meeting with shops in the Los Angeles area. There were a lot of companies that just wrote me off, but there were a few that were excited by the idea. Many of these companies hand never made watch parts before—they were making gear for cars and planes, and so it was a completely new business for them as well. Some of them we still work with to this day.
How did you go about designing the look of your watches?
I wanted to create a brand that was distinctly American. I was a diver growing up and have spent a lot of time in the ocean. I worked for a company that built underwater camera housings before I started making watches. That job not only gave me access to CNC machines but also this beautiful and complicated diving gear. During that experience I discovered this love for old dive equipment and antique gauges. That, along with a fascination with aviation instruments, influenced my design for my first Field Watch.
How has the watch industry changed since you have been in it?
I think the watch industry has become a lot more fun than it was say five years ago when we first started. Everything was done a certain way and there weren't a lot of the younger brands that exist now, not just outside of Switzerland but also inside of the country. People are starting to understand that you can buy a watch that isn't a Rolex and that can have its very own cool factor. They are much more open to having a diverse collection with new names in it, which can be discovered in new marketplaces like Crown & Caliber.
What are the benefits of sites like Crown & Caliber?
One of the really cool benefits is it is a great way to find old watches outside of the standards we usually see. There is a really unique selection on there from brands that had been sort of lost to history. They are the kind that could become your favorite new piece, one that turns heads, and before Crown & Caliber, you may have never known it existed. I remember while doing an episode of our Watch and Listen podcast they sent us a white gold Blancpain where the case back opened up to reveal a sapphire. Nobody produces anything like that anymore.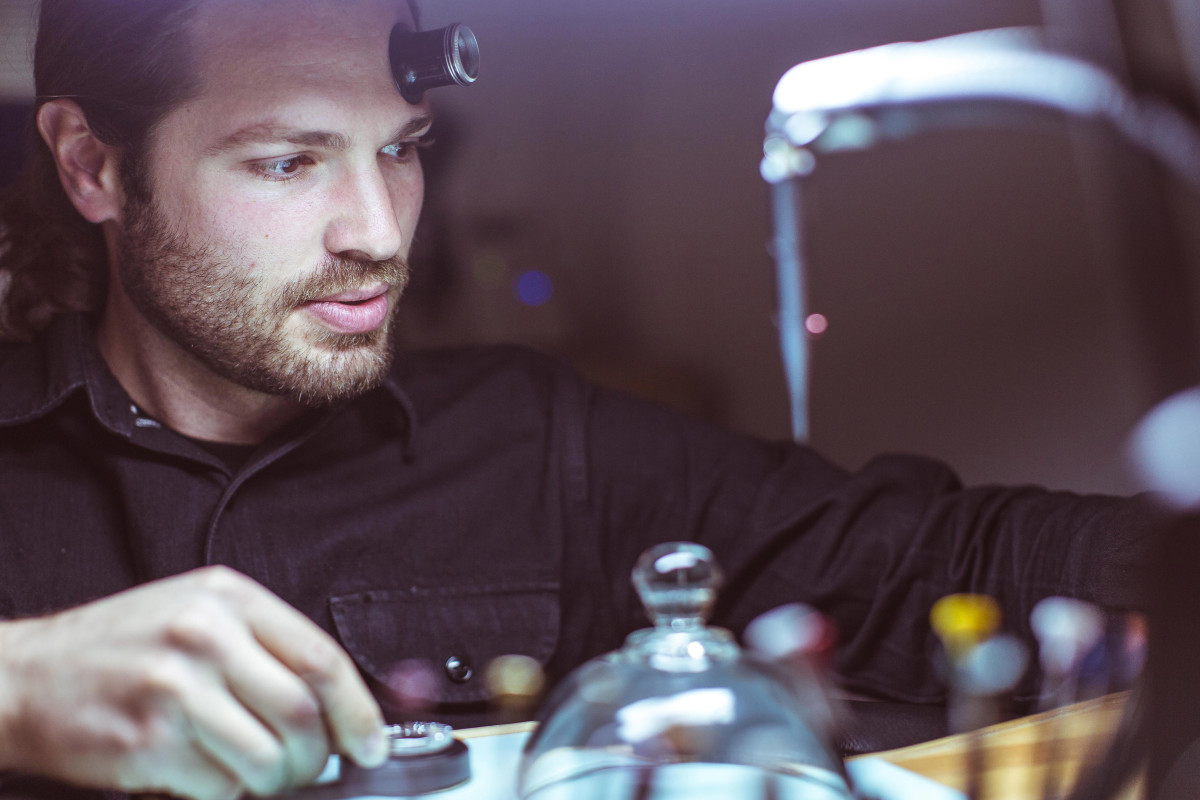 Now you do a podcast with them as well. Why did you want to create Watch and Listen?
I enjoy getting to do the podcast because for so long I was only focused on what I was doing and the watches that I was making. The show gives me an opportunity to really look at what others are doing in the industry and that makes me an even better watchmaker. For most of the episodes, Crown & Caliber will send us a batch of pieces that I get to play around with, and because we also shoot on video, I can show people what is going on inside of them. Some of the pieces I have been really thrilled to get my hands on. They sent us the JLC Duometre Chronograph, which is just an unbelievable and gorgeous watch. One of the most beautiful things I have seen in person.
Have you found a lot of young people interested in becoming watchmakers?
I take apprentices in, which has been a great experience, to help me with the production. I don't get as many as I would hope for. I think it's tough in Los Angeles with the cost of living so high. People are interested in it, but they don't have the time to really invest in building the skillset. There have been some successes still though, one of the guys I had working for me has gone on to start his own company. I can only hope that more and more makers will start up here in the United States. That is one of the main goals I have: to create an infrastructure to have more watches made here.
Now that you have your own workshop, outside of your apartment, what does a day look like for you?
I have a Sprinter van that we have set up for camping that I drive to the workshop. I love the walk through the back, roll up doors in the morning, seeing all the raw materials laid out ready for the machine shop. I have to be extremely diligent at not sitting down at the computer to look at emails or check my phone when it buzzes. So instead I will write a note to get organized and stay away from the laptop. I enjoy having that quiet time to myself in the workshop, getting time at the bench.
I always have a coffee to sip while building; there are so many great roasters around here. I have made a lot of friends in the coffee industry over the years. I will lay out all the parts of a piece in front of me, ready for assembly, and play some music while I work. Finishing one can take a few days, but I love it.
What is the best part of your job?
The most rewarding part is seeing a watch that you built out in the wild, whether it is at a car show or on the street. I will usually try to say hello, or ask them where they got it. One morning I drove up next to a guy at a traffic light and I saw one of my pieces on his wrist. I have to say that made me smile.
For access to exclusive gear videos, celebrity interviews, and more, subscribe on YouTube!