Over the years, Saturday Night Live has earned a reputation for its cast and staff putting in long hours and grueling weeks to get a show on the air. From marathon sessions writing jokes, to starting from scratch on skits that aren't working, it's basically a six-day-a-week job during the season. As head writer and co-anchor of "Weekend Update" on SNL, Colin Jost knows this all too well.
Jost has been working on the show for over a decade, having started back in 2005 as a writer before rising up to be one of the co-head writers. Over that time, Jost has figured out how to balance all his responsibilities to get things done. For all the craziness that can go on when you're writing comedy for hours on end, Jost's tips are pretty simple.
"It's a little exercise and sleep," Jost told Men's Journal. "It's crazy, because you do the show every week and then you kind of forget what you did last week, because you're working on the current week, and on it goes. If I can do some kind of exercise three or four days a week, it helps keep me sane. And I know sleep is obvious, but it can really help things to wake up fresh and work more efficiently the next day, rather than stay up all night and work like I did back when I was like 22."
Jost got to put some of those tips to work this summer while starring with Green Bay Packers quarterback Aaron Rodgers on a new campaign for Izod. Jost gets pretty physical in the video, which he co-wrote and makes fun of some of the more traditional menswear ads and clichés of the past.
I became an expert with nunchucks, and now I have a pair in my office so I can try and intimidate young writers.
In the campaign, Jost and Rodgers teamed up to make some meta jokes about those traditional ads, and show off some of Jost's other "skills" in the process—like playing ping-pong with nunchucks:
Jost spoke with Men's Journal about his favorite Saturday Night Live skits he got to work on, his essential travel tips, playing football with Aaron Rodgers, and who he's rooting for this NFL season.
What are some of your favorite jokes you've worked on for Weekend Update?
I really liked writing and working on the "Drunk Uncle" character that Bobby Moynihan would do was one I enjoyed, and he was just so good at it. I also really enjoyed the character Cecily Strong would do, the "Girl You Wish You Didn't Start a Conversation With At a Party," and writing for the David Ortiz "Big Papi" character that Kenan Thompson would do. The three of them are all such great performers and I enjoyed writing those characters and coming up with jokes for them. They're all incredible actors so it's crazy to have written some of them, and then be on "Weekend Update" alongside them as characters. It's so fun to be out there with them and see how much the audience loves them. That's a special thing I'm enjoying more now that I'm not constantly a ball of nerves out there so you can go out there and enjoy those moments and have fun.
What was it like working with Aaron Rodgers and getting to show off some of your football skills in the Izod video?
The whole crew was great for it and they made the experience really enjoyable, it felt like a vacation in that sense. Aaron was really funny in it, and he has a lot more experience at this point with commercials then I do, so it was fun to see him set the tone and be really funny by playing it straight and get the tone right.
You got pretty acrobatic in the video. Was that you doing all your own stunts?
Absolutely, I do all my own stunts. Sometimes, the way I do them is so impressive that you have to get someone else to do them, but I attempt all my own stunts and sometimes someone else eventually has to get in there. I may not be successful, but I try. The crazy skills competition was funny and I did actually get to learn to use nunchucks a little bit. I became an expert with nunchucks, and now I have a pair in my office so I can try and intimidate young writers [laughs]. I'm not really a skilled ping-pong player, so I had to learn a little bit of that on the fly too.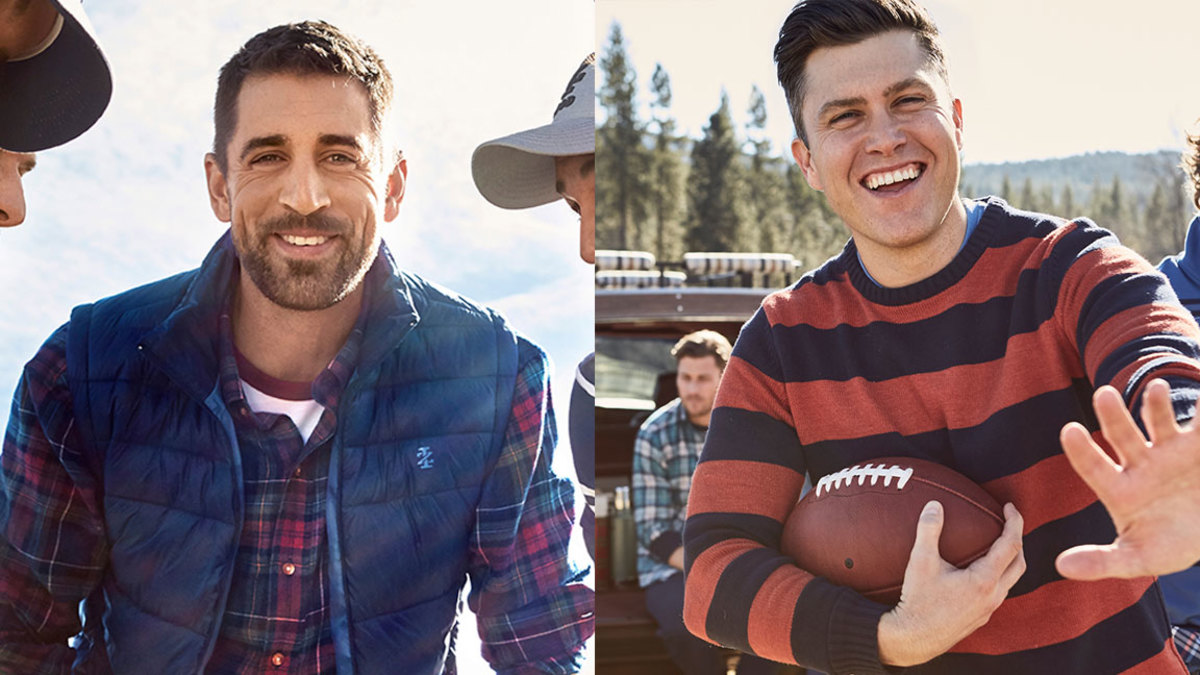 What was it like being able to show your personality in a different setting than SNL?
It was liberating and fun to do it. I don't get to film a lot of things on the show because I usually have my hands full with "Weekend Update" and writing a lot of other sketches, so it was really a lot of fun to get to do it. Being on the set like that was some of the most fun I've had in the moment of shooting something and it was just a really cool experience. It was easy in that sense to be working with someone like Aaron on it.
You do shows around the country and travel a lot during the year. Do you have any travel tips or any essential gear you always try to bring with you?
These days, definitely a phone charger. I still manage to somehow forget it even when I remember it. Something essential I think is a good is having a pair of shoes you can wear for everything when you're on your trip. If you can wear them most days, that's pretty big because they can take up a lot in your bag, and if you could only wear one pair of shoes for a week and get away with it—I am always happy doing that. Having multiple shoes on a trip is a lot if you're just taking one bag. At this point, I've really streamlined things and I've learned through experience what to bring and what not to bring. I keep it as simple as I can, basically, if I can wear most of my outfit for the week right on the plane I'm pretty happy.
With football season about to start, do you have a team you root for?
I am a big New York Giants fan. I'm excited for the season and to see what Saquon Barkley can do. I'll admit I'm also a big Aaron Rodgers fan as a football player, so it was pretty cool to appear with him in a project like this. It's pretty rare you get to do that with an athlete you watch play, so it was really cool to work with him.
For access to exclusive gear videos, celebrity interviews, and more, subscribe on YouTube!