This article was published in partnership with HOMMEFACE.
You might find yourself wondering, "Do guys really need a skincare routine?" And the answer is yes, absolutely.
Just like every other part of your body, your skin requires some work and attention to keep it looking its best.
That doesn't mean you need to line your bathroom counter with 17 different serums, toners, masks, and creams. Instead, focus on building a simple yet effective skincare routine with a few high-quality products that get the job done right with minimal effort.
A great place to start if you're new to skincare is with a pre-assembled set of products, like this one from HOMMEFACE.
Get It
We love that HOMMEFACE already took the time to determine which products work best together, so you don't have to. The products in this Daily Skincare Trio Set are also conveniently numbered, so you don't even have to worry about which order to use and apply.
The set includes a Daily Face Wash, Herbal Spray Toner, and Face Moisturizer—the perfect trio to get the job done (aka not too many that you'll get lost in your routine). Designed for simple, daily use, these three products are formulated with key ingredients like Centella Asiatica Extracts, Tea Tree Leaf, and Witch Hazel extract to cleanse, deep-clean pores, remove excess oil, and protect skin from minor irritation, like shaving.
Plus, at only $45, this trio is gentle on your wallet, as well as your skin.
If you're looking to create a skincare routine that addresses a more specific concern, like fine lines and wrinkles, spring for the Advanced Age Defense Skincare Collection.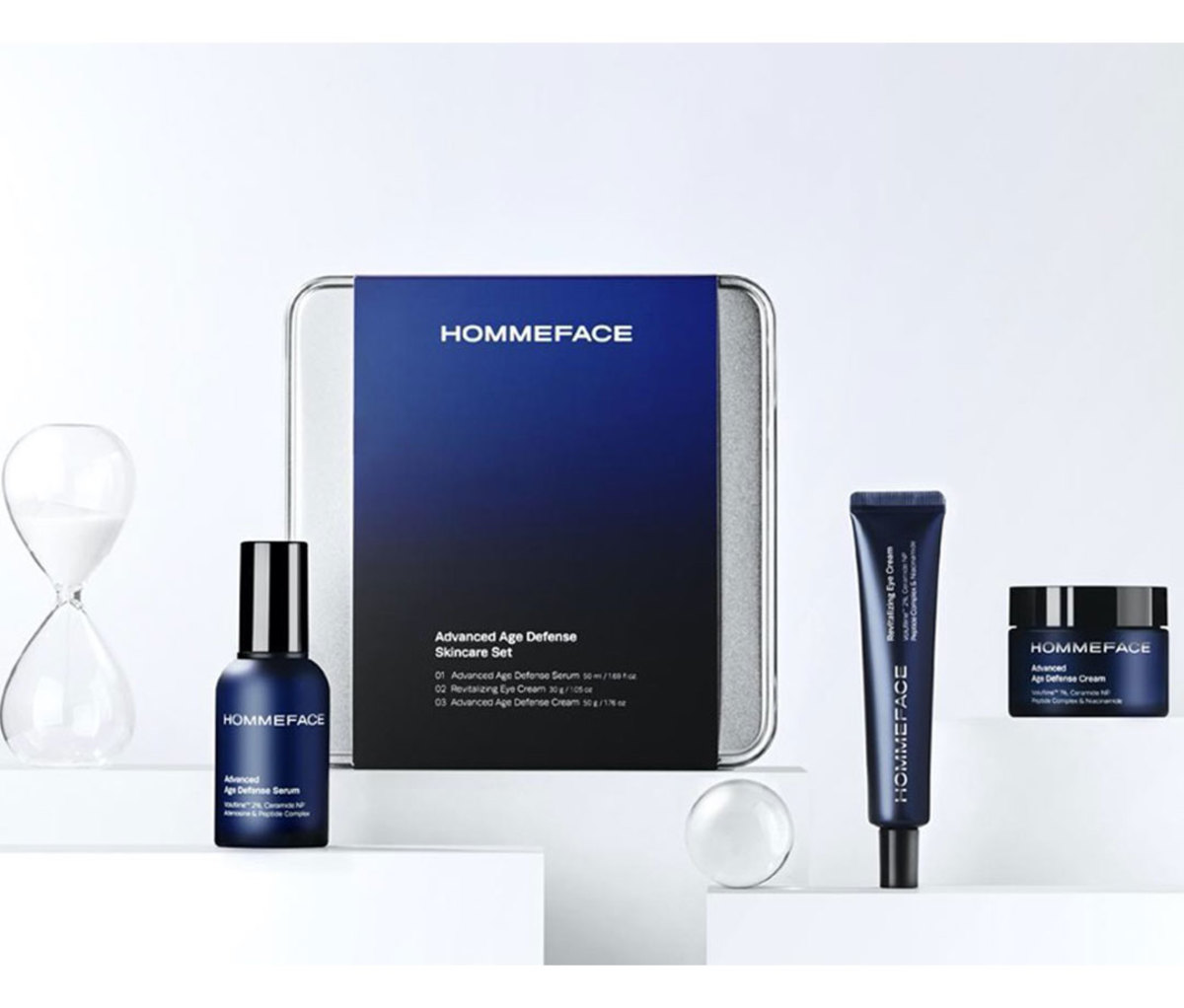 Get It
This kit is perfect if your main concern is conquering the signs of aging. The complete three-step, anti-aging system includes Advanced Age Defense Serum, Revitalizing Eye Cream, and Advanced Age Defense Cream.
All three products contain a groundbreaking key ingredient, Volufiline™, with skin-plumping effects that help firm, lift, and add volume to aging skin. The products also contain ingredients like ceramides, peptide complex, collagen, and niacinamide, which are ideal for keeping your skin looking youthful. All three products in the set, as well as HOMMEFACE's entire product line, are clinically tested, 100 percent vegan, and certified cruelty-free by Leaping Bunny.
Developed with guys in mind, these two kits from HOMMEFACE are a great place to start if you're new to skincare, but want to create a simple, effective routine that'll actually work. They also make an awesome Father's Day gift idea for any guy, whether you're shopping for a skincare rookie or a seasoned skincare pro.
Check out HOMMEFACE's full product line here, and use code GIFTFORHIM for 15% off of all products just in time for Father's Day.
For access to exclusive gear videos, celebrity interviews, and more, subscribe on YouTube!