Three years ago, an obscure New York City–based startup stunned the tech world when it received a billion-dollar valuation from Wall Street. Gilt Groupe, conceived by two Harvard grads, wasn't an app featuring cartoon birds, or a social media platform—it was just a website that sold high-end clothes at a discount. That moment, now largely forgotten, marked a profound shift in how Americans purchase their clothes. As of last year's holiday season, almost 30% of Americans' total online spending went toward clothing—tripling the amount spent on phones and gadgets. We'd all seen it coming, but suddenly the mall was out of fashion.
The good news is that guys couldn't care less about the mall. The bad news is that Gilt's success spawned countless competitors, turning the online fashion marketplace into an unwieldy muddle of "deal" sites, frenzied sales sessions, and "membership" portals (to say nothing of the daily onslaught of newsletters and promotions from traditional retailers). So you're not alone if you want to buy your clothes on the Web but haven't a clue where to begin.
To help you curate your closet without leaving the comforts of your desk—or getting screwed—here's everything you need to know.
6 Celebrities Who Have Men's Fashion Lines >>>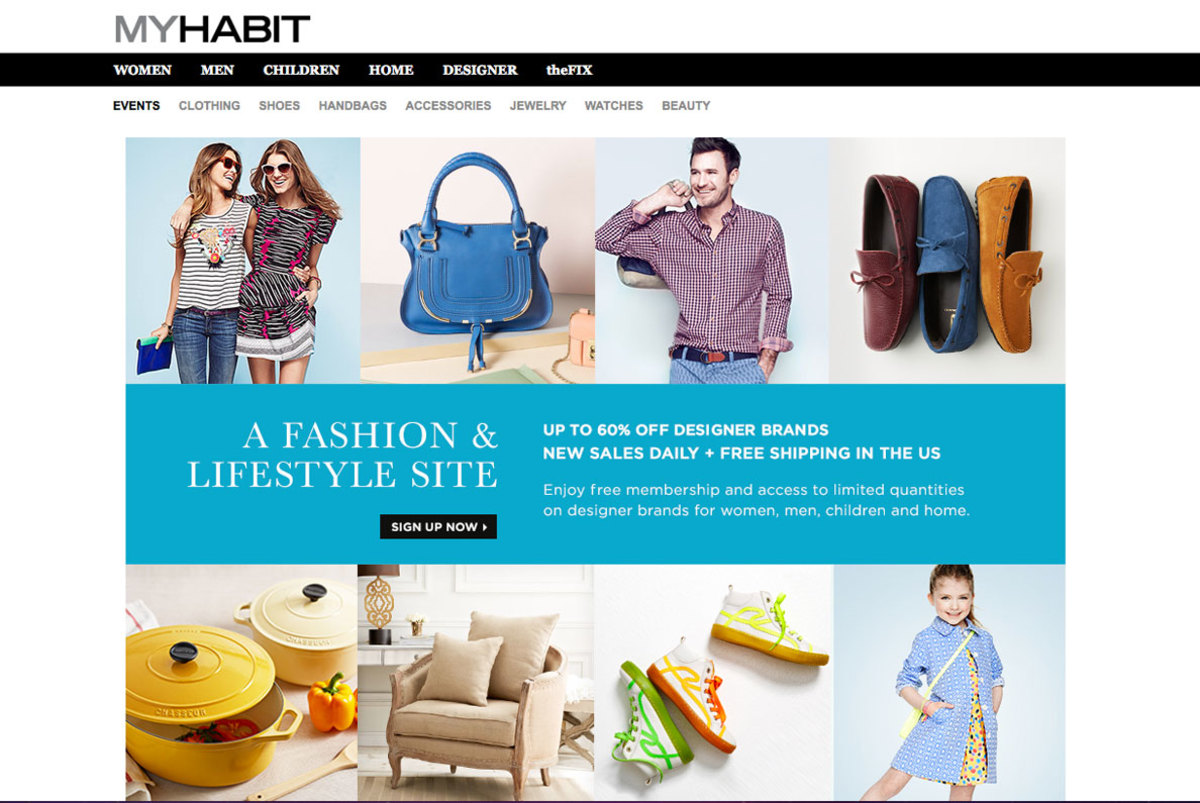 Flash Sales
These wildly popular "events," where clothing companies off-load their excess or overstocked goods at the end of a selling season, hawk brand-name clothes and accessories at up to 60% off. The catch is that there are limits on both inventory—maybe just a few items in each size—and timing, as the shopping window is usually confined to 24–48 hours. The male-friendly leaders in this category include MyHabit (myhabit.com), JackThreads (jackthreads.com), and, of course, Gilt Groupe (gilt.com). Though these sites tout their exclusivity—which you'll never forget, thanks to their relentless e-mail campaigns—know that "membership" isn't terribly hard to come by. All you have to do is sign up.
MyHabit, which is owned by Amazon, contains the biggest selection of clothes across the fashion spectrum. Unfortunately for guys, it lacks any sort of intelligent curation. So unless you know exactly what blazer you want, prepare to scroll through 476 identical navy jackets. JackThreads, which was founded in 2008 by a college grad to help his buddies buy clothes, specializes in more youthful attire, such as skatewear. The best site for flash sales, bar none, is the original: Gilt Groupe, thanks to its trimmed-down, upscale selection and overall user-friendliness.
When navigating a flash sale, I recommend adopting a singular mindset: Scroll with the purpose of replenishing the staples of your wardrobe from designers you're already familiar with. This is because the return policies of these sales can be tricky. (Gilt, for instance, issues site credits rather than refunds.) And the sales are littered with what are known in the fashion business as"off-price" products: merchandise hastily assembled to be sold at places like outlet malls. In other words, the stuff is cheap, but not necessarily a bargain. But it's easy to spot the frauds: Use the image's zoom function to check the label on a garment's neck or waistband. If it isn't identical to one from the same brand hanging in your closet, but rather a slight variation or different entirely, it's off-price.
And remember: Most flash sales start at noon Eastern and stock depletes fast, especially among standard sizes. So either shop in the first hour or skip the sale entirely.
19 Things Every Man Should Own >>>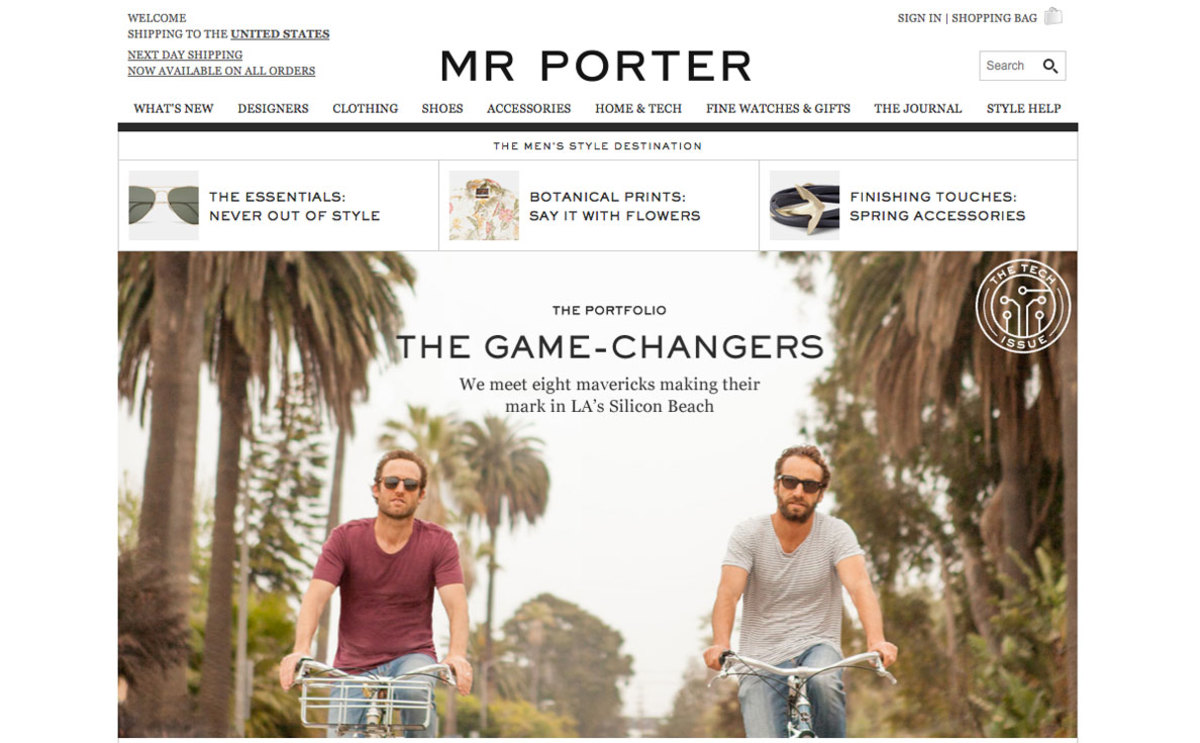 Frankensites
Meet the hybrid site, a retail outlet disguised as a lifestyle publication. When you arrive at the homepage, you'll find video interviews, street-style slideshows, and glossy-magazine-style celebrity profiles. But don't be fooled: These features are intended to lure you into opening your wallet to buy the clothes that sit quietly alongside the articles. (For the record, the official fashion-industry name for this online creation is "shoppertorial/magalog." Seriously.) The three big moneymakers in this category are Ssense (ssense.com), Mr Porter (mrporter.com), and Asos (asos.com).
Though its appearance (and prices) will prove tempting, I'd advise you to steer clear of Asos, which tends to receive a lot of negative reviews—especially for its own brand of clothing—and whose products may fall apart after only a few wears. Ssense's problem, on the other hand, is too much quality: Its items are too fashionforward for the regular guy. (Unless you want to hit the town in a leather-studded cape from Alexander McQueen.) Mr Porter, meanwhile, specializes in menswear you may actually want: suits from Savile Row's Richard James, sweaters and cardigans from John Smedley, and canvas swim shorts from Vilebrequin.
According to menswear guru Mickey Sery, there are exactly three lesser-known brands that every guy should have in his closet: Michael Bastian, Todd Snyder, and Band of Outsiders. Each is slightly preppy with a subtle edge—and more than any other Frankensite, Mr Porter is brimming with this stuff. Unfortunately, everything goes for full price—that is, except during Mr Porter's twice-yearly "blowout sale." So take advantage of the site's "wish list" function (you can flag products by brand, size, and even color), then sit back and let the system do the work for you. When the biannual sale comes around, you'll get an e-mail. Simply log in and mop up. Expect big markdowns on the fall and winter collections just after the holidays each December, while shorts, T-shirts and other summer staples will be discounted in July.
10 Casual Wardrobe Essentials for Every Man >>>
Subscription Sites
Finally, these are the fashion sites that allow you to outsource your shopping entirely. When you sign up for a service, you'll answer a few questions about your personal wardrobe preferences and ambitions, and the site will go about compiling all sorts of items on your behalf, from jackets to socks to shoes to shirts. At regular intervals, a package will arrive at your doorstep. What you don't like you send back, and you pay for what you keep. The major players in this arena include names like Trunk Club (trunkclub.com), Bombfell (bombfell.com), Four Five Club (fourfiveclub.com), and Curator and Mule (curatorandmule.com).
The overwhelming consensus among the sartorially savvy is that Trunk Club stands apart for its taste and execution, with emphasis on the former. (You're essentially paying a tastemaker to do all your shopping for you, so you shouldn't expect any deals in this category.)
At Trunk Club, the clothes are indeed selected by real human beings—you're assigned a "personal stylist," who will communicate with you via telephone and e-mail—not an algorithm. Your stylist works with the intention of challenging your comfort zone. If you need some polos, for instance, they'll send you newer, hipper brands in edgier colors than the traditional ones you're used to. Each box contains 10–20 items, and I recommend being very selective about what you keep—because the costs add up very quickly.
And try to confine your Trunk Club purchases to the items in which the fit is crucial: shoes, pants, and jackets. You know, all those things you might have to try on if you still shopped at the mall. Thankfully, you no longer have to.
5 Fixes for Style Mistakes You're Making >>>
Mark Ellwood is the author of Bargain Fever: How to Shop in a Discounted World.
For access to exclusive gear videos, celebrity interviews, and more, subscribe on YouTube!