For professional golfers, there's no bigger stage than Sunday at a major. And when you're on that stage, walking up the 18th fairway with fans cheering and every camera trained on you, you've got to keep your poise and look good doing it. After all, you could be one putt away from being forever mentioned alongside Bobby Jones, Jack Nicklaus, and Tiger Woods.
So with on-course style at a premium at this week's Open Championship at Royal Liverpool, we caught up with Eric Schindler, Nike's product line manager for golf apparel. He and his team have been hard at work helping the brand's athletes look their best while vying for the coveted Claret Jug. Schindler gave us insight into how the players will dress to keep cool under pressure, stay dry in northern England's unpredictable weather, and look picture perfect should they hoist the trophy on Sunday.
Can you describe the process for creating the looks for Nike Athletes competing in the Open Championship?
At Nike Golf, the scripting process serves as the ultimate opportunity to showcase our newest technologies. We work with each athlete to define the looks for each day, taking into account several factors, including personal style, color preference, fabric preference, and our own brand statement initiatives. At the end of the process, we ensure that the player feels great about what they are going to wear and are equipped with the necessary product they need for the elements. We strive to deliver our athletes a subconscious confidence in their overall look that allows them to focus on their game and not worry about anything they're are wearing.
What kind of products are you debuting this week?
Well we built the Therma-Fit Hypervis cover up specifically for Rory. He prefers to wear a warm cover up when it is cool and, with his insights, we created a brushed Therma-fit body fabric with a bonded knit face fabric. We didn't want him to overheat so we created a mesh jacquard knit on the upper half of the garment and through the arms. The Therma-Fit fabric grins through the jacquard and acts as a ventilation system to keep him from overheating. It creates an amazing visual as well. Rory instantly approved of it when he tested the garment.
How much does what you pick depend on expected weather conditions?
Each major presents a unique challenge for us. Traditionally, the Open Championship is seen as cool and rainy. But we have to prepare our athletes for warm conditions, too. You will see that each player is given a cover up or sweater option to combat the cooler temperatures. What you don't see is that each player has a Nike Hyeradapt Rain Jacket in their bag. We think the waterproof, stretch jacket is the best in the industry because we utilize a proprietary construction that completely re-defines what a rain jacket can be. You don't have to wear an oversized, loud rain jacket anymore to stay dry. The Hyperadapt allows our athletes to stay move and perform at their peak, and all of our athletes will have them at the ready, should the rain come.
How much input do the players give in the creations of their looks?
All of our players play an integral part in the process. We have such great relationships with the players, which allow us to get to know their preferences. Most of the time, when we present the scripting, the players are on board with the final looks because we have catered to what we know their style preferences to be. For instance, Tiger is one that we have dialed in early and, because we know him so well, we usually get it right on the first try. Paul Casey is the same way. For others, it can be more of a "show and tell" type of scenario until we find just the right combination of styles. Generally, our younger guys like to drive a more youthful point of view. Guys like Kevin Chappell and Jhonny Vegas are always pushing us to help them define and celebrate their individual style. That can sometimes take a few passes before we land on the final scripting selections. We have developed a great rapport very quickly with Rory and have worked with him to create a statement look that makes him look and play great. There is a mutual trust level that is really exciting since we push a lot of new innovation with Rory.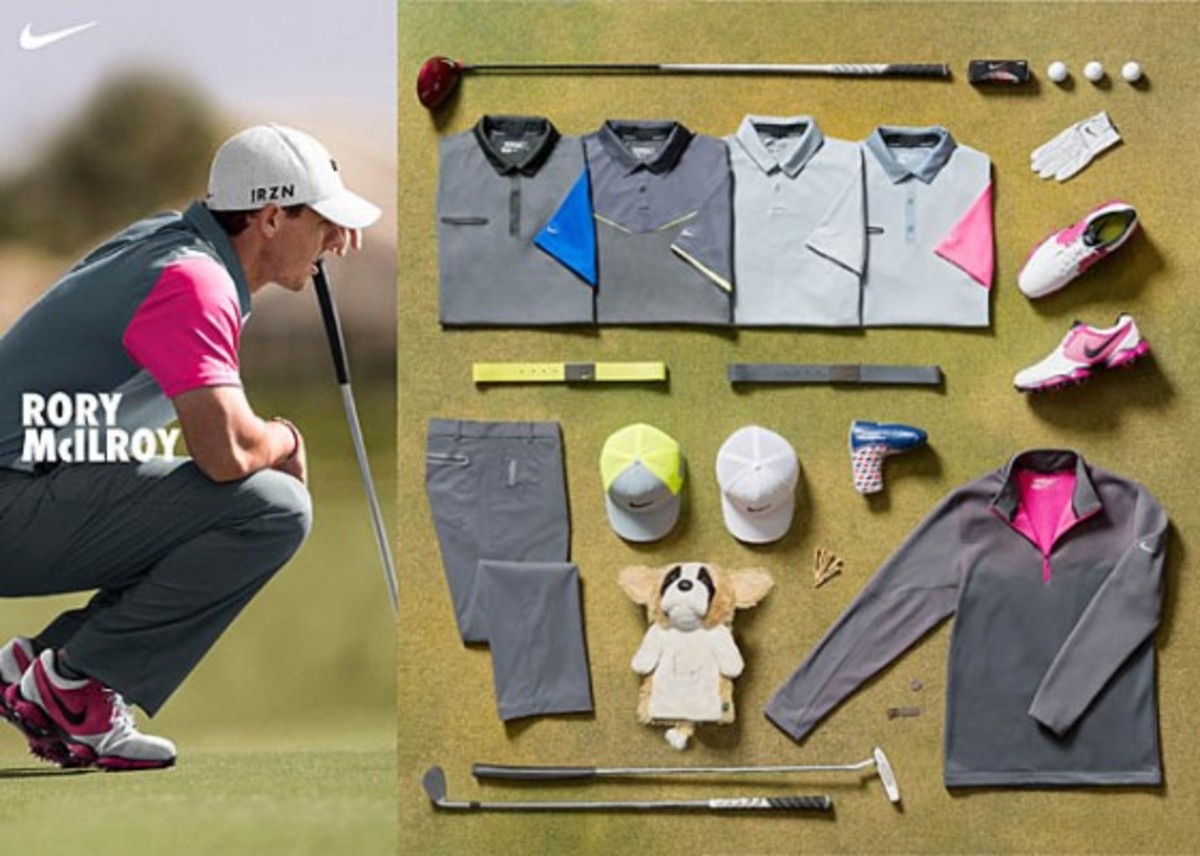 How much do the pro athletes requests or suggestions impact the eventual product line?
A ton. We make at least six trips a year to work with our athletes face-to-face. Their insights are integral to the product line and really help us shape our future. We have a very talented and vocal athlete roster and we enjoy the opportunity to work with them to shape our offerings. Many of these meetings are held at tournaments where the players can try on prototypes, take swings, and give us instant feedback. You would be surprised at how much insight you can gain in these sessions. Many times, the best insights are the ones you glean from conversations and from what is not said….you have to read between the lines sometimes.
Obviously, Tiger's Sunday uniform is iconic. Are there any details or flourishes fans can look out for?
Tiger is wearing his usual Sunday red polo, black pants, black ultralight cap, and TW 14 footwear. What's exciting for us is the re-introduction of the red sweater for Tiger to wear on Sunday. We met with him over a year ago and talked about an expansion of color for his collection, focusing on headwear and his sweater. He has a great history with the red sweater. He won his first Masters in one, and we agreed to bring it back for him. We are really looking forward to seeing that sweater, should the weather be cool on Sunday.
What are your favorite looks for the week?
I really like the looks of Woods and Rory. Tiger has the great seasonal bold print on Thursday and Sunday, while Rory will wear some great color on Thursday and Sunday. He's wearing the iconic HyperVis Therma-Fit fleece each day which, we're very excited about I am also excited about the looks we crafted for Charl Schwartzel and Thorbjorn Olesen. They are going to look great in our new camo polos and pants and make a bold statement on the course with the colors that we paired with the camo print.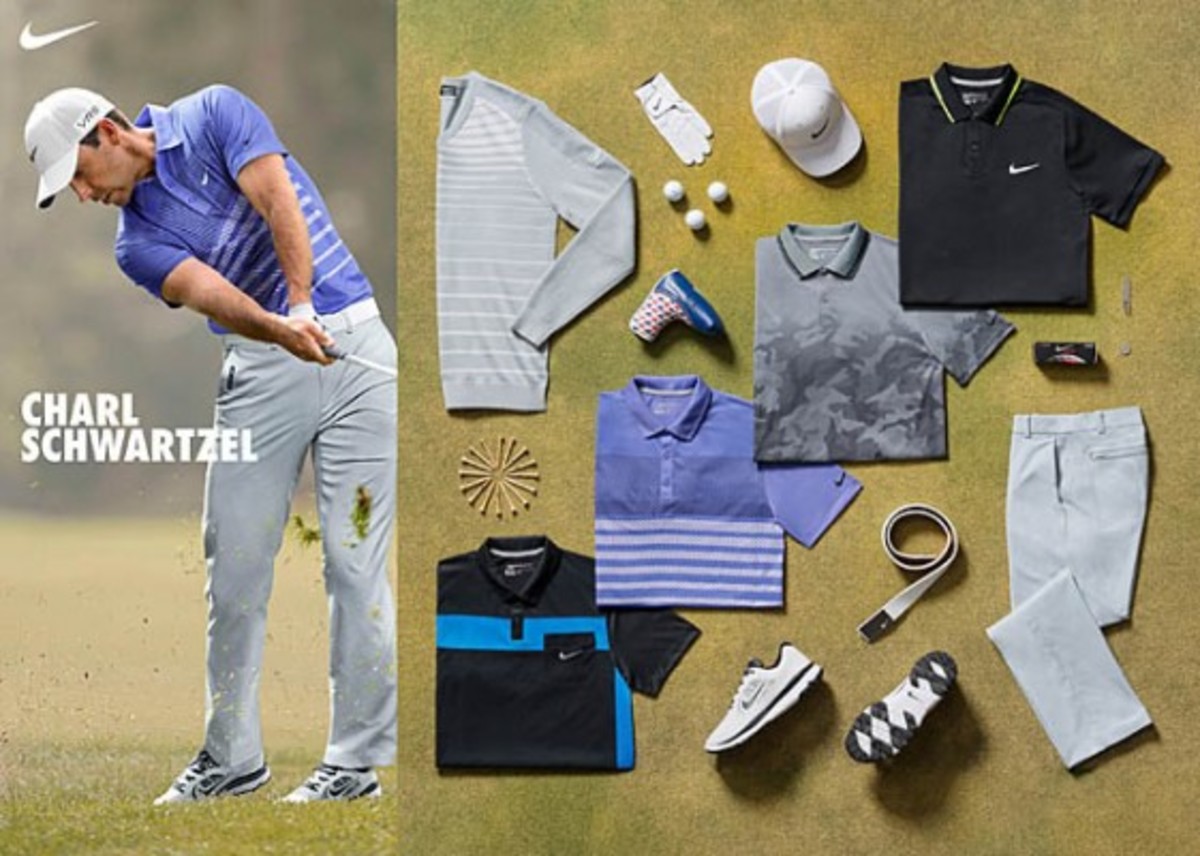 [$140; TW Engineered Sweater nike.com]