Style
Here's How Horween Created Leather for Florsheim's New Boot Collection
The latest collaboration between Florsheim Shoes and Horween Leather Co. was a century in the making. The founders of both companies were longtime friends—they were even in each other's weddings—and the brands have worked side by side for generations.
This newest collection's classic silhouette and colors are an homage to both brand's heritage. They're also damn good-looking pairs of boots. Here's the process of how the tried-and-true leather gets made.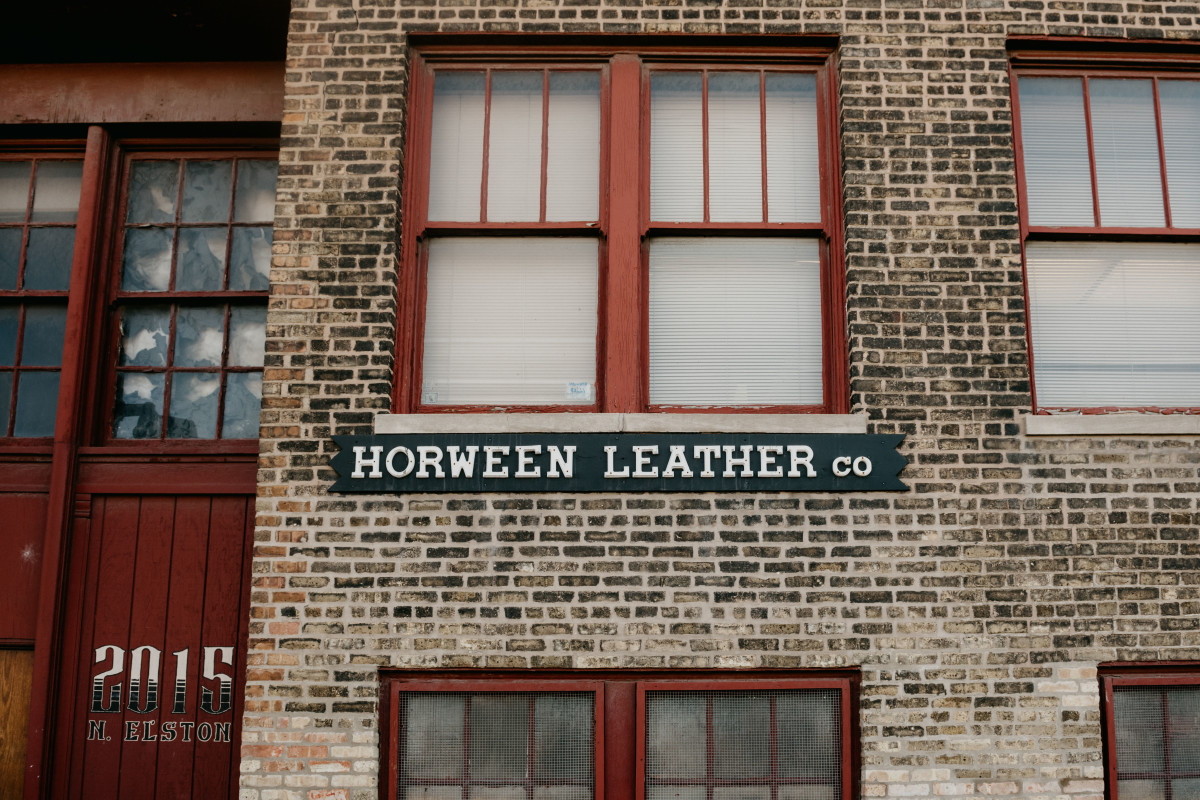 The Horween Leather factory has been tanning leather in Chicago since 1905. Originally based on Goose Island, the fifth-generation company now operates out of a factory that dates back to the 1880s in Chicago's Bucktown area. Here's the process from start to finish.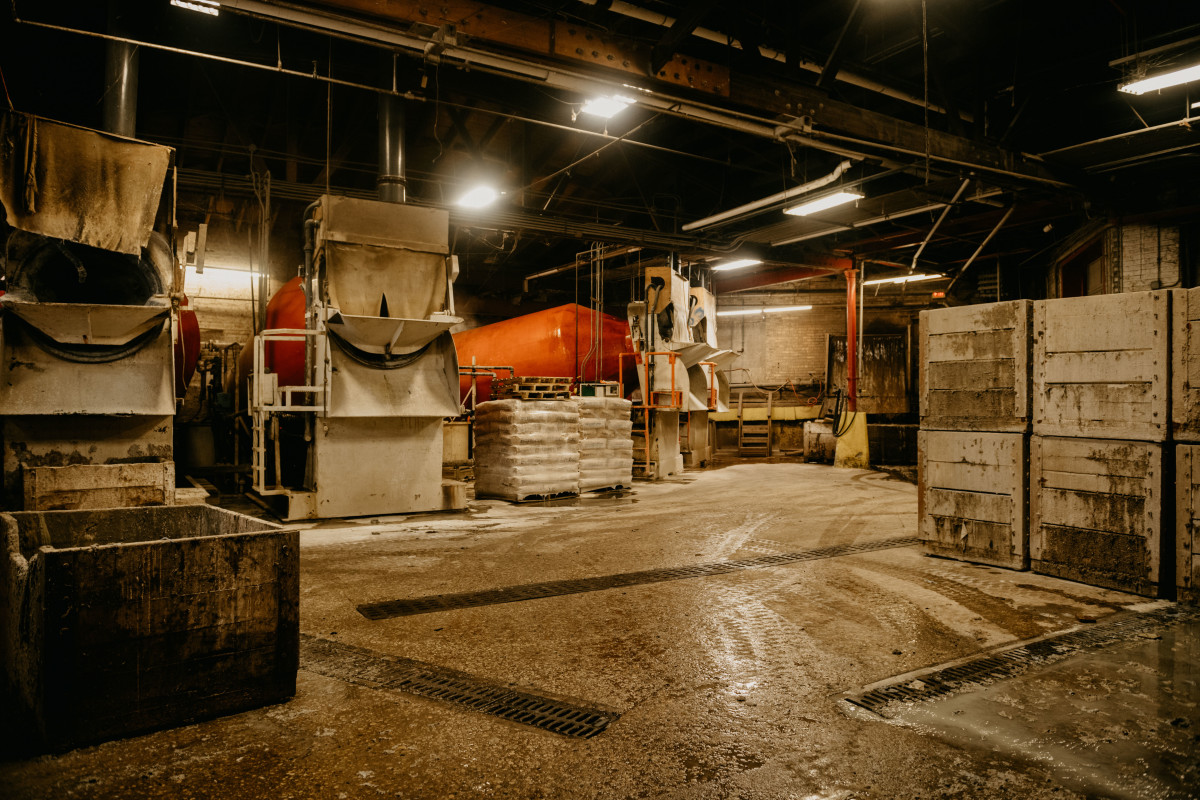 After Horween receives leather from its suppliers via railcar—a staggering 600,000 to 700,000 heads of cattle per week—they're put into mixers that burn the hair off the raw hides with an enzyme wash. This is called baiting, the step before the skins are tanned.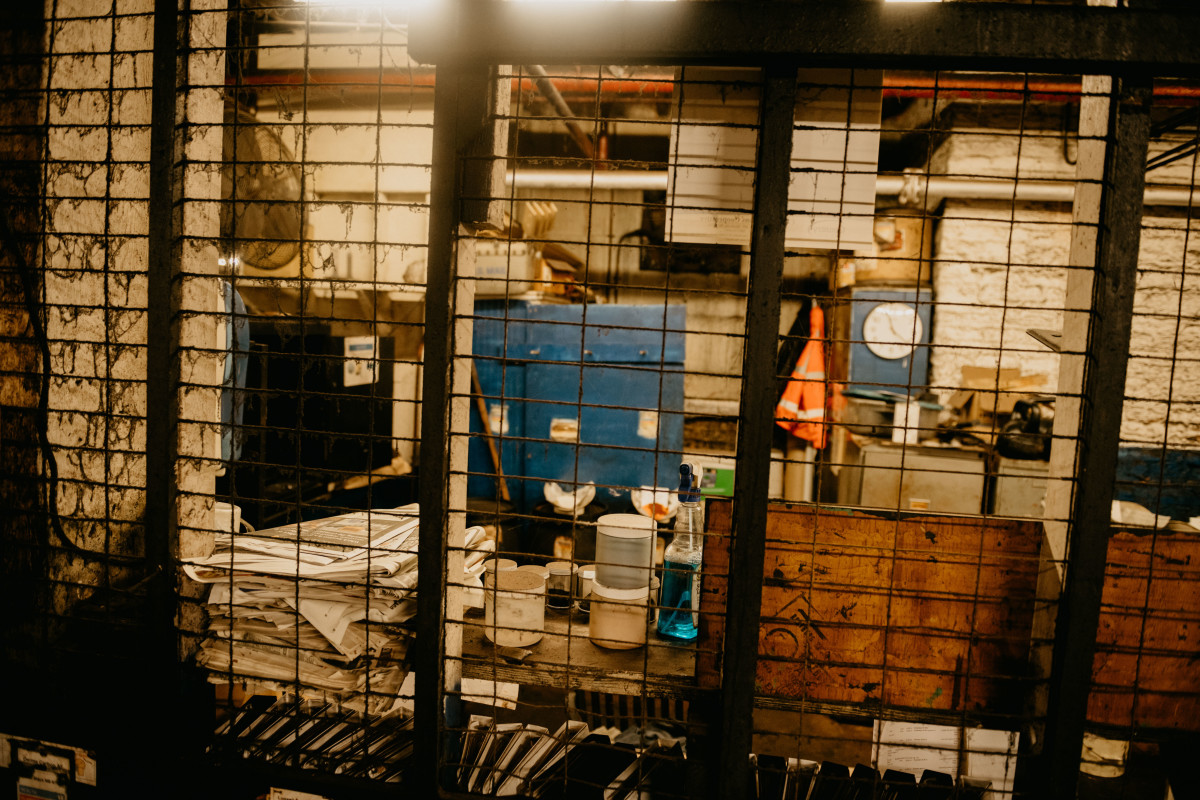 Behind a caged door lies the secret to the Florsheim collaboration's beautiful leather: a cocktail of chrome (a mineral salt that provides strength and heat resistance) and other top-secret ingredients that make its leather strong and long-lasting. The factory also vegetable tans leather with tannins from tree bark. The processes are different, yet both yield beautiful leathers.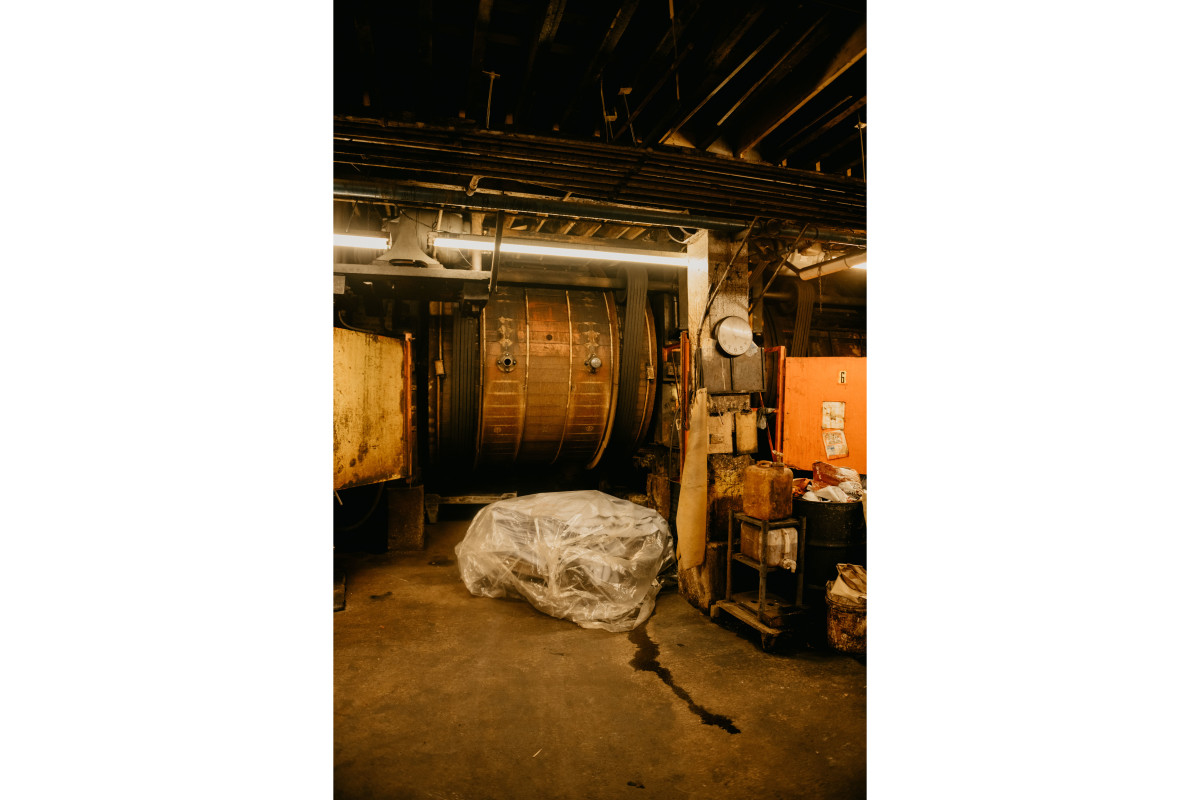 Inside the factory, you'll find one-of-a-kind, often vintage devices—like this giant drum that gives the leather its signature color—that are used in the tanning process. From rawhide to tanned leather, the process takes around six months.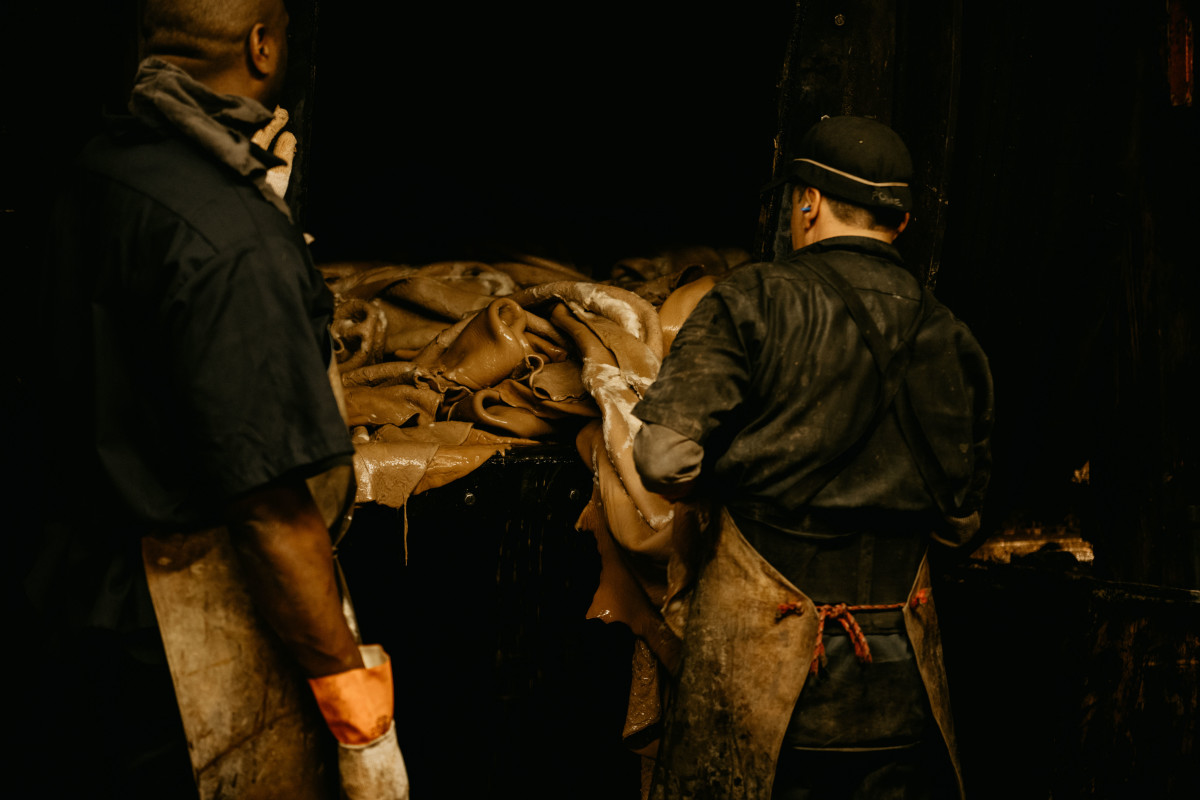 Each process involves a team of highly trained workers, many of whom have worked in the factory for more than a decade. However, their training can be intense. "If they're still here after the first month, they're usually here for life," says Skip Horween, president of Horween Leather Co.
Employees lay the recently tanned hides onto a giant, multilevel dryer before inspection.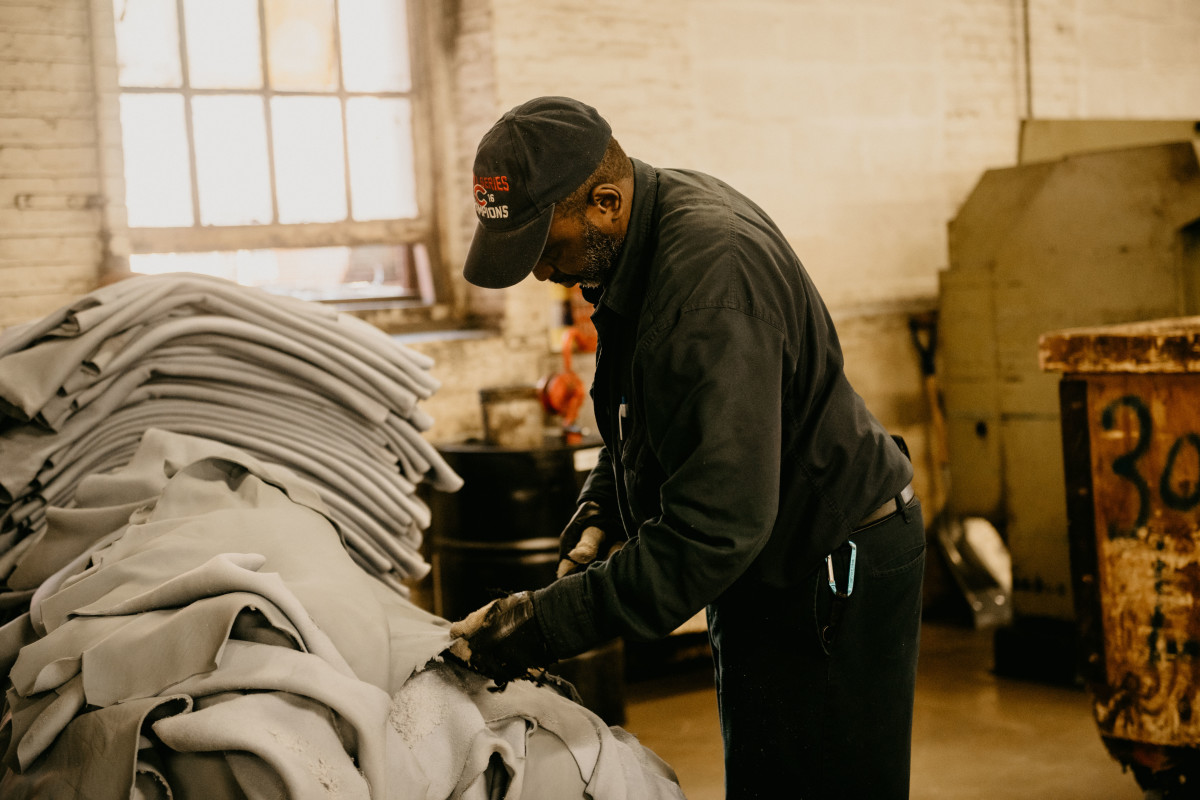 Above, the hides—which appear blue from the chrome cocktail—are measured for thickness and later sorted to be made into different products, from wallets to footwear to balls for every kind of sport.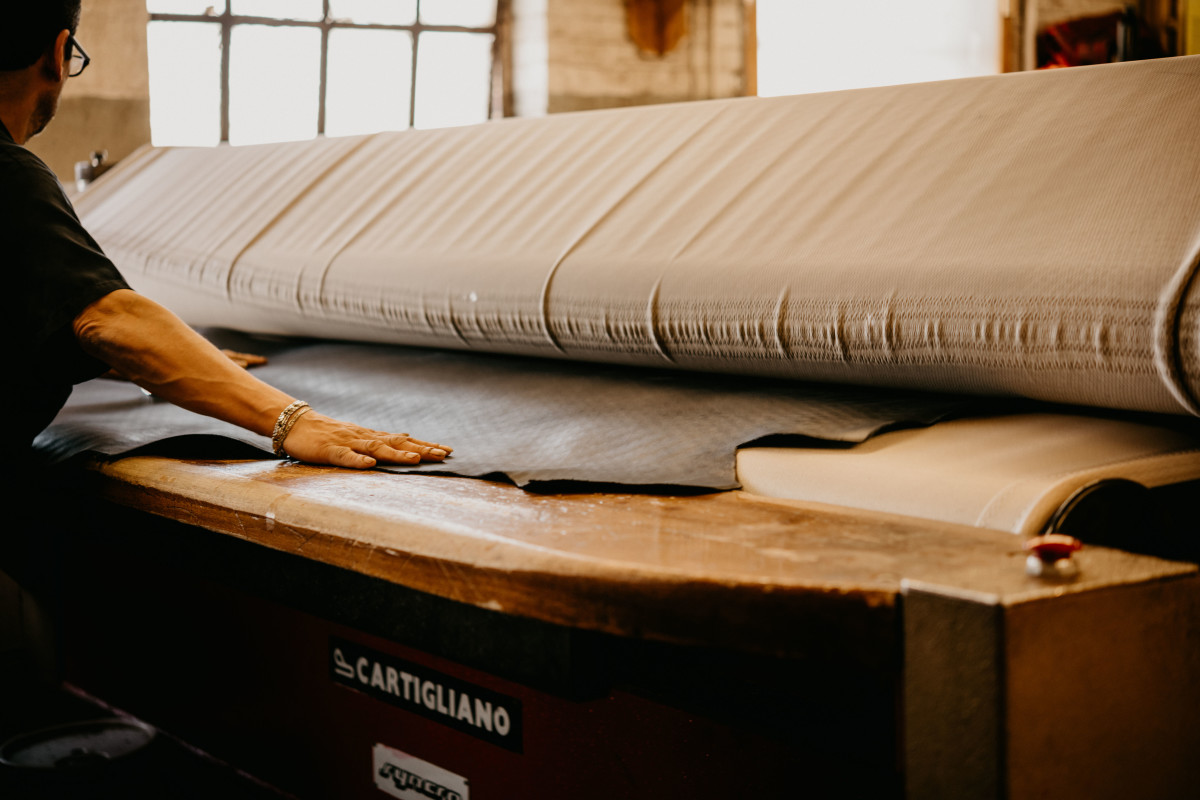 This "staking" machine prods the leather with pins that move up and down to gauge the leather's firmness, which ultimately decides which product it will be used to create.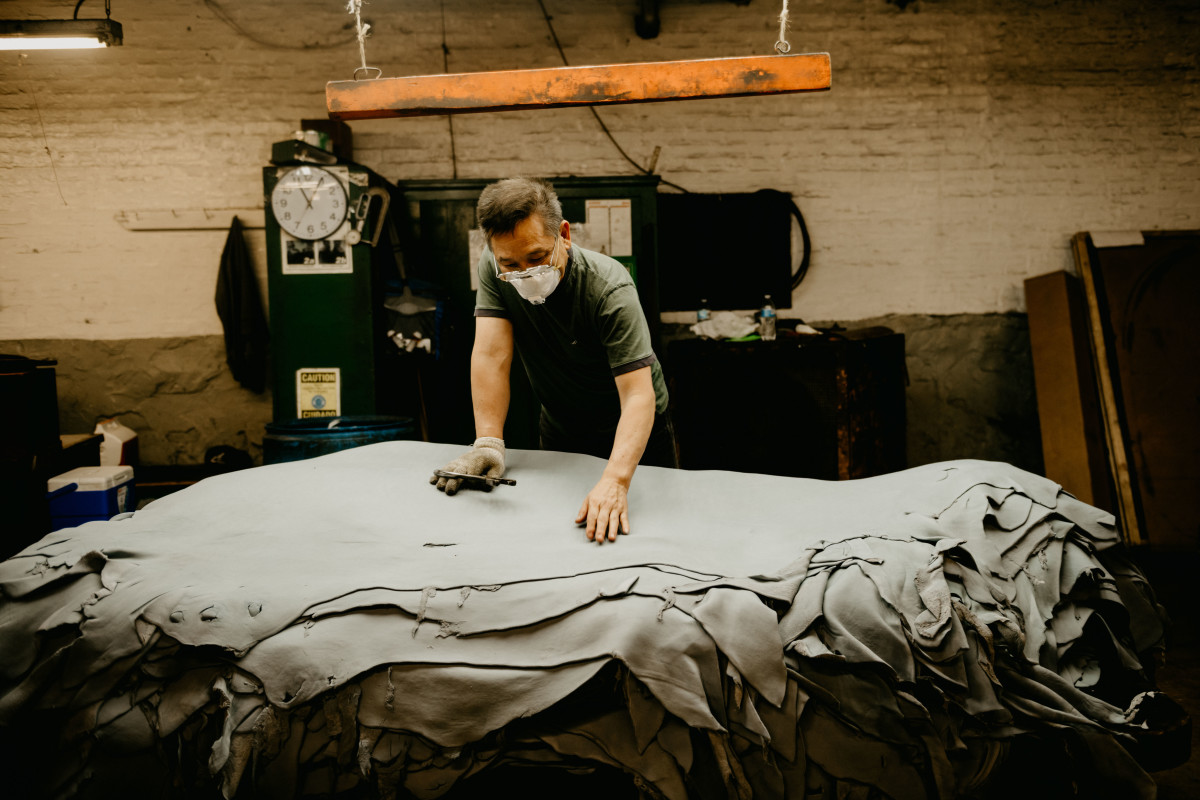 Here, a worker inspects the leathers for holes and blemishes, which determine the grade of the leather. It's then separated and moved onto processing.
Another worker marks each leather to determine where in the factory it will go next.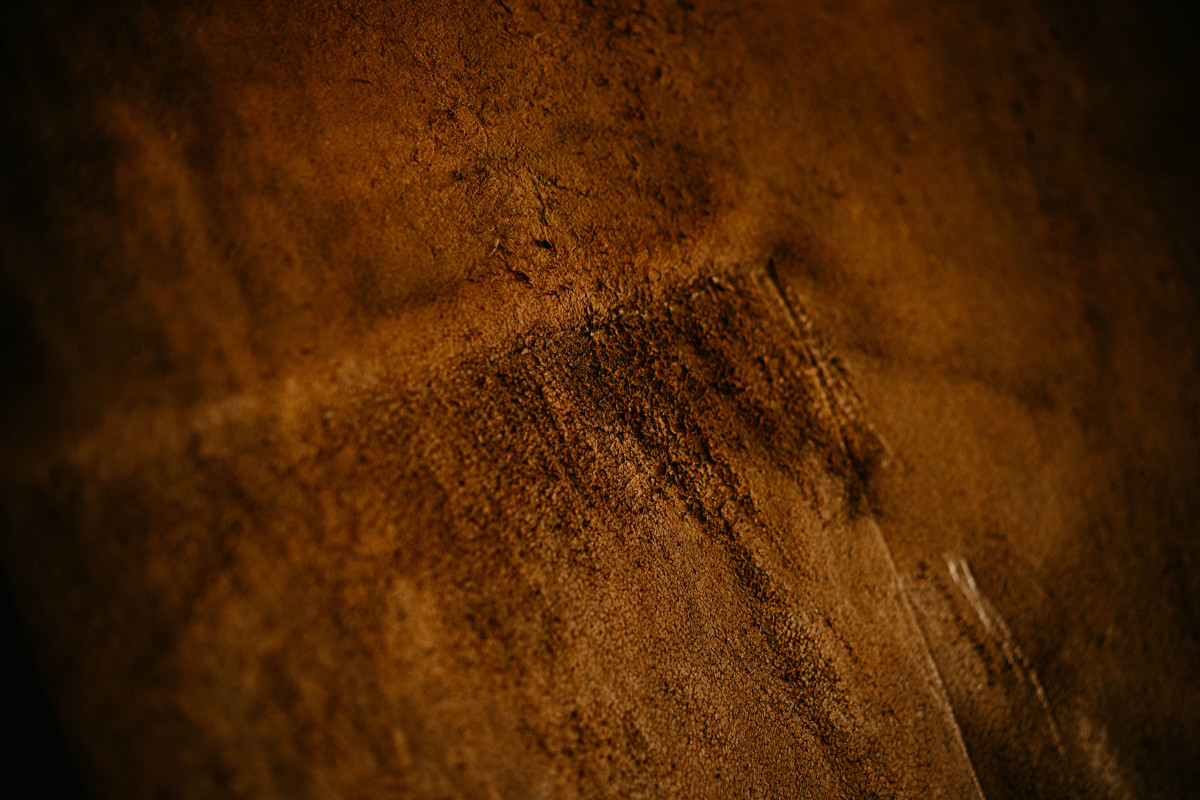 The factory also makes various suede and nubuck leathers using the inside of the leather, which is easier to process than traditional leathers because of its exposed "nap" or texture.
In addition to the leather used in the Florsheim boots, Horween also processes its famous shell Cordovan leather, which is made from the rump of horses and is extremely durable.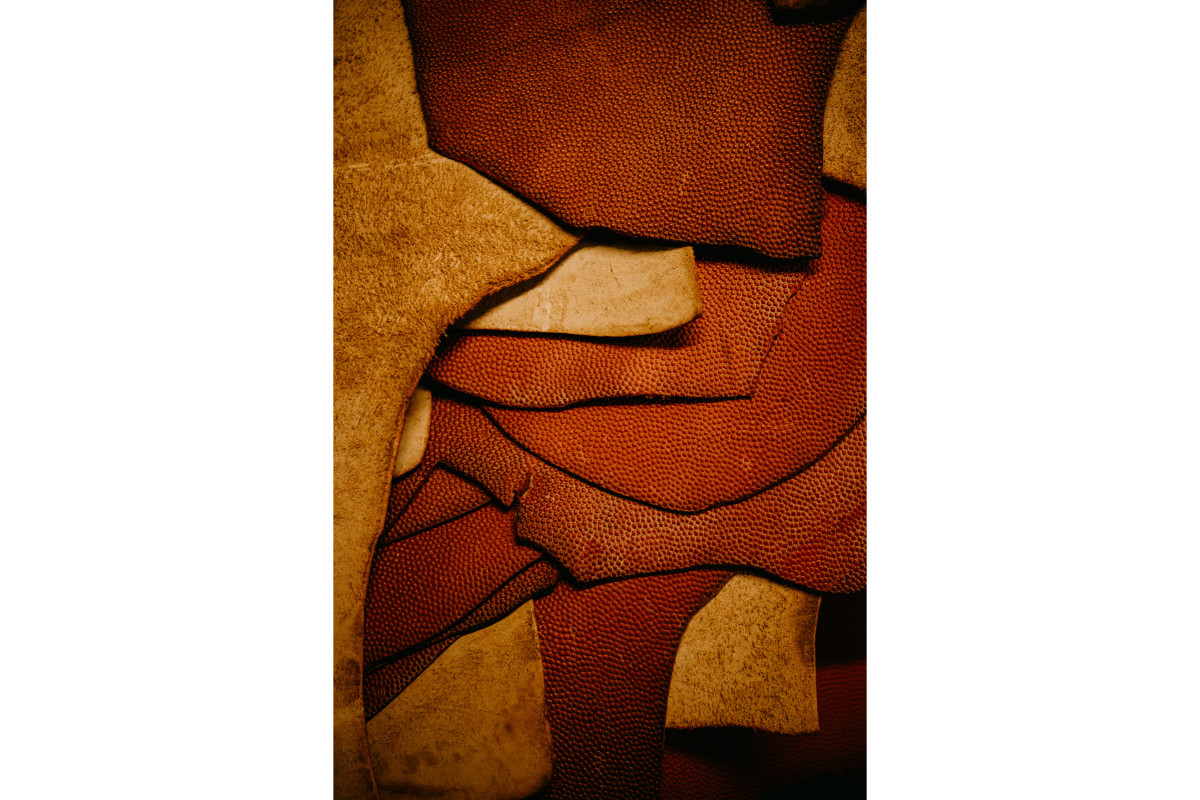 Even if you haven't heard of Horween, odds are you own a football, basketball, or pair of high-quality boots or sneakers that were tanned in this facility.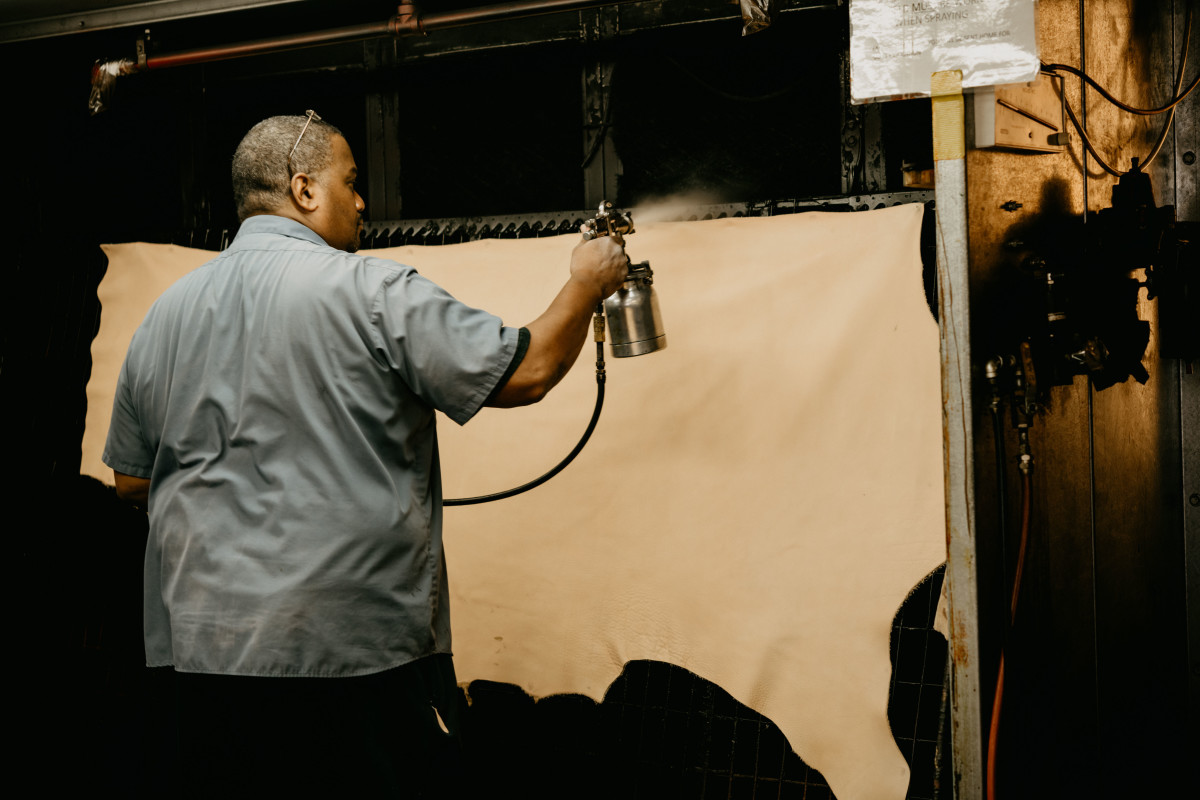 Select hides are hand-sprayed with color for development before mass production. Above, this is a sample being made into white sneakers.
After coloring, the hides are hung to dry before being sent off to manufacturers like Florsheim for cutting and processing into shoes and small leather goods.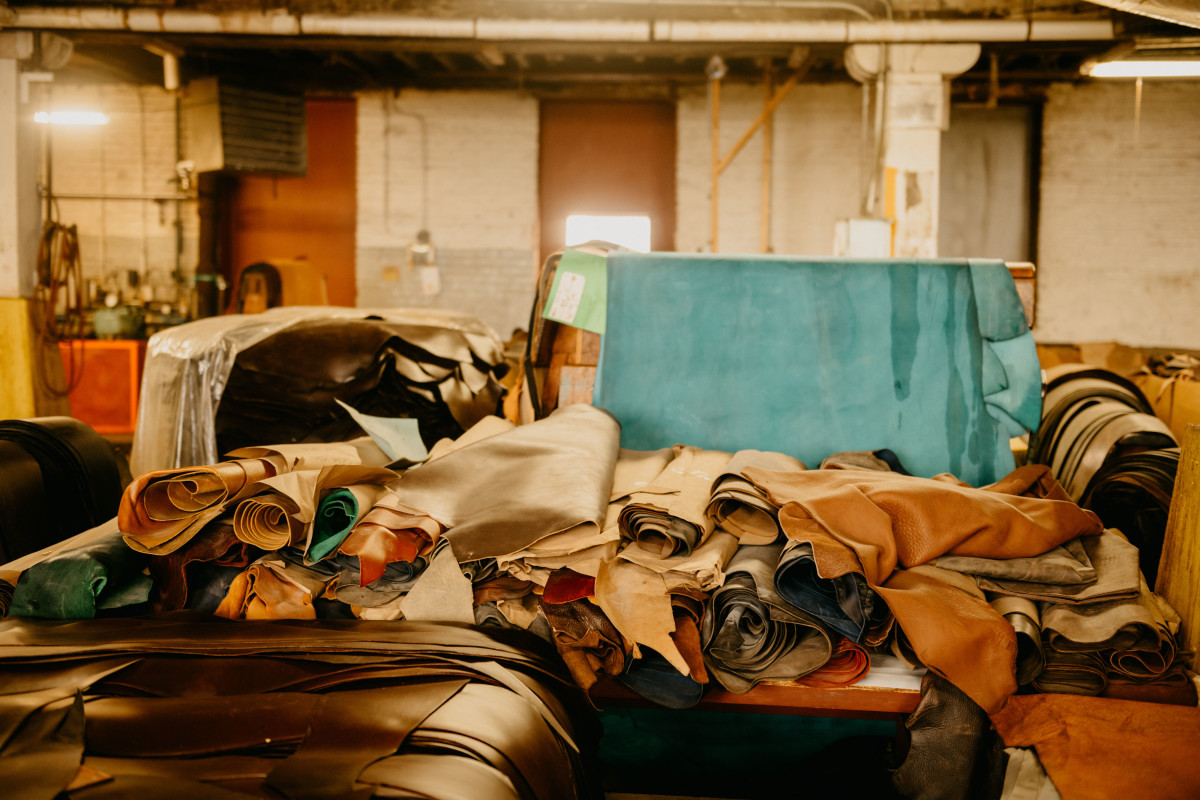 Stacks of various leather samples wait to be used for sales meetings and trade shows.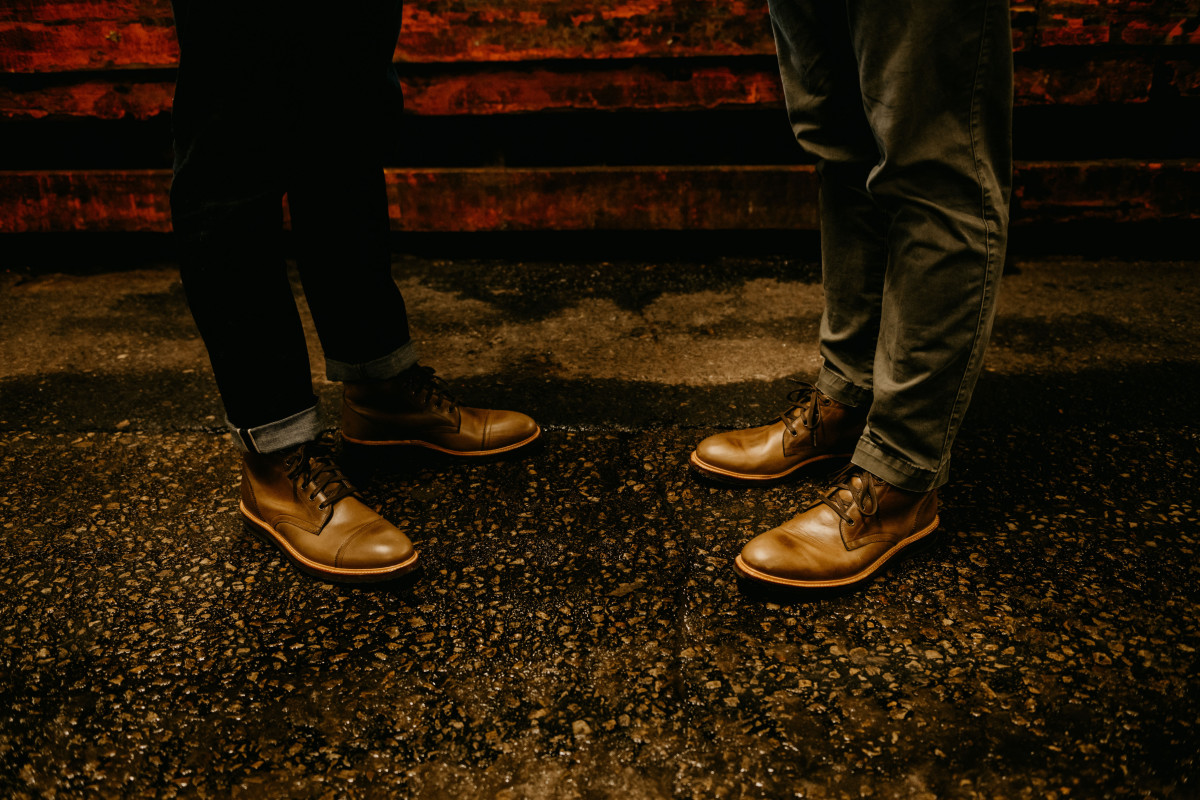 After being shipped to Florsheim's factory, they're cut and manufactured into the final Florsheim boots you see here. It's a long, arduous process, but the result is a sleek, yet classic boot that's durable and stylish.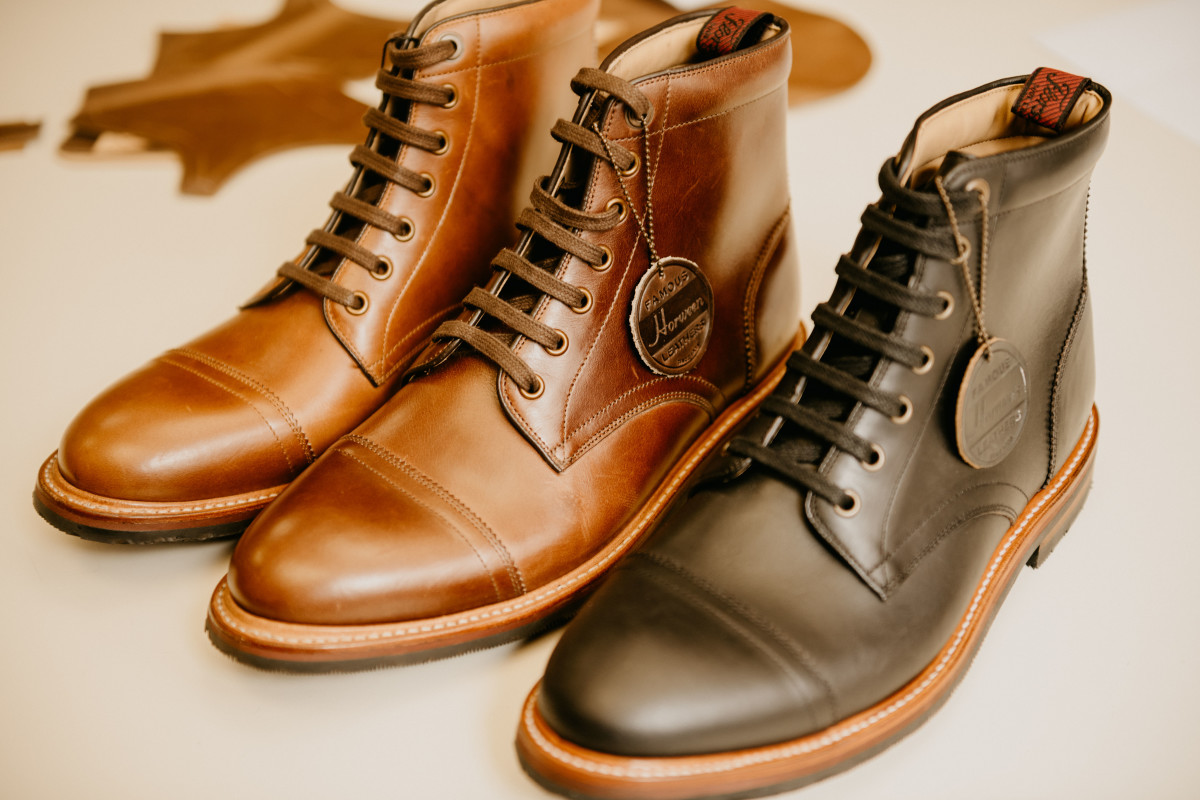 The Florsheim Foundry Collection was made in limited quantities and is available now. [Florsheim Foundry Collection, $280; florsheim.com]
For access to exclusive gear videos, celebrity interviews, and more, subscribe on YouTube!