Justin Carroll is a lawyer at a big firm in Manhattan. A 32-year-old assoicate, he is expected to wear a suit every day. But, as a 6'4″ former NCAA swimmer, Carroll's endowed with 38″-long arms, which are longer than the longest off-the-rack suit he could find in a store. "The Nordstrom brothers [of department store fame] were tall guys, so they at least offer 37″ sleeves, but I still needed longer," Carroll says.
Then a fellow trainee tipped him off to a tailor from Hong Kong operating out of a nearby hotel suite. For a big guy and frequent gym goer, Carroll says his first appointment was nothing short of an epiphany. Forget Big & Tall—he could now spend roughly the same amount and custom-order clothing to perfectly fit every contour of his bulging body. Michael Phelpsian arms? No sweat. Been hitting the bench hard? No problem, here's a shirt with a sea-sail torso. Since then, Carroll has never worn a shirt or suit that wasn't custom made.
Suit Up With Actor Boris Kodjoe's Fashion Tips>>>
But let's say you're not a superfit dude exiled from the world of standard sizing: Who hasn't wanted a made-to-measure suit at department-store-chain prices? Thankfully, Hong Kong tailoring—that old-school, word-of-mouth institution once available only to the international banking set—is more accessible to the regular guy than ever before. That is—if you know where to look.
The world's best tailors are based in Hong Kong because of China's Cultural Revolution of the 1960s, which drove a generation of skilled workers out of the mainland. Many of them set up businesses on the neighboring island—then under British rule— where they flourished.
With expert craftsmanship and access to cheaper, higher-grade textiles, the tailors gained a reputation for producing Savile Row-quality product at a fraction of the cost. For years, budget-minded men traveled to them. Then the tailors wised up and expanded their client base by dispatching reps to hotel suites around the world. Now, the service that once required a faded old business card or first-hand referral to score an appointment can be booked online.
Carroll recommends (and uses) a tailor named Kishore Daswani, one of the pioneers of overseas fittings (get his newsletter for updates on U.S. schedules by e-mailing daswani@customtailors-inc.com). Another reputable and accessible Hong Kong-based operation is Raja Fashions, which lets you book an appointment on its website (raja-fashions.com).
If neither is visiting stateside near you, don't worry—check in on the Quality Tourism Services (QTS), run by the Hong Kong Tourism Board. It lists a raft of vendors there, including dozens of suitmakers—such as Simpson's and Princeton—that routinely make visits to American cities. But whatever you do: Don't order your suits remotely. The magic of Hong Kong tailoring is what the craftsmen manage to do, in person, with the tape measure.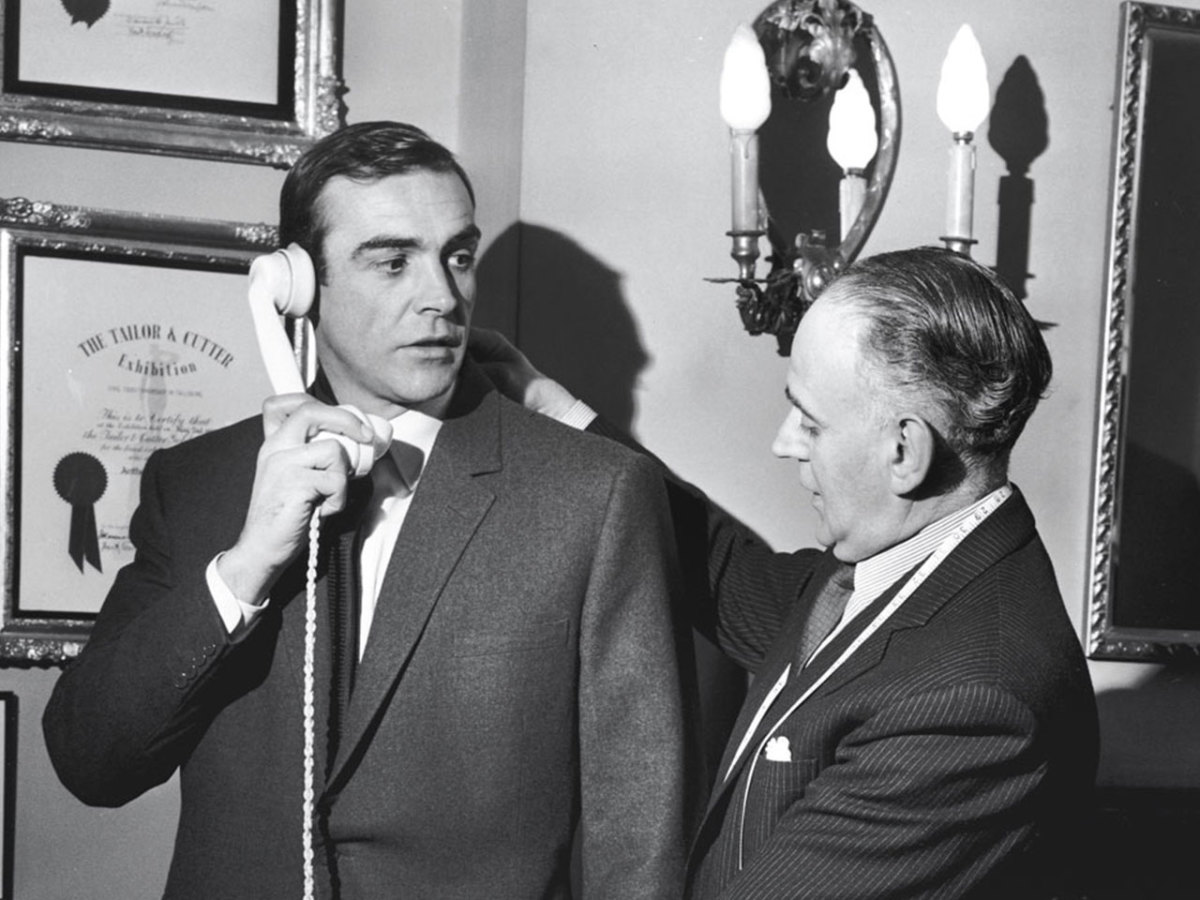 When you go for a first fitting, wear your favorite suit along with a pair of good dress shoes. Not only will that make a better impression than board shorts and Tevas, it will also give the tailor a good idea of how suits fit your body as well as your sense of style. Yes, fittings take place in hotel suites—but it isn't as sketchy as it sounds. Expect up to 10 other people at the same appointment. It can even get competitive among clients.
"Sometimes it's really collaborative, because most guys have no idea what they're looking for," says Carroll. "But other times, you just want to steal the booklet of fabric swatches another guy's picked, if he's hoarding the good samples." The process will take about an hour. The tailor will measure you in 30 or so different places, and take pictures from various angles to gauge posture. It ends when he records your measurements in an old ledger that looks like a prop from Game of Thrones. Remember: Credit card payments are almost always taken using an imprint machine, so you'll need to bring a card with raised numbers. (Tailors often prefer American Express.)
Expect to budget around $600 for a basic suit, and $60 for a shirt. But know that most Hong Kong tailors offer package deals bundling several suits and shirts. Daswani, for instance, sells two suits and eight shirts for $1,500. The more you buy, the more you save. And don't be afraid to politely haggle. Since pants wear out faster than jackets, it's smart to order a duplicate pair to prolong the life of your custom suit. But I'd urge you to avoid their accessories. Hong Kong tailors are masters at suits. Ties and belts? Not so much.
Delivery usually takes up to six weeks. The first time you order a suit (or shirt), expect to receive a single sample to try on at home, so you can then offer feedback to the tailor. If it fits, they'll finish the rest of your order and ship it directly to you. If you need a few adjustments, hold on to the sample until the tailor returns to your city—most make five or six trips stateside every year. Your final measurements will always be kept on file for future orders.
Finally, be sure to spread the word among your buddies. Carroll's tailor offers two free shirts as a thank-you for referrals. "When I first started working, I was willing to pay a premium for brands that could accommodate my frame because I thought custom clothing was such an extreme luxury," says Carroll. "But I now have a closet full of perfectly tailored suits and I actually saved money buying them."
For access to exclusive gear videos, celebrity interviews, and more, subscribe on YouTube!