You may have had some physically or mentally agonizing experiences with a beard, a hipster, Jobsian mock turtlenecks, or a pair of all-white Reebok Classics, circa the "Lumbersexual" and "Normcore" eras of the last few years, but this summer, a new "core" style is all about bringing athletic and easy style into the mainstream: Surfcore.
 
"Unlike with the lumberjack look or anything else, surfcore is all about authenticity," Derek Buse, Los Angeles–based co-founder of menswear line CWST, says. "You can't say confidently that every guy wants to buy into the lumberjack look, because not every guy wants to live and represent a lumberjack lifestyle. But with the surfing lifestyle — the tan, the laid back vibes, the idea of always being surrounded by your friends — the majority of guys would sign up to have that aesthetic and live that life." 
But much like the other popular lifestyle looks, the key is bringing those aspirational qualities and values to people who can't spend their days on the water.
"For all of us who live in a big metropolis, the surf lifestyle seems very appealing," adds designer Masafumi Watanabe, a self-described "outsider" of the surf world who juxtaposed beach culture with Japanese design in a new collaboration with Reef. "It's effortlessly cool, in total connection with nature, and relatively stress-free. These elements of life are considered a luxury in the city. By designing a surf-inspired collection, we're trying to bring to the city some of the surfer free spirit, but also bring a certain urban sophistication to the coast." 
It doesn't matter if you're from the Midwest, South, or out East, it's hard to deny that The Endless Summer idea of running out of the surf perfectly bronzed and turning on your leather-bound radio while combing your hair back isn't appealing — and the appeal comes from its accessibility. "Surfcore comes from an actual community of people who live that life everyday," Joe Sadler, the other co-founding half of CWST, says. "It's a club that anyone can join, too. Any guy can go surf, and it's easy to fit in because it's more than just a sport — it's about getting with your boys and finding a place to hang." 
When Sadler and Buse debuted the brand in 2008, they didn't have to look far to find inspiration. "It was the life we were living and we just wanted to sell the West Coast–cool look," Buse says. "All these designers are also surfers who are drawing inspiration from their own lives — so these clothes are more of a passion project than just designs. That's why I think it has caught on across the country. Everyone from hardcore surf brands like Quicksilver and Noon Goons releasing retro specialty items to designers like Kenzo putting beach-inspired looks on the runway are a part of the community that's showing up in style."
  
If the surfcore style is for you, there's a trick to pulling it off (which is the only similarity it shares with the normcore and lumbersexual looks — or any trend). The trick to making it look as good on the sidewalk as it does on the sand means distinguishing the fine line between gimmicky and genuine. "You have to be careful when it comes to fit," celebrity menswear stylist Ashley Weston advises. "The guys who nail it do so because their floral shirt is fitted correctly. Surf wear and beach-inspired pieces cannot be worn loose because a relaxed fit translates into a sloppy tourist vibe. The fit can mess it all up. If the shirt is looser then you need to pair it with a much more fitted pant, or vice versa. The look needs to balance."
 
If you want to try the trend out, Weston says that you can start small by doing things like swapping jeans for chinos and that rolling up the bottom to keep the look fresh. If you are a fan of shorts, she suggests going for chambray or printed looks this summer: "Keep the length of your shorts just above your knee, the fit slightly more on the fitted side." The floral shirt is the centerpiece of the look — and also the easiest part of surfcore to befoul. Choose a bold, large print with rich tones, and always make sure you button it up all the way for fear of looking like Magnum P.I. in the worst way. Pair it with a suit, a sport coat, jeans, or a nice chino and your favorite sandals or slip-ons.
"Our aesthetic comes from simple, clean, well-designed elements supporting the needs of our lifestyle," Watanabe says. "Days and nights, on the beach, or in the heart of the city."
  
For some of the other colorful looks that come with the territory of offshore vibes — such as printed sneakers and colored suits — it's important to keep in mind that bolder pieces don't have to look loud. Weston explains, "A lot of guys shy away from prints on shoes, but you shouldn't. The easiest way to wear those awesome, colorful sneakers is to keep your outfit really basic and then pair that with the printed sneaker. Allow navy, tan, grey, white, and black chinos and polos to work as a blank canvas so the shoes are the splash of color." If printed sneaks aren't for you, then a pair of white low-tops such as Tretorn or classic Converse that you probably already have in your summer repertoire can look just as fresh.
 
For a more proper look, invest in muted-color canvas suits in shades of tan, gray, blue, and green. "They look so incredible, and they are a great way to introduce yourself into the colored suit," Weston says. "They are awesome ways to incorporate the whole look and situation. You can wear your floral shirts with these suits to an event or your can pair the suit with a white shirt. Just keep those buttons buttoned all the way up."
 
The Key Surfcore Pieces:

Ralph Lauren Floral Mytton Slip-on Sneaker
He by Mango Cotton Poplin Ermo suit
Asos Esprit Short Sleeve Shirt with floral print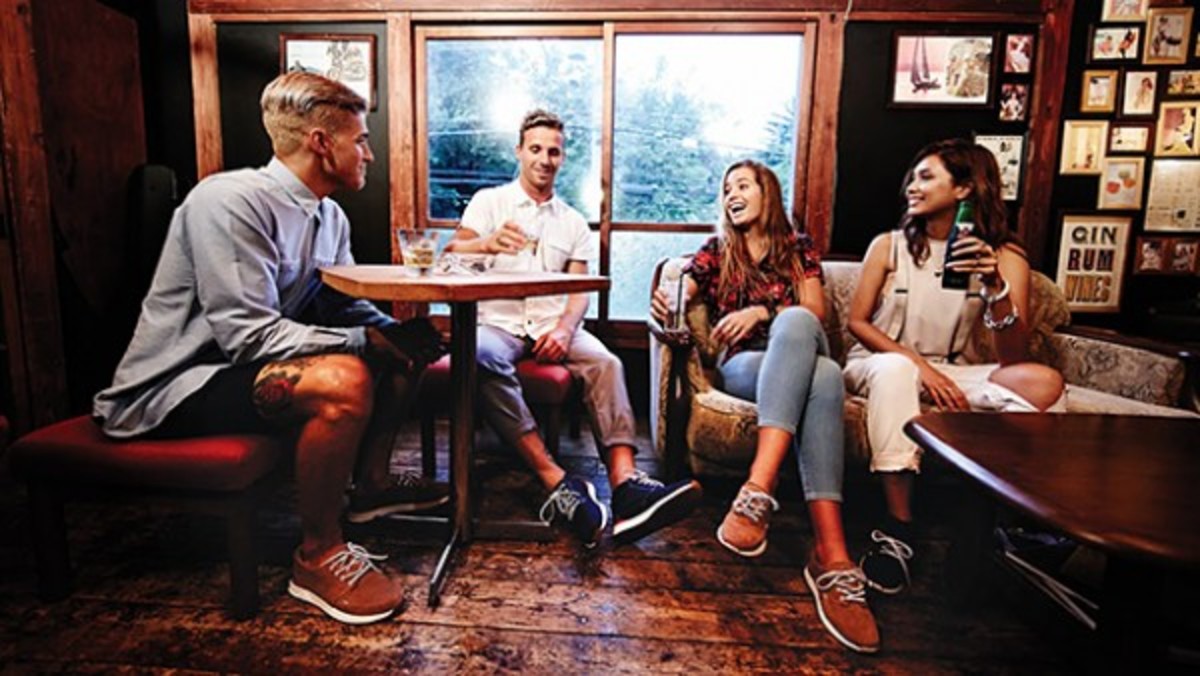 For access to exclusive gear videos, celebrity interviews, and more, subscribe on YouTube!