Henry Cavill has that classic Hollywood look to him, almost like a Bogart-meets-Sinatra…and as broad-shouldered as the two of them combined. It's a winning combo, but we'd posit that his hair is lifting a lot of the weight here, too. Sure, he's got the acting chops and the chiseled jawline, but his hairstyle is camera ready all the damn time.
Look at the waves! The definition! The Hollywood gloss! He was a shoo-in for Superman, and it makes for a slick villain in the upcoming Mission: Impossible—Fallout. No doubt you're wondering how to replicate the style for yourself. To help you, we spoke with hairstylist Vaughn Acord, the namesake of grooming brand V76 by Vaughn, about Cavill's hairstyle. Here is Acord's advice on how to get it, what kind of hair you need, and how to style and maintain the look.
What Type of Hair You Need
Acord says guys with natural waves will have the easiest time achieving the look: "It was made for them!" You'll see that Cavill has a widow's peak that gives him some Superman vibes, but Acord notes that this isn't necessary to create your own version. However, there are certain types of hair that will not take well to the style.
"This look is all about flow, and men with fine, thinning hair won't have the texture or density needed to pull it off," Acord says. "Men with super curly hair should stay away from this look, too, because it will look too puffy up top, and they'll constantly be fighting to calm the curl down to get the slight wave Henry is rocking."
Furthermore, guys with receding hairlines should avoid the style too, since it only draws more attention to the crown of your head.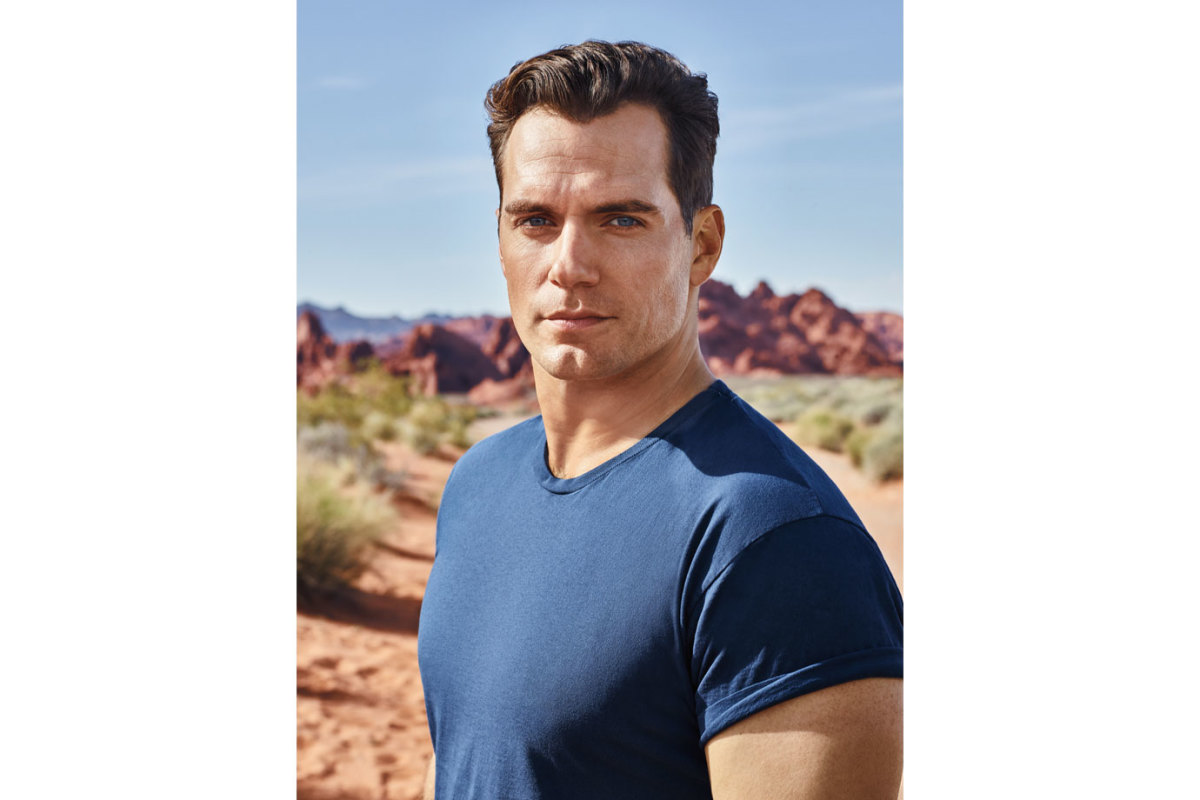 What to Tell Your Barber
Your barber or stylist should know this as the "classic gentleman's cut".
"You want short back and sides and low taper, but don't skin the sides," Acord says. "I prefer to use scissors and maybe even a razor, which gives me great control to slightly build weight up top and to give that hand-done look. I like the sides to be finger's width length, tucked in above the ears. It's important to give the top a soft look—free it up, give it movement so you have style options. That way you can have a buttoned up look for day and a looser, more casual look at night, or vice versa."
How to Style It
This is a versatile look, and as Acord pointed out, it can be slicked up or worn more casually. It just depends on the product used. _
For a casual finish: Acord recommends using paste (like V76 Molding Paste) or clay (try American Crew Molding Clay). Both give you an "undone" look with some texture and body. Apply to clean, towel-dried hair or clean, fully dried hair. The former will give you more control and definition.
For a formal finish: High-hold balm (we like V76 Control Balm Strong Hold) or pomade (opt for Imperial Classic Pomade) will do the trick. Neither will give you crusty, helmet-head finish. After all, "It's important for hair to look and be touchable," Acord says. Apply to clean, towel-dried hair. A little moisture in the hair is necessary to activate the product.
Regardless of your preferred finish, start with a dime-sized amount of product. Warm it up by rubbing it across your fingers, then massage it evenly into your hair. Target the roots first, since this is where you gain the most control over your style.
How Often to Clean It Up
You need to refresh the style every 4-6 weeks, tops. "If you try to push it to 8 weeks, the look will lose its shape and look unkempt," Acord warns.
For access to exclusive gear videos, celebrity interviews, and more, subscribe on YouTube!