Emotions ran high on Thursday night during game one of the NBA finals between the Cleveland Cavaliers and the Golden State Warriors—and not just because of J.R. Smith's eleventh-hour flub. Both basketball and style fans watched in awe (and some in shock) as the Cavs entered Oracle Arena wearing custom head-to-toe Thom Browne. Well, almost head-to-toe. The Cavs have worn the designer's signature gray suits in the tunnel before, but this time team captain Lebron James opted for the designer's short suit, igniting a bonfire of jokes comparing him to a wizard-in-training at Hogwarts and the UK's Prince George. If you're at all confused or wondering how we got so far down this menswear rabbit hole, don't worry. We're here to explain and hopefully answer the following questions for you. Why would James submit himself to such comic style scrutiny? And why would he and the Cavs continue to wear matching suits despite the almost curse-like effect it has had on their performance?
What's a Short Suit?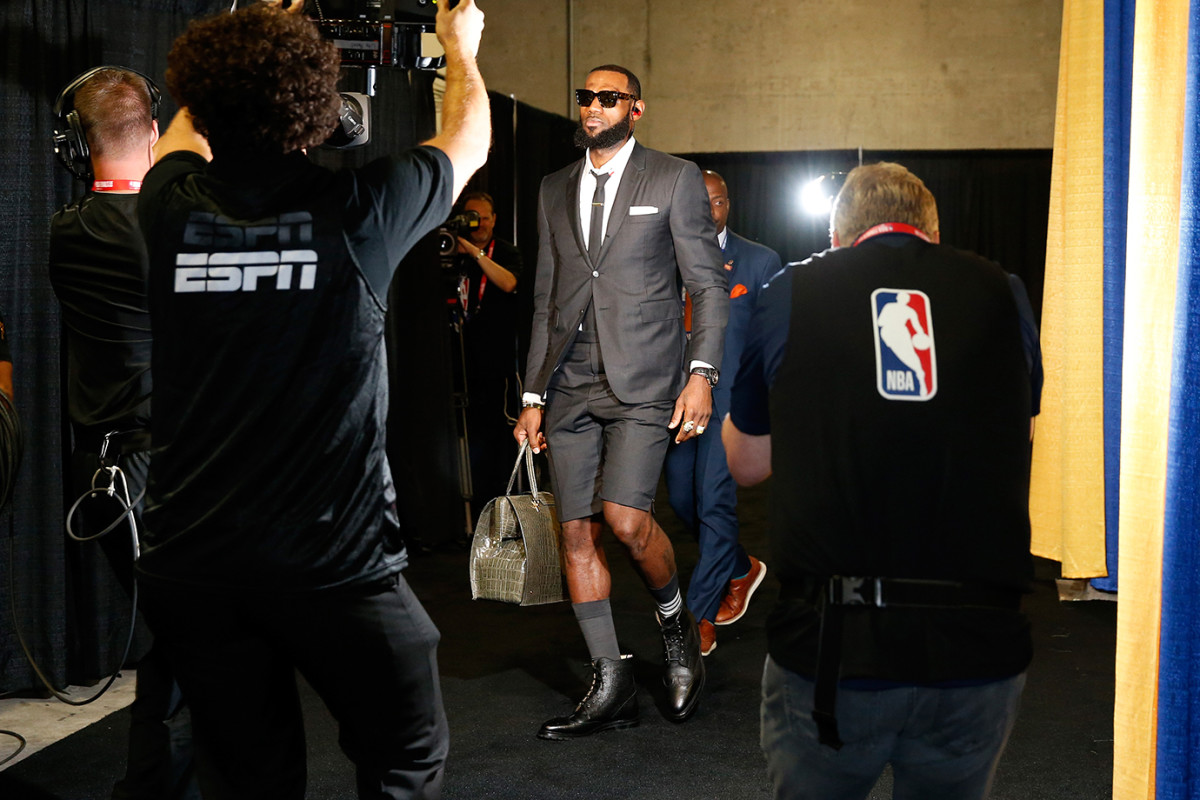 First off, in case you don't know, a short suit is like any other suit except that instead of pants it has tailored shorts made in the same material as the jacket. Menswear diehards will tell you that shorts with a suit are no bueno, unless of course that suit is designed by Thom Browne. Back in April, Lebron and the Cavs broke more than a few hearts, and the Internet, when they first arrived to a game decked out in matching custom-made suits, a move that took the NBA's obsession with tunnel style up about a thousand notches.
Wait. Who's Thom Browne?
The New York-based designer Thom Browne is known for tailoring that runs short (like capri pant, highwater short). He is also known for outfitting whole squads of models, employees, and even a dog in identical gray kits. So dressing over a dozen professional basketball players (who are very tall) in custom suits (known to be very short) is as close to a magnum opus as we can imagine for Browne. And the Cavs looked damn good. Everyone swooned. It was a momentous achievement for menswear. (And looking at Browne's calves, we totally get why he would design a suit with shorts in the first place.)
So You're Saying LeBron Looked … Good?
Eh. Last night's look didn't meet such immediate approval. The suit, in our minds, is a highly sacred piece of clothing tied up in traditional Don Draper masculinity, and messing with it makes people lose their collective minds. But logically, the shorts that James rocked last night make sense. Because historically the short suit's reputation as a fashion no-go has had a lot more to do with office style than tunnel style. Traditionally, showing your legs at work has been seen as unprofessional, too casual, and perhaps distracting. But for pro-athletes, especially basketball players, shorts are de rigueur. In contrast, tunnel style is all about putting on an extra swaggy show—think Nick Young's silk robe and boxers or Russell Westbrook's orange safety vest. If the King wants to rock a pair of Thom Browne suit shorts while carrying a leather duffel, we're all for it.
Can Regular Guys Sport a Short Suit?
Nah, probably not. Pulling this off takes the kind of skill, resources, professional styling, and—let's be honest—legs that only a man like Lebron James has in his fashion arsenal. Not to mention the sartorial support of a group of similarly skilled, resourced, stylish and leggy guys who are all out there going for it as well. Remember, one man in a short suit looks kinda doofy, but when that man is backed up by the Cleveland Cavaliers, all of a sudden it looks pretty legit.
What Does This All Mean?
So are the Cavs, and by that we mean Lebron James, looking at a new luxury sponsorship? That could explain why they're still wearing the designer suits despite the "bad luck" they continue to bring. Or maybe it's a more stealthy marketing collaboration between Thom Browne and the Cavs. Whatever the backstory, it's producing no shortage of conversation, memes, and interesting menswear to look at.
For access to exclusive gear videos, celebrity interviews, and more, subscribe on YouTube!